MA District 12: Welcome
Friday, August 14
Welcome to the home of Massachusetts District 12 Little League. All are invited to explore our site and take advantage of the information that is available. The District 12 Staff is dedicated to serving our communities in any way possible. If you are looking for any specific information or have questions, please feel free to contact a member of the staff. To stay up to date with tournament information and rule changes, please LIKE us on Facebook. You can find the District on Facebook at www.Facebook.com/MADistrict12 . Thank you all and please help support the Jimmy Fund!
Sunday, September 6
Marie Shea D-12 Red Sox Foundation volunteer of the year.
On behalf of District 12,
I want to congratulate our Secratary Marie Shea for earning the 2015 Redsox Foundation Volunteer of the Year Award.
Marie will receive this award tonight 8-14-2015 prior to the Red Sox game at Fenway. Please review Marie's accomplishments that earned her this award.
"Her service to Little League is around 13 years in total, having served as a board member most of those years!

She has been a league treasurer in Malden, also has been our concession stand coordinator, also safety officer, player agent. She has been volunteering even after her son turned 13 this year and left little league for Babe Ruth.

Her dedication to special needs children not only in Malden but our other leagues in D12 is truly amazing.

She was the person solely responsible for Chartering a Challenger League 9 years ago. Not because she had to but because she thought all children should have the opportunity to play Little League baseball no matter what their issues are. I was President of Malden Northern at that time, I can still remember the chill I got when she told me she contacted Williamsport. I thought she was joking, but she in fact filed for a Challenger Charter. At first it was a small program but over the years it has flourished. This year we have around 52 registered players.

She has devoted herself to our District 12 Challenger program without hesitation.

But it goes beyond the challenger league, her volunteerism includes not only our District but also at the Jimmy Fund level.

In my eyes - when I hear the phrase
"Volunteer of the year" it's Marie Shea hands down!"
Bernie Colbert D-12
District Administrator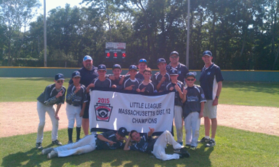 12 Yr old District Champions
Saturday, July 11
Congratulations to the District 12 12 year old Champions 2015
Saturday, July 11
Congratulations to Medford White 10 yr Olds District 12 2015 Champions
10 Year Old District Champions
Upcoming District 12 Meetings
The District 12 meeting scheduled for Tuesday March 17 at 7:00pm at the Stop & Shop in Somerville has been cancelled. The next meeting will be on April 21. Details will be provided as soon as they become available.
News from Little League International
LLB Data Center

It is that time again. All new 2015 Board of Directors contact information must be updated with Little League International.
Little League offers local leagues many tools through the online data center. When a League President or Official logs into the data center, s/he can perform many tasks which include: Online Chartering of your league, Updating your league Officers and Board of Directors, View your waiver requests to the Charter Committee for status and Approval, Purchase supplies from the Little League Store online, Check your safety plan status, Submit your safety facility survey, and much more!
We urge everyone to take advantage of the data center, especially in regards to updating league officer information. This is vital so that Little League can send the appropriate information to the right people every season. To access the data center today, please click the link below.
Click Here For: LLB Data Center