MA District 12: Welcome
Friday, July 10
Welcome to the home of Massachusetts District 12 Little League. All are invited to explore our site and take advantage of the information that is available. The District 12 Staff is dedicated to serving our communities in any way possible. If you are looking for any specific information or have questions, please feel free to contact a member of the staff. To stay up to date with tournament information and rule changes, please LIKE us on Facebook. You can find the District on Facebook at www.Facebook.com/MADistrict12 . Thank you all and please help support the Jimmy Fund!
Congratulations to the 12 yr old District 12 Champions for 2015 Medford White
and
Congratulations to the 10 yr Old District Champions for 2015 Medford White
and
Congratulations to the East Boston Senior League they have won the Section 2 Championship and will move on to the next level, against Auburn.
Please join me in gratitude, to my fellow District 12 DA and ADA's for all their help and support, with the organizing and supervision of this tournament. These men and women have no children of their own in Little Leage and most have battled with personal sickness and injury's throughout the tournament, some postponing surgery until the tournament was over.
District Administrator Bernie Colbert, ADA Marie Shea, ADA Frank Bucca, ADA Mike Stromski, ADA Joe Ierardi, and Earle Lawson
Thank you all and God Bless you all.

Mike Fontana ADA
Tournament Director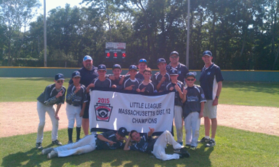 12 Yr old District Champions
Saturday, July 11
Congratulations to the District 12 12 year old Champions 2015
Saturday, July 11
Congratulations to Medford White 10 yr Olds District 12 2015 Champions
10 Year Old District Champions
Upcoming District 12 Meetings
The District 12 meeting scheduled for Tuesday March 17 at 7:00pm at the Stop & Shop in Somerville has been cancelled. The next meeting will be on April 21. Details will be provided as soon as they become available.
News from Little League International
LLB Data Center

It is that time again. All new 2015 Board of Directors contact information must be updated with Little League International.
Little League offers local leagues many tools through the online data center. When a League President or Official logs into the data center, s/he can perform many tasks which include: Online Chartering of your league, Updating your league Officers and Board of Directors, View your waiver requests to the Charter Committee for status and Approval, Purchase supplies from the Little League Store online, Check your safety plan status, Submit your safety facility survey, and much more!
We urge everyone to take advantage of the data center, especially in regards to updating league officer information. This is vital so that Little League can send the appropriate information to the right people every season. To access the data center today, please click the link below.
Click Here For: LLB Data Center