Lincoln Heat Baseball: Lincoln Heat Sponsors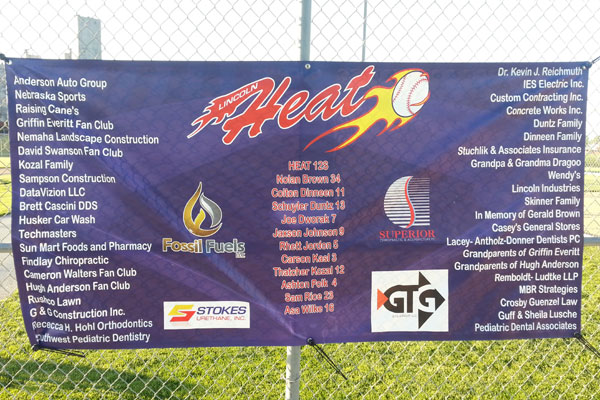 Example of a Lincoln Heat Sponsor Banner
Lincoln Heat Sponsors 2015

We thank our sponsors for 2015!

Grandparents of Jayden Adams
Great-grandparents of Jayden Adams
Advanced Medical Imaging
Artist in U
Automated Systems Inc.
B. Tech Consulting LLG
Mike and Kimberly Barrett
Big Cob Hybrids
Austin Bjorkman Fan Club
Brewsky's
Brown Family
In Memory of Gerald Brown
Carpetland
Brett Cascini, DDS Orthodontist
Casey's General Stores
Cattlemen's Nutrition Services LLC
Coddington Dental, PC
Dr. Annette Cserna Orthodontics
Data Vizion LLC
Grant Detlefsen Fan Club
Edward Jones Investments
Findlay Chiropractic, PC
Foreman Agency, Inc. - Jon Foreman
Four Blessings
Four Sons Inc.
Keaton Garcia's Fan Club
Samuel Gifford Fan Club
Gregg Electric Company
GTG Group, LLC
Harger CPA Group, PC
Harris Decals
Headway Marketing LLC
Dr. Rebecca Hohl Orthodontics
JEO Consulting Group, Inc.
Darin Johnson Agency, Inc
Jordon Family
JS Semmentals
Tiffany M. Kavanaugh, LCSW, LLC
Carol and Dean Kechely
Matt Kechely, State Farm Insurance
Liberty First Credit Union
Linafelter Family
Lincoln Orthopaedic Center
Luxury Heating and Air Conditioning
The McCullen Family
Jeff Munns Agency, Inc.
National Pharmacy
Nebraska Group Benefits
Nebraska Sports
Ranae Othmer
Pediatric Dental Associates
Pediatric Dentistry PC
Perry, Guthery, Haase & Gessford, PC, LLO
Pioneer Greens Dentistry
Raising Cane's
SP Group PC
Matt Schernikau, New York Life
Kendra Schmit, Thirty-One Gifts
Signature Eye Care
Stuchlik & Associates Insurance and Financial Services Inc.
Superior Chiropractic & Acupuncture PC
David Swanson Fan Club
Trackside Bar and Grill, Waverly
Ron and Kay Unger
Vanderford Law PC LLO
Dr. Mark Vanicek, DDS
Vermeer Equipment of Nebraska
Waverly VFW Post 9875
Willow Creek Apartments
Elijah Wirth Fan Club
The Zegers Family


If you are interested in sponsoring the Lincoln Heat for 2015, or would like to make a contribution, please e-mail us at Lincoln Heat and we will send you more information.

We encourage you to patronize these generous businesses and services! Thanks For Supporting Youth Baseball and the Lincoln Heat!!