Leominster American Little League: Welcome
This is the official league web site for Leominster American Little League (LALL).
This web site facilitates information sharing between the players, parents, coaches, board members, the community and media services.

Proudly serving boys and girls Little League playing age 4 to 12 years old.

Congratulations to our 2014 LALL Championship Teams!
v Major League Champions - Whittons Realty
v Minor League Champions – Hebert Homes
DICK'S SPORTING GOODS - EXCLUSIVE SHOP EVENT - March 7th & 21st
Dick's Sporting Goods would like to recognize your commitment and dedication to youth baseball by extending an exclusive invitation to two special "LEOMINSTER AMERICAN SHOP EVENTS" - SATURDAY, MARCH 7th and SATURDAY, MARCH 21st at Leominster's Dick's Sporting Goods store.

Click each coupon image below to print the 20% OFF COUPONS.
March 7th 20% OFF Coupon
CLICK IMAGE TO PRINT FULL COUPON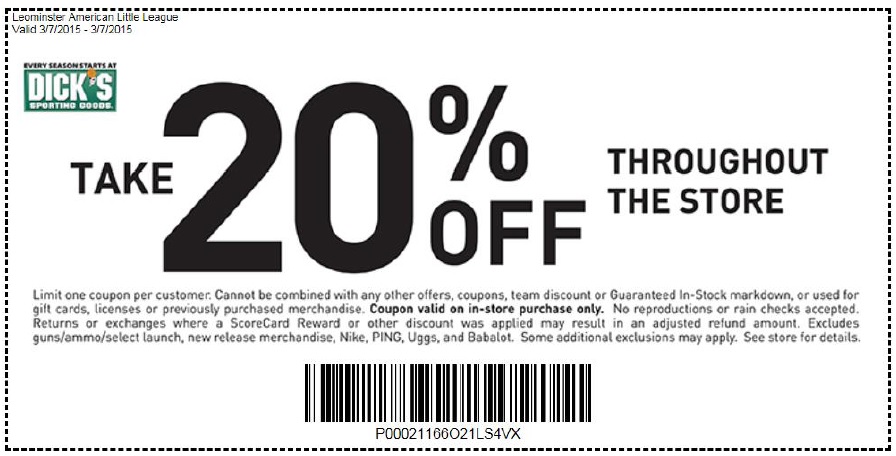 March 21st 20% OFF Coupon
CLICK IMAGE TO PRINT FULL COUPON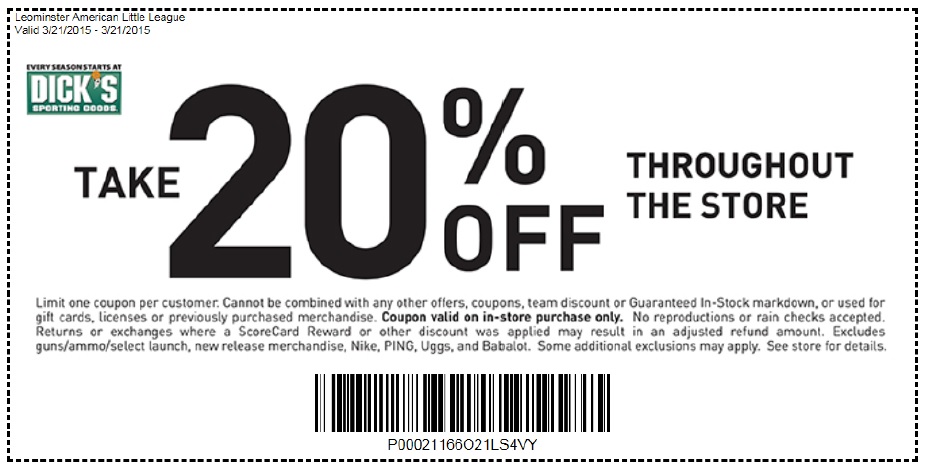 MINOR, INSTRUCTIONAL & TBALL REGISTRATION - March 21st
Extended registration for MINOR, INSTRUCTIONAL and TBALL leagues will be held March 21st from 12:00 PM to 2:00 PM at Dick's Sporting Goods located at 56 Orchard Hill Park Dr in Leominster.
Click the following links to download and print the required Player Registration forms:
2015 LALL Player Registration Form
2015 Little League Player Registration Form
2015 Little League Medical Release Form

If you are unable to make these dates/times but intend to register, please contact the League President Rob Lora
BOARD MEETING - April 11th
General Board Meeting will be held on April 11th, 2015 at 6:00 PM at Fidelity Bank, 9 Leominster Connector, Leominster. Board Directors and Major Managers/Coaches are required to attend this meeting.
Leominster
WORCESTER STATE UNIVERSITY BASEBALL - Pitchers & Catchers Clinic - April
14th Annual WORCESTER STATE UNIVERSITY BASEBALL
Pitchers & Catchers Clinic
Held on New Lancer Baseball Field
Tuesday and Thursday – April 21 and 23, 2015
Ages 7-to-18 / 9am-Noon (rain date Fri)
Basics of Throwing & Pitching: Grips, Control and Command, Mechanics, Drills, Competitions, Stretching plus S&C, Stretch & Wind-up, Flat Ground, Bullpen, On Mound, Long Toss, Pickoffs, PFPs, Conditioning, Pepper, P-Chart
Basics of Catching: Blocking, Receiving, Framing, Throwing, Drills, Bunts, Pop-ups, Calling Pitches, Cutoffs, Pickoffs, Blocking the Plate, Long Toss, Bullpen, Pitcher-Catcher Relationship, Strategy, Leadership, Toughness, Confidence, Umpires, Equipment, Safety
Click here to view detailed brochure. Leominster

UNDER CONSTRUCTION
It's official... We will have a new Major field infield for the 2015 season!