Lenape Premier: Welcome
Monday, January 7
2013 Lenape Premier Girls Lacrosse
Welcome to the home of Lenape Premier Girls Lacrosse. Lenape Premier's focus is helping elite high school lacrosse players from southeastern Pennsylvania, south Jersey and Delaware make the transition to the next level. Lenape Premier is a year round program that exposes its players to top level competition and the college recruitment process. Lenape Premier participates in almost every major showcase tournament held in the region. For information about the teams contact Robin Zane or Becky Tingle. Their information can be found by selecting the Lenape Staff Icon to the left.
.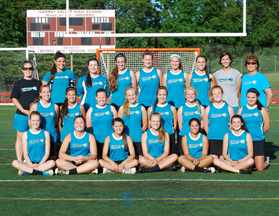 Lenape Premier 2013
Monday, April 7
LENAPE PREMIER SPRING ADDITIONS
The following players have been selected to join the 2014 team: Jessie Blair, Sydney Gardner and Martha O'Brien. Please contact Robin Zane at rmzane1@gmail.com to accept your spot on the team. Deposits should be sent by 4/15. Congratulations.
Friday, November 1
Lenape Premier 2014
Lenape Premier has a few openings for their 2014 team. If you are interested in a tryout or for more information on our program, please contact Robin Zane at rmzane1@gmail.com.
Tuesday, March 15
Lenape Premier partners with Phillylacrosse.com
Please support Phillylacrosse.com (http://phillylacrosse.com/) this season for all the news on girls' and boys' lacrosse in the Philadelphia region. The site regularly updates scores of games, stories on all players committing to play in college and features scholar-athletes and teams of the week. Phillylacrosse.com also has a Facebook fan page (http://www.facebook.com/pages/PhillyLacrossecom/125849330123) and a Twitter page (http://twitter.com/phillylacrosse) for all the updates as they occur.
Monday, October 10
Lenape Alumni Playing In College (Or getting ready to)
Alumni
Class of 2013
Becky Bove-Shenandoah University
Katie Thompson-Newberry College
Class of 2012
Ally Bove-York College
Abby Grange-Queens University
Hannah Cowan-West Chester University
Class of 2011
Amanda Cathcart-Georgian Court
Madison Green-Notre Dame of Ohio
Class of 2010
Becky Donkin-Millersville
Tori Mitros - LaSalle University
Kate Hanick-Oberlin College
Saturday, August 1
Great Recruiting Web Site
This web site has information about every school that has women's lacrosse. Information is available about the School, Team and Coaches.