Lawrence Rec Women's Fast Pitch: Welcome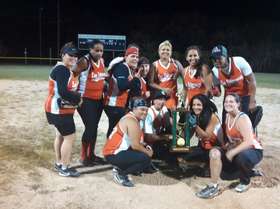 Women's Fast Pitch champs - Las Veteranas
Finals
Las Veteranas are your 2014 Women's Fast Pitch Champions.
Umpire fee: $25/team per game, payable prior to start of game.
Game times/Grace period:

6:15 PM, 8:00 PM (No grace period).

Fields/Days

: Lawrence High School (Thursday's only).

Starting the game: Can start with 8 players if prior to the end of the 3rd inning a player doesn't arrive then you must finish with 8 players. The ninth position will be an out starting from the first inning.

Home team

is 2nd team on schedule. Ex: Team A at Team B, where Team B is the HOME team. Home team is responsible for providing

bases

. Each team should carry a set of bases at all times.

The use of the so called enhanced performance bats including double walled, triple walled and titanium bats is not allowed in this league. The penalty will be ejection of the player and forfeit of the game.

Scorebooks:

must be used.

Helmets:

must be worn (5 helmets per team)

Courtesy runner:

allowed only for injury. Last out of previous inning will be the runner.

If it's in the first inning, then the last batter of that inning will be the courtesy runner. Once per inning.
Extra Innings:

Start with runner on second base. Person that made the last out in previous inning will be the runner.

Run rule -

10 run rule after 4-1/2 or 5 innings

EH and/or DH may be used. Everyone must play 9 defensive outs and bat 1 time.
Roster -

16 players maximum (Rosters must be turn in a before season starts and final roster will be July 24. After this date rosters are closed.)

Re-entry rule -

is allowed. The player must come back in the same position in the batting order.

Injuries

: If injury occurs and you don't have a substitute, then that position in the lineup will be an out (no exceptions).

If you play with 8 and one is injured, then it will be a forfeit. You cannot continue with less than 8 players.

Ejection

: If you have 9 players and one is ejected, you can play with eight.

If you play with 8 and one is ejected, then it will be a forfeit.
Tagging from all bases allowed.
Bunting is allowed.
Stealing bases is allowed.
Slide rule in effect (must slide if play is being made on you).
Fake tags -

no fake tags allowed. If you fake tag, then the runner will be awarded the base she is going to, umpire's discretion. The fielder may be ejected.

Metal spikes -

no metal spikes allowed. If caught while batting, batter will be out. If caught again during the season, you will be ejected from that game and serve a 1 game suspension, which you must serve on the bench.

You may take off on release of the ball.
One conference per inning, 2nd visit in inning pitcher must be removed, 4 visits in a game you must remove the pitcher.

Rain Outs

- will be played over again, unless it's a regulation game that is 4 ½ innings or 5 complete.

Forfeits

- Will be paid out of the forfeit fee. Umpires will be paid by the Recreation. Department. Do not pay the umpire at the field.

Make

-ups:

will be made up at end of season.

All A.S.A. rules will apply.

League Website – (share with all players)

http://www.eteamz.com/lawrencerec
Playoffs:
Position player must have at least 5 games to be eligible.Pitcher must have 4 games to be eligible. First round will be single elimination.Second round will be 2 out of 3 (doubleheader).