Lawrence Rec Sunday Men's Slow Pitch Softball: Welcome
Saturday, June 2
Games scheduled for April 22 will be made up August 19th.
HOME TEAM IS FIRST ON THE SCHEDULE. Reminder: HOME TEAM MUST SUPPLY THE SAFETY BASE.
EVERYBODY (ALL TEAMS) MUST PICK UP TRASH AFTER THEIR GAME PLEASE
The home run rule: The team limit is five. Once both teams reach five either team can go up one at any time during any INNING. Example: If the visitors hit their sixth in the top of the seventh the home team can hit one to tie and one to go ahead in the bottom half of the inning. Even if it is a game winning home run.
COACHES - PLEASE TEXT ME YOUR SCORES AT 978 382-1985, OR E-MAIL ME AT nortiz@cityoflawrence.com, WHICH GOES TO MY PHONE. THIS WAY WE CAN KEEP THE SITE UPDATED.
Sliding rule: A runner must always attempt to avoid contact by sliding if there is a play on the runner. If the runner can avoid contact without sliding, that is acceptable. If there is a play in which it appears that it is intention of the runner to injure another player, the umpire has the authority to eject the runner and rule an out on that play. This will apply to second, third and home plate.
Home run rule: Batter runner must touch first base, everyone else may walk off.
PLEASE READ: League play begins on Sunday April 22, 2018. To read schedule, click on Schedules on the menu to the left. To view only your team's schedule, click on Teams, then Schedules, or click on your team's name at the bottom of the League Schedule. The entire schedule is also posted in the Calendar
If you play in the field, you must hit.
Run Rule: After 3rd inning, if a team is ahead by 20+ runs, after 4th if team is ahead by 15+ runs, and 4-1/2 or 5 complete innings if team is ahead by 12+ runs.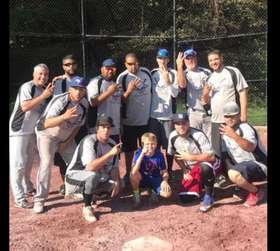 2017 Sunday Softball Champs - Hayes Tavern Bad Boyz