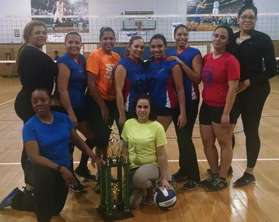 2015-2016 Volleyball Champs - Las Tartaras
Friday, August 19
Organizational meeting
To: Women Volleyball coaches:
The Lawrence Recreation Department will hold a meeting on Monday September 12, 2016 starting 6:00PM at 200 Common Street ( basement Room 8).
It is very important that a representative from your team be present at this meeting. We will be discussing : Rules, Schedules, Fees, Officials.
We are looking to start the league on Wednesday October 19 2016. If you have any questions please feel free to call me at (978) 620-3252
Congratulations to your 2015-16 Volleyball Champions, "Las Tartaras".
Rotation: is not mandatory. It will be up to the coaches to decide who comes in to play.
Games will be 3 sets to 25
A game is won when one team reaches 25 points, win by 2-points.
A win is a win, a loss is a loss, no matter if played or forfeited.
League starts Wednesday October 21 2015.
Rosters and entry fees are due on or before October 20th.
Referee fee: $15.00 per team; pay before game starts.
FYI - the standings will be based on "Points For" for playoff purposes, under the column heading PF.

BRUCE SCHOOL: All SPECTATORS/CHILDREN must sit on the stage area and remain away from the court...... No bouncing of any type of ball while game is being played...... Everyone must remain in the gym (no one should be in the school hallways)...... Spectators must sit in front of the curtain on the stage (no playing or going behind the curtain)...... Team that has finished their game MUST leave the gym 15 minutes after their game is done, due to the size of the gym and respect for the other teams.

PLEASE READ: League play begins on Wednesday October 21 2015. To view the league schedule, click on Schedules on the menu to the left. To view only your team's schedule, click on Teams, then Schedules, or click on your team's name at the bottom of the League Schedule. The entire schedule is also posted in the Calendar.