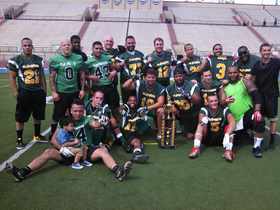 2014 Spring Football Champs - The Playmakers
Sunday, March 1
All Star game
2015 Sign-up meeting is Tuesday 3/10 at 5:30 PM in the Rec Dept office.
Balvinder Singh ( from the Glory Boys) was named the MVP of the All-Star game with 5 sacks and the Ambassador AKA Mike was the hero of the game by getting a big cliniching victory sack. Thanks to all that showed up.
Congratulations to your 2014 Spring Flag football Champions the Playmakers! They won in overtime 8 to 7.
We want to thank all of the teams that participated in the league and hope to see you again next year.
Final written rosters including names and jersey numbers must be submitted to league before 3rd game. Rosters are frozen after the 4th game. ROSTER LIMIT IS 19.
Use of non-roster players will be a forfeit.

All players must be at least 18 yrs. of age. Underage players will be a forfeit.
All teams must have numbered jerseys.(MANDATORY)

If player or players do not have a team jersey on game day they will not be allowed to play.

All players on the same team must wear the same color flag

No pockets or belt loop on pants

No caps with extended bills.
Rosters are now frozen if you have not turned in your roster please do so by Tuesday May 26th.
The league will not play on May 24th or July 5th in 2015.
EVERYBODY (ALL TEAMS) MUST PICK UP TRASH AFTER THEIR GAME PLEASE
Football: The over time has changed. After a coin toss one team will choose offense or defense. This will alternate throughout the over time. There is a maximum of four over times. The over time will be played like a PAT a team can choose to go for one (5yd. line) or two (10 yd. line). After the second overtime a team must go for two. All NCAA rules pertaining to over time will be used. Whichever team scores the most point at the end of the over time series is declared the winner.
PLEASE READ: League play begins on Sunday April 26 2015. To read schedule click on Schedules on the menu to the left. To view only your team's schedule, click on Teams, then Schedules, or click on your team's name at the bottom of the League Schedule. The entire schedule is also posted in the Calendar
UNSPORTSMANLIKE CONDUCT:
• If any official witnesses any punches, kicks or other behavior considered to be fighting or unsportsmanlike, the teams(s) will be penalized 10 yds. per player and player (s) will immediately be ejected from game or league if severity calls for it. (see next rule for penalty)
• Fighting will not be tolerated. If one player from your team is involved in a fight he will be ejected from the game and serve a 3 game suspension on the next scheduled games or be ejected from league if severity calls for it. If two or more players get into a shoving /wrestling match, THE ENTIRE TEAM will be ejected and suspended for the rest of the season and all monies are forfeited.
• Any intent to injure called by an official, will result in a league suspension to be served for 1 calendar year.
Flag versus ball: Gentlemen it's not where the flag is pulled; it's where the ball is at when the flag pulled.
If a flag falls off a ball carrier during the play, the player must be touched to end the play. If a player catches the ball with no flags, the play is dead.