Wednesday, February 3
Organizational meeting coming up!
To: Men's slo-pitch coaches
The Lawrence Recreation Department will hold an organizational meeting on Wednesday March 9th at 6:00PM in the Lawrence Public Library at 51 Lawrence Street Lawrence Ma 01841.
This is a very important meeting we will discuss entrance fees and rules.
This is the only meeting to determine if we will have a league or not.
SENIOR SOFTBALL: The Merrimack Valley Senior Softball Association (MVSSA) is currently registering players for the 2016 season. Players who will be at least 50 years old by 12/31/2016 are eligible. The league will play on Sundays from 8:30 AM to noon on two fields at Riverside Park in Haverhill. The 6-team league will have 13 players on each team. Two weeks of pre-season will begin in April as soon as the fields are ready. There will be 15 regular season (9 inn) games with three weeks of playoffs (double elimination). There will be umpires for all regular season and playoff games. Team shirts and caps will be provided and jackets will be awarded to the playoff winners. ASA rules will be modified for senior softball. The fee to play in the league is $115. Interested players should e-mail MVSSA2K15@outlook.com or call (978) 475-5424. You can also contact Jack Gilhooly at 978-382-0831 or jackgilhooly@comcast.net. Additional information will be provided along with a registration form and waiver of liability.
The Greater Lawrence Baseball Umpires Association (GLBUA) is looking for new umpires for the 2016 season. If you are interested in becoming certified, we are starting our annual candidates class on Monday Jan 25th at 7 PM at Greater Lawrence Tech in Andover. Classes are scheduled for 6 Mondays, with the exam on March 7th, followed by field mechanics and various clinics. The fee for the class is $125, and completion of the class includes the 2016 membership to the GLBUA, as well as registering you with the Massachusetts Baseball Umpires Association (MBUA). http://greaterlawrenceumpires.com/
Please contact Jack Gilhooly at 978-382-0831, or jackgilhooly@comcast.net.
_____________________________________________________________________________________________________________________________________
Congratulations to your Lawrence Rec 2015 Summer Men's Weeknight Champions - The Bombers. They went 19-5 in the regular season, and went a perfect 7-0 in the playoffs to win their 2nd consecutive championship.
___________________________________________________________________________________________________
Note: All teams should pick up their water bottles and litter and dispose of them in the trash barrels (you bring it in, you take it out). We have other leagues coming in after us.
COACHES - Please text me your scores at 978 382-1985, or e-mail me at nortiz@cityoflawrence.com. This way we can keep the site updated.
Reminder:
HOME TEAM (EVERY GAME) MUST SUPPLY THE SAFETY BASE.
HOME TEAM (SECOND GAME) MUST TURN ON LIGHTS (O'NEILL).
HOME TEAM (LAST GAME) MUST SHUT OFF THE LIGHTS.
EVERYBODY (ALL TEAMS) MUST PICK UP TRASH AFTER THE GAMES.
HOME TEAM IS FIRST ON THE SCHEDULE.
Umpire Evaluation Form on leftyref.com please use this form to provide feedback to head umpire Bob O'Real about officials who have worked your game.This feedback can be of a positive or negative nature, but must be honest. You do NOT have to know the umpire's name to complete the form.
Same color jerseys with different numbers must be worn (not everybody with same # by June 2nd). All players must have a jersey. If a team isn't in uniform, then it will be a Forfeit for non-compliance to rule; the game doesn't have to be played but the umpire must be paid a full fee.
Rosters are also due on June 2nd Coaches - have extra shirts available for players that forget theirs.
HOME TEAM IS FIRST ON THE SCHEDULE. Reminder: HOME TEAM MUST SUPPLY THE SAFETY BASE. HOME TEAM (SECOND GAME) MUST turn on lights(O'NEILL). HOME TEAM (LAST GAME) MUST SHUT OFF THE LIGHTS. EVERYBODY (ALL TEAMS) MUST PICK UP TRASH AFTER THEIR GAME PLEASE
No alcohol will be allowed at any field or parking lot. Any team that is caught drinking alcohol will forfeit their next 2 games for the first offense. On the 2nd offense, that team will be thrown out of the league.
COACHES - PLEASE TEXT ME YOUR SCORES AT 978 382-1985, OR E-MAIL ME
AT nortiz@cityoflawrence.com WHICH GOES TO MY PHONE. THIS WAY WE CAN KEEP THE SITE UPDATED.
PLEASE MAKE SURE THAT YOU ARE USING THE HOT DOT 44 CORE BALL.
Sliding rule: A runner must always attempt to avoid contact by sliding if there is a play on the runner. If the runner can avoid contact without sliding, that is acceptable. If there is a play in which it appears that it is the intention of the runner to injure another player, the umpire has the authority to eject the runner and rule an out on that play. This will apply to second and third base, and home plate.
Home run rule: Batter/runner must touch first base. Everyone else may walk off. HR hitter should retrieve the ball if possible.
READ: League play begins on Tuesday May 1st. To read schedule click on Schedules on the menu to the left. To view only your team's schedule, click on Teams, then Schedules, or click on your team's name at the bottom of the League Schedule. The entire schedule is also posted in the Calendar.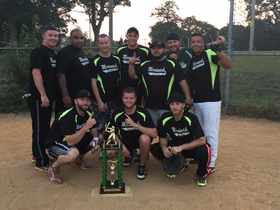 2015 Men's Softball Champs - The Bombers
Wednesday, April 18
Help!
As most of you know, the Lawrence DPW staff has been cut back recently, meaning less services at our parks. We are urgently looking for league members to help out in keeping the fields in playable condition and to keep the bench areas clean. If you have a rake, keep it handy and get together with other players to rake out the baselines and batter's box area before the games, or whenever it is needed. Encourage your teammates with trucks to keep some equipment in their vehicles as well. The job-box should have some equipment in there for your use too. EVERYONE must get used to throwing their trash in the barrels or taking it home with them after every game. Bring a trash bag if you can. Please don't expect the teams at the last game of the night to pick up everyone's trash. Nobody wants to play their games and see trash on the field or on the benches, so please take the extra steps to keep the fields clean. We are in difficult times here in Lawrence, and we need your help. Thank you.
If you own a rider lawn mower, or are in the landscaping business, we may need your help this year as well if the current DPW situation continues. Please contact Nelson Ortiz to discuss the possibility of donating some time and service to the league in this matter. Thanks again.
Good luck this season!