Thursday, May 21
No Longer in League
G.L.F.H.C. are no longer in the league if you are scheduled to play against them you will get a win.
Umpire evaluation form on leftyref.com please use this form to provide feedback to head umpire Bob O'Real about officials who have worked your games.This feedback can be of a positive or negative nature, but must be honest.You do NOT have to know the umpire's name to complete the form.
Looking to play on a team: Marlene Diodati 978 479-9894
Looking to play on team: Joe Armano is looking to play on a team if you need a player you may contact him at 978 702-6187.
Looking to play on team: Jason Allen is looking to play on a team you may contact him at 774-288-0241.
Looking to play on team: Aylssa Marini and Ryan Buckley are looking for a team to play on you may contact them at alyss2417@gmail.com
Looking to play on team: Kevin McCann and a female player are looking to join a team for the 2015 summer co-ed season you can contact them at 978 479-1381.
Looking to play on team: Michael Greeley and Gerlyn Puello are looking for a team to play on you may contact them at 978 390-7515.
Free substitution is allowed but batting order must remain the same.
Same color jerseys with different numbers must be worn (not everybody with same #). All players must have a jersey. If a team isn't in uniform, then it will be a Forfeit for non-compliance to rule; the game doesn't have to be played but the umpire must be paid a full fee. Rosters are also due on June 1st. Coaches - have extra shirts available for players that forget theirs. COACHES - PLEASE TEXT NELSON WITH YOUR SCORES, AT 978 382-1985, OR E-MAIL HIM AT nortiz@cityoflawrence.com, WHICH GOES TO HIS PHONE. THIS WAY WE CAN KEEP THE SITE UPDATED.
PLAYOFF FORMAT; top 6 teams First and Second place gets a first round bye. head to head, runs against coin toss.
Starting the game: when batting 10 or more players, each team must have a minimum of 4 members of the minority sex in the lineup at all times. If a team only has 3 girls, you will use only 3 defensive players in the outfield and the 5th position in the lineup will be an automatic out. After the 6th batter you can choose your line-up as you wish, this is an example.Example Lineup (if only 3 girls)

1 Male
2 Female
3 Male
4 Male
5 Automatic out taken for missing Female
6 Male
7 Male
8 Male
9 Female
10 Male
11 Female
No alcohol will be allowed at any field or parking lot. Any team that is caught drinking alcohol will forfeit their next 2 games for the first offense. On the 2nd offense, that team will be thrown out of the league.
Home run rule: Batter-runner must touch first base. Everyone else may walk off.
Reminder:
HOME TEAM (EVERY GAME) MUST SUPPLY THE SAFETY BASE.
HOME TEAM (SECOND GAME) MUST TURN ON LIGHTS (O'NEILL).
HOME TEAM (LAST GAME) MUST SHUT OFF THE LIGHTS.
EVERYBODY (ALL TEAMS) MUST PICK UP TRASH AFTER THE GAMES.
HOME TEAM IS FIRST ON THE SCHEDULE.
General Information: All teams must write the first and last name of all players in their team's scorebook in pen. No pencil will be allowed. Again, first and last names must be printed and legible. Line-ups must be exchanged before the game can start.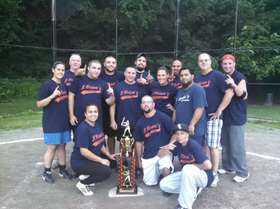 2014 Summer Coed Softball champs - J Brian's