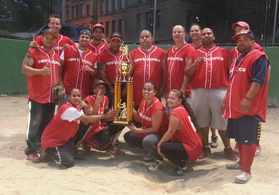 2013 Summer Coed Champs - New Balance
Wednesday, January 29
Sign Ups
MEN'S WEEKNIGHTS AND CO-ED----MONDAY MARCH 3RD 6:00PM AT THE LAWRENCE PUBLIC LIBRARY
CONGRATULATIONS TO NEW BALANCE, YOUR 2013 SUMMER CO-ED CHAMPIONS.
WE WOULD LIKE TO THANK ALL THE TEAMS THAT PARTICIPATED IN THE LEAGUE, AND WE HOPE TO SEE YOU AGAIN NEXT YEAR.
Same color jerseys with different numbers must be worn (not everybody with same #). All players must have a jersey. If a team isn't in uniform, then it will be a Forfeit for non-compliance to rule; the game doesn't have to be played but the umpire must be paid a full fee. Rosters are also due on June 1st. Coaches - have extra shirts available for players that forget theirs.
COACHES - PLEASE TEXT NELSON WITH YOUR SCORES, AT 978 382-1985, OR E-MAIL HIM AT nortiz@cityoflawrence.com, WHICH GOES TO HIS PHONE. THIS WAY WE CAN KEEP THE SITE UPDATED.
No alcohol will be allowed at any field or parking lot. Any team that is caught drinking alcohol will forfeit their next 2 games for the first offense. On the 2nd offense, that team will be thrown out of the league.
Home run rule: Batter-runner must touch first base. Everyone else may walk off.
Reminder:
HOME TEAM (EVERY GAME) MUST SUPPLY THE SAFETY BASE.
HOME TEAM (SECOND GAME) MUST TURN ON LIGHTS (O'NEILL).
HOME TEAM (LAST GAME) MUST SHUT OFF THE LIGHTS.
EVERYBODY (ALL TEAMS) MUST PICK UP TRASH AFTER THE GAMES.
HOME TEAM IS FIRST ON THE SCHEDULE.
General Information: All teams must write the first and last name of all players in their team's scorebook in pen. No pencil will be allowed. Again, first and last names must be printed and legible. Line-ups must be exchanged before the game can start.