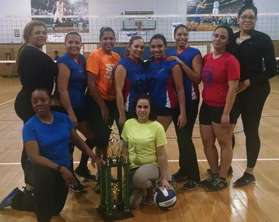 2015-2016 Volleyball Champs - Las Tartaras
Thursday, February 11
Volleyball Champs!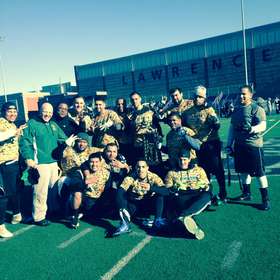 2015 Fall Flag Football Champs - The Playmakers
Organizational meetings are as follows:
Spring Flag Football - Mon 3/7 5:30 PM, Rec Dept office (basement)
Sunday Men's Softball - Mon 3/7 6:15 PM, Rec Dept office (basement)
Summer Coed and Men's Weeknight Softball - Wed 3/9 6:00 PM, Lawrence Public Library, 51 Lawrence St
Welcome to the home page for the Lawrence Rec Dept Adult Leagues. Check here often for updates and league news. Be sure to call or email Nelson Ortiz the day after your game with the results. We want to provide current standings and information at all times, and we need your help.
CLICK ON THE LATEST NEWS LINK TO THE LEFT TO SEE PHOTOS OF ALL OF OUR CHAMPIONSHIP TEAMS FROM 2008 THROUGH 2015!
SENIOR SOFTBALL: The Merrimack Valley Senior Softball Association (MVSSA) is currently registering players for the 2016 season. Players who will be at least 50 years old by 12/31/2016 are eligible. The league will play on Sundays from 8:30 AM to noon on two fields at Riverside Park in Haverhill. The 6-team league will have 13 players on each team. Two weeks of pre-season will begin in April as soon as the fields are ready. There will be 15 regular season (9 inn) games with three weeks of playoffs (double elimination). There will be umpires for all regular season and playoff games. Team shirts and caps will be provided and jackets will be awarded to the playoff winners. ASA rules will be modified for senior softball. The fee to play in the league is $115. Interested players should e-mail MVSSA2K15@outlook.com or call (978) 475-5424. You can also contact Jack Gilhooly at 978-382-0831 or jackgilhooly@comcast.net. Additional information will be provided along with a registration form and waiver of liability.
Interested in becoming a baseball umpire? There's still time! Call or email now!
The Greater Lawrence Baseball Umpires Association (GLBUA) is looking for new umpires for the 2016 season. If you are interested in becoming certified, we are starting our annual candidates class on Monday Jan 25th at 7 PM at Greater Lawrence Tech in Andover. Classes are scheduled for 6 Mondays, with the exam on March 7th, followed by field mechanics and various clinics. The fee for the class is $125, and completion of the class includes the 2016 membership to the GLBUA, as well as registering you with the Massachusetts Baseball Umpires Association (MBUA). http://greaterlawrenceumpires.com/
Please contact Jack Gilhooly at 978-382-0831, or jackgilhooly@comcast.net.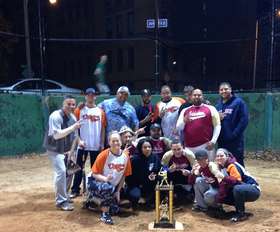 2015 Fall Coed Champs - Celebration Club
LAWRENCE REC DEPT ADULT SPORTS Leagues