Lakes Jr Eagles Boys Basketball 2013-2014: Welcome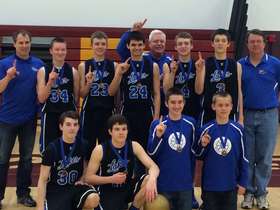 8TH GRADE CHAMPIONS OF RICHMOND BURTON TOURNAMENT
Lakes Jr. Eagles 2013-2014
2013-2014 JR EAGLES
5TH-8TH GRADE BOYS
8TH GRADE TAKES 1ST PLACE AT RICHMOND BURTON TOURNAMENT FOR 4TH STRAIGHT YEAR !!!
NIBFBC CONFERENCE TOURNAMENT - CONGRATULATIONS TO OUR 8TH GRADE TEAM FOR ADVANCING TO THE CHAMPIONSHIP GAME AND CLAIMING 2ND PLACE!
CONFERENCE 8TH GRADE ALLSTAR GAME - CONTRATULATIONS TO WADE PARMLY AND RYAN SELIG FOR REPRESENTING LAKES IN THE NIBFBC ALLSTAR GAME!!!
GO JR EAGLES!!
"CLICK" MY SITE NEWS FOR JR. EAGLES PROGRAM INFORMATION