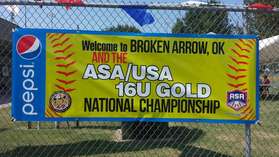 16U Gold Nationals here we come!!!
Lady Orioles Gold
2010 ASA GOLD QUALIFIERS
2011 Adidas Futures Top 50 Coaches
2011 Colorado Fireworks & Sparkler All American Game
Melanie Slowinski- Rutgers and Carissa Throckmorton- Pitt
http://www.youtube.com/watch?v=bVygmWZvztw
2014 ASA 16U Gold Qualifiers
News! News! News! News! News!
12/3/14 - This Holiday Season, the Lady Orioles Organization will adopt 2 families as part of the Adopt a Family Program through Our Lady of Mt. Carmel Catholic Church.

11/17/14 - Congratulations to our 2017 SS Hannah Eslick for verbally committing to play softball for the University of Maryland!
9/9/14 - Lady Orioles featured in Softball 360 video about the 2014 ASA 16U Gold Nationals. Check it out here.
Remaining 2014 Fall Schedule
Jan 2-4, 2015
Rising Stars Showcase

Ft. Lauderdale, FL

Joe Cunningham is our team pitching coach!
Coach Joe Cunningham brings many years of knowledge and experience as a fast pitch pitcher, select ball coach, umpire, college coach at DI, DII & DIII divisions, and as a pitching instructor.
Pitching staff motto "In Joe Cunningham we Trust!"
Pete Eibner, CPT is our team conditioning coach!
Coach Pete Eibner, CPT has extensive experience training female athletes; nevertheless, he has been a valuable asset to our teams.
www.fastforwardtrainingsystems.com
Lady Orioles Gold Class of 2017
Michala Maciolek- verbal to Syracuse University
Hannah Eslick- verbal to University of Maryland
Lady Orioles Gold Class of 2014
Tiffany Ludke- Shippensburg University
Leanne Collins- Salisbury University
Lady Orioles Gold Class of 2013
Caitlyn Kirby- Washington College
Justina Augustine- Longwood University
Mary Ward- Penn State University
Taylor Forte- Emory University
Mac Wilson- West Virginia Tech
Lady Orioles Gold Class of 2012
Melanie Slowinski- Rutgers University
Lexi Murdock- College of Charleston
Lady Orioles Gold Class of 2011
Carissa Throckmorton- University of Pitt
Sophie Giaquinto- Cornell University
Cara Woods- East Stroudsburg University
Samantha Lang- Shippensburg University
Lady Orioles 2010 College Players
Elizabeth "Liz" Hipple- Chowan University
Angela "Cook" Cook- Coppin State University
Allison Bittner- Wilmington University
Taylor Thomas- Delaware Technical
Lady Orioles 2009 College Players
Megan Smith- Francis Marion University
Lexi Matula- Shepherd University