Lady Fireballs: Welcome
The Lady Fireballs are based in the heart of Chester County. Since 1995 the Fireballs have focused on developing fuandamentally sound players and teams that compete at the highest level with the highest level of character. This is what sets the Fireballs apart. At the 18U level we focus on ensuring our players can be leaders on their high school teams and prepare those who want to play at the next level.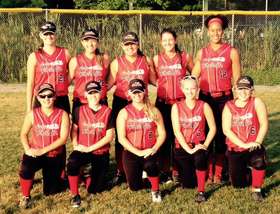 2015 18U Team at PONY Nationals
Monday, August 17
2016 Tryouts
Thank you to everyone who attended tryouts. Tryouts are complete and the 2016 team is selected. As we go into the fall we could still be interested to add 1 or potentially 2 players. We would potentially look for an additional pitcher to join our rotation and we would be interested in a versatile utility - ideally a speedy slapper.
With busy fall schedules will no doubt need a guest player here and there and we are glad to bring the right guests with us to a showcase or tournament. If you are interested in looking into joining team or potentially guest playing with the Fireballs please contact Coach Gray at (484) 886-6289 or nelsongray@comast.net. We would be glad to invite an interested player to one of our team practices so we get to know you and you get to know us.
Meet the 2014-2015 18U Team
Congratulations to the young ladies who are the 2014-2015 Lady Fireballs! You are all dedicated and talented student-athletes and we look forward to many acheivements to come this year!
Click on the picture to see the team roster and player profiles.
Texas Hold 'Em Tournament
The Lady Fireballs send a Thank You to everyone who supported this event. We especially thank our generous Sponsors who helped make this event possible for everyone. Please visit our Sponsor Page and of course see the Sponsor Sheet that was handed out at the event.
When: Saturday, March 21st 2015 Time: 6:00 PM – 11:30 PM (Check in at 4:30) Where: West Chester VFW Address: 837 Lincoln Ave, West Chester, PA 19380
Handout:
Texas Hold'em Tournament 2014
Monday, September 15
Lady Fireballs 2015
Thank you to everyone who attended our tryouts. The 2014-2015 team is selected and we are very excited about this group. While the team is ready to go we still would look to add one more versatile player onto our roster. This could be a great spot for someone looking to get showcase exposure or to join us for our winter training. Contact one of our coaches to learn more.
Tuesday, September 9
Fall Schedule
Sunday practice or potential scrimmages on open weekends.
| | | |
| --- | --- | --- |
| Weekend | Event | Location |
| 9/20-9/21 | Kyle Miller Showcase | Allentown, PA |
| 10/4-10/5 | Tournament | tbd |
| 10/11-10/12 | | |
| 10/18-10/19 | Delaware Invitational | Wilmington, DE |
| 10/25-10/26 | Sellersville Showcase | Sellersville, PA |