Florida District 15 Little League: Umpires
Tuesday, June 24
2015 UMPIRE CLINIC DATES
2015
Mark you calendar NOW!
•
Spring Extravaganza Clinic:
Feb. 21
st
& 22nd, @ WHLL in Spring Hill
•
Tournament Umpire Clinic:
June 6
th,
@ WHLL in Spring Hill
•
Fall Refresher Clinic:
Sept. 19
th
, @ WHLL in Spring Hill
Saturday, March 22
2014 REGIONAL UMPIRES
District 15 is proud to announce
that 4 of our umpires have received
2014 Regional Assignments:
Billy Coffey (West Hernando Little League) Senior Baseball
Chris Parks (Central Citrus) Little League Softball
Zeke Gregory (Inverness) Big League Softball
Mike Barrow (Lady Lake, District Staff UIC) Big League Softball
Tuesday, June 24
Regional Umpire Clinics
2014 SOUTHEASTERN REGION UMPIRE CLINICS
2014 Southeastern Region Umpire School
6 Days of Intense Training
Oct. 14 - 19, 2014
Clinic will given by Regional Staff Umpires and Instructors
and will be held at the Regional Headquarters in Warner Robbins, Ga.
The Southeastern Region Umpire School is one of the essential phases of the overall Adult Leadership Training service through which thousands of volunteers have benefited from. Playing rules and regulations are discussed during daily classroom sessions and actual or simulated game experiences will be provided to each umpire during the course of the school.
<><><><><><>
2014 Train the Trainer Clinic
December 5 - 7, 2014 - Warner Robins, Georgia
<><><><><><>
2015 SOUTHEASTERN REGION UMPIRE CLINICS
2015 Rules Clinic
January 9 - 11, 2015 - Warner Robins, Georgia
<><><><><><>
2015 Umpire Mechanics Clinic
February 6 - 8, 2015 - Warner Robins, Georgia
<><><><><><>
Wednesday, October 9
2013 Fall Refresher Clinic
Basic "6"
2013 Fall Refresher Clinic Basic 6
Wednesday, October 9
2013 FALL REFRESHER CLINIC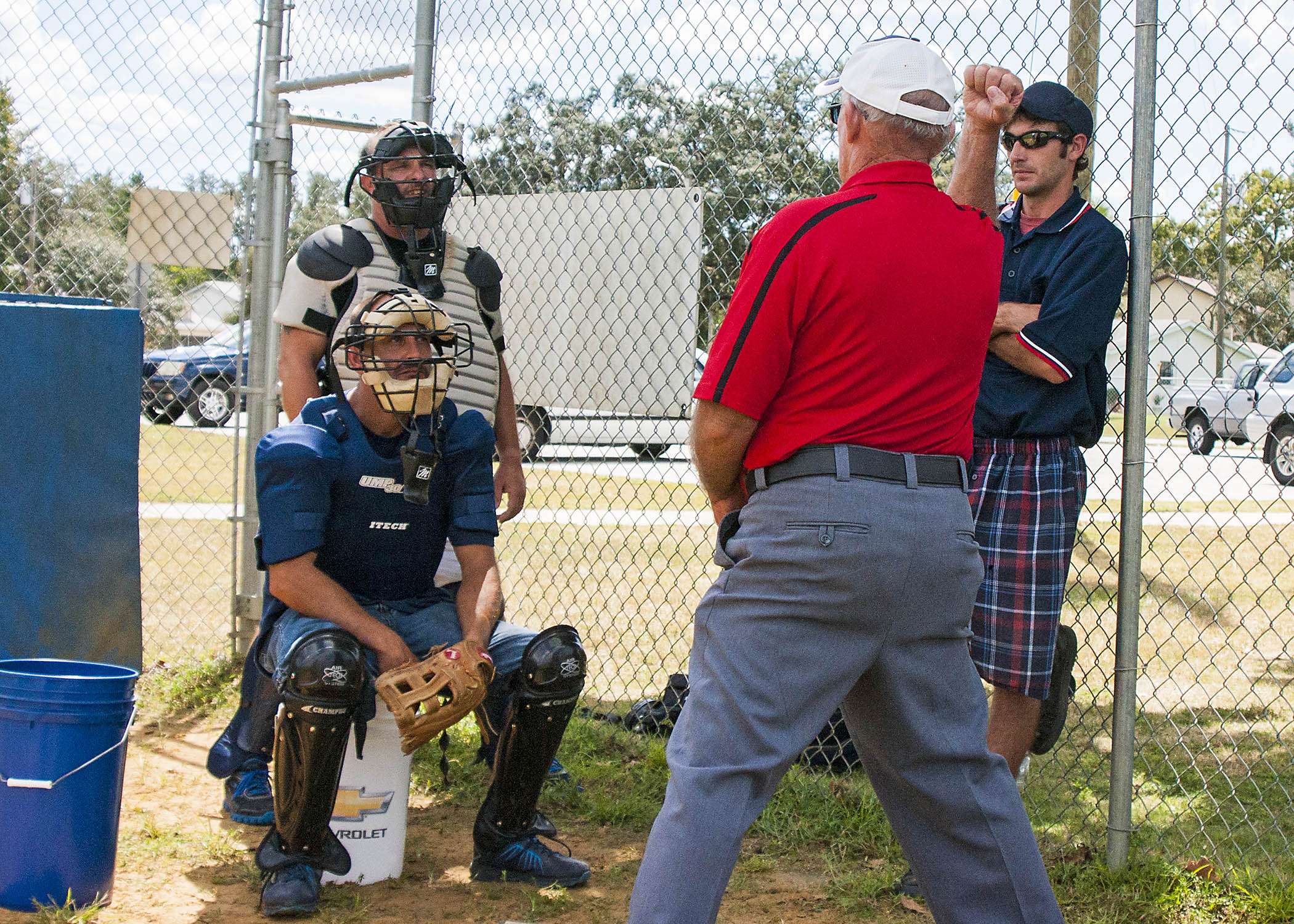 Cage Work
Cage Mechanics
Wednesday, October 9
UMPIRE RESOURCE CENTER
At District 15 we highly recommend that you fully utilize this resource tool. It is the best thing outside of attending a clinic in person. It is a great way be study between clinics and seasons.
Little League International is pleased to announce the new Umpire Resource Center
This valuable resource is now available Free. Whether you are a novice umpire or an experienced umpire, the Umpire Resource Center is a valuable tool in improving or honing your umpiring skills.
The Umpire Resource Center is packed with educational content and video clips on plate and base mechanics to print and news articles that will provide an opportunity for Little League's to look to this resource to build, recruit, train and retain a program of volunteers within their leagues. The resource center will also enable umpires to remain updated on the rules and regulations, exchange ideas and offer suggestions that will continually improve their game.
Register for the Free Umpire Resource Center today at www.LittleLeagueUmpire.org.
LL Umpire Registry
The 2014 Umpire Registry is open.
Click the headline title for the link.
To encourage and stimulate the volunteer status of umpires, the Umpire Registry serves to provide the Little League umpire with up-to-date information on clinics, seminars, rule interpretations, updates, rule books, etc.
Umpire Receives:
Copies of all Little League Baseball Rule Books
Baseball and Softball Rules, Electronic Edition which you download from a website
A copy of The Right Call/ The Umpire in Little League
An Official Little League Bat Ring
An official Little League Baseball Registry ID, Certificate and Umpire Patch
Online Subscription to Umpire Registry Newsletter, Fair Ball
listing in the Little League Baseball Registry of Umpires
Fee: $25
Wednesday, October 9
UMPIRE NUMBERS
Beginning with the 2012 Spring Season the District will issue numbers to qualified umpires. Umpires with District numbers are given preference when being considered for sectional, state assignments and above.
Umpires that were previously issued numbers by their league must still qualify to be a District numbered umpire. You will not have to change your number. Your number has been reserved for you. This requirement is needed because leagues did not have a set standard to qualify for numbers. Some leagues gave numbers away to those who merely asked for them while other's may of had high standards and qualifications. So as a District we are requiring all umpires to qualify by our standards.
For a copy of the District requirements email me D15Umpire@ymail.com
Friday, December 18
"Un-Official" LL Umpire Webpage
Umpire Positioning / Mechanics
LL Volunteer Umpires - Where are they/Why can't we find them?
Sunday, October 13
2013 FALL REFRESHER CLINIC
Mechanics
Wednesday, October 9
2013 FALL REFRESHER CLINIC
Rules - The Rule, The Intent, The Proper Interputation
Important Umpire Contacts in District 15
Ray, Baseball Umpire Consultant.
D15Umpire@ymail.com
Mike Barrow, Softball Umpire Consultant.
mbarrow1649@embarqmail.com