Florida District 15 Little League: Umpires
Important Umpire Contacts in District 15
Ray, Baseball Umpire Consultant.
D15Umpire@ymail.com
Mike Barrow, Softball Umpire Consultant.
mbarrow1649@embarqmail.com

Tuesday, April 5
2015/16 UMPIRE CLINIC DATES
2016
DISTRICT 15/SECTION 7
UMPIRE CLINICS
Mark you calendar NOW!
****************************
Tournament Umpire Clinic
June 4th
9:00 - 6:00
@ West Hernando Little League
FREE Lunch
Tournament Handouts (Available only at this Clinic)
Door Prizes
Clinic Agenda:
4 Umpire Mechanics
Tournament Rules Review
*********************
Fall Refresher Clinic
Sept. 17th
9:00 - 6:00
Site to be Determined
Free Lunch
Clinic Agenda:
4 Hour Rules Review
2 Umpire Mechanics Instruction
Plate Mechanics Instruction (Limited Availability)
*************************
Saturday, January 16
2016 REGIONAL UMPIRE APPOINTMENTS
Congratulations to Dan Greer, West Hernndo and District 15 Staff, whas been selected to umpire at this year's Little League Baseball Regional Tournament in Warner Robbins, GA
and Chris Parks, Central Citrus, who has been selected to umpire the Little League Senior Softball Regional Tournament.
HAVE A GREAT TIME, YOU'VE EARNED IT!!
Thursday, December 10
SOUTHEASTERN REGION UMPIRE TRAINING
2016 Southeastern Region Umpire Clinic Schedule
Rules & Regulations Clinic
January 8 - 10
@ SER Headquaters in Warner Robbins, GA
***Florida Road Show / Mechanic Clinic
January 30 & 31
@ West Boyton Park and Recreation Center in Boyton Beach, FL
2 Umpire Mechanics
February 19 - 21
@SER Headquarters in Warner Robbins, GA
4 Umpire Mechanics
June 3 - 5
@SER Headquarters in Warner Robbins, GA
For complete details reguarding Southeastern Region Umpire Training please click the link in the Headline above.
Friday, July 31
2015 FLORIDA VOLUNTEER UMPIRE OF THE YEAR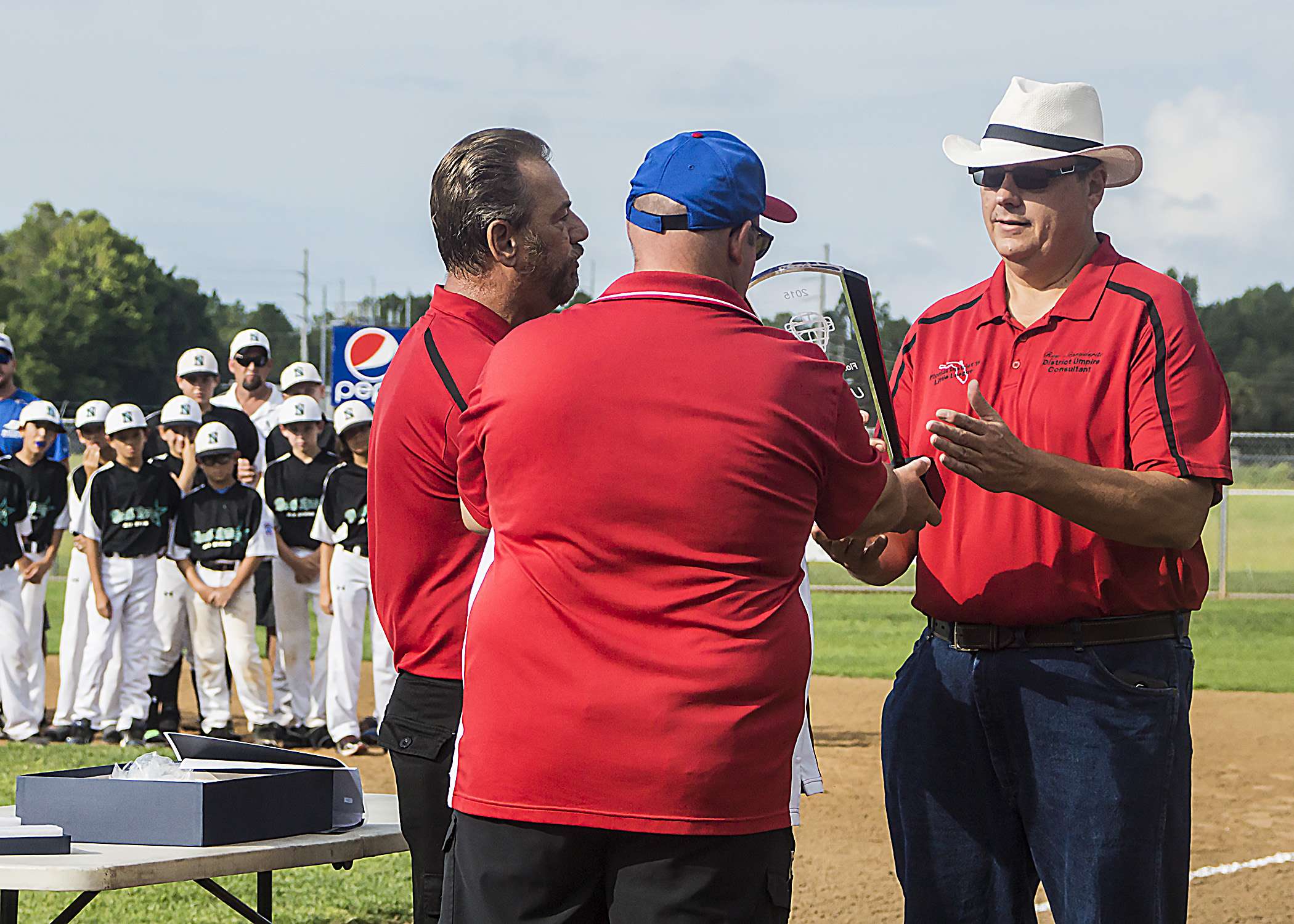 2015 FLORIDA VOLUNTEER UMPIRE OF THE YEAR
At the recent 10/11 State Tournament in Crystal River, D-15 UIC and volunteer umpire Ray was awarded the 2015 Florida Volunteer Umpire of the Year Award for his dedication and accomplishments in the Little League Program. Each year one volunteer umpire from Florida is selected by the Florida District Administrators for this great honor.
Wednesday, March 11
THE RULING
QUESTION: Can a tee ball bat be used in other divisions of Little League?
ANSWER: Yes, but only if it meets all other standards required by Rule 110 (pages Baseball 53, 54 Softball 49 ) for that division. For all divisions it clearly states NOTE 3 The bat may carry the mark "Little League Tee Ball." So in all minors and majors the tee ball bat may be used as long as if non-wood it does not exceed 33" in length and nor more than 2 1/4" in diameter with a BPF OF 1.15 or less in baseball and BPF of 1.20 or less for softball clearly imprinted on the bat. If the tee ball bat meets the requirements set forth in the rule for Junior or Senior (Intermediate in baseball) it would be legal for use in the respective division.
QUESTION: May a 2 1/4" composite bats be used in the intermediate, junior or senior baseball division?
ANSWER: No, Rule 110 (page 54) states All composite bats must meet the Batted Ball Coefficient of Restriction standard (BBCOR), and such bats shall be so labeled with a silkscreen or permanent certification mark. So even a 2 1/4" composite bat approved for use in the Major an Minor divisions may not be used in the intermediate junior or senior division.
QUESTION: When our league plays a team from another league may we still use our local ground rules?
ANSWER: NO but!, All interleague games are governed by the 2015 District 15 Interleague Rules available from your local league President. Anything not covered by the interleague rules is covered by the 2015 Little League Rule Book. No league may impose it's local rules on another league. However a league may impose additional local ground rules on it's own teams during interleague games. APPROVED RULING In the interleague rules a pool player may catch but a league may set a rule on it's own teams that pool players may not catch even during interleague games. This however does not effect the opposing teams ability to allow it's pool player to catch.
QUESTION: If a manager fails to meet mandatory play for one or more of the players on his team will that team lose the game by forfeit?
ANSWER: No, The mandatory play is covered by Regulation IV(i) (pages Baseball/Softball 34-35) clearly states the forfeiture of a game may not be invoked. There are 3 levels of penalty by rule and all involve the offending manager. No rule does not allow for forfeiture of a game for violation of this regulation. If the violation is determined to be intentional, a more severe penalty may be assessed by the Board of Directors. However forfeiture of a game may NOT be invoked. Please read the full rule concerning shortened games and how not meeting the requirements of this regulation effect the player involved.
Do you have questions concerning rules, the intent or interpretation?
Please send them to
D15Umpire@ymail.com
and get the right answer. We may even include your question in our next training bulletin for others to share the information. We have found that for every question we receive there are 3 other people who have the same question but never asked and at least 5 others who have been following the wrong interpretation. There are no dumb questions except the ones you don't ask. Please let's get it right from the start of the season. We are not able nor will we make rulings on game situations since most situations must be seen and concern judgment calls. We will however clarify and explain the rules.
Check Back Often for Updates & New Information
Thursday, December 10
LITTLE LEAGUE UNIVERSITY
At District 15 we highly recommend that you fully utilize this resource tool. It is the best thing outside of attending a clinic in person. It is a great way be study between clinics and seasons.
Little League International is pleased to announce the Little League University
This valuable resource is now available Free. Whether you are a novice umpire or an experienced umpire, the site is a valuable tool in improving or honing your umpiring skills.
Little League U is packed with educational content and video clips on plate and base mechanics to print and news articles that will provide an opportunity for Little League's to look to this resource to build, recruit, train and retain a program of volunteers within their leagues. The site will also enable umpires to remain updated on the rules and regulations, exchange ideas and offer suggestions that will continually improve their game.
Register for the Free at www.LittleLeagueU.org or click the link in the header above.
Wednesday, October 9
UMPIRE NUMBERS
Beginning with the 2012 Spring Season the District will issue numbers to qualified umpires. Umpires with District numbers are given preference when being considered for sectional, state assignments and above.
Umpires that were previously issued numbers by their league must still qualify to be a District numbered umpire. You will not have to change your number. Your number has been reserved for you. This requirement is needed because leagues did not have a set standard to qualify for numbers. Some leagues gave numbers away to those who merely asked for them while other's may of had high standards and qualifications. So as a District we are requiring all umpires to qualify by our standards.
For a copy of the District requirements email me D15Umpire@ymail.com
Friday, December 18
"Un-Official" LL Umpire Webpage
Umpire Positioning / Mechanics
LL Volunteer Umpires - Where are they/Why can't we find them?