Yellow Jackets: Welcome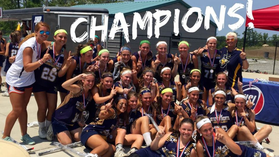 2015 U15 NATIONAL CHAMPIONS
Friday, January 22
THIS WEBSITE IS NO LONGER BEING UPDATED AS OF JULY 2016 NEW WEBSITE:
The Yellow Jackets are the FIRST and FINEST competitive Long Island Girl's lacrosse travel club program. They are highly recognized as the Premier club on Long Island. Yellow Jackets are a "SELECT LACROSSE CLUB" looking for the BEST players from Long Island!!
Teams are coached by Top HS Coaches, USA/World Cup Players, All Americans and Collegiate players who are dedicated year round to developing the top lacrosse players from our region.
CONGRATULATIONS FOUR YELLOW JACKET PLAYERS MAKE U-19 TRAVEL TEAM
Claire Quinn, Nikki Ortega, Kerrigan Miller, Sam Giaccolone
FOLLOW ON TWITTER ALL TEAM NEWS @LIYELLOWJACKETS
FINAL SUMMER ROSTERS HAVE BEEN POSTED
ALL YJ CLINICS CANCELED DUE TO BLIZZARD JAN 23-24th. Both Clinics Re-Scheduled for March 5th 4:45pm-8:45pm @ NorthSport
REGISTRATION LINK: https://lax.teamsportsinfo.com/lie-players-2016/Home
New Tourney, Clinics and Leagues Sign up Link
https://lax.teamsportsinfo.com/lie-alc-2016/Home
Yellow Jackets Class of 2018 Verbal Commitments

Sarah Reznick (Long Beach) Florida

Cassidy Weeks (Bayport) BC

Kiki Venza (Comsewogue) Ohio State

Courtney Weeks (Bayport) BC

Erin Triandafilis (Shoreham) Penn State

Meaghan Tyrell (Mt.Sinai) Syracuse

Madison Rielly (Friends) Maryland

Eleanor Kast (Westhampton) Stony Brook

Madison Sanchez (Rocky Point) Maryland

Camryn Harloff (Mt.Sinai) Stony Brook

Jennifer Medjid (Garden City) BC

Alana Greene (North Shore) Jacksonville

Shannon Maroney (Rocky Point) Canisius

Meaghan Scutaro (Mt.Sinai) Notre Dame

Kirsten Scutaro (Mt.Sinai) Notre Dame

Jordyn Biskup (ESM) Jacksonville

Taylyn Stadler (Syosset) UPENN

Hailey Daleo (Westhampton Beach) Stony Brook

Emerson Cabrera (Northport) Florida

Hannah Dorney (Comsewogue) Notre Dame

Emilee Downs (Westhampton) Towson

Emily Seiter (Mt. Sinai) Jacksonville

Hannah Kenneally (ESM) BU

Christina Bellisimo (Rocky Point) Stony Brook

Mackenzie Hovsepian (Smithtown West) ASU

Dayna Martinetto (ESM) Jacksonville

Kerry McHugh (Garden City) Lehigh

Gianna Bifulco (Harborfields) Binghamton

Deanna Weisneberger (Garden City) Stony Brook
Yellow Jackets Class of 2019 Verbal Commitments

Melissa Sconone (East Islip) UNC

Brianna Lamoureux (Rocky Point) Maryland

Isabella Costa (Smithtown) NAVY

Carolyn O'Brien (Sachem North) Ohio State

2020 Caitlyn Wurzburger (American Heritage) Syracuse
&n