Lafayette Little League: Welcome
Friday, July 22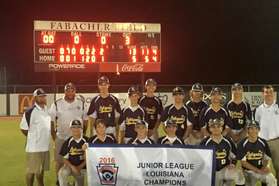 2016 LA Junior League State Champion
CONGRATULATIONS goes out to the Lafayette Little League Junior Team that won the Louisiana State Junior League Championship this past week! Pictured from Left to Right:
Kneeling - Landon Berard, Drake Lee, Parker Lafosse, Evan Sogga, Gavin LeBlanc, Michael Furka;
Standing - Coach DeRoussel, Coach LeBlanc, Jack Davis, Jayde Curtis, Tyler LeBlanc, Kyle Koch, Logan Spears, Culley Holden, Zan Saunier, Coach Sogga. (Not pictured - Braxton Guilbeau)
Their next step is the Southwest Regional which begins on August 4, 2016 in Rio Rancho, New Mexico. If you would like to help our beloved Lafayette Little League team make it to New Mexico, please click here for their Go Fund Me account. Thank you for supporting LLL!
---
Weather Update - The Fields are OPEN for Post Season Practices!!!
---
2016 Important Dates at LLL!!!
Registration for all Divisions at Lafayette Little League is now closed. We'll keep updating the Important Dates below:
August 1st - LLL Fall Ball Registration Opens
August 4th - Southwest Regional International Tournaments begin and host site
Major - Waco, TX
Junior - Rio Rancho, NM
August 14th - Junior League Baseball World Series - Taylor, MI
August 28th - Little League Baseball World Series - South Williamsport, PA
September 6th - LLL Fall Ball Practices/Games Begin
Thank you for chosing Lafayette Little League. And if you have any questions, please email info@lafayettelittleleague.net.
---
BOARD MEMBERS WANTED: LLL is managed, operated and ran by a volunteer board. They are the reason we have one of the best baseball parks in the city and in the state. The Board helps to provide outstanding fields, quality baseball and an environment for familes to enjoy this special time in their childrens lives. As the year ends, please consider volunteering to be a Board Member for the 2016 season. T-Ball, PeeWee and Minor parents are needed to ensure the hard work of past Board members will continue on for furture generations.
---
*** LLL iPhone APP NOW AVAILABLE ***
LLL now has an app on itunes and google if you haven't downloaded it yet make sure you do now while it is FREE. Keep up to date on game schedules, concession duty, rain outs, and dinner at the park.
Click HERE to download: https://itunes.apple.com/us/app/lafayette-little-league/id803491855?mt=8
Click HERE to download the Android version: https://play.google.com/store/apps/details?id=com.ati.lll
---