PITTSBURGH LADY ROADRUNNERS: 2014 Team News
Sunday, July 27
14U JUBAS WINS THE "ALL SANCTIONED" WORLD SERIES NATIONAL CHAMPIONSHIP
OH YEAH!!! Jubas 14U wins the All Sanctioned World Series in Columbus Ohio!!! A perfect 10 and 0 they dominated the field scoring 111 runs and letting up 36 in bringing home the Championship trophy. The entire organization is SO PROUD of the NATIONAL CHAMPIONSHIP this group of girls brought home. WAY TO GO ROADRUNNERS!!!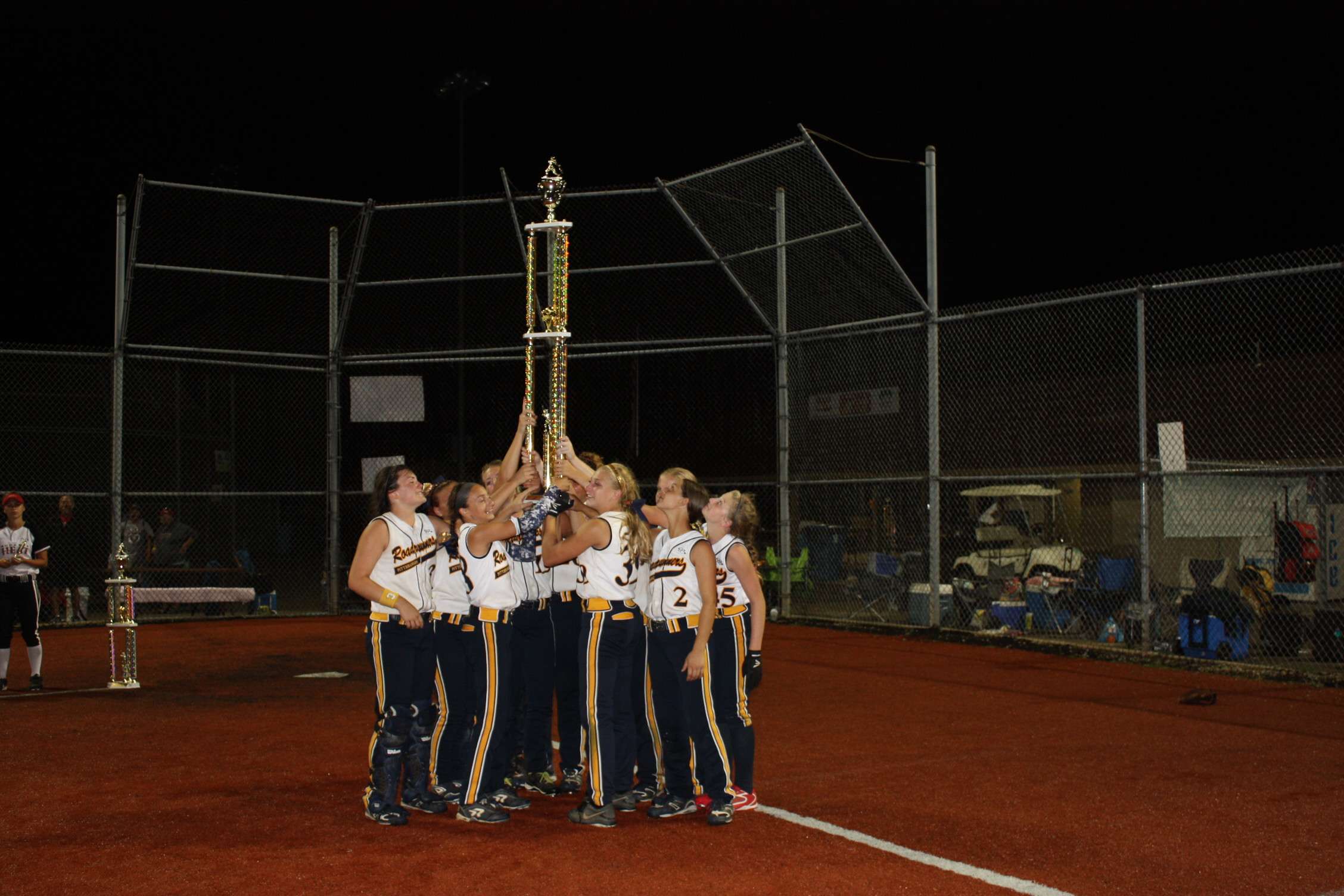 Roadrunner hoist up the Trophy as Beep Beep is heard around the world
Sunday, July 27
Terrell 14U impresses at the ALL SANCTION Tournament in Columbus
Congratulations to Terrell 14U for making the Elite Eight at the All Sanctioned World Series in Columbus Ohio. Finishing first in their pool play with a perfect 4 and 0 record with 38 runs scored veruses 10 runs allowed and a overall tournament record of 7 wins and 1 lose, the Roadrunners scored 57 runs and allowed 18 over their 8 game run. Finishing in the top eight of the 88 team field.
Congrats also to Hailey Stamps for winning the "Fastest Pitcher" contest at the All Sanctioned World Series for the 14U group.
Sunday, July 27
14U Bell wins"Round the Horn" at the ALL SANCTION NATIONALS"
Congrats to 14U Bell for winning the "Round the Horn" contest at the All Sanctioned Tournament in Columbus Ohio. Proving to be the best infield in the 88 team tournament. In addition the girls played great softball all weekend scoring 30 runs and letting up only 11 in their impressive 4 and 2 record over the weekend. WAY TO GO ROADRUNNERS!!!
Tuesday, July 8
July 8th 2014 is Pittsburgh Lady Roadrunner Day
Pittsburgh Lady Roadrunners receive a Proclamation from Council Woman Smith and the City Council of Pittsburgh honored our organization for our great work with area softball players. Pictured with City Council receiving the proclamation on behalf of the Roadrunners are: Ava Martin and Paige Kuisis from Ralson 10U; Mackenzie Freeman for Mass 12U; Tatem Minear, Alexis Barlock and Taylor Lokaitis from Komara 12U; Sammie Terrell and Alex Kopec from Terrell 14U; Tessa Minear, Jada Simon and Morgan Toal from Jubas 14U; Stepahine Seibert and Jess Gordon from Hall 18U.
Saturday, July 19
Ralston 10U places 4th at the NSA Eastern National
Congratulations to Ralston 10U for finishing 4th at the NSA Eastern Nationals in Virginia. The girls ended a great season with a strong finish on a National Stage. GREAT YEAR GIRLS, PLR IS PROUD!!!
Sunday, July 13
Terrell 14U wins the ASA Twist Tournament
Congrats to the Terrell 14U Roadrunner team for winning the 2014 ASA Twist Tournament. In going 6 and 0 over the weekend the girls scored 54 runs including out scoring their opponents 31 to 2 on Bracket play Sunday. The girls played hard all weekend and brought home the Championship. WAY TO GO ROADRUNNERS!!!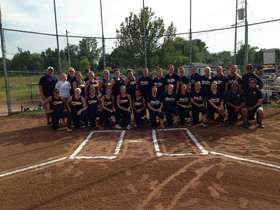 23U team gets ready to take on New Era
Tuesday, July 15
Over 18's play in final at Aunt Rosies in Amherst New York!
Great weekend for our over 18 team, playing in the Championship game. Final score was 1 to 0, but a great showing from a great group. Congrats!
Sunday, July 13
GREAT WEEKEND FOR OUR 12U TEAMS!!!
Komara 12U took second place at the Washington Twist Tournament, while 12U Mass playing up in the 14U Bracket in Wheeling WV made it to the championship game over the weekend, taking second as well.
Great Day for the Pittsburgh Lady Roadrunners!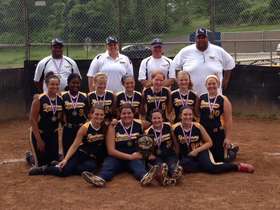 Terrell 14U plays in the NSA State Championship Game
Sunday, June 22
Good Day for Roadrunners as 3 teams play in State Championships
Congrats to Terrell 14U for making it to the NSA State Championship game. Komara 12U for making it to the USSSA State Championship game and Ralston 10U for Making it to the NSA State Championship game .
Our Roadrunners continue their success at ALL levels of Class A softball.
Sunday, June 15
Komara 12U wins again!
Congrats to Komara 12U for winning the Ohio Magic tournament. Back to Back wins in tournament play and the 6th Championship appearance for this talented team.
Sunday, June 15
Ralston 10U Plays in the Father's Day Classic Championship
The 10U Ralston team, had a strong showing at the Father's Day Classic. Undefeated in Pool play the team made it to the Championship on Sunday...then took this picture from REALLY far away...Congrats Girls!
Monday, June 9
Komara 12U is the 2014 Edward jones NSA Qualifier 12U Champions
Congratulations to the Komara 12U team for winning the 2014 Edward jones NSA qualifier 12& under champions. The girls went 6-0 for the weekend. After 3 previous Championship appearance this year, it is great to see the girls bring home the title. Keep it Rolling Roadrunners!
Sunday, May 25
16U Elliot and 12U Komara Play for the Championship
Congrats to the 16U Elliot Team and the 12U Komara team for playing at in the Championship at our very own Memorial Day Classic. Way to represent the organization. Keep up the great work.
Sunday, May 18
12U Komara in Championship of the Spring Fling
The 12U Komara team continued it's winning ways making it to the Championship Game at the Spring Fling
Tuesday, May 6
South Fayette wins Section 2 AAA
Congrats to the South Fayette Lady Lions for winning the WPIAL Section 2 AAA this year.
The Lady Lions are home to SEVERAL Lady Roadrunners, and we wish them will the WPIAL Tournament sesason.
Sunday, May 4
14U Bell wins ASA Spring Tune UP
Congrats to the 14U Bell team for going undefeated (7 - 0) and winning the ASA Spring Tune Up at Racoon. The undefeated weekend followed a 5 and 1 start at the Nitro Tournmant the week before.
A great way to start the tournament season!!! Keep up the great work Roadrunners!!!
Wednesday, April 30
12U Komara makes it to the Championship at Nitro
Congrats to the 12U Komara team for going 6 - 1 and making it to the Championship game at the Nitro Tournament.
Way to start the seasoin and represent the Pittsburgh Lady Roadrunners.
Sunday, May 4
Hayley Stamps and Taylor Lane part of history as the Big Red has first title in school history
WHEELING - April 14 through April 19 was a stint the Steubenville softball team would like to forget.
"Two weeks ago we were dead in the water," said Big Red coach Gus DiMarzio. It had lost five-straight games, being outscored 47-19, in those five days.
"What could we do?" DiMarzio said. "We just kept pushing and practicing hard and it turned around into this."
The first OVAC 4A title in program history.
Steubenville beat Harrison Central, 4-2, in the conference championship game on Saturday at Wheeling's I-470 Youth Sports Complex.
"It's a testament to our kids," DiMarzio said. "No coach can do that. I didn't field a ball, none of us guys in the dugout got a hit.
"I got to give props to my six seniors and their leadership abilities. They brought us back from the dead."
Big Red, now 17-7, collected seven hits off Huskies' pitcher Katie Ellzy and scored in the first, fourth and sixth innings.
Steubenville was swift on the basepaths - stealing a total of five bases as a team.
"Before the game, coaches told us that we should not be put down by anyone," said Big Red senior catcher Mytia Barker. "And that we had to be as aggressive as we can."
Sierra Fields was Steubenville's first baserunner in the bottom of the first inning, reaching on an infield hit. The junior stole second and third base, before scoring the game's first run.
Fields rushed home on a wild pitch and evaded a tag by Joelle Jones.
"Anytime you can get a run on Ellzy, it's huge," DiMarzio said. "She gets up on you and she starts mowing people down, then you feel that you're in a bad spot.
"Luckily we didn't get down to that. It's a big deal anytime you can score first."
After the wild pitch, Barker laced a double to the right-centerfield gap.
"I was pretty pumped," she said. "It was exciting to hit a double off such a talented player like Katie.
"That built my personal confidence for the rest of the game."
Barker was on the receiving end of freshman pitcher Hayley Stamps. She tossed 17 first pitch strikes and only allowed two runs - both driven in by Ellzy.
Stamps struck out two and allowed five hits. She sent the Huskies down in order three times.
"It feels pretty amazing," Stamps said of not only earning the win in Steubenville's first OVAC title game, but gaining the trust of coaches and teammates in her first varsity season. "It's meant a lot and shows that they all have confidence in me to pitch well on the mound."
Harrison (10-6) tied things at one in the fourth inning as Ellzy plated Shianne Nameth on a single to centerfield.
Steubenville responded with a pair in the bottom half when Carmie Biasi drove in Kesha Barz on a one-out double. Biasi then stole third and Abby Taylor followed by beating out a bunt single, bringing in another run.
"We just tried to move runners up by stealing bases and bunting," DiMarzio said. "We got a great bunt from Abby that went for a hit and we were scoring runs off that.
"We capitalized on anything we could. We played the game hard."
Harrison cut the deficit to one in the sixth inning on a solo homer over the left field fence by Ellzy. Big Red got insurance when courtesy runner Janae Snyder scored on a wild pitch in the bottom of the sixth.
Stamps escaped the top of the seventh, which featured a Kara Dunfee double and Ellzy taking a four-pitch walk, to seal the victory.
"I just put in my head that we were up," Stamps said. "It was nice playing with a lead. I had faith in myself and hope in my teammates."
Barz, Casey Gentile and Nauja Banks added hits for Big Red.
Friday, April 25
Roadrunners at South Fayette overachieving on softball diamond
They have one of the smallest teams -- physically speaking -- in WPIAL Class AAA and one of the youngest teams in the WPIAL.
But the 19-person South Fayette softball team with one senior, one junior, seven sophomores and 10 freshmen do not act their age and do not let size get in their way of chasing a goal -- the first section title in program history.
Through 10 games South Fayette was sitting in second place in Section 2-AAA. Overall the Lions are 9-1 following a 13-7 victory against Montour Tuesday and are 7-1 in section play, a half-game behind first-place Trinity (12-1, 8-1). They'll play the Hillers next Thursday.
"We are leading the section and it has been a long time at South Fayette since that has happened," second-year coach Vic Iagnemma said. "The girls are very focused and excited about how well we are doing. There is still a lot of season left."
There may be only one junior and one senior on the team, but the upperclassmen are making up for a lack of numbers in the Class of 2014 and 2015 with their leadership and production. Senior Taylor Coyne and junior Ashley Iagnemma, the coach's daughter, are two major reasons South Fayette is where it is.
"They have stepped up and taken over that role as leaders of the team," Vic Iagnemma said.
Coyne is a returning starter in the outfield, Ashley Iagnemma is returning as the Lions' starting pitcher.
"Ashley is a very strong pitcher and she actually gets stronger as the game goes on," Vic Iagnemma said. "She has great velocity and an arsenal of different pitches."
Ashley Iagnemma struck out 12 in five shutout innings in a 14-0 drubbing of Ringgold, a game in which she also knocked in five runs.
She has also shown a knack for stepping up in big games. She pitched a complete-game, one-hitter with 14 strikeouts in a 2-1 win in the Lions' first meeting against Ringgold on March 31.
In a section showdown for first place, Iagnemma struck out seven while scattering six hits in a 6-4 win against Trinity.
"Ashley rises to the occasion," Vic Iagnemma said. "Everybody would agree that Trinity is an excellent team and she rose to their level of play. When she is playing those really good teams, she is able to really rise to the next level."
She had 85 strikeouts through nine games this season. She struck out 120 as a freshman and 140 as a sophomore.
Iagnemma is surrounded by returning starters on the field, sophomore second baseman Courtney Blocher, sophomore third baseman Emily Bryan, sophomore outfielder Marissa France and sophomore first baseman Bailey Kormick.
Sophomore Mikayla Fetchet-Hurt was injured early in the season and in her place at catcher freshman Sara Jubas has emerged as one of the top ninth-grade talents in the WPIAL.
"Sara has been able to step into that role and do an excellent job," Vic Iagnemma said.
Jubas was leading the team with a .680 batting average through eight games. Jubas hit two doubles, a triple and drove in four runs in a 13-5 win against Moon Area earlier in the season. She hit a solo home run in the 2-1 win against Ringgold.
The second highest batting average on the team belongs to another freshman, Vic Iagnemma's other daughter on the team, Gwen, a shortstop. The younger Iagnemma is batting .522 and playing solid defense at shortstop.
Jubas tripled and Iagnemma doubled in the crucial win against Trinity earlier in the year. Gwen Iagnemma bats fifth in the lineup while Jubas leads off. Bryan has two home runs and 13 RBIs.
South Fayette missed qualifying for the playoffs by one game last season in Vic Iagnemma's first season. He gives a lot of credit for the team's success so far this season to his three assistant coaches who were also with him last season, Richell Hall, Jim Rigos and Joe Silhanek.
"We have a commitment from our girls," Vic Iagnemma said. "They are committed to the team and committed to working and playing hard. I really think that has been a big key to our success."


Read more: http://www.post-gazette.com/sports/high-school-baseball/2014/04/24/Little-Lions-roaring-loudly/stories/201404240073#ixzz2zvRxfcap
Friday, April 25
South Side Academy and Courtney Kozdron
The Shady Side Academy softball team fell to Brentwood, 19-9, in a nonsection matchup on April 16.
Jackie Yencik continued her hot slugging as she stroked a two-run homer and drove in three. Courtney Kozdron took the loss.
The Indians bounced back with a doubleheader sweep of Apollo-Ridge in Section 3-AA action on April 17.
Shady Side won the first game, 14-4, as Kozdron scattered four hits and struck out seven. Emily Curry, Nyla Zak, Katie Lynch and Kozdron each had doubles as the Indians scored their 14 runs on just five hits.
In the nightcap, SSA pounded out 14 hits en route to a 17-3 win.
Yencik again led the way with four hits, including a double. Curry and Kozdron also doubled. On the mound, Kozdron allowed three hits and struck out eight.
Saturday, January 25
GREAT SUCCESS AT THE NIGHT AT THE RACES
On January 25, 2013 The Pittsburgh Lady Roadrunner Incorporated hosted a Night at the Races. The event was held at the North Franklin Fire Hall in Washington County. Over 320 guests weathered a snowy day to attend the event.
The event was a huge success and the Board of Directors worked extremely hard to host an event that was fun for everone in attendance.
In addition to the Board, the PLR would like to thank the following parents for there help in making the night a smooth and successful evening.
Helper's at the betting window were:
Parent Helpers 1st Group Races Parent Helpers 2 Group Races
Michelle Terrell Aaron Bell
Brian Elliott Brian Dunst
Chris Freeman Janet Sittig
Bill Herstine Mark Gannon
Len Paugh John Beck
Ken Carozza Tom Duffy
Tracie Gillhan Brett Allen
Gary Gillhan Jen Holby
Mike Gordon Bob Erwin
Chris Yost Becky Mill
JELL-O Shot Helpers:
Tammie Bell
Rob Kopec
Stefanie Giglio
Vic Iagnemma
Stacey Iagnemma
Tom Greaves
Jim Michelucci
Sharon Mowery
Veronica Sutherland
Karen Toal
And doing an OUTSTANDING Job in Selling our decks of Cards:
Richele Hall and Stacey Iagnemma
Monday, December 16
2014 Queen of Diamonds North Showcase participants
Hall 18U has announced the players that have been selected to participate in the 2014 Queen of Diamonds North Showcase participants:
Ashley Iagnemma - Pitcher
Meghan Witcop- Catcher
Jessica Gordon - 3rd Base
Leah Vith - Catcher
THE ROADRUNNER ORGANIZATION WISHES THEM THE BEST OF LUCK!
Monday, December 16
The Great American Premier Softball Showcase (GAPSS)
Good luck to our Roadrunner teams that have been accepted to participate in the Great American Premier Softball Showcase (GAPSS):
14U Jubas
16U Elliott
18U Hall
Good Luck Teams, we know you will represent the organization in a positive way.
Thursday, November 14
Stephanie Seibert Signs with Pitt Johnstown
On Thursday 11/14 Stephanie Seibert signed her National Letter of Intent to play softball at Pitt Johnstown. She is currently the starting 2nd basemen for Pittsburgh Lady Roadrunners Hall and Montour High School. Stephanie is joined in the picture with her parents Steve and Diana Seibert and Travel ball coach Richele Hall.
Monday, November 11
Operation Christmas Card
On Veterans Day, the players from 18U Hall made 120 Christmas cards to be mailed to the troops over seas for the holidays! This was for Operation Christmas Card and the girls displayed great community service in their efforts!
WAY TO GO ROADRUNNERS!!!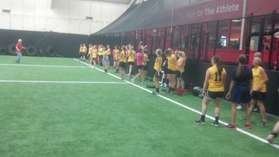 Players enjoying the D1 Experience
Wednesday, October 23
The Lady Roadrunners start their indoor practices with our first D1 session of the season.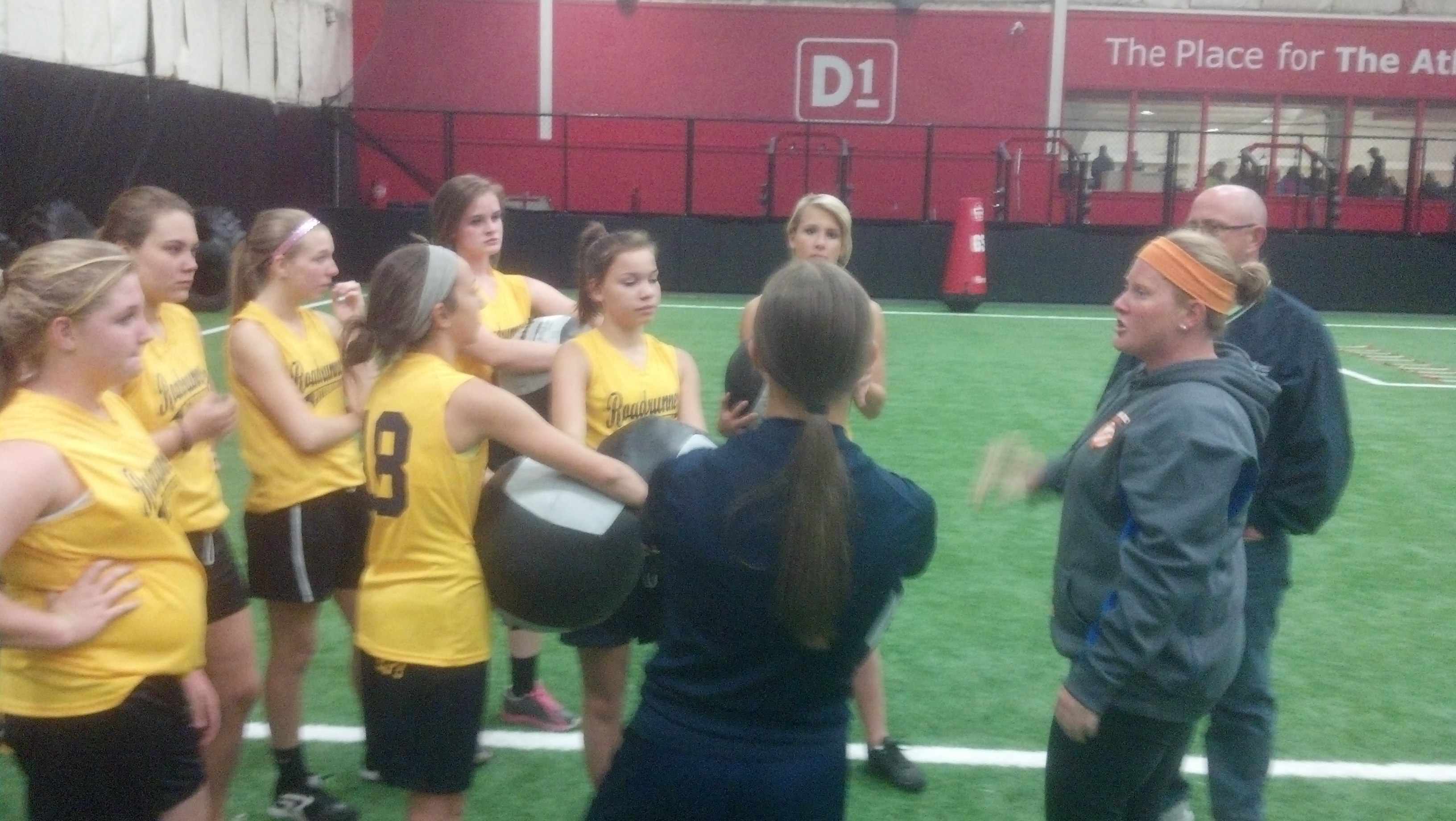 Coach Hall instructs some players
The Lady Roadrunners start their indoor practices with our first D1 session of the season. Participating in the D1 session where our 4 older teams: 14U Terrell; 14U Jubas; 16U Elliott and 18U Hall.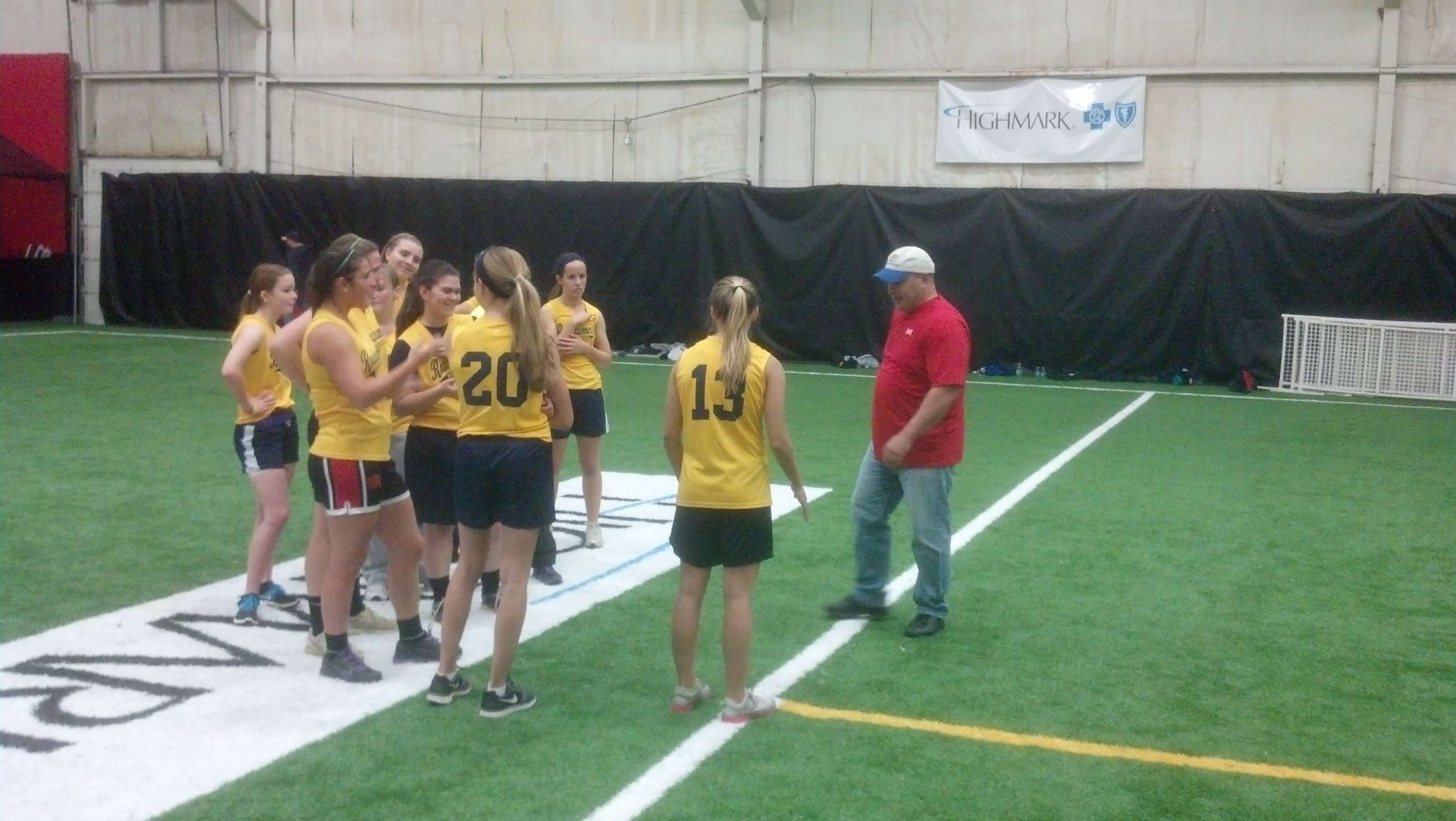 Coach Michelucci has the player's attention
Thursday, February 6
Ohio Stingrays 2014 Summer Showcase
Good Luck to Teams 18U Hall and 14U Jubas have both been accepted into the prestigious Ohio Stingrays 2014 Summer Showcase.