PITTSBURGH LADY ROADRUNNERS: Site News/Alumni
Sunday, August 14
Senior Dinner for our 2016 Graduating Players
Pictured with Roadrunner President Jason Minear and Roadrunner Founding Father and Former President Bill Komara is (left to right): Saige Minear; Candace Drzik; Courtney Kozdron; Katie Tarr; Kim Dunst; Jessica Gordon and Alyssa "Magic" Larson.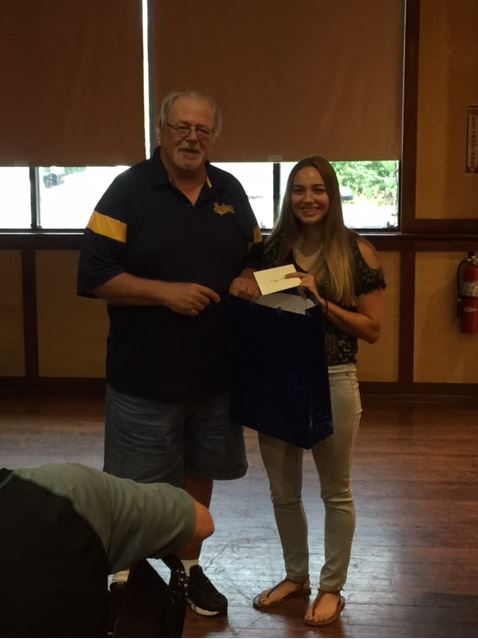 Bill Komara with Saige Minear, Saige is heading to Seton Hill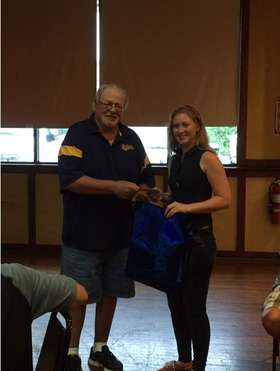 Bill with Kim Dunst, Kim is going to S.U.N.Y.-Oswego
Bill with Jessica Gordon who will be attending Alleygheny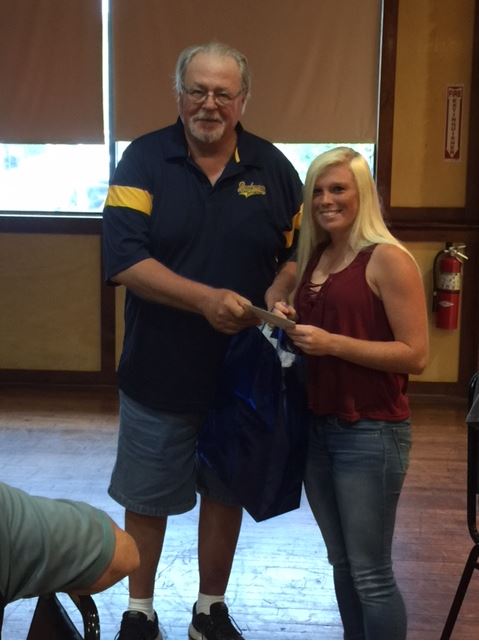 Bill Komara with "Magic", Alyssa Larson is going to Notre Dame College
Bill Komara congratulates Brooke Beck
Sunday, August 9
Senior Dinner Held for our 2015 Graduating Seniors (click here to view VP Minear address the girls)
Bill Congratulates Sarah Rogan
Sunday August 9th our annual Senior's Dinner was held at the Bronze Hood in Robinson Township. In attendance were the families of our three Seniors: Brooke Beck who is going to the Washington and Jeffeson; Sarah Rogan who is going to Allegheny and Taylor DiPerna who is going to Wheeling Jesuit.
Also in attendance was Members of the 2015 Pittsburgh Lady Roadrunners Board of Directors.
WE WISH OUR GRADUATES THE BEST OF LUCK IN COLLEGE AND BEYOND!!!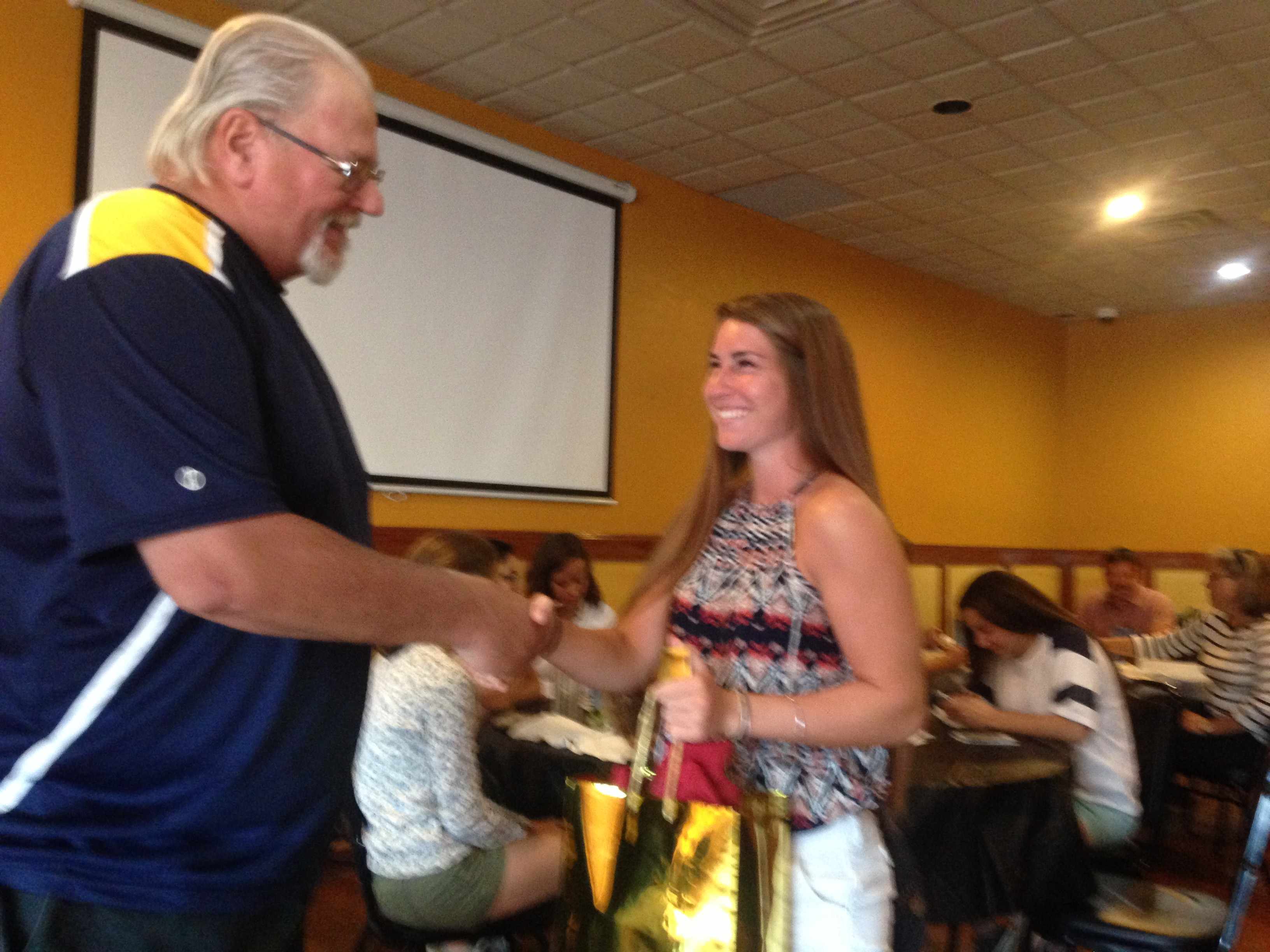 Bill give congratulations to Taylor DiPerna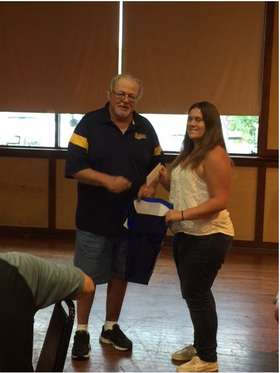 Bill with Candace Drzik, Candace is going to Wheeling Jesiut
Cortney Kozdron is off to Oberlin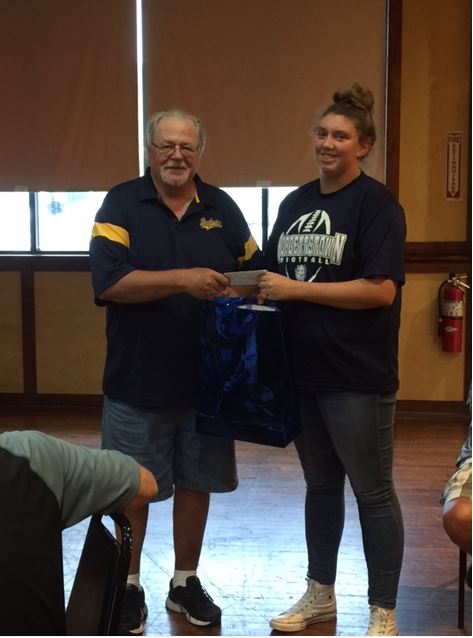 Katie Tarr will be playing at Point Park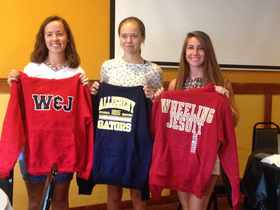 Brooke, Sarah and Taylor show off their school colors
Jess, Tessa and Saige pictured with teammates Sarah, Brooke and Taylor.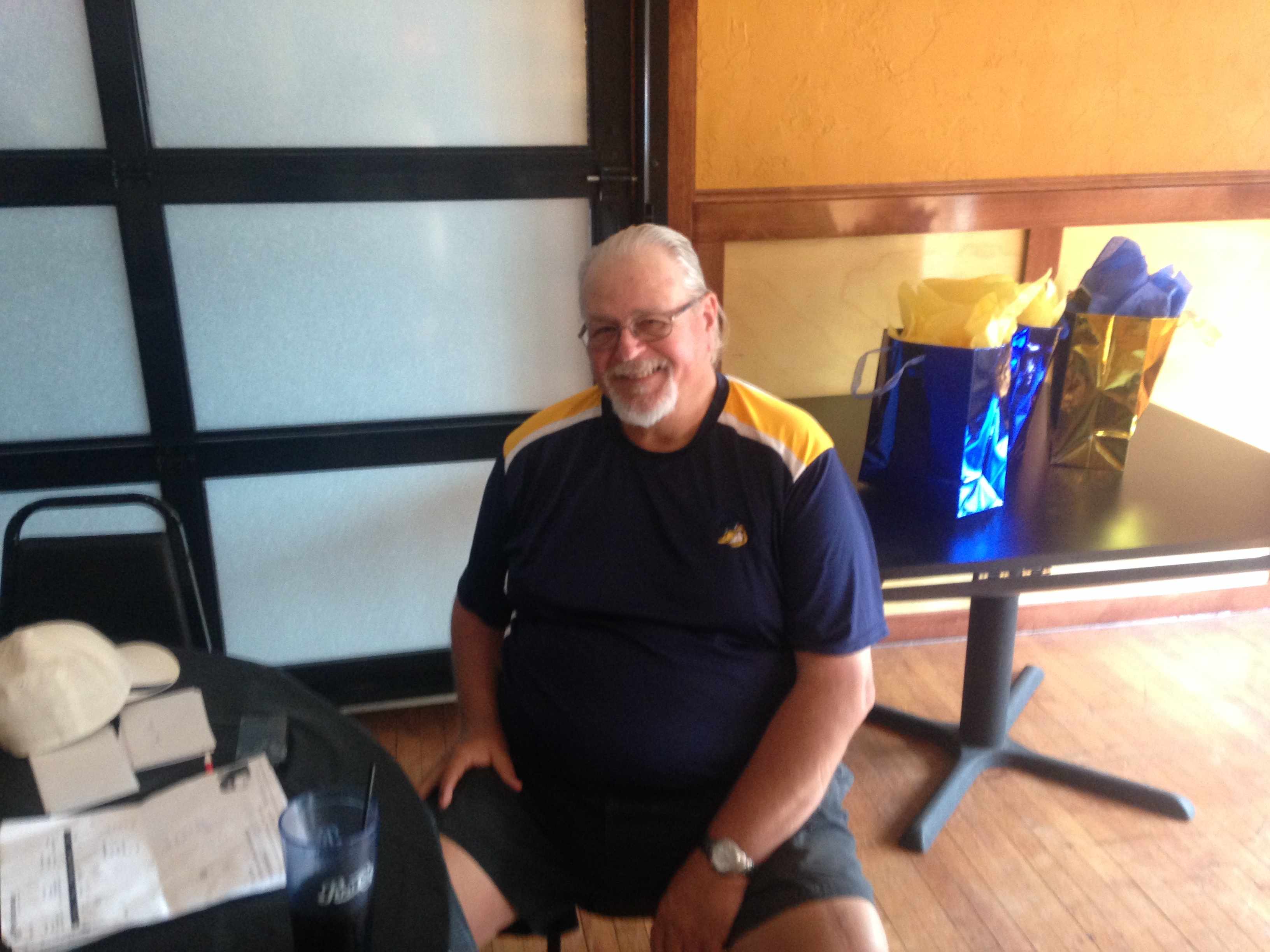 Organizor and Emcee Bill Kormara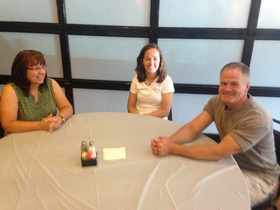 Rolinda, Brooke and John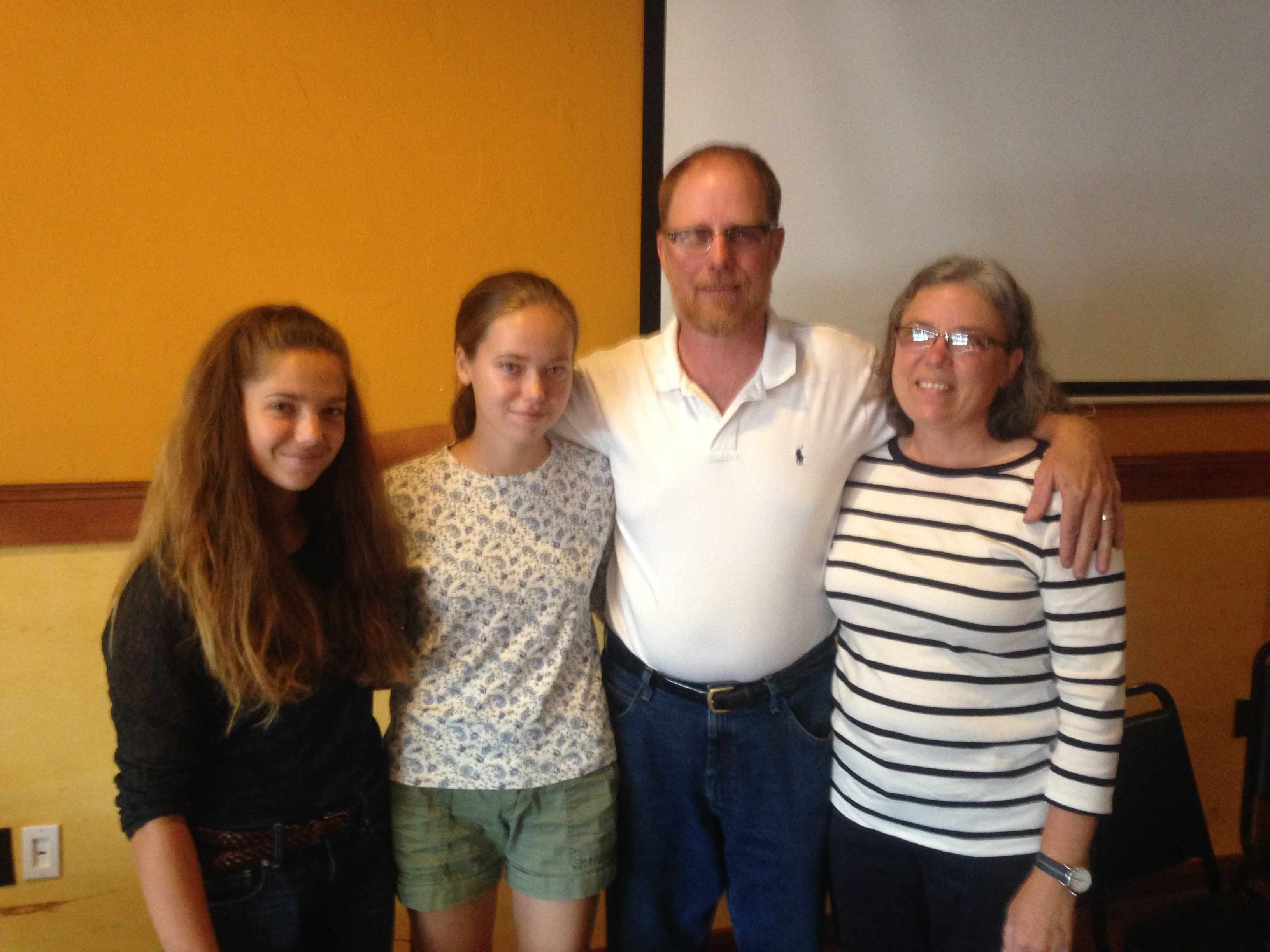 Catie, Sarah, Harvey and Cissie Rogan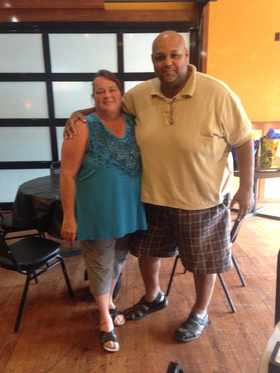 President Fred Terrell and wife Michelle at the Senior Dinner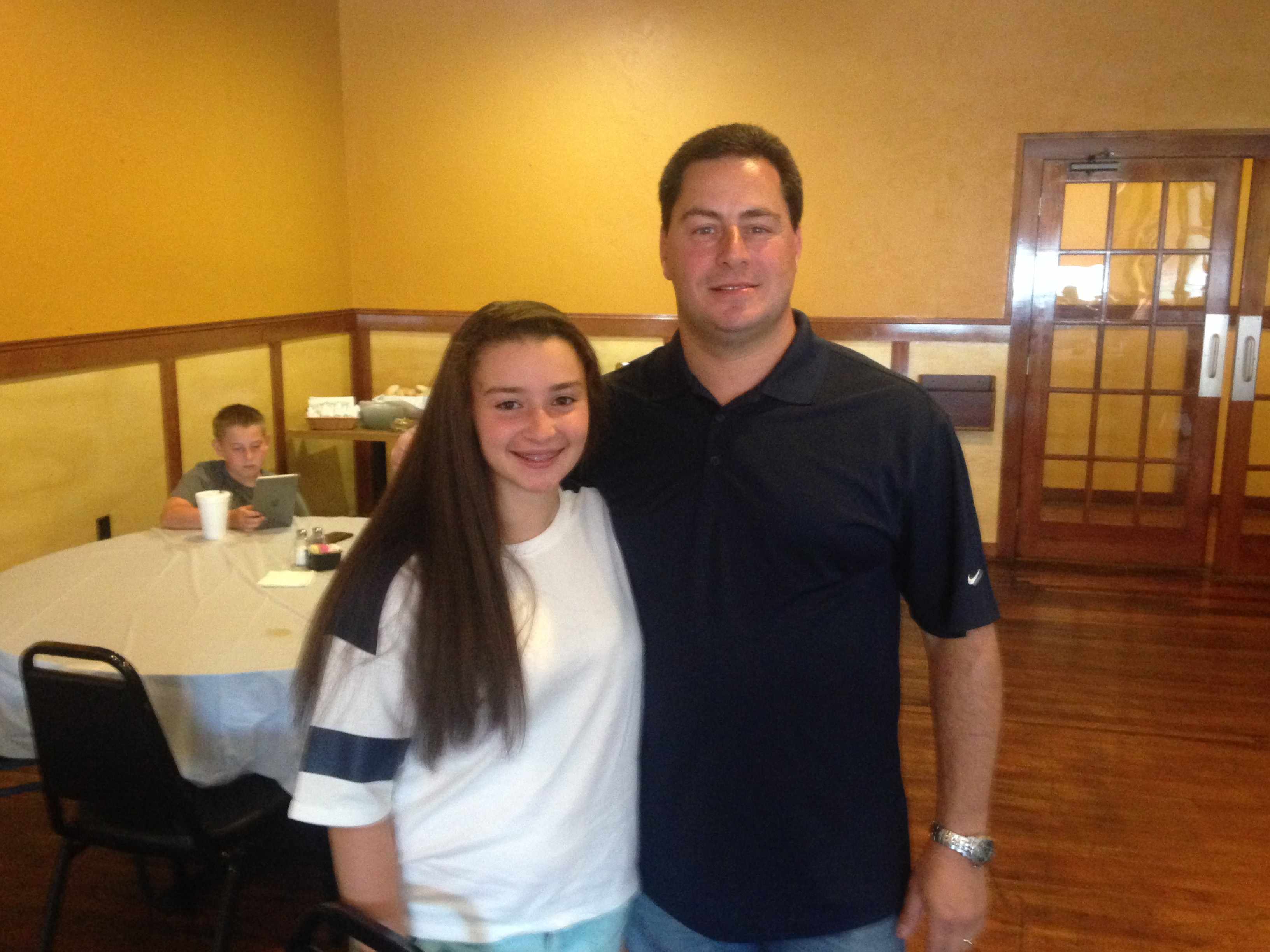 Board Member Mike Gordon and daughter Jessica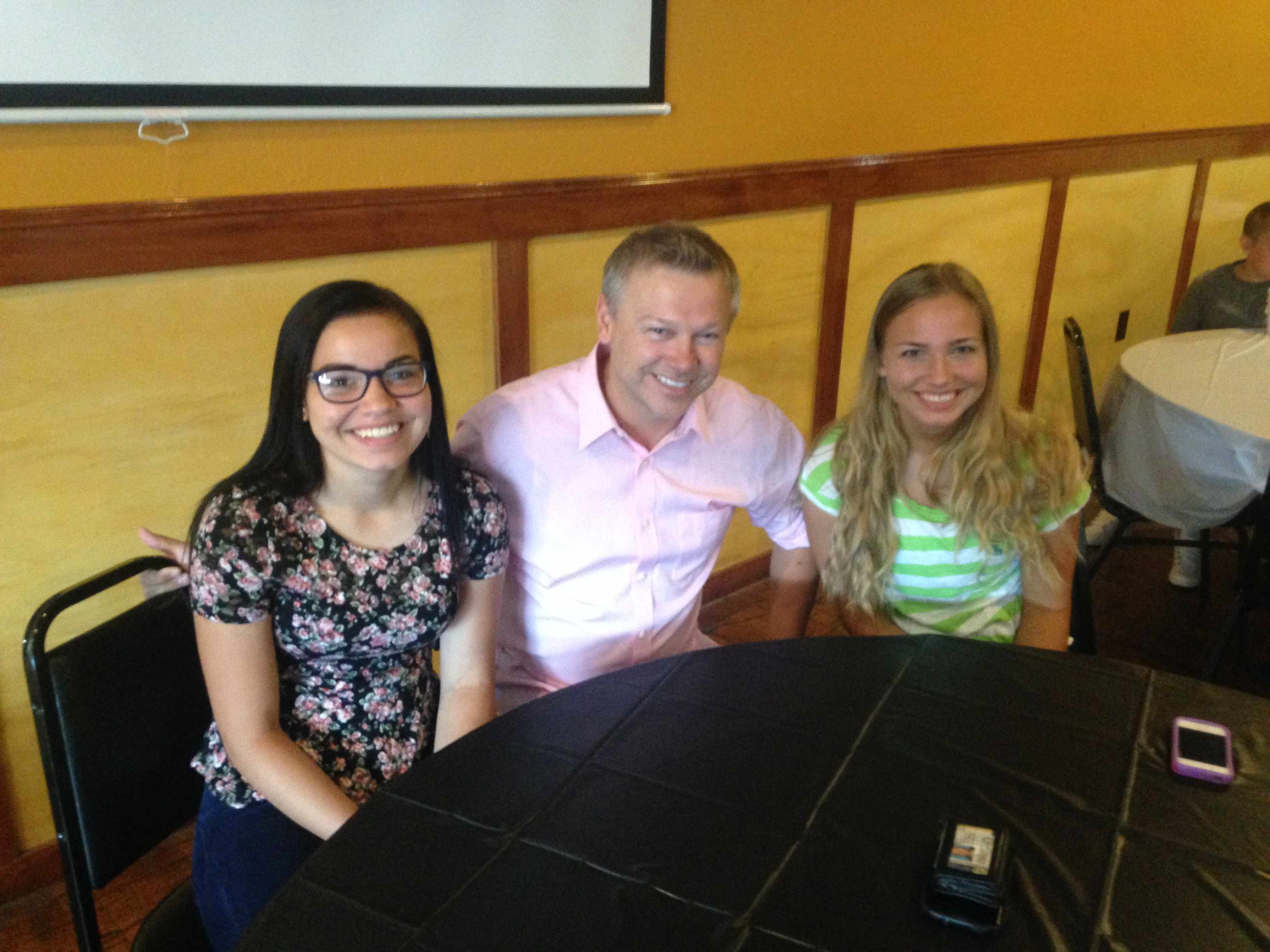 Tessa, Jason and Saige Minear
Wednesday, May 20
California University of PA Player and Roadrunner Alumni Lindsay Reicoff earns honor
OKLAHOMA CITY (May 20) – Juniors Lindsay Reicoff and Alex Sagl were both named NFCA All-Americans and classmate Haley Bashada became the first student-athlete in school history to receive the NCAA Elite 89 Award on Wednesday.
Lindsay was selected NFCA and Daktronics First-Team All-Region … named to All-PSAC West First-Team … started all 44 games at first base … ranked third in the PSAC with 39 RBI … finished fourth in the league with 10 homers and 39 runs scored … ranked ninth in the PSAC with a .992 fielding percentage ... posted a .367 batting average (51-for-139) and .626 slugging percentage … collected 13 multi-hit games and 10 multi-RBI games … registered a 13-game hitting streak … posted a .434 average (23-for-53) with five homers, 20 RBI and 22 runs scored at home … finished with a .413 average (31-for-75), seven homers, 29 RBI and 31 runs scored in PSAC West play … posted a .412 clip (7-for-17) with two homers and five RBI at Salem Invitational … registered a .423 average (22-for-52) with runners in scoring position …
Monday, March 16
Roadrunner and Seton Hill's Kutchman Named PSAC West, ECAC Athlete of the Week
Junior infielder/pitcher
Kaitlyn Kutchman
was named the PSAC West Athlete of the Week for the week ending Sunday, March 15th, the league office announced on Monday afternoon. Kutchman is the first Griffin to earn a weekly award this season and joins
Lauren Sauerwein
as the only Griffins to earn a PSAC weekly award. Kutchman was also named the ECAC Division II Softball Player of the Week.
Kutchman led the Griffins to a 8-2 record over their spring break trip to Myrtle Beach, SC. She hit .567 (17-30) over her 9 games played. She scored 8 runs and drove in 18 runs. She added 7 doubles and 1 homer. Kaitlyn had multiple hits in 7 of the 9 games she played and had multiple RBI in 4 games. She also threw a 5 inning no hitter vs Robert Morris Springfield. Kaitlyn was 3-4 with a homer and 4 RBI in the win over Union College (KY). She gave up just 1 run in 7 innings in the circle while giving up 1 hit and striking out 7.
Sunday, August 17
Senior Dinner for the Pittsburgh Lady Roadrunners
Monday August 17th our annual Senior's Dinner was held at teh Bronze Hood in Robinson Township. In attendance were the families of our three Seniors: Stephanie Seibert who is going to the University of Pitt Johnstown; Maggie Gannon who is going to John Carroll University and Emily Garvin who is going to Wheeling Jesuit.
Also in attendance was Family Members of our Seniors and Members of the 2014 Pittsburgh Lady Roadrunners Board of Directors.
WE WISH OUR GRADUATES THE BEST OF LUCK IN COLLEGE AND BEYOND!!!
Check out more pictures below and on our "Site News/Alumni" page!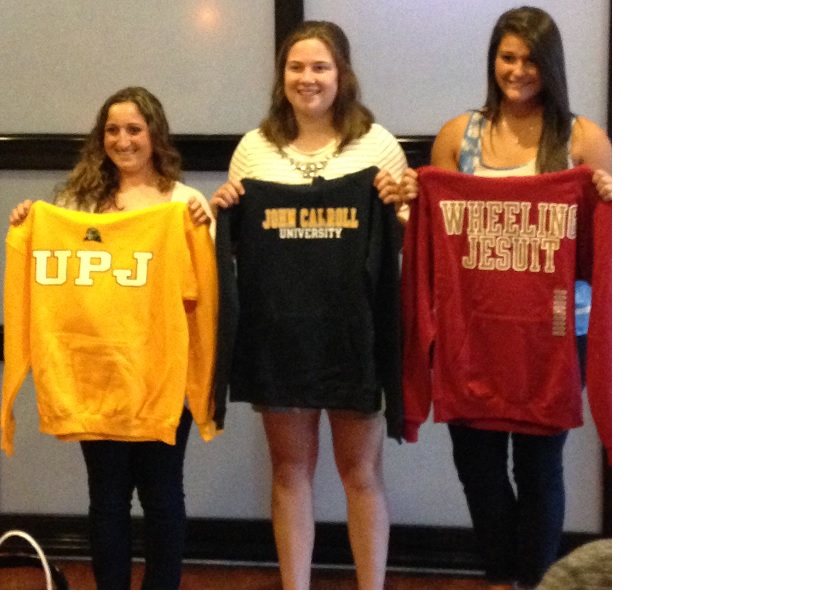 Stephanie Seibert; Maggie Gannon and Emily Garvin showing off their school color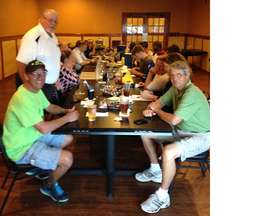 PLR Group enjoying dinner at the Bronze Hood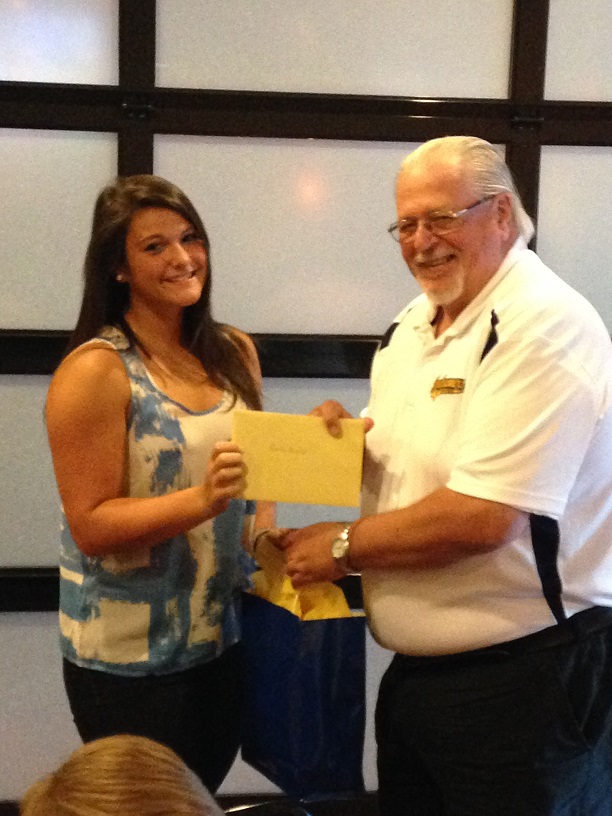 Bill Komara and Emily Garvin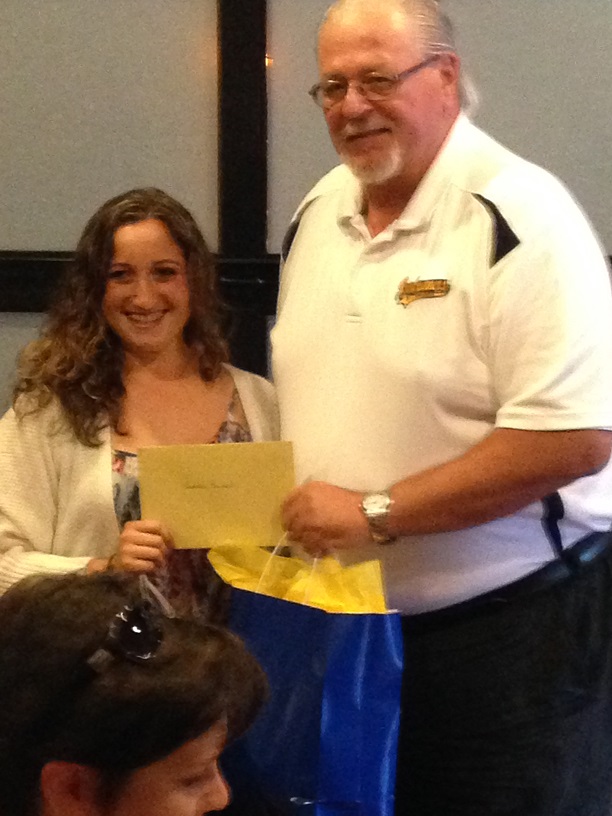 Bill Komara and Stephanie Seibert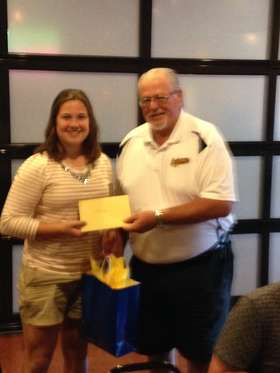 Bill and Maggie Gannon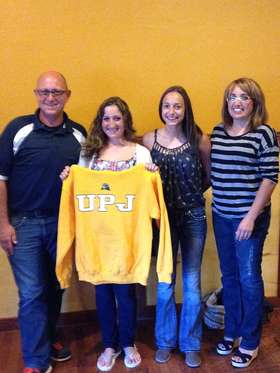 The Seibert Family at the Senior's Dinner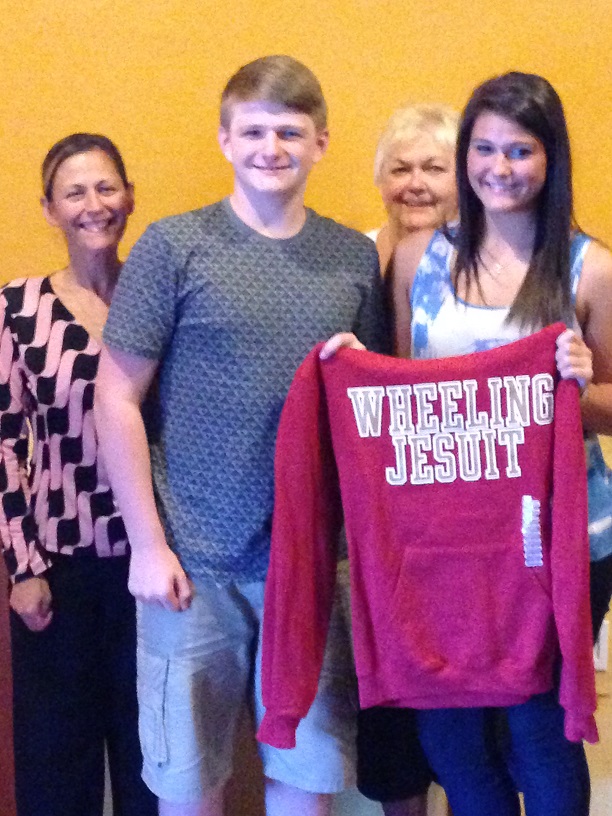 Members of the Garvin Family at the Senior's Dinner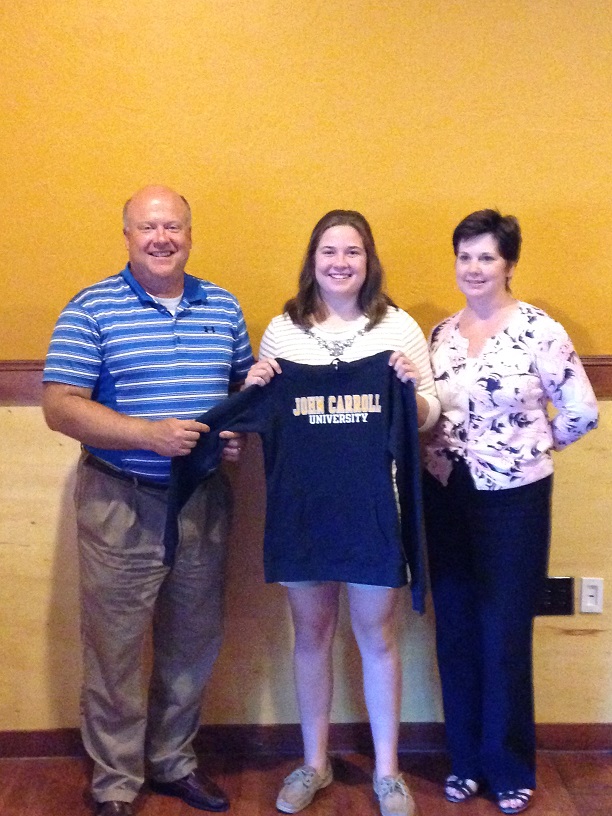 The Gannon Family at the Senior's Dinner
Wednesday, February 19
ROADRUNNERS STRONG PROGRAMS SEND OUR GIRLS TO HIGHER EDUCATION
Good luck to our Roadrunners competing at the collegiate level this year as they kick off their seasons:
Stacey Capp and Tess Apke (RMU), Lindsay Reicoff (Cal), Kaitlyn Kutchman, Carlee Wickstrom and Abbey Suhowski (Seton Hill), Alyssa McMurtrie (Point Park), Chelsea Zola (Clarion), Katie Gibson (Grove City), Ashley Hurey (West Virginia Wesleyan), Ally Vrcek and Lindsey Daniels (St. Vincents), Kayla Summers (Fairmont State), Kelly Daniels (Pitt-Greensburg), Caitlin Brust (Franklin and Marshall), Angela Devereaux (IUP), Halea Hayden (Allegheny), Kaitlin Klinchock (Marietta), Josie Buckley (LaRoche), Samantha Elliot - Thiel, Bre Lach - John Carroll, and Kiersten Badzgon (University of the Sciences - Philadelphia).
Good luck ladies! Continue to make us proud!
Thursday, March 27
Kutchman Leads Griffins to Doubleheader Sweep of Mercyhurst
Seton Hill hosted Mercyhurst in their first ever PSAC doubleheader on Thursday afternoon. Seton Hill scored 12 runs in the third inning for a 13-0 win in game one. SHU rallied with three runs in the bottom of the seventh to take a 8-7 victory in game two. SHU improves to 12-2 overall and 2-0 in PSAC West play.
Seton Hill broke the game open with 12 runs in the bottom of the third.
Kaitlyn Kutchman
(PLR)
started the scoring off with an RBI single.
Abbey Suhoski
(PLR)
then singled in another run to give SHU a 2-0 lead.
Dani Treaster
made it 5-0 with a two RBI double.
Lauren Sauerwein
then hit a three run homer to increase the lead to 8-0.
Jacqui Palmer
drove in two with a double and Kutchman closed out the scoring with a two run homer.
Carlee Wickstrom
(PLR)
drove in a run in the fourth to increase the lead to 13-0.
Christine Henderson
earned the win in game one. She went the distance and gave up one hit while striking out six.
Lauren Sauerwein
,
Carlee Wickstrom
,
Jacqui Palmer
and
Kaitlyn Kutchman
each had two hits. Kutchman and Sauerwein each drove in three.
Dani Treaster
and Palmer each drove in two.
The Griffins got on the scoreboard in the bottom of the first of game two.
Kaitlyn Kutchman
doubled in a run and
Jacqui Palmer
made it 2-0 with an RBI single.
Carlee Wickstrom
hit a solo homer in the third to increase the lead to 3-0. Mercyhurst used a Griffin error to score a run in the fifth. SHU got that run back with a solo homer from
Abbey Suhoski
.
Christine Henderson
increased the lead to 5-1 with a solo homer in the fifth. Mercyhurst tied the score at five with a grand slam in the top of the sixth. The Lakers scored two in the top of the seventh to take a 7-5 lead. The Griffins rallied with to win it in the seventh on a three run walk off home run from
Kaitlyn Kutchman
.
Hope Pehrson
earned the win in relief.
Kaitlyn Kutchman
finished 3-4 with 4 RBI.
Lauren Sauerwein
,
Christine Henderson
and
Carlee Wickstrom
each had 2 hits.
Tuesday, April 1
Softball: Cal finally plays again, wins two
California swept a PSAC West Division doubleheader Monday from visiting Seton Hill, 8-0 and 4-2. With the sweep, the Vulcans improve to 9-4 overall and 2-0 in division play. The games were the first for Cal since March 16. Seton Hill is 3-3, 13-5. Cal earned a run-rule victory in the opener on the strength of home runs by Shelby Heyd, Megan Jahoda and
Lindsay Reicoff(PLR)
. Heyd and Reicoff each drove in three runs and winning pitcher Alex Sagl tossed a five-hit shutout. Erica Vallecorsa drove in two runs and Cal scored the game's first four runs to win the nightcap. Winning pitcher Kaity Davis gave up six hits over seven innings.
Wednesday, April 2
Softball team extends win streak to nine
With the game on the line, freshman Alyssa McMurtrie(PLR) was put to the test on a field she has played on since age four.
McMurtrie was batting against Malone University in the team's first home game of the season at Lind Field in Kennedy Township's Fairhaven Park.
McMurtrie came through for the Pioneers, hitting a triple that scored two runs ending the game.
"I was just thinking about getting a perfectly timed hit to get us on top because I was unable to make a catch that scored the go-ahead run," McMurtrie said Sunday. "When I hit that ball, I just knew it was one to win the game. It felt amazing."
Point Park won both games against Malone, then swept all four Kentucky Intercollegiate Athletic Conference (KIAC) games against Midway College.
The Pioneers are now on a nine-game winning streak and tied atop the KIAC.
Pioneers pitching allowed six runs in the weekend series against Midway. This was led by Megan Dyer, who had two shutouts and leads the team with five wins. She has a specific mindset when on the mound.
"I always just think one pitch at a time," Dyer said Sunday. "After I throw it, I concentrate on the next one. I just focus on one pitch at a time and try not to get too ahead of myself or dwell on an old pitch or situation."
Dyer also has four complete game shutouts, adding to her self-assurance as the conference schedule is now well underway.
"Getting some games under my belt and getting back into the swing of things has definitely helped me gain some confidence and get back to throwing my kind of game," Dyer said.
Head coach Michelle Coultas is a fan of Dyer's performance.
"Megan pitched well this weekend," Coultas said. "Her control has improved and she is smart on the mound."
McMurtrie said she also believes that the pitching has improved.
"The pitching this week was phenomenal," McMurtrie said. "Our pitchers hit their spots and they know they always have us behind them no matter what, so they don't have that much to worry about other than the next pitch."
Point Park opened its week with 4-3 and 1-0 wins against Malone. In the first game, the Pioneers trailed for most of the contest, but a Karen Mao two-run homer tied the score at two. When the Pioneers trailed 3-2, McMurtrie's walk-off triple scored Teresa Davis and Kate Reese.
The second game was a six-inning win for Hannah Harley, her first of the season. The run was scored when Mao doubled in Ashley Morran.
Against Midway, Point Park brought its record to 7-1 in the KIAC tying itself with Indiana University Southeast.
It was the second consecutive weekend road trip to Kentucky the games set for Saturday were postponed for one day forcing four games to be played over Sunday and Monday.
In Sunday's games, Morran homered in the second inning of game one and used a three-run fourth inning to pull away. In game two, Morran hit her fifth homerun of the season and that scored three runs, setting the tempo early. McMurtrie's two-run triple and Nikki Eagan's two-run double completed the Pioneer scoring.
The win streak reached nine games on Monday, with a 7-3 victory against Midway in game one and a 6-0 win in game two. Coultas said she is proud of her team and believes it is togetherness that is the main reason.
"It's a combination of chemistry and playing as a team," Coultas said Monday. "Our pitchers and catchers are working really well together as well."
Point Park faced Penn State University-Fayette Tuesday and will finish the week by hosting Brescia College.
Wednesday, April 2
Softball: RMU Colonials crush King, breeze past Pitt Panthers in double-header opener
By the end of the second inning of Pitt softball's double-header against Robert Morris, Tess Apke(PLR) and Nicole Sleith had already made the Colonials fans feel confident.
Apke, a junior right fielder, drove in a run in the first, two more in the second, and Sleith, a junior left-handed pitcher, had allowed just one hit through the first two frames.
After the inning break, Pitt trailed 2-0, and the public address announcer at Vartabedian Field called for a vote, asking fans to cheer for one of three songs that would play later in the game.
Song one, Michael Jackson's "Beat It," garnered no response from the 123 in attendance. The infectious, seemingly omnipresent "Timber" by Ke$ha elicited a single shriek. The even more infectious and definitely omnipresent "Happy" by Pharrell Williams drew the overwhelming applause of a group of five Robert Morris supporters.
But, they had reason to be happy.
Throughout the rest of the contest, Apke and Sleith continued to appease the Colonials (15-15) and their fans, leading to a 6-2 victory in seven innings over the Panthers in the first game of Tuesday afternoon's doubleheader.Redshirt sophomore infielder Maggie Sevilla said Sleith presented a tough matchup.
"Sleith hits really good spots, and she has a really nasty changeup," Sevilla said. "She does not walk people, so she doesn't throw many balls, and she throws hard. She's a pretty controlling pitcher, and she did a pretty good job with us."
Conversely, the front end of the evening was one to forget for Pitt (11-15) and junior right-hander Savannah King. In just 10 pitches, King allowed a leadoff single to Jordan Gurganus, a single to Ashley Gerhart, Apke's double off the right field wall and another single to Samantha Santillo.
King said she knew something was off, but wasn't able to solve her ineffectiveness.
"It just wasn't happening," she said. "And I know I didn't come out on my game, and I let it affect me."
King (6-11) failed to record an out in the first, facing four batters and allowing two runs — all of which was enough to give her a loss.
Of course, a two-run deficit isn't insurmountable, but the Panthers struggled to figure Sleith out, as she added deception to her delivery by slapping her glove against her left thigh in the windup, then off her right hip upon release.
But the delivery failed to fool one Panther: first baseman Carly Thea.
A junior, Thea picked up a base hit in the second and knocked in two with a home run in the fourth inning. Thea's blast, which coasted over the center field wall, highlighted the only significant offense Pitt could muster against Sleith, who finished with four strikeouts and no walks while allowing just five hits and two runs in a complete game win.
Meanwhile, Apke continued torching Pitt, collecting three more knocks against junior left-hander Alexa Larkin in Game 1. She went 4-for-4 with a home run, three RBI and two runs scored.
Apke crushed a two-run homer to center in second, sending center fielder Ashlee Sills to the ground after she ran out of room and into the blue padded wall. Sills' spill was indicative of the entire contest: The homer put the Panthers in a 4-0 hole after two innings, and it was clear they had already fallen.
King said she wasn't sure why Apke had such an easy time all afternoon, but indicated that the Colonials, who collected 13 hits, are a pesky bunch of hitters.
"They aren't really good with their mechanics," she said. "But they're just ready to swing at whatever is coming their way, and they do a good job of that."
Larkin's relief effort — she pitched seven innings with five strikeouts and allowed nine hits, three walks and four earned runs — was critical to not only keeping the game within reach, but also, to eating a game's worth of innings. Thea said she appreciated the effort.
"We came out a little rough, but sometimes that's going to happen and why we have multiple pitchers — to come in and help each other out," she said. "The fielders will be there to pick each other up, and we'll do our best to support our pitcher and back each other up and just hope that they can come out on top."
Unfortunately for Pitt, though, that wasn't the ultimate result.
Just before the Colonials' two-run sixth inning secured a Robert Morris victory, Williams' foot-tapping tune finally played over the loudspeakers and one of the five visiting fans bobbed along.
Clearly, they were still happy.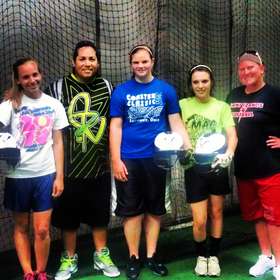 Crystl Bustos and Coach Hall with 3 of our Roadrunners
Monday, July 15
Crystl Butos comes to the PLR Training Center for 3 days on Batting Instructions.
Wednesday, December 12
RMU Announces Recruiting Class (Read About Stacey Capp to RMU)


Monday, August 12
2012 Recognition Dinner
Kaitlyn Kutchman, Ashley Hurey and Lindsay Reicoff showing off their school jerseys at the 2012 Senior Recognition Dinner.



Bre Tongel and Bill Komara
Monday, August 16
2010 Scholarship Dinner


2010 Pittsburgh Lady Roadrunners

Senior Scholarship Dinner

2010 Pittsburgh Lady Roadrunners Scholarship Dinner was held at Sarafino's Restaurant in Crafton, PA. All players are heading to college in August and are participating in softball at their respective schools. Mr. Bill Komara, chairman of the scholarship committee, presented the college "hoodie" to each of the ladies. A special scholarship award was presented to Bre Tongal, who will be attending Slippery Rock this coming semester. The other "graduating" seniors are:

Kelly Daniels-Pitt-Greensburg

Lindsey Daniels-St. Vincent

Karen Powers-University of Charleston

Ally Vrcek-Philadelphia University

Caitlin Brust-Franklin and Marshall

Angela Devereaux-IUP

Halea Hayden-Allegheny College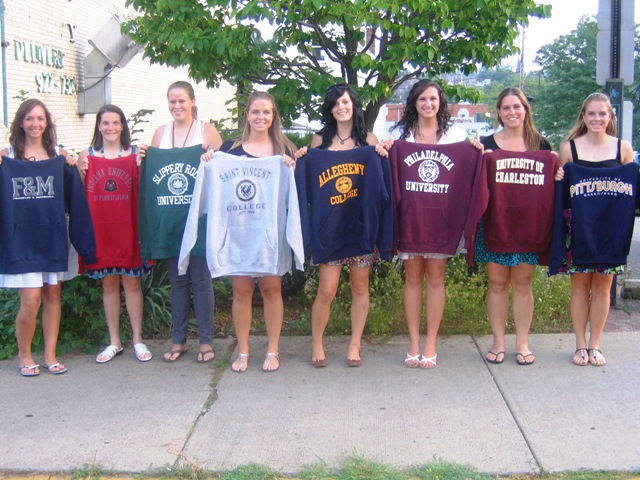 2010 PLR Scholarship Recipients


Tuesday, June 23
2009 Player Of The Year: Ally Vrcek


The Post-Gazette's 2009 All-Area Softball Team

Sunday, June 21, 2009

John Heller/Post-Gazette

All Vrcek of Franklin Regional was selected as the 2009 Softball

Player of the Year.

2009 PLAYER OF THE YEAR: ALLY VRCEK

School: Franklin Regional | Position: Pitcher | Year: Junior

Vrcek is in Franklin Regional's choir. This year, she sang a perfect rune for the Franklin Regional Softball team. Franklin

Regional was the only team to win a WPIAL title this season with a perfect record -- and Vrcek led the way to the Class AAA

championship. Through the WPIAL playoffs, Vrcek had a 17-0 record. She suffered her only loss in the first round of the

PIAA playoffs to finish with a 17-1 mark. A 5-foot-8 1/2 right-hander, Vrcek pitched 116 innings and allowed only 11 runs

(six earned). Her ERA was 0.36. She struck out 205 batters and walked only 18. But Vrcek also was a big factor with the bat.

She had a .328 average with three home runs and 13 RBIs.



Tuesday, March 17
Alumni


ROADRUNNER ALUMNI

.

.

MAKING SOME NOISE!!!
TERRELL NO-HITTER HIGHLIGHTS BISON'S SWEEP
TERRELL NO-HITTER HIGHLIGHTS BISON'S SWEEP

Summer Terrell

March 14 - ORLANDO, Fla. – Bethany freshman Summer Terrell (Bridgeville, Pa./Chartiers Valley) threw a five-inning no-hitter in her first collegiate start Saturday, as the Bison softball team beat Morrisville State 8-0 in Orlando, Fla.


The victory was BC's second of the day, as they kicked off their season by holding off Babson for a 7-5 triumph earlier in the day, a game in which Terrell picked up the save.


Terrell relied on a solid defense behind her in notching the no-no. She faced 18 batters and struck out two while walking one and another reached on an error. It's the first no-hitter by a Bison pitcher since April 16, 2005, when Romney Waters no-hit Thiel in an 8-0 decision which was also stopped after five innings.


Bethany supplied their freshman hurler with plenty of support, highlighted by sophomore OF Chelsea Shenton (Chester, W.Va./Oak Glen), who went 3-for-3 with one run scored. Sophomore 2B Chelsea Butler (Cortland, Ohio/Lakeview) drove in a pair as she went 2-for-4 and sophomore 3B Andrea Thomas (Toronto, Ohio) ripped a triple and scored a run as part of a 2-for-3 effort.


Terrell also played a big role in the first win of the day. Sophomore starter Cortney Newland (Carmichaels, Pa.) took a 7-5 lead into the seventh, but Babson's leadoff batter reached on a single. Terrell was summoned from the bullpen and promptly walked the first two batters she faced to load the bases. She would settle down to get a pop out to right field and then a line drive to junior SS Ashley Marinacci (Bellaire, Ohio/Bellaire St. John's), who fired over to first to double off the runner and end the game.


The Bison offense came out of the gate rolling, as they plated four runs in the first and tacked on three more in the fourth, which proved to be just enough. Marinacci was a key cog in the offense as well, going 3-for-4 with a double, two RBIs and two runs scored. Also stepping up was sophomore Alicia Wayne (Follansbee, W.Va./Brooke), as she ripped two doubles and knocked in three.


Two other BC batters had a pair of hits, including Butler and junior 1B Stephanie Shafer (Lancaster, Ohio). Newland earned the win in the circle, her second career victory.


Bethany's spring break trip will continue Sunday with single games against Pine Manor at 9 a.m. and UMass-Boston at 1 p.m.

===========================================================================

Sarah Capp

Moon Township, Pa.

– Freshman catcher and infielder

Sarah Capp (McKees Rocks, Pa. / Montour)

of the

Robert Morris University

softball team was honored by the Northeast Conference on Monday as both the NEC's Player and Rookie of the Week.While playing in Rebel Spring Games, Capp went 11-for-22 as she helped lead Robert Morris to a successful 6-2 showing. The first year player belted her first career home run in an extra-inning 4-3 victory over Bucknell on Mar. 12, and then went a perfect 4-for-4 with a homer, a double and two singles as RMU rounded out the week with a 9-1 win over Maine. During the week, Capp crossed the plate five times and totaled seven RBI, five of which came against the Maine Black Bears. For the season, Capp ranks third on the team with a .367 batting average. She also boasts the best slugging percentage (.633) and the most RBI (seven), while also tying for the team-high in home runs with two. Tomorrow afternoon, the Colonials will host cross-town rival Pittsburgh in a double feature that is set to begin at 2:00 p.m. at the newly completed North Athletic Complex on the campus of Robert Morris University. President Gregory Dell'Omo will be present to throw out a ceremonial first pitch in the inaugural game played at the facility.



Monday, August 17
Scholarship Dinner
Scholarship Dinner was held @ Sarafino's


in Crafton .  Brooke Tarasovich was the recipient 


of the Pittsburgh Lady Roadrunners scholarship


Also receiving scholarships were Lyndsey Deltrado, 


Jessica Tarinella, Brooke Tarashovich, 


Beth Ann Swartzwelder and Ashlie Kuhn