18U Premier: Welcome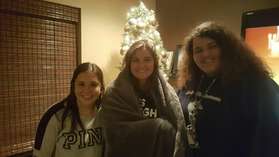 Picture of the Week!
Pittsburgh Lady Roadrunner 18U Travel Fastpitch Team
See our Off Field Fun and other photos on our Albums page!
Sunday, November 6
Great time at I470
Roadrunners give up just 6 runs over 5 games in Wheeling! As the defense tightens up for the team!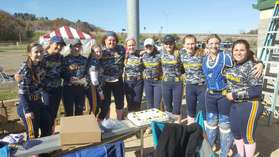 Kaylee's Birthday cake at Wheeling!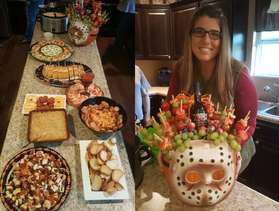 Bowl of Magets...Finger sandwiches and Fruit from Jason's Head...Yummy!!!
Sunday, October 30
Halloween at the Vogel's
Families partied at the Vogel home and took in 100 Acre Manor on All Hallow's Eve!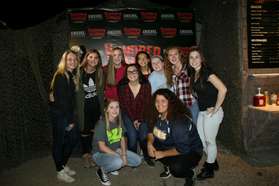 Players at Hundred Acres Manor
Sunday, October 23
Roadrunners in Chambersburg Monster Mash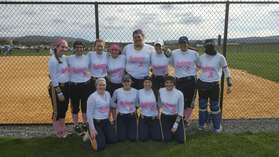 18U Premier recognize Breast Cancer Awareness Month!
The 18U Premier had a great time in Chambersburg at the Monster Mash! Bats were a graveyard smash at the tournament, as the team's batting average was .443 with 36 runs scored over the 5 games. The team's power caught on in a flash as 4 players hit 8 home runs over the weekend. Great start to what should be a great softball season!!! Now it's off to the Transylvania Twist...I mean Wheeling I470 Tournament!!!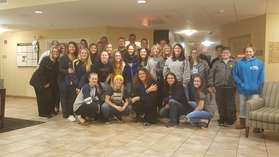 Players and Families in the hotel lobby

Players at the Aki
Wednesday, October 5
2016 Kick Off Banquet
18U Premier at the Kick Off Banquet
Pittsburgh Lady Roadrunners held their annual Kick Off Banquet at Fairview Firehall.