Kensington Crocodiles: My Site News
Tuesday, June 22
Crocs Slide Show
Below is the slide show that was shown at the end of the year party. Click the little icon below to open the file in Windows Media Player. The video quality is a little compromised because I had to shrink the file size somewhat. Hope everyone enjoyed it (even though I didn't have any pictures of the year we wore Purple!)
2004-2010
Tuesday, June 8
Game 8 Recap
Yes! The Crocs ended the season on a high note, winning 2-0, and extending their unbeaten streak to four games in a row. The game was a rematch with the Royal blue team that we played to a 0-0 draw earlier in the season. While the earlier game was about as even as the score woud suggest, Saturday's result was a reflection of how much the Crocs have improved, and in truth, we probably were even more dominant than the score suggested, as there were additional scoring chances that we failed to convert and our goalies were never challenged.
The Crocs asserted themselves from the outset and were rewarded with two first half goals: a great individual effort from Moira and a smart follow-up from Jayla to an initial shot from Carly that their goalie failed to handle cleanly. Both were the type of goals that are the reward for teams that keep hustling, something which the Crocs always do. This week, the Croc goes to everyone because everyone deserved it.
I cannot say how rewarding this seson has been from a coaching perspective. Massive credit and sincere thanks to Coach Fritz for all his help again throughout the season. Two heads are definitely better than one when it comes to this type of thing! The Crocs have elevated their game so much and have met or exceeded all my goals for them as a team. Our improved results are a testament to their hard work: we finished with three wins, two defeats, and three draws, for 12 points in the standings. We finished 2nd (out of 4) in our Division and tied for 3rd (out of 8) in our Conference. Additionally, we scored 8 goals, also a season high. And while we conceded 11, six of those came in one game and we posted four shutouts.
All of the girls have shown improvements on an individual level as well, and I hope they have enjoyed playing this season as much as I have enjoyed coaching them. This was my last game at the helm for the Crocs and I can't think of a better way to go out!
Thank you to each and every player on our team: Alexa, Clodagh, Canan, Carly, Rachel, Sally, Vivian, Haley, Naomi, Miranda, Moira, Gabby, Jada, Jayla, and Lucy: the Crocs rock.
Monday, May 24
Game 7 Recap
The Crocs' unbeaten string hits three games in a row! This time courtesy of a strong second half comeback. The Crocs were unlucky to concded a penalty kick goal following an inadvertent handball in the opening minutes, but as the game went on they found their footing and started playing with more confidence and conviction. In the second half, their improved play was rewarded when Jayla quickly turned on a loose ball in the goal box and tied the score. It was a very deserved goal for Jayla, who again played great, and for all the Crocs, who after getting over their initial tentativeness, did a great job of controlling the action and putting the pressure on the other team. Sometimes a tie feels like a win, and this week I think that's the case.
The Croc this week goes to Vivian who played another good game on the flanks in defense. Vivian has been one of the "unsung heroes" of our season. With her continually improving play and great attitude week in and week out, she has been contributing to the Crocs' success from Game One. Way to go, Vivian!
Monday, May 17
Game 6 Recap
Another outstanding effort by the Crocs earned the team a 1-1 tie on Saturday. The result was a little unfortunate as we were definitely the better team and after a shaky opening few minutes of the game the girls contolled the action. The Crocs' effort was rewarded in the second half when Lucy, who had an outstanding all-around game up front, blasted into the roof of the net a long ball from midfield that Haley alertly played into the box. A great finish, and from start to finish the type of hustle play that good teams make.
The Croc this week goes to Lucy, but there were outstanding performances all over the field. Clodagh in particular should be recognized for a FANTASTIC game filling in at the center of defense and playing the whole game. Aided by Haley, Vivian, Miranda, and Gabby, our defense was strong all game and made sure our goalies had almost nothing to do. Rachel, Moira, Alexa, and Canen, as they have been doing all season, turned in good games in midfield and Carly played well in goal and her first appearance as a forward.
All in all, another positive performance from the Crocs, who with two games to go have already secured more points than they have in any other season.
Monday, May 10
Game 5 Recap
The Crocs get their 2nd win (and third shutout!) of the season! Coach Knapp wasn't there Saturday, so I'll let Coach Fritz give the wrap-up:
WE WON!!!! 2-0. They played great!! (I hardly had to coach!) They were passing the ball all over the field and moving the ball very well from the defense through the midfielders and on to the fowards. The forwards were shooting the ball and following their shots. Rachael scored 1st. She got the ball from their goal kick and dribbled past a defender then shot and scored. (Just like we worked on in practice!) Jayla scored the 2nd goal. Miranda made a real good pass from the midfield to Jayla and she 1 timed it in the goal. Our goalies only touched the ball once each. It was a really good game for all the crocks. They played great today!!
The Croc this week went to Rachel, who opened the scoring and played a terrific all around game. (Unfortunately, we've gotta recycle the picture of Rachel winning the croc at the beginning of the season, until Coach has a chance to take a new one :) ).
Let's see if the Crocs can get back to back wins next week!
Monday, May 3
Game 4 Recap
Getting a win on Saturday would have been a pretty tall order, considering we only had seven players for the hottest game of the year so far and were playing a first place team that had yet to lose. In the end, the Crocs did end up losing, but boy did they make the other team earn it! From the outset our mission was to defend our goal and the girls did so fantastically. Despite their numerical advantage, the Orange team only mustered a handful of good scoring chances, which were dealt with by Jayla and later Canan, who both played great in goal. When they finally did score, it was after some bad luck as the ball took a crazy deflection off Moira giving Jayla no chance.
Everyone who played Saturday deserves heaps of praise for the effort they put in over the full 60 minutes in the heat. But the Croc this week goes to Naomi who was just fabulous at the middle of defense. Time and again she stopped Orange from mounting an attack an continuously cleared our area. Great job, Naomi.
Monday, April 26
Game 3 Recap
The Crocs certainly brought their "A" game Saturday, as they turned in one of the most solid start-to-finish performances they've ever prdduced. The final 0-0 scoreline is not an accurate reflection of how the game went, as we by far had more scoring chances and the bulk of the game was played in our opponents end of the field. So while we split the points, there was an awful lot to be impressed with. The girls are playing more vertical passes and creating more scoring opportunities. Several players, including Canan, Lucy, Miranda, and Moira created chances with well-placed passes around the goal. And the defense continues to aggressively contest loose balls. Jada turned in another solid performance, patrolling the middle of the field, and Carly, Vivian, and Naomi provided able assistance. Finally, Alexa and Rachel, this week's Croc recipient, tirelessly covered the field and made the midfield what it's supposed to be: where our attacks begin and where the other team's end. Great game everyone.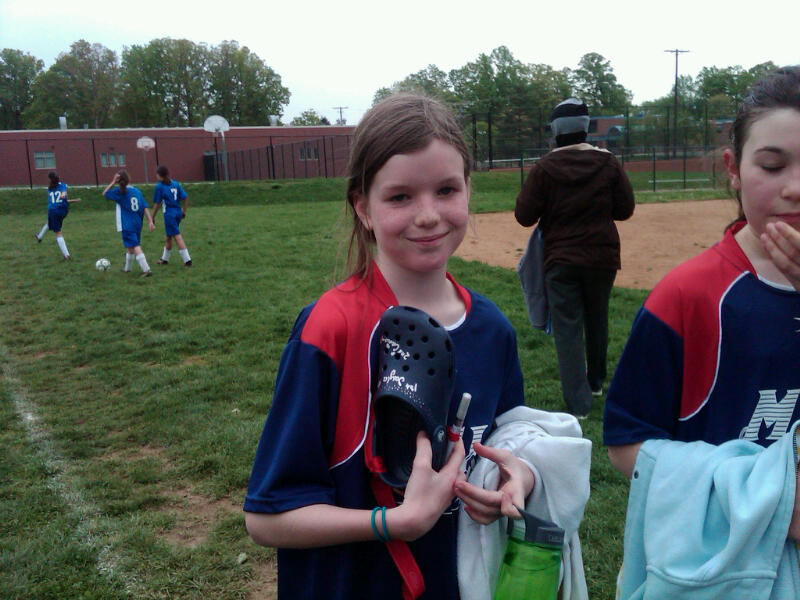 Monday, April 19
Game 2 Recap
A hard day at the office for the Crocs. Faced with a very good opponent, the girls turned in a strong performance considering that we started wtih only one sub and then because of injuries had to play a large chunk of the game with only 8 players on the field. There were a few anxious moments early on as people had to find their feet in unfamiliar positions, but as the game wore on, the Crocs raised the level of their game. And as always, the girls never lost their intensity and kep on running as hard as they could right up to the final whistle. No one more so than Canan, who has got to be feeling a little sore, after tirelessly patrolling the flanks all game and giving a great performance that earned the Croc this week. Way to go, Canan. Credit also goes to our defense of Haley, Naomi, and Sally, with help from Miranda, who made the other team work for everything they got. And also our goalies, Rachel, Alexa, and Moira, who stayed sharp throughout.
Monday, April 12
Game 1 Recap
Crocs win! Crocs win! Crocs win!
What a great way to start the season on Saturday! The Crocs came out ready to play and beat Orange 2-0 behind second half goals from Jayla and Moira. The girls also had chances to score earlier, with Jayla and Lucy going close, but some good goalkeeping from the Orange team kept it close. Our own goalkeepers, Gabby and Haley, had great games as well, with Hailey coming up with some key stops late in the second half. Everyone on the team pitched in to making this win. Special mention to Jada, who played every minute, Clodagh, who played one of her best games and provided great defense, and our newest teammates, Naomi and Carly for stepping in and contributing right away.
The Croc this week went to Jayla who provided the winning offense. Unfortunately, Coach forgot his camera, so I'm posting an old picture of Jayla with the Croc. I promise to fixt that next week. (I also hope to update the team photo shortly!)
It's a nice feeling to be undefeated. Let's see if we can keep it going for a while.
Sunday, November 1
Game 6 vs. Purple
A tough loss for the Crocs, who brought a ton of energy (and in Clodagh's cas, face paint!) to our Halloween afternoon contest. A very, very even game throughout but Purple was able to capitalize twice for scores, while the Crocs came close but couldn't quite connect. The croc this week went to Lisa who turned in one of her best games as part of the team, hustling on the right flank and playing a very solid game in midfield. Credit also goes to Canan and Haley for strong contributions in midfield and defense, and Rachel in both goal and midfield.
Sunday, November 1
Game 5 vs. Turquoise
The Crocs finally were able to find the net, with Jayla netting the team's first goal of the season. However, in the ned another close loss for the Crocs, who fell 2-1. The croc this week goes to Jayla who never stopped running and was rewarded for her efforts with a great goal.
Sunday, November 1
Game 4 vs. Royal
After the girls fell behind early they straightened things out quickly and played an even game the rest of the way, but couldn't find the goals to overcome the early deficit. A strong game from Miranda, who took home the croc for here excellent play.
Monday, October 5
Game 3 vs. Turquoise
Our second game of the weekend unfortunately came at a bad time, as scheduling conflicts prevented the Crocs from fielding a full team, and we were forced to forfeit, which goes in the standings as a 1-0 defeat, our first of the season. Fortunately, we were able to get in a scrimmage which allowed everyone to have some fun and also gave some folks a chance to try some new positions on the field, (including Lucy in central defense!) The girls continue to show a lot of heart, even in an "unofficial" game.
The Croc for today's game goes to everyone who made it out for two games in a single weekend. Not an easy feat given how draining Saturday's game was! Hopefully, after a week of rest, the Crocs will be ready to get their first win of the season.
Monday, October 5
Game 2 vs. Red
An absolutely PHENOMENAL effort by the Crocs to secure a 0-0 draw in the heat despite being down to 8 players by the end of the game. No shortage of heroes on the day, including: Canan who played great in midfield; Jada, who AGAIN played every minute and anchored the defense, with fantastic help from Rachel and Miranda; and our goalies Kyla and Moira. But the croc for today's game goes to Alexa who again was an unstoppable force in the middle of the park, winning ball after ball and forming the first line of defense and the starting point for the offense. Great job, Alexa.
Wednesday, September 30
Game 1 vs. Purple
Welcome back everyone!
The Fall 09 Season got off to a solid start as the Crocs (now in Blue!) fought Purple to a 0-0 standstill. We dominated long stretches of the game and our forwards, in particular Kyla and Lucy, forced their goalie into action several times, but couldn't get the one goal we needed. In the second half, our defenders, inlcuding Jada, Vivian, Clodagh and Miranda, held firm as the other team caught a second wind, and Gabby came up big in goal when we needed it.
The croc this week goes to Kyla who never stopped running and putting pressure on the other team, and as noted, came close to getting a goal on more than one occasion.
As a team, this was a really solid all-around performanc. The girls took the initiative in winning loose balls. They also passed the ball as well as they ever have and moved well to open up the field and use all the available space. All in all, a very encouraging start, and let's hope we can build on it going forward.
Saturday, June 13
Game 8 vs. Kelly
Coach has been waiting a long time to write this one.
The Crocs will enter the Fall season on a winning streak!
In a tremendous team performance, the Crocs put it all together and beat Kelly 2-0, a team that had beat us earlier in the season, a great indication of how far the girls have come just this year.
There was no shortage of heroes: Moira - for scoring TWICE; Alexa - for keeping a clean sheet in goal the first half and then acting as a one girl wrecking crew in midfield in the second; Kyla - for coming up HUGE in goal in the second half; Miranda and Lisa - for each playing their best game in a Croc shirt; Sally - for fighting off an injury to come back into the game to shore up the defense; Jada - for putting up a wall in front of our goal (and for a very, um, unique approach to goal kicks); Gabby for patrolling the flanks in defense. Coach could go on and on.
Basically, everyone contributed to this win. And for that reason, the Croc this week goes to everyone.
Coaches live for games like this.
Saturday, June 6
Game 7 vs. Turquoise
Some days it's just not your day. The Crocs ran up against the runaway first place team in our league and while they fought valiantly in blistering late afternoon heat, they found out why the Turquoise team is going to win the league. Still, the Crocs can take some pride in the fact that they scored twice against a team that had only allowed four goals all season up to that point. Nice work from Lucy and Jayla on the goals. The Croc this week goes to Erin, who turned in another exceptional performance. If we had a most improved player award for the season it would also go to Erin who has improved each week and can be counted on to solidify our midfield, spread the field and make several key passes each week. Our season wraps up next week and here's hoping the Crocs end on a high note.
Friday, May 29
Game 6 vs. Sky
By all accounts (since Coach wasn't actually there this week) the Crocs again played a tough game, but again came up on the short end 3-0. The Croc goes this week to Sally for yet another strong performance in defense. We continue to be hard to score against, though goals for us remain elusive. But they're on their way.
Thursday, May 21
Game 5 vs. Fuschia
Yet another stellar defensive performance by the Crocs, but unfortunately another close loss. The Croc this week goes to Jada, who has anchored the defense all season, and did so again Saturday. Her goal kicks also provided some breathing room when Fushcia was stepping up the pressure. Both goaltenders were also spectacular, as Rachel kept the other team off the board early with several saves in the first few minutes, and Moira held firm in the second half when the majority of action was in our end.
The team has made great strides this season and has been competitive in every game. For I believe the fifth time in five games this season, we were tied at halftime. With continued improvement we will hopefully close one of these out with a win soon.
Monday, May 11
Game 4 @ Black
In a game played under some pretty unusual circumstances because of poor field conditions, the Crocs rose to the challenge, but fell short 1-0. As has been the case all season, our defense led by Sally, Jada, and Kyla, (with help fromVivian, Clodagh, and Lisa) was fantastic. Hats off also to Rachel and Moira for great work in goal. The Black team's goal was basically an unlucky bounce of the ball. You would think some of that luck would have come our way as well, but unfortunately, a potentially game-tying goal from Lucy was ruled by the ref as being too high, as in his estimation it was over the (imaginary) cross-bar on the makeshift goal. A tough break to be sure. Lucy still gets the croc this week, for coming closest to scoring and for her all around determination up front. A completely even contest except for on the score sheet.
Sunday, May 3
Game 3 - @ Purple
An extremely exciting game on Saturday as the Crocs found their scoring touch! Unfortunately, we fell a little short, but we produced a strong comeback and the outcome was still in doubt until late in the game. Great performances all around, including from Rachel, this week's croc recipient, (the first Croc to get two goals in the same game!), and Jayla, who came up huge in goal on several occasions, despite still nursing an injury. All in all, our best performance of the season as our passing continues to improve (both goals were set up by excellent passes), our defense remains solid, and our overall pressing and spacing are coming along.
On Saturday night, a group of Crocs and Croc-parents attended DC United's game against FC Dallas. Like last season's field trip to RFK, it was a lot of fun. Unlike last year, DC United actually played well and won! Jayla represented the Crocs on the field this year, and I am posting pictures of the event.
Monday, April 27
Game 2 vs. Kelly
The short-handed Crocs put out a great effort in the scorching heat, but ended up on the wrong side of a 3-0 scoreline. After a scoreless first half where our girls had the better of play, the heat unfortunately eventually caught up with us. The Croc this week goes to Kyla who was a rock in defense and played the entire first half without a break. Special mention to Sally, who also had a fantastic game. Our passing and intensity continue to improve every week, now we just need a few goals! The way the girls are improving, I'm confident they're on the way.
Sunday, April 19
Game 1 vs. Sky
The Crocs are undefeated!!!
What can you say, the girls turned in a tremendous team effort on Saturday to earn a hard-won point in a 1-1 draw. The Croc for the first week of the season goes to Jayla, who scored the goal, and who's intensity spread throughout the team, which was the difference in the second half, when we thoroughly dominated play, but couldn't quite connect for a go-ahead goal. Hopefully, Jayla will recover from the knock that took her out of the game soon. No shortage of fine performances this week, but also want to give special mention to our goalies, Canan and Gabby, for doing such a great job, to Erin for her best game as a Croc, and to Alexa for a great second half in defense.
Saturday, April 4
Welcome to the Spring Season! (Sort of)
The start of the Crocs Spring 2009 campaign will have to wait two more weeks as Mother Nature (and MSI) decided it wasn't going to happen today. I'm sure everyone will be rarin' to go on the 18th after Spring Break. We've had really good practices so far, and with the (eventual) onset of the warm weather, I'm sure that the girls will be even more ready to go.
A new season also means that we have a fresh clean Croc to give out each week. Last season's Croc has been retired. I have posted additional pictures in the Album section of the site in case anyone wants to check out the spectacular job the girls did in putting their stamp on last year.
Also, there is no practice on Sunday April 5, Thursday April 9, or Sunday April 12. Unfortunately, I can't remember how to delete the reminders below on the site without erasing all the other practice reminders.
Monday, November 10
Game #8 and End of Season Party
The Crocs first win will have to wait until Spring. A valiant effort as always, but not quite enough on the last day of the Fall season. There was no shortage of girls who showed great heart and hustle, including Vivian, Kyla, Alexa, and Clodagh. But the Croc this week goes to Gabby, who played great goalie (as she has down for us on several occasions down the stretch) and brought a lot of energy at forward in the second half. Way to go, Gab!
Win or lose, the Crocs know how to celebrate the end of the season in style. We hope everyone had a good time turning Coach's car into a piece of rolling artwork. (When coach can actually get the thing to run.) The guys at the car wash gave Coach Knapp some funny looks Sunday! Some pictures from the celebration are posted in the Albums section of the site. (Special thanks to Jayla's mom for the CrocCookies!)
We hope everyone enjoys the off-season (and maybe practices a little?) and is looking forward to the spring season. We will provide info on registering as soon as it becomes available. Coach Knapp wants to take a moment to acknowledge Coach Henderson for his enormous contributions to making this team work. It wouldn't be possible without him.
While results could have gone a little better for the Crocs, we could not be more proud of the girls, who have all improved, in some cases dramatically, in just a couple months. Sincere thanks from Coach Knapp and Coach Henderson to everyone, both players and parents, for making this a great season. I have never enjoyed coaching more. We are extremely lucky to coach this great bunch of girls and can't wait for the Spring.
Go Crocs!
Wednesday, November 5
Game #7
The Crocs wrapped up a busy weekend with a valiant effort against the undefeated Purple team. We weren't able to hand them their first loss of the season, but we played hard and elevated our game. (And according to the Purple coaches, we brought out the best in their team as well.) The croc goes to Jada, who played almost every minute of both games this weekend and was a rock at the back. (And those goal kicks! What a foot!) The season wraps up on Saturday and here's hoping the Crocs finish in style!
Saturday, November 1
Game # 6
A great effort by the candy-fueled Crocs. After falling behind early, we got one back right before half time courtesy of some great work by Moira, who set it up, and Lucy, who finished with authority. For the rest of the game, it was an even contest, with a lot of credit going to the excellent work by Jada in the middle of defense and Jayla in goal. The Croc - for one day only! - goes to Lucy. Let's carry this effort and intensity over to tomorrow's game!
Sunday, October 19
Game #5
A tough loss for the Crocs in every sense of the word (more than a few ouchies to go around this week). At the risk of repeating myself, a lot of positive play by the Crocs, especially on defense. (And great work by our goaltenders Lisa and Kyla!) Goals remain elusive, but are coming. The Croc this week goes to Alexa who always leads by example and never stops by running. Great game Alexa!
Tuesday, October 14
UPDATED Revised Schedule
The latest updated version of the schedule, which includes a second makeup game on November 8, is now in the handouts section.
Tuesday, October 14
Game #4
At the halfway point of the season, the Crocs continue to show signs of improvement every week. The wins are on the way! Shout out to Jayla who takes home the Croc for her contributions in the field and in goal. (See, Jayla there's a reason coach asked you to play goal this week!)
Sunday, October 5
Game #3 and DC United
The Crocs came soooo close on Saturday to the first win of the season, falling 1-0. The first half was probably the best half the team has played all year, and overall, we dominated play, but we came up just a little short. Sally Tuszynski takes home the Croc this week for a great performance anchoring the defense.
Based on what we saw Saturday night, I think the Crocs could give DC United a pretty good game. Ouch. Lame performance by the boys in black and red aside, it was a ton of fun at RFK and Canan represented the Crocs with style on the field during the MSI Sportsmanship recognition ceremony. We had a awesome turnout and I hope everyone had a great time. I have posted some pictures from RFK in the Albums section of the site (and also some photos from Saturday's game).
Friday, September 26
Revised Schedule for Nov. 2 Make Up Game
MSI has updated our game schedule to include new information on the makeup game on Sunday, November 2. Our game will now be at 11:00 A.M., that day, not 10:00 as it would have been originally. Also, there is a change of location. The game will now be at Maryvale ES in Rockville. I have posted a copy of the revised schedule in the handouts section of the site.
Sunday, September 21
Game #2
Another strong second half performance from the Crocs, but not quite enough to get us our first win. Tons of hustle all around and a great goal from this week's Croc winner, Rachel! Everyone is running hard and we are improving every week.
P.S. There are a couple photos from this week's game in the Albums section of the site.
Sunday, September 7
Site Launch
Hi everyone! Well I was hoping to get the site started this week with news and photos from the Crocs' first game. But, since Mother Nature didn't cooperate, the site is still in semi-complete form. Hopefully, this time next week there will be pictures from the first win of the season, and additional content updates (like everyone's correct uniform #s). In the meantime, I encourage you to explore the site and let me know if you have any questions or suggestions for additions/changes. Thanks.
- Coach Knapp
Sunday, September 14
First Game
The Crocs gave a really great effort in the heat on Saturday. Even though we ended up on the short end of things, there was a lot to be pleased about. The girls played hard and controlled the game at times. Hopefully, next week a few more goals will come our way.
There were lots of folks who really hustled, but the recipient of the Croc Award this week is Moira, who ran as hard as anyone and got a well-deserved goal for her efforts. Nice job, Moira.
See everyone at practice Thursday.