: Welcome
Follow us on Twitter: @kmplayaz
Good Luck to all of our Playaz in the HS playoffs!
Wednesday, November 20
KMP PRODUCTS MAKING PRE-SEASON HEADLINES
PRESEASON
ALL LONG ISLAND
Chris Atkinson, LuHi

Tristan Brown, Elmont

Dwayne Daniel, Lawrence

*Devonte Dixon, Westhampton

*Aaren Edmead, Deer Park

Tavon Ginyard, SJB

Devonte Green, LuHi

Terry Harris, Hills West

Femi Olujobi, Brentwood

Kyle Williams, SJB
courtesy of LongIslandBasketball.com
Sunday, October 27
KMP SUPPORTS ALZHEIMERS!
Playaz Shaundell Fishburne, Jarell Cowell & Aaren Edmead were selectted to participate in the 2013 LI Alzheimer's Classic, a charitable all-star game comprised of the best playaz from Suffolk & Nassau! Great job for a great cause & special thanks to all who made the event a success!
Tuesday, October 15
Congratulations to Aaren, Mom & Dad along with rest of the Edmead family!
Our blessings go to Aaren on your upcoming senior year and future
Wagner Seahawk career!
As Coach Nick says, "hard work pays off and pays tuition!"
Aaren Edmead, a 5-foot-10, 165-pound point guard from Deer Park High on Long Island,
has committed to Wagner.
A former UMass-Lowell commit, Edmead is a playmaking guard
with great handle and vision and a strong jumper.
He also considered St. Francis-Brooklyn and UMass-Lowell.
"I love the coaching staff," Edmead told SNY.tv. "The head coach [Bashir Mason] is a point guard from New Jersey. They preach defense first and play an uptempo offense. I'm also a lockdown defender who thrives in an uptempo offense. So it felt like the best fit."
Thursday, August 8
DIFFERENCE MAKERS!
KMP proudly teams up with The Max Cure Foundation to sponsor DUNK YOUR KICKS 3 on 3 basketball fundraiser to support pediatric cancer research!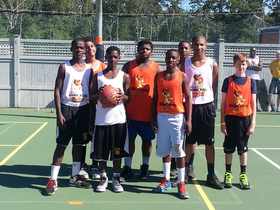 MAX CURE CHAMPS
Thursday, August 1
FAMILY AFFAIR!
KMP ALUMNI
2013 SYS Men's Summer League champions
Standing: (L-R): Dantre Langhorne (2011), Maleek Harris (2012), Winston Wilcenski (2012), Paris Parks (2011), CJ Williams (2010) & Coach Nick
Kneeling: MVP Marques Charlton (2010)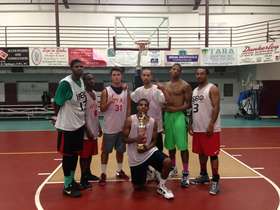 CHAMPS
KMP product AAREN EDMEAD (Deer Park '14) RECEIVES D-1 OFFER!!!
http://nychoops.rivals.com/content.asp?CID=1533214#sthash.yFbSWrso.dpbs
Sunday, June 2
#ChipsAhoy
Congrats to KMP 6th & 7th grade teams
winning North-South Shootout championships
at LI SportsPlex!
6TH GRADE championship quest consisted of beating Lightning Baron, LI Knights & Lightning Gilmore. Shout out for a great team effort to: Coach Jae, team captain Micah, Christian, Albert, Saieed, Dashaun, JP, Dakoda, Turner, Nazay, Ryan & Heron!
Special Thanks to honorary Asst Coach Ms. Korrina for treating 6th gr champions to Friendlys!!!
7TH GRADE team played up in 8th grade division defeating St Hughes, William Floyd & Lightning Dellacave in route to the chip. Shout out to: Coach Troy, Elijah, James, Grayson, Jalen, Justin, Troy, Teandre, Jake, Junior, Jack & Coach Nick!
As Always, Thanks to all the parents & support staff!!
Sunday, May 19
KMP ALL TOURNEY PERFORMERS AT HALL OF FAME SPRING CLASSIC in Springfield, Mass (click here)
UNDER ARMOUR BEST OF NY Tourney Recep presented by Elite Sports! (click here)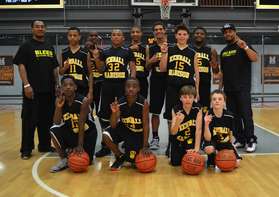 7TH GRADE CHAMPS
Monday, April 22
#CHAMPIONS
HOUSE OF SPORTS UA BEST OF NY CHAMPIONS
Elite Sports TOURNEY MVP: Justin Rountree
Standing (L-R): Coach Nick, Q, Micah, Jalen, Justin, James, Grayson, Elijah, Coach Troy
Kneeling (L-R) Teandre, Troy, Jack, Jake
7TH GRADE CHAMPS
Monday, April 22
#CHAMPIONS
HOUSE OF SPORTS UA BEST OF NY CHAMPIONS
ELITE SPORTS ALL TOURNEY SELECTIONS:
JARELL COWELL
DENIS SULLIVAN
DYLAN DEMASI
Standing (L-R) Coach Ant, Isaiah, Denis, Tyrell, Dylan, JB, Taylor, Matt, Nykel, Coach D
Kneeling (L-R) Jarell, Carlton, Tony Parker aka Devon Ware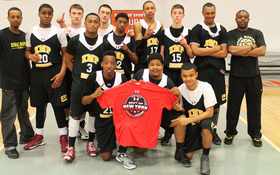 10TH GRADE CHAMPS
#KMP
Great opening weekend for KMP program-wide as we had 5 teams participating in LongIslandbasketball.com's Spring Classic!
We kicked-off the AAU season sending 4 teams to the Finals with 2 teams bringing home the chip!
Congrats to the following Playaz for being selected to the All-Tourney teams:
6th grade (CHAMPS): Micah Snowden, Dakoda Smith (Southampton)
7th grade (FINALIST): James "June" Harding (Bridgehampton)
9th grade (CHAMPS): Izzy Johnson (Southampton), Tristan Wisseman (Shelter Island)
10th grade: Devante Dixon (William Floyd)
11th grade (FINALIST): Shaundell Fishburne (Southampton)
Monday, April 1
#CHAMPIONS
Congrats to Coach Jae, Coach Ant & 6th grade team capturing
LI BBALL Spring Classic championship
participating in their first ever AAU tourney together! Great job!!
Special thanks to all the parents and support staff.
Standing:(L-R) Coach Anthony, Ryan, JP, Micah, Saieed, Coach Jae
Kneeling: (L-R): Heron, Nazay, Kadarius, Deshawn Laying (L-R): Albert, Turner, Dakoda, Chrisitian
Monday, April 1
#CHAMPIONS
2013 9th grade Spring Classic Champions!!
Congrats to Coach Rountree, Coach Bowe, Coach Fee & the entire 9th grade team!
Special thanks to al lthe parents & support staff.
Standing (L-R): Coach Troy, Darien, Tristan, Charles, Emmanuel, Kevin, Cameron, Big Rome; Izzy, Coach Kevin
Kneeling: (L-R): Coach Anthony, Andre, Chad, Kevin Jr.