: Welcome
We are now officially
LONG ISLAND ELITE BASKETBALL
www.lielite.org
Follow us on Twitter: @lielitebball
Congratulations to the KMP Class of 2014 Graduates!!

Congrats to our 8th & 10th grade teams displaying a competitive showing at Nationals in Florida!
Monday, June 30
KMP takes another championship winning PreSummer Jamboree!
Congrats to Troy, Teandre, Jake, Jack, Korey, Sean, Elijah, Josh, Jalen, Coach Troy & Coach Nick
TOURNEY MVP: Jake Gaudiello (Westhampton)
ALL TOURNEY: Jalen Ryan (Longwood) - Troy Goode (Riverhead)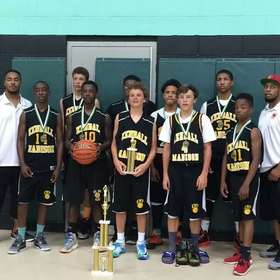 14U CHAMPS
Saturday, June 21
17U LI Jam Fest CHAMPS
S/O to Clarence, Justin, Anthony, Zach, Tyliek, Isaiah, Scott & Jarell bringing home another chip!
Saturday, June 21
Congrats to our 7th grade team bringing home their 3rd championship winning the LI Summer JamFest!
TOURNEY MVP: Sean Braithwaite (Center Moriches)
ALL TOURNEY: Turner Foster (East Hampton) - Saieed McClean (William Floyd)
Shout out to: Coach Jae, Coach Marcus, Tyiquon, Josiah, JP, Naejon, Saieed, Turner, Dakota, Micah, Heron, Nazay, Sean & Will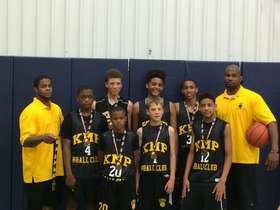 13U CHAMPS
Sunday, June 1
14U NY METRO SHOWDOWN CHAMPIONS
TOURNEY CO-MVP
Teandre Rountree (Center Moriches)
Jake Guadiello (Westhampton)
ALL TOURNEY TEAM
Elijah Harding (Riverhead) - Hollique Johnson (Riverhead)
#CHIPSAHOY
Monday, May 26
#NATIONALSBOUND
CONGRATS TO OUR 10TH GRADE TEAM QUALIFYING FOR DII NATIONALS
HELD IN TAVARES, FLORIDA JULY 8-13!
THEY WILL REPRESENT NY METRO AS THE #2 SEED AFTER PLACING SECOND IN DISTRICT CHAMPIONSHIPS AS SILVER MEDALIST!
SHOUT OUT TO: Joel, Josh, Trizzy, Kevin, Izzy, Cam, Chris, Tyliek, Ethan,
Kevin, Brandon, Charles, Tylik, Coach Ant, Coach Troy, Coach Kevin!
Sunday, May 11
2014 ZG THINK PINK CLASSIC CHAMPIONS
Congrats to Coach Jae, Heron, JP, Naejon, Tyiquon, Willie, Micah,Turner, Sean,
Saieed, Dakota, Josiah, Nazay & Coach Marcus
CO-MVPS: JP Harding (Riverhead), Heron ONeal (St Anthonys)
ALL TOURNEY: Naejon Ward, Saieed McClean, Sean Braithwaite
Monday, May 5
Congrats to 8th grade team & coaches winning the
Strong Island Tip-Off Classic chip!
Total team effort & job well done!!
All Tourney Selections:
Teandre Rountree CO-MVP (Center Moriches)
Jack Reese CO-MVP (East Hampton)
Hollique Johnson (Riverhead)
Monday, April 28
2014 ZERO GRAVITY NY METRO
7TH GRADE GLOBAL CHAMPIONS
Congrats to Nazay Williams, Will Tucker, Josiah Morris, Saieed McClean, Turner Foster, Sean Braithwaite, JP Harding, Heron Oneal, Tequan Nix, Ryan Fowkes, Micah Snowden, Korey Stewart, Dakota Smith, Coach Jae & Coach Marcus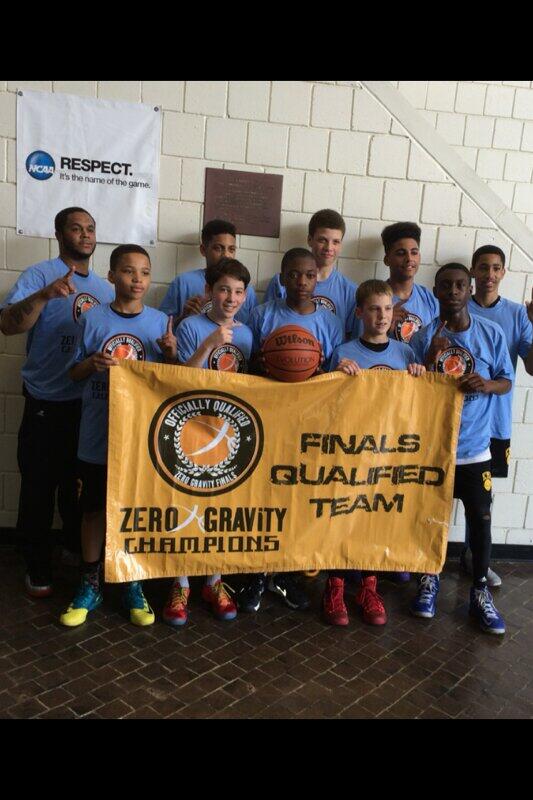 ALL-TOURNEY TEAM
TURNER FOSTER (East Hampton)
SAIEED McCLEAN (William Floyd)
SEAN BRAITHWAITE (Center Moriches)
CO-MVPS
SEAN BRAITHWATIE (averaged double-double pts/reb)
SAIEED McCLEAN (7 3-ptrs in semi-final game; team high ppg)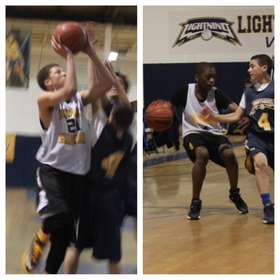 Dynamic Duo
Sunday, April 6
CHIPS AHOY!
2014 Adidas Battle By the Bay
Champions
#KMPBC
Sunday, March 30
Congrats to KMPBC rising star Sean Braithwaite (Center Moriches'19)
being selected to All Tourney team in Spring Tip-Off
Classic this weekend! Sean recorded 2 triple-doubles in two
victories and a double-double performance
in a tough championship loss!
#KMPBC
Sunday, March 23
Opening Tourney 17U Championship
Congrats to Zach, Ethan, Shaundell, Tommy, Jarell, Isaiah, Nykell, Brandon, Anthony, Andrew & Coach Nick
winning the LI Heat March Madness tourney
kicking off this AAU travel season!
#KMP
Sunday, October 27
KMP SUPPORTS ALZHEIMERS!
Playaz Shaundell Fishburne, Jarell Cowell & Aaren Edmead were selected to participate in the 2013 LI Alzheimer's Classic, a charitable all-star game comprised of the best playaz from Suffolk & Nassau! Great job for a great cause & special thanks to all who made the event a success!
Tuesday, October 15
Afer a tremendous showing at Nationals in Orlando,
proud to announce another
Congratulations to Aaren, Mom & Dad along with rest of the Edmead family!
Our blessings go to Aaren on future
Wagner Seahawk career!
As Coach Nick says, "hard work pays off and pays tuition!"
Aaren Edmead, a 5-foot-10, 165-pound point guard from Deer Park High on Long Island,
has committed to Wagner.
A former UMass-Lowell commit, Edmead is a playmaking guard
with great handle, vision and a strong jumper.
He also considered St. Francis-Brooklyn, Texas St, Cal St-Bakersfield and UMass-Lowell.
"I love the coaching staff," Edmead told SNY.tv. "The head coach [Bashir Mason] is a point guard from New Jersey. They preach defense first and play an uptempo offense. I'm also a lockdown defender who thrives in an uptempo offense. So it felt like the best fit."