KEARNY MESA LL: Welcome
Tuesday, April 8
Kearny Mesa Little League
Picture Makeup Day is this Saturday, April 12th from 8am to 9am. Please plan on coming early as the photographer will not stay late.

---
The Calendar of Events has been updated with the latest Games Schedule. Be sure to look at it to see when and where your favorite Little Leaguer is playing.
---
*******We also want to remind Coaches, Parents and Players that there are no seeds, gum or food allowed in the dugout or on the fields.*******
Volunteers Needed
Make a difference and help out by volunteering!
We are looking for 2013-2014 Board Members
How can you help? Please contact us at
Volunteers are seldom paid; not because they are worthless, but because they are PRICELESS!

---
What Makes A Nightmare Sports Parent - And What Makes A Great One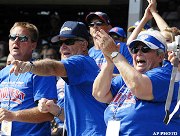 Hundreds of college athletes were asked to think back: "What is your worst memory from playing youth and high school sports?" Their overwhelming response: "The ride home from games with my parents."
With the new baseball and softball season fast approaching, we would like to share the following article published on the website " The Post Game" with all of you. Take a minute and click on the following link: www.thepostgame.com//blog/more-family-fun/201202/what-makes-nightmare-sports-parent and see if what type of Little League parent you are?
---
We are looking for Sponsors!
Local businesses—please consider supporting
your youth by helping us out with your tax deductible
donation. Email the league President at
KearnyMesaLL@aol.com for more information.
---