Monday, March 19
About KiVA
Monday, October 27
KiVA Will Conduct First-ever Unsigned Junior and Senior Showcase at OVVC on Saturday, Dec 6
Click above for more info. Players register at htt...
Interested in joining KiVA? Tryouts for the 2009 Season are coming SOON!
KiVA Tryouts are November 2, 2008. Attached is the schedule and a medical release form.
KENTUCKY INDIANA VOLLEYBALL ACADEMY

OHIO VALLEY VOLLEYBALL CENTER

1820 TAYLOR AVE.

LOUISVILLE, KY 40213

502-473-1200

ronkordes@ovvc.com

WHY KIVA?

TRAINING:

Coaching and training are the essential ingredients to a successful club

experience. KIVA offers the most experienced coaching staff in the Louisville and

Southern Indiana area. KIVA prides itself on the providing the latest in training

techniques and methods. Again in 2009, KIVA has partnered with The Edge sports conditioning and will provide a volleyball specific sports enhancement and physical training program working on all volleyball elements.

REPUTATION:

KIVA has established itself as one of the leading junior volleyball clubs in the country.

Through our excellent tradition, KIVA provides the exposure necessary for collegiate

scholarship opportunities.

RESULTS:

In our nine years of existence, KIVA has:

*

Enabled 98 young ladies, approx 95% of our seniors to attend college

on athletic scholarship

*

48 National Championships (USA, AAU & JVDA)

*

101 Medal Finishes

(USA, AAU & JVDA)

INFORMATION MEETING

Monday, October 8th

7:00pm

ASSUMPTION HIGH SCHOOL - Cafeteria

2170 Tyler Lane, Louisville, KY 40205

TRYOUT SCHEDULE

Registration will begin 3o minutes before tryout start time

SUNDAY, NOVEMBER 2, 2008

9:00 AM

10 U & 12 U

TRAVEL & NON TRAVEL

11:00 AM

13 U & 14 U

TRAVEL & NON TRAVEL

1:00 PM

15 U & 16 U

TRAVEL

3:00 PM

17 U & 18 U

TRAVEL

Tryouts will continue throughout the week and/or the following weekends

IMPORTANT - PLEASE READ

A $300 deposit is required at the time of tryouts

$75 of this deposit will be a tryout fee and is non-refundable. The remaining $225 will be credited to your club fees

If a player is not placed on a team, $225 will be refunded.
Handout:
2009 Medical Release form and KiVA Club Agreement form
Saturday, July 19
KiVA Divas Travel to Slovenia, Croatia, and Italy to Represent U.S. in 2008 European Global Challenge

The Thrill of Victory
Monday, June 30
KiVA Strikes Gold at JVDA Nationals
14White Wins Gold in Club for Both AAU and JVDA!
13Red, 14White, and 15Red all performed an encore to the AAU showings by winning their championships at the JVDA End-of-Year Tournament. 14Red improved on their Bronze medal at AAUs by winning the Gold this weekend and creating a KiVA sweep in the 14 year-old age group. 12White, 16Red, and 17 Red all added Bronze medals. In addition, 12Red, 14Black, 15White, 17White, and 18White all closed-out their seasons in Gold bracket play! Send pictures and/or stories to KivaWebmaster at gmail.com and I'll get them posted.
Congrats to these KiVA divas who made the JVDA all-tournament teams;
17O Whitney Craven and Sara Rogers
17C Kaitlin Young
160 Madison Hardy and Deja McClendon
150 Claire Gerwig, Natalie Keck, and Stephanie Troutwein (who was also the MVP)
15C Taylor Allgier


.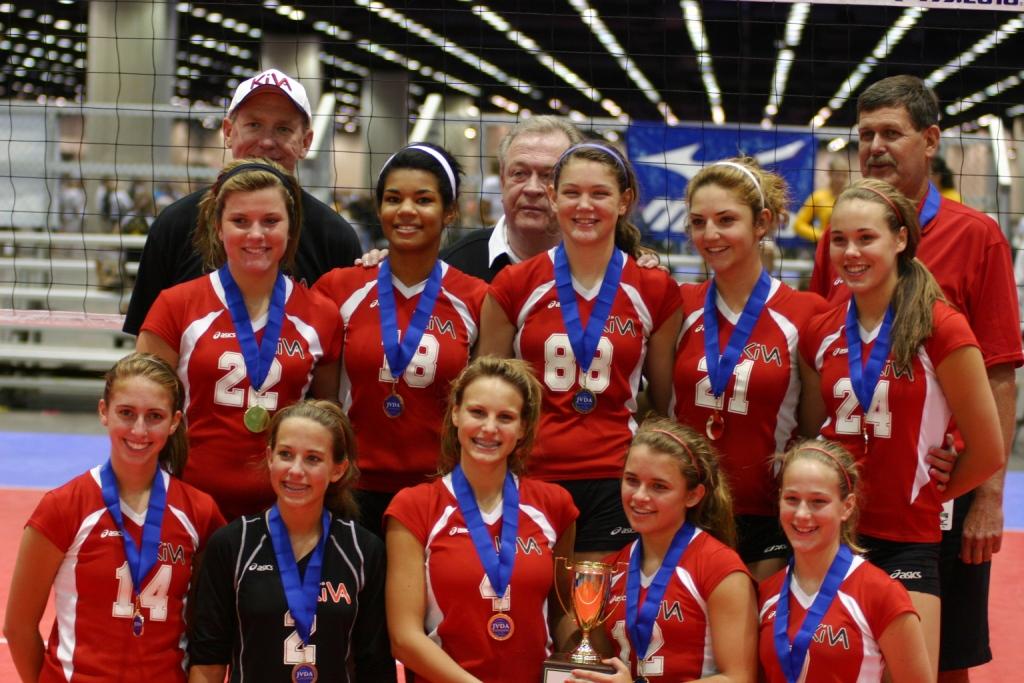 14Red Win Gold in JVDA Open
Older Girls Finish AAUs with 4 Medals
The Sisterhood (18 White) takes home the Gold with a win in 2 over Top Ten 18 Elite!
17 Red wins Silver, losing to Illini Elite Cardinal in Championship match.
17White takes home the Bronze losing to Dayton Jrs (mix of 1&2 teams) in the semifinals. 16 Red wins Bronze after losing to Young Guns in semis.
(Please send pictures and/or a write-up to KivaWebmasters at gmail.com)
Sunday, June 15
13Red Continues Dynasty! AAU National Champs Again!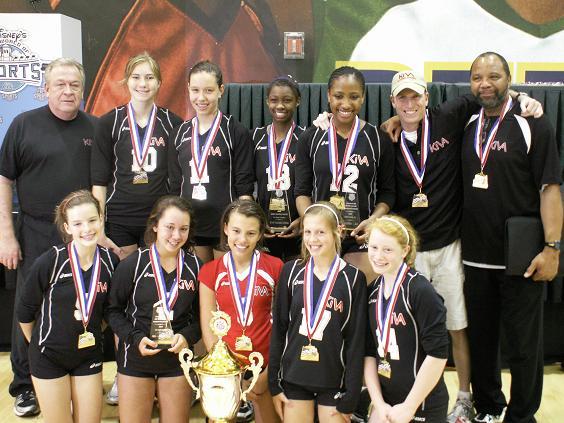 2008 AAU Champions - 13U
Sunday, June 15
14White - Enjoying Their Time in Orlando After Winning Gold in AAU 14 Club
Thursday, June 19
14Black Wins Bronze in Gold Division at AAUs

Please send pictures from Disney
Sunday, June 15
15 White Wins Bronze in 15 Club - AAU Nationals

2008 AAU Champions 15 Open (send pics from Disney)
Sunday, June 15


15Red Wins 15 Open at AAU Nationals at Disney's Wide World of Sports



Saturday, June 14


16C Champs of Munciana Classic





13W Wins Gold in 13 Open at Bluegrass Prequalifier



Saturday, June 14


13 Red takes 2nd in 16 Club Division at the KIVA Memorial Day Tournament





Annalee Abell Commits to Georgetown University in DC


Annalee Abell, member of KIVA 17-Red and finishing her junior year at Henry Clay high school in Lexington, will become a Hoya. She has been a member of KIVA for 3 years.



14Black Takes 1st Place in Gold - Holiday Inn Classic





KiVA 12NT - Brian Wins 12U in Holiday Inn Classic



Friday, April 25


14 White Takes 2nd in Gold Finish of Fireworks Classic 15 Open Division



Thursday, April 24
More Sisterhood Committments


Shannon Cahill and Samantha James will continue their sisterhood into college. Both have committed to Campbellsville ...





1
14Chris Huddles in Match Against 14Black



Saturday, March 22
Elizabeth Goodin Commits to Georgetown College
Liz is showing her versatility this year for 18 Red. After years of club on the right, and middle duties ...

Sunday, March 9
Bluegrass Pre-Qualifier Tournament Results

Sunday, March 9
13Red Wins Gold - Gold - Gold!

Saturday, March 8
Kelsey Luckett and Stephanie Klefot Commit


Senior KELSEY LUCKETT has committed ...

Friday, March 7
2008 Louisville AVP Volunteer positions


For the first time last year, the AVP Croc Beach Tour came to Louisville over the Memorial Day weekend, the ...



Friday, March 7
AVP Tour Returns to Louisville During Memorial Day Weekend Tournament
Attached below is a 2-for-1 ticket promotion brought to you by KiVA and one of our loyal sponsors, Tandem Sports. ...

Monday, February 25


16 White Wins Club Championship at Central Zone



Wednesday, February 27


14 Black Wins Union Classic Championship



Monday, February 25


12 Red Wins Central Zone Championship



Saturday, February 23


14 White Shows Promise in 2008




Here we are two months into the season and the KIVA 14 White have accomplished alot in a short time. We currently hold a 30-10 record withalot of our victories coming from playing at an older age level. We just have just come from a 3rd place finish in the Dayton's President's Cup. We competed very well in 14 Open division, defeating great teams such as Team Z 14-1 and Impact 14-1. So far this year we have won the Silver division in the Central Zone Invite, knocking off Team Indiana 14-1. We are heading into a very tough weekend in the Central Zone Championships in Indy. The team is having a blast and sky is the limit with this very talented bunch of girls.

PS. Profiles were just received for 14W on Friday and should be posted by end of week.





How did the rest of you do during your President Day Tournaments?
Sunday, February 17


13 Laura Wins Union Classic Championship



Tuesday, January 22


Send News and/or Pictures of Your Team!


Aspiring club writers, send us a recap of your team's performance at Central Zone and I'll compile all teams together. Anytime you have results, a picture, and/or an interesting story that the rest of the club would enjoy, send it to KivaWebmasters at GMAIL.COM (use the @ symbol when you do; I didn't to avoid spambots).

The Sisterhood is on her Farewell Tour