Jupiter Jaguars Travel Basketball: Past 2007 Season
2007 Jupiter Jaguars selected
Congratulations to the players making this year's 8th Grade Boys Jupiter Jaguar Green Travel Basketball team:
Kedric Bostic #15
Tyler Cameron #11
Frank Cunningham #35
Albert Nassar #24
Brett Rosenthal #23
Josh Schattie #12
Willis Scott #32
Wes Streett #42
Philip Staiman #22
Coach Keddy and Coach Dan are very excited about the team and are looking forward to a great season!
Go Jaguars!
Team Information
Hey Jaguar Parents,
Here's some information on the upcoming season:
UNIFORM FITTING:
Saturday, Jan 27th, Noon – 1pm at Jupiter Community Center (JCC)
We will be trying on our new uniforms for sizes this Saturday at Jupiter Community Center at Noon. Meet in the lobby. Also, to help, know your size from last year's uniform and if you want to stay the same size or go bigger. The new uniforms are a different brand, including 2 uniforms (home & away), a shooting shirt and tear-away pants.
FIRST PRACTICE:
Sunday, Jan 28th, 4:30pm – 6pm at Jupiter Christian School (JCS)
We will practice on Sundays 4-6pm from now until March 1st. However, on Super Bowl Sunday, Feb 4th we will rearrange the practice time that week to Friday night. We'll let you know.
In March – May, we have requested a Tue & Thu night practice schedule … possibly with a 3rd night to be added some weeks. We will let you know when that is confirmed and the times/locn.
BASKETBALL OLYMPICS CONCESSION:
Saturday, Feb 3rd at Jupiter Community Park (JCP)
As we have in past years, our team will be running the concessions at the Rec Basketball Olympics outdoors at JCP on Sat., Feb 3rd as a fundraiser for our team. Our team will be running the concession stand from 8am - 12:30pm that day! Players come out, support your team, and have fun!
REGISTRATION:
For registration we will need the following. Please bring to an upcoming practice.
- $375 registration fee … check made payable to JTAA
- Copy of Report Card from this school year
- Copy of Birth Certificate (only Albert Nassar's is needed, Keddy has copies of others)
SPONSORS:
As always, we would appreciate your business or friend's or family's businesses sponsoring our team this year. For a $300 donation they will get their name on the back of our Team T-Shirt and a Thank You plaque at the end of the season. We will use these funds to offset the costs of traveling & equipment for our team. All sponsorship dollars go directly to our team to use. The sponsorship form is available to download from this website on the "Handouts" page.
Please work on sponsors early this year. I would like to finalize the list of sponsors and order our t-shirts as soon as possible so we can enjoy them during the season!
2007 Tournament Schedule
Revised:
Date Event Location
1 Mar 2-4th USSSA Super Slam VI Coral Springs
2 Mar 23-25th USSSA Treasure Coast Qualifier Port St. Lucie
3 Apr 6-8th AAU Easter Classic Disney in Orlando
4 Apr 13-15th USSSA Tournament of Champions Tampa
5 May 4-6th AAU Super Regionals or FLL/Coral Springs
_ May 4-6th USSSA Slam Fest (depending on points need)
6 May 11-13th USSSA Jupiter Jam Jupiter
7 May 25-28th AAU District Championships FLL/Coral Springs
8 Jun 8-10th USSSA State Championships Port St. Lucie
TBD Jul 15-21st AAU Div II National Championships Cocoa Beach, FL
TBD Jul 26-30th USSSA Div II National Championships Ft.Wayne, IN
Please let us know, as soon as possible, if you see any conflicts in this schedule where your son will be unable to participate. Also, let us know any other dates during the season your son may be out of town for any vacations, events, spring break, etc.
Tuesday, February 13
2007 Team Shoe
The debate for our 2007 Jaguar team shoe continues... Nike Basketball Shoes are in very low stock everywhere. The Nike Air Zoom Huarache Elite TB is not available in 6 of our 8 shoe sizes. Therefore we must select a different shoe. Let me know by completing the survey below, which shoe you like best. The following 3 shoes are available in all our sizes and will arrive in 4-7 days.
Tuesday, February 13
Tuesday, February 13
Wednesday, February 28
Super Slam VI Tournament
Click on the headline above to access the Tournament website for information on the schedules and gym addresses.
http://www.leaguelineup.com/alertnews.asp?url=csjammers
Monday, March 5
Jaguars win 1st tournament of season!
The Jupiter Jaguars 8th Grade 14U Boys Travel Basketball Team won their first tournament of the season at the USSSA Super Slam Tournament VI in Coral Springs/Boca Raton, FL, May 2-4th, 2007. The team won both their pool games to advance to the Championship game against the Davie PAL Panthers Gold. Selected to the All-Tournament team for outstanding play were Willis Scott, Tyler Cameron, and Frank Cunningham as Most Outstanding Player. Kedric Bostic and Josh Schattie led the team offensively in the tournament with 39 and 34 points respectively. Wes Streett, with 8 points, and Albert Nassar both played big with strong defense. Philip Staiman, playing in his first travel tournament, contributed 10 points with two 3-pointers and two baskets. The tournament win qualifies the JTAA team for the USSSA State Championship to be held in June.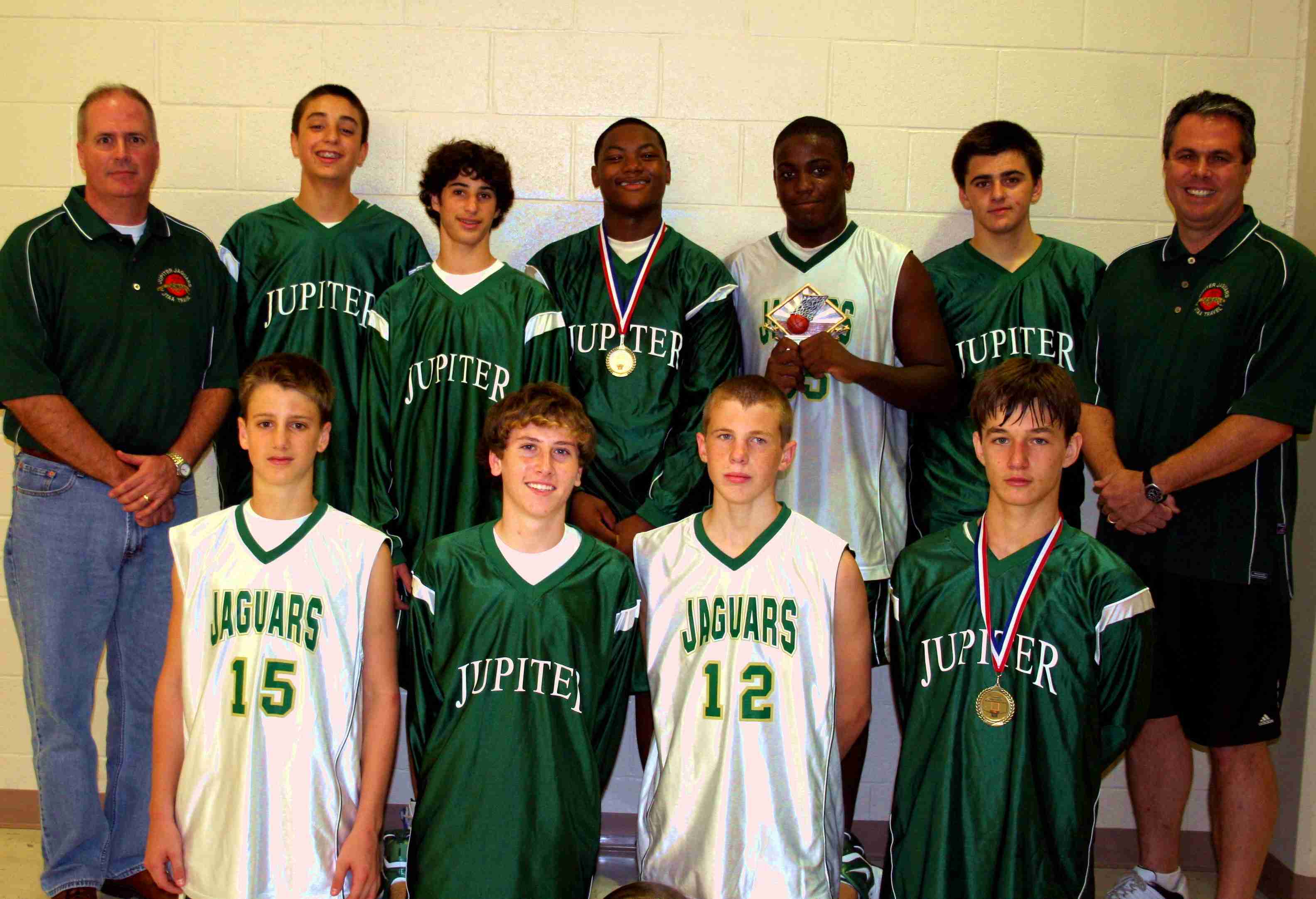 Jupiter Jaguars - 2007 Super Slam VI Champions
Thursday, March 22
Treasure Coast Tournament Schedule
Treasure Coast State Qualifier
March 23-25, 2007
8th Grade Division 1
Pool A Pool B Pool C
Broward Bobcats Florida Warriors Lakeland Fire
Brevard Bulls Dade County Cougars The Boyz
Martin County Tigers BMWS Cougars Jupiter Jaguars Green
Game/Day/Time Site Home Away
1 Fri 800p PSLH Broward Bobcats Brevard Bulls
2 Fri 800p HSBG Florida Warriors BMWS Cougars
3 Fri 800p SLWC Lakeland Fire The Boyz
4 Sat 1100a HSBG Martin Cty Tigers Broward Bobcats
5 Sat 1215p PSLH Dade County Cougars Florida Warriors
6 Sat 1215p HSBG Jupiter Jaguars Lakeland Fire
7 Sat 1215p MCHS Brevard Bulls Martin Cty Tigers
8 Sat 515p PSLH Dade County Cougars BMWS Cougars
9 Sat 515p MCHS The Boyz Jupiter Jaguars
10 Sat 745p MCHS Pool B 3rd Best Pool C 3rd Best
11 Sun 1030a IRCC Pool A Best Winner of Game 10
12 Sun 1030a FPCH Pool C 2nd Best Pool B 2nd Best
13 Sun 1030a JCHS Pool B Best Pool A 3rd Best
14 Sun 1030a FPWH Pool C Best Pool A 2nd Best
15 Sun 130p FPCH Winner of Game 11 Winner of Game 12
16 Sun 130p IRCC Winner of Game 13 Winner of Game 14
17 Sun-Finals 430p IRCC Winner of Game 15 Winner of Game 16
Thursday, March 22
Treasure Coast Tournament Directions to Gyms
Treasure Coast Boys State Qualifier
March 23-25, 2007
Gym Directions
FPWH Ft. Pierce Westwood High School 1801 Panther Lane, Ft. Pierce
1-95 to Ft Pierce Exit (Orange Ave East to 33rd street, which changes it name to Angle Road. Turn left at 33rd and continue approximatle two miles. The
entrance of the school is on the left side.
FPCH Ft. Pierce Central 1101 Edwards Rd., Ft. Pierce
I-95 to Ft. Pierce Exit (Okeechobee Rd./Turnpike. Go East, Okeechobee will bend to the right onto Virginia Ave. Continue east to 25th St. Turn right onto 25th Street to St. Edwards Road, turn left onto St. Edwards Rd. The school will be on the right.
JCHS John Carroll High School 3402 Delaware Ave, Ft. Pierce
I-95 to Ft. Pierce Exit (Okeechobee Rd./Turnpike. Go East, Okeechobee Rd. will bend to the left. Go to Hartman Rd. turn left and go approximately 1 mile and turn right onto Delaware Ave. Enter into parking lot of the chain link fence. The gym is centrally located of the school.
PSLH Port St. Lucie High School 1201 SE Leonard Rd., Port St. Lucie
I-95 to St. Lucie West Blvd. Go East to US 1. Turn right on US 1 to Walton Rd. Turn left onto Walton Road to Lennard Rd. Make a left Go about a half a mile and the entrance of the school is on the right. The gym is in the back by the football field.
Turnpike to PSL exit. At the light go right onto Port St. Lucie Blvd. Go to US #1 and turn left to Walton Rd. Turn right to Lennard Rd.
IRCC Indian River Community College 3209 Virginia Ave, Ft. Pierce
I-95 to Ft. Pierce Exit (Okeechobee Rd./Turnpike. Go East, Okeechobee will bend to the right onto Virginia Ave. Turn right at 33rd street. The gym parking lot is in the middle of the school parking lot. And the gym is in middle of the school
MCHS Martin County High School 2801 South Kanner Highway, Stuart
I-95 to the Stuart exit (Hwy 76-Kanner Hwy) go east into town approximatley two to three miles. The school is on the right.
SOM Southern Oaks Middle 5500 NE St. James Dr., Port St. Lucie
From the South take I-95 North to St. Lucie West Blvd. Go east over the turnpike overpass to Bayshore. Take a left and go to St. James. Then take a left at St. James. Continue on St. James to the entrance of the school which about a mile on the right. The gym is located on the back side of the campus.
From the North take I-95 South to Midway Rd. Go East to 25th St. Then take right at 25th St, continue going until you pass in front of the school. Turn left into the school just after you pass in front.
I-95 to St. Lucie West Blvd. Go east over the turnpike overpass to Bayshore. Take a left and travel around to St. James. Take a left and the school entrance will be on the right about a mile. The gym is located on the back left side.
HSBG Hobe Sound Boys and Girls Club 11500 SE Lares Ave, Hobe Sound
US #1 South to Bridge Road and turn east. Go east approximately 1/4 mile to Lanes Ave. Gym is on the left about 2 blocks North.
SLWC St. Lucie West Centennial 1485 SW Cashmere Blvd
I-95 to St. Lucie West Blvd. Go east to Cashmere Rd (Albertson's) Turn right and go past Centennial High School and take your first left and drive towards the back of the school, the gym is located in the back of the campus.