Jupiter Jaguars Travel Basketball: Past 2006 Season
Sunday, January 22
2006 Jaguars selected
Congratulations to the following players for making the 2006 Jupiter Jaguars 13U Boys Travel Basketball Team:
Kedric Bostic
Brian Broedell
Tyler Cameron
Frank Cunningham
Brett Rosenthal
Josh Schattie
Willis Schott
Wes Streett
Travis Wiley
Coach Keddy and Coach Dan are looking forward to a great season!
Go Jaguars!
Friday, February 17
Tournament Planning
We will not be playing in the local league, so no single games in the county every weekend. We will only play in tournaments, typically every other weekend. Here's the schedule to mark your calendars:
Mar 3-5th Coral Springs USSSA Super Slam
Mar 31-Apr2 Brevard Bulls USSSA Classic in Melbourne
Apr 13-15 Winning Ways USSSA in Altamonte Springs
Apr 28-30 USSSA Slam Fest V in Ft.Lauderdale
May 12-14 Jupiter Jam USSSA
May 19-21 AAU Spring Classic at Disney World
Jun 9-11th USSSA State Tourny in Miami
It's possible that we may enter a USSSA tournament in Tampa over Memorial Day, however, we'll wait to see IF we need the points to qualify for States. Hopefully, like last year, we'll have Memorial Day weekend free to enjoy.
Please let me know which tournaments you'll be joining us and which tournaments your son will be going with another family. This will help me in reserving the coorect # of hotel rooms.
Go Jaguars!!!
Sunday, April 2
Jaguars WIN Brevard Bulls Spring Classic
The Jupiter Jaguars 13U Green team went undefeated to win the Brevard Bulls Spring Classic in Melbourne, FL. This tournament win ensures the team entry into the USSSA State Championships to be held June 9-11th, 2006!
The win was a great team effort! Making the All-Tournament team was Frank Cunningham, Brian Broedell, and Travis Wiley. Wes Streett was chosen as the team's tournament MVP.
Congratulations, Jaguars, on a big win!!!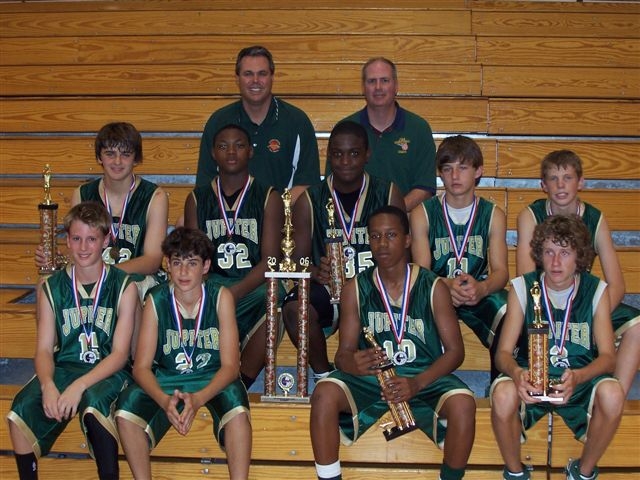 Brevard Classic 13U Champions
Saturday, April 15
Jaguars place 2nd at Winning Ways Easter Classic Tournament
The Jupiter Jaguars 13U Green team placed second in the Winning Ways Easter Classic Tournament held in Altamonte Springs, FL on April 13-15th, 2006. The team had a great tournament winning 4 games before losing in the Championship Game. The most exciting game came in the Semi-Finals when the Jaguars met a well-prepared Brevard Bulls team. Both teams played their hearts out. The Jaguars barely pulled out the win in overtime play. It was an extremely emotional, physical and exciting game.
Selected to the All-Tournament team were Brian Broedell and Wes Street. Brett Rosenthal was selected as Mr. Hustle for the tournament!
Sunday, April 30
Jupiter Jaguars Boys 13 Continue Strong Season ... 2nd Place at Slam Fest V !!!
The Jupiter Jaguars Boys 13 yr old team continued a strong stretch of season play by finishing second in the Ft. Lauderdale Slam Fest V travel tournament over the weekend of April 28 – 30. The tournament was made up of one of the most competitive fields this season, with 16 teams from Dade, Broward, and Palm Beach counties.
This season, the Jaguars have played in three USSSA qualifying tournaments with 2 second place finishes and one championship. With that performance, the Jaguars have already secured a spot in the State Championship tournament.
The core of this team has been together for four years, with 2 players having been playing as teammates for five.
"We've tried to maintain the nucleus of our team by having no more than 2, and most of the time 1 player change per season", assistant coach Dan Schattie said. "This has given our players a sense of stability in the program. Each year we've improved our team play, as well as individual play."
"The rewarding thing that I've noticed this year is that our players very seldom look at the stat sheets to see how many points they scored. I can tell you how we've played as a team for any game, but unless I'm told, I'd have a hard time telling you how many points any individual player of ours scored. I think it's a sign of our kids buying into the strength of a team versus one player – and hopefully, it's also a sign of Dan and I getting better as coaches", said head coach Keddy Bostic.
In the Ft. Lauderdale Slam Fest tournament, the Jaguars were able to conquer some simmering rivalries from this season. The West Broward Rockets and the Fort Lauderdale Vikings had both jumped on the Jaguars with early season victories. The Vikings had given the Jaguars the first time experience of being dunked on – by a 13 year old. This time around, double digit victories against both of them provided a pleasant reprisal for the Jaguars.
In the tournament championship game, the Jaguars fell short to a strong Hallandale Beach team.
"You've got to take the long view", Bostic stated. "You can live or die emotionally on one game, one possession, one shot, if you let it. We try to teach the kids to not get too high or too low with their emotions. I've seen too many teams sputter and dissolve after one year."
"Over the past 4 years, we've played in a state championship game, ended the season every year as one of the top 10 teams in the state, and won our share of tournaments. Not bad for a team based out of a town the size of Jupiter going up against teams made up from entire counties, like Broward and Dade."
The Jupiter Jaguars Boys 13 are Kedric Bostic, Brian Broedell, Tyler Cameron, Frank Cunningham, Brett Rosenthal, Josh Schattie, Willis Scott, Wes Streett, and Travis Wiley.
The future looks bright, as well, both coaches agree. "We're playing the best team basketball we've ever played. I always tell them they don't know how good they can be. But sometimes a tournament like Slam Fest comes along and they surprise us with just how well they can play."