Jupiter Jaguars Travel Basketball: Past 2005 Season
Sunday, January 16
2005 12U Jupiter Jaguars announced
This year's 2005 Boys 12U Jupiter Jaguar Travel Basketball team is:
Kedric Bostic
Brian Broedell
Tyler Cameron
Frank Cunningham
Luke Ostapchuk
Brett Rosenthal
Josh Schattie
Willis Scott
Wes Streett
Coach Keddy Bostic and Coach Dan Schattie are excited about the team's potential in the upcoming season. Looks like we're going to have another fun and successful travel season! Go Jaguars!
Spring 2005 Travel Basketball League
The Jaguars will again be participating in the Florida Youth Basketball Association's spring travel basketball season. The first game will be the weekend of March 11-13th, 2005. League games will be played on Friday evenings, Saturday, or Sundays on the weekends of: March 11th, 18th, April 8th, 22nd, and May 6th. The league playoffs and championship game will be held the weekend of May 20-22.
2005 Tournament Schedule:
April 1st - 3rd: USSSA Fire Shootout - Lakeland, FL
April 15th- 17th: AAU Spring Classic - Orlando, FL (Disney)
April 29th-May 1st: USSSA High Hoops - Ft. Myers, FL
May 13th - 15th: USSSA Jupiter Jam - Jupiter, FL
May 20th - 22nd: FYBL League Tournament - Palm Beach County
June 10th - 12th: USSSA State Championships - Tampa, FL
Friday, January 28
JAGITTUDE - The Right Team Attitude
An important aspect is developing a great team is having the proper attitude about the game. To become winners, we must recognize how important our teammates are. "United we stand, divided we fall!" We must stick together. We must work together on offense with good passing, looking for an open teammate. But don't be afraid to shoot! If you are open, take the shot. Part of being a good teammate is scoring and taking good shots! If you miss a shot, forget it... you'll probably make the next one.
Remember: there is no such thing as a perfect game! Michael Jordan has never played a perfect game...he has always missed some shots. So don't get down on yourself if you mess up. Just keep playing hard and things will work out. None of us is perfect...even the coaches! The refs aren't perfect either... so expect a bad call or two and don't let it get to you. Basketball is not a perfect game.
Being a good teammate is playing hard on defense. Go hard for loose balls and rebounds. Learn how to "box-out". Learn to set good picks (screens) on offense, so you can free up a teammate for an easy shot. Being a good teammate means coming to the game rested and playing as hard as you can. It means encouraging your teammates on and off the court. Together you can win! For you to become champions, you must develop a team "chemistry", or spirit... a respect and trust in each other, that you must begin to form now and develop over the years as you get into high-school. Many very talented teams never reach their full potential because they lack this chemistry, or team spirit. Many less talented teams have accomplished unthinkable goals by their hard work, desire, and team spirit.
Proper attitude means respect for your teammates and your opponents. Your opponents are trying their best just like you. Never try to "show up" or "trash-talk" your opponents, and don't over-celebrate a basket with too many "high-fives". When you over-celebrate, you make it seem like the basket was a big deal, and something you didn't really expect to make. Instead, be cool, like it's no big deal, you do it all the time.
Never play "dirty"...it's just not worth it! You only lower yourself by doing it. Play hard, with enthusiasm, and play to win, but play with class. Make your parents and teachers proud. Don't argue with the referees...they're human and don't always make the right call, but hey, that's life...it's not always fair. You just have to make the best of the situation and go on. People will remember you for how you act on the court. When you win, never gloat or rub it in your opponent's face.
When you are on the court, play as hard as you can to win, but when the game is over, it's over! Forget it, it's only basketball!
~ Coach Keddy
Friday, February 11
Team Building event at JTAA night
The Jupiter High School Warriors basketball team will be holding their annual JTAA NIGHT on Friday, February 11, 2005. This is also SENIOR NIGHT, when the school honors those senior players playing in their final home game. All JTAA basketball players (girls & boys) and coaches will be given FREE admission to both the Junior Varsity (6:00 tip-off)and Varsity (7:30 tip-off) basketball games versus Olympic Heights High School. The Warriors are wrapping up another successful season with a roster full of former JTAA basketball players.
We hope that all JTAA players and coaches will be able to attend the game. Please wear your JTAA uniform or coaches shirt to get into the game FREE. There will be a $4.00 charge for parents and children over 6 years old who are not coaches or players.
Please come with your friends, family, or JTAA basketball team and enjoy an exciting Jupiter High School basketball game.
We hope to see you at the game.
Your friends at JTAA Basketball
Thanks to our Team Sponsors !!!
Thank you to The Ostapchuk's, The Broedell's, The Cameron's and The Rosenthal's for bringing in our first 8 team sponsors for this year:
Dr. Andrew Ostapchuk - Podiatry
Broedell Insurance Services
Martin L. Haines, III, Chartered
Coastal Lending of So. FL - Licensed Mortgage Lender
Stuart Paint & Supply - Building Materials
Rudd Jones, P.E. & Associates, P.A. - Civil Engineering
Felice K Rosenthal, TPM, LMT - Massage Therapist
Southern Building & Development
These sponsors will cover the cost of our team shoes we've ordered and the cost of the tickets to the upcoming team event at the Miami vs. GaTech game on Feb 26th! Therefore, we won't be asking each of you to fork over an additional $100 for those 2 things.
(Only $50 of registration went toward team shoes and the game tickets are $25 each)
Thank you, thank you, thank you again to The Ostapchuk's, Broedell's, Cameron's and Rosenthal's.
There are 2 copies of the sponsorship form in each family's folder of schedule, roster, and info given out at the first practice. Also, at the end of this article you can download the sponsorship form handout. It's also best to hand-deliver the sponsorship form and check back to Keddy, to ensure it gets accounted for properly.
We typically ask that a sponsor donate at least $300. For that sponsorship, they will receive:
Name and/or logo on back of team t-shirts
A team t-shirt
Name listed on team website www.eteamz.com/JupiterJaguars12U
Thank you letter
Weekly emails of teams performance during season
Thank you team photo or plaque at end of season
Sponsorships are tax-deductible and JTAA's tax ID# is: 85-8013190383C
And most of all, a player who's family brings in a sponsor for the year, gets to take home a big team trophy after a tournament victory!!!
Sponsors truely help our team cover additional costs that you would otherwise have to pay for.
Examples of upcoming expenses that could be covered with sponsorship monies are:
Cost of Team Shoes
Player practice T-shirts/jerseys
Team T-shirts
Tickets to the Feb 26th Miami vs. Georgia Tech game
Meals and lodging while traveling to tournaments
End of season trophies & party
Keddy and I will be happy to share with you, if interested, the accounting of team funds showing where your registration and sponsorship dollars go.
Thanks to everyone for making this team so successful! Ya'll are the best team parents!!!
Handout:
Sponsorship Form
Saturday, February 26
Jaguars go to UM vs. Ga Tech Basketball Game
ITINERARY - SATURDAY, FEB. 26th
Morning Eat a big, late breakfast
10:00-10:15am Meet in the Winn Dixie parking lot on W. Indiantown Rd. behind the Shell Station
to caravan to Miami
10:15am-12:15pm Travel to Miami
12:30 - 1:30pm Team Practice on UM basketball court
1:45 - 3:45pm Team lunch at restaurant (TBD) in Miami
4:00 - 6:30pm UM vs. GaTech basketball game
6:45 - 8:45pm Travel home
You may caravan with us to Miami or choose to meet us at 12:15 pm in Miami at the UM Convocation Center (basketball arena).
Please let us know your plans.
Driving Directions to University of Miami Convocation Center:
Take the Turnpike South
until it exits onto I-95 (just passed Pro Player Stadium)
Take I-95 South
Drive south on I-95 until it exits onto US 1
Continue south on US 1 to Granada Blvd. (about 5 miles)
Turn right onto Granada Blvd.
Take immediate first left onto Ponce de Leon Blvd.
Continue on Ponce to Convocation Center (about 1 mile on right)
Jaguars in Lakeland for 1st tournament of the season
We're looking forward to our first tournament of the season...and I'm sure the boys are looking forward to the first hotel stay of the season.
For the upcoming USSSA Fire Shootout tournament in Lakeland, FL on April 1st - 3rd, I've reserved 8 rooms for 2 nights at the:
Holiday Inn, Lakeland - South
3405 S. Florida Ave.
Lakeland, FL 33803
Family - # rooms
Bostic/Scott - 2
Broedell - 1
Cameron - 1
Ostapchuk - 1
Rosenthal/Cunningham - 1
Schattie - 1
Streett - 1
Each room is a regular hotel room with 2 double beds at the rate of $89 per night. Please let me know ASAP if you need an additional room OR if you don't need a room because your child will be going with one of our families. The rooms are reserved in your name and with my credit card. So, you need to do nothing in advance. Simply give them your credit card to secure your room when you arrive and check-in on Friday, April 1st.
Keddy will know the tournament game schedule a few days before the tournament starts. Expect to play a game on Friday night, which will probably mean getting the boys out of school by possibly noon on Friday. We'll let you know, as we know more.
Sunday, April 3
Jaguars place 2nd in first tournament of season
The Jupiter Jaguars 12U Boys played exceptionally well as a team this weekend...going all the way to the Championship Game in the USSSA Fire Shootout Classic tournament held in Lakeland, FL!!! The team won all 3 pool games. They dominated in the quarter-finals against a fiesty team, the Tampa Bay Spirit. In the semi-finals, the team had an unbelievable come from behind win in the last seconds of the game against an improved Broward Bulldogs team. Unfortunately it was the Lauderdale Lakes Vikings day to win the 12U Championship.
Jaguar players selected to the All-Tournament Team were Brett Rosenthal, Frank Cunningham, and Mr.Hustle Josh Schattie.
Jupiter teams made an excellent showing at the Lakeland Tournament. The 13U Jaguars and 14U Jaguars both placed 2nd in the tournament, while the 11U Jaguars finished in 3rd place.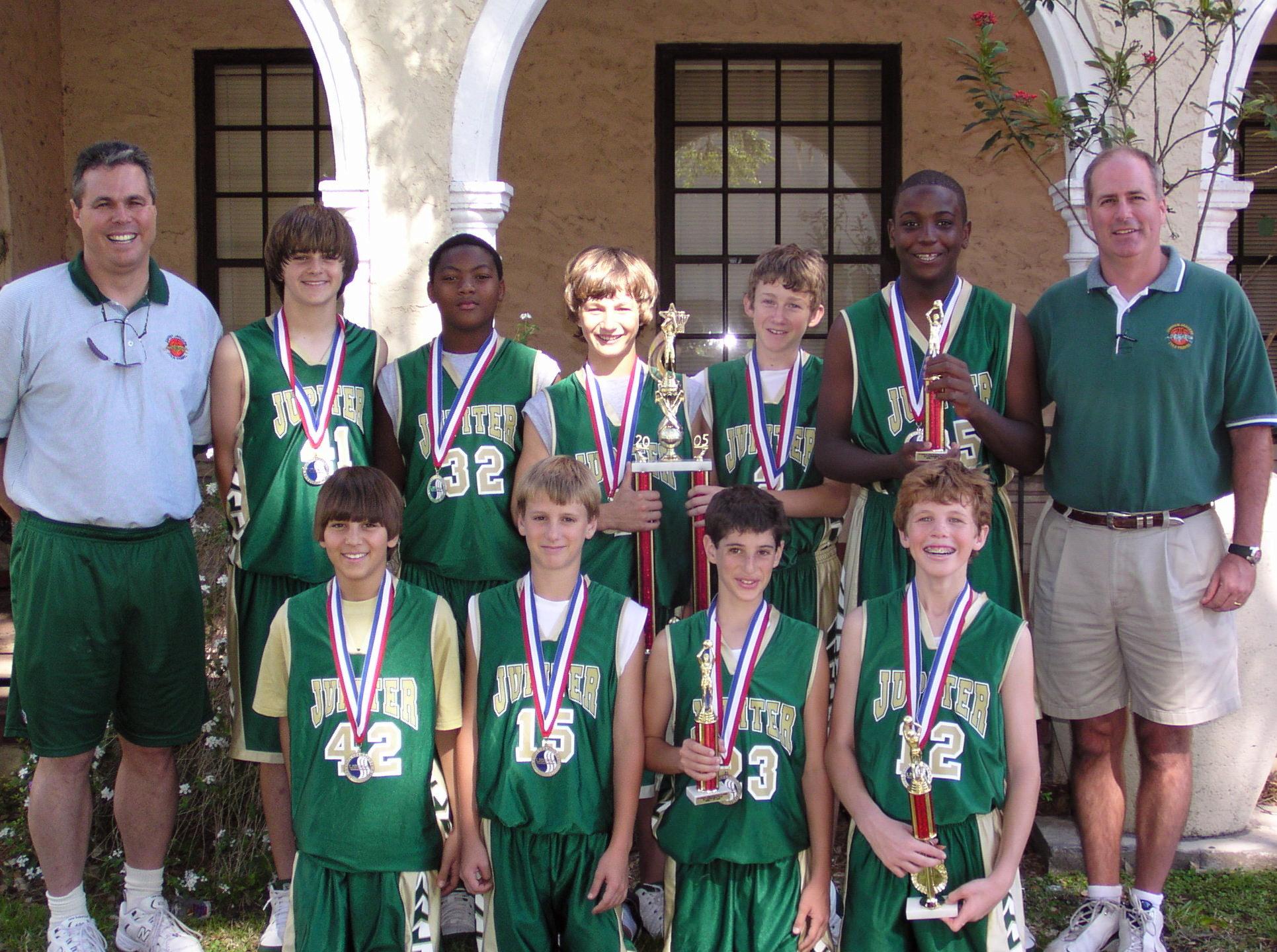 Fire Shootout Classic 12U Runner-Up
Disney Tournament Accomodations
FYI ... for the Disney AAU Tournament on April 15-17th, 2005, the team will be staying at the Comfort Suites Maingate, 7888 W.Irlo Bronson Memorial Hwy, Kissimmee, FL 34747, 407-390-9888.
I have reserved the following 11 rooms:
Bostic 1
Broedell 2
Cameron 1
Cunningham 1
Ostapchuk 1
Rosenthal 1
Schattie 1
Scott 1
Streett 1
Big Al Bostic 1
Each room is $84/night and has a bedroom with 2 queen beds and a full-size pull-out couch in the living area, a microwave, refrigerator, free deluxe continental breakfast, a great heated pool area, poolside tiki bar, guest laundry facilities, game room etc ... check out online(click on headline above). The Comfort Suites Maingate Resort is a five-time Choice Hotels International Gold Award winning hotel. It's located just minutes from Walt Disney World's Wide World of Sports complex.
You don't need to do anything in advance. Simply give them your credit card when you check-in on Friday, April 15th. Please let me know of any changes, so that I can modify the reservation, if needed.
Go Jagaurs!
Sunday, April 17
Jaguars qualify for AAU Div II Nationals at Spring Classic
The 12U Boys Jupiter Jaguars had a great showing at the AAU Spring Classic Tournament held at Disney's Wide World of Sports on April 15-17th, 2005. The team advanced to the quarter finals ... earning an invitation to the AAU Div II Nationals in Lexington,KY on July 16-23rd.
Click on the headline above for tournament results.
This tournament proves that we can play competively with anybody ... at USSSA or AAU tournaments! We were possibly the 3rd best team there! The boys should be very proud!
Jaguars at Disney's Animal Kingdom
Josh, Wes, Kedric, Willis, Coach Keddy, Big Al Papa, & Linda: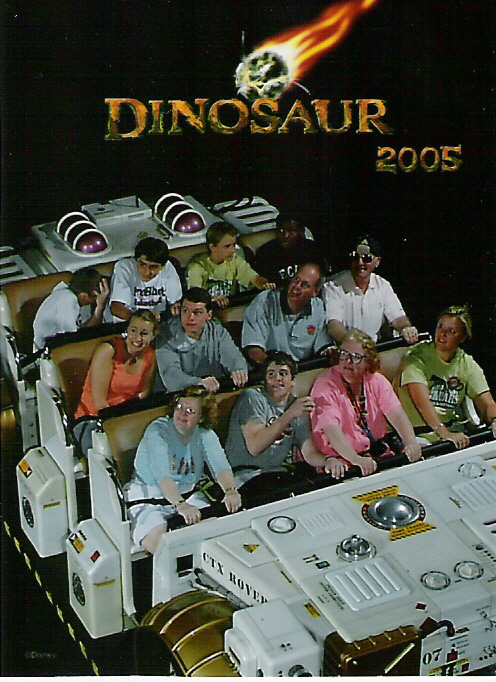 Jaguars react to the news of playing the LBA Lakers again!!!
Ft. Myers Accommodations
For the High Hoops tournament next weekend, April 29th - May 1st, in Ft. Myers ... I have rooms reserved at:
The Homewood Suites by Hilton
5255 Big Pine Way
Fort Myers, FL 33907
239-275-6000
http://homewoodsuites.hilton.com/en/hw/hotels/index.jhtml;jsessionid=Q3U0NVVVZ3KJCCSGBIVMVCQKIYFC3UUC?ctyhocn=FMYHWHW
The rate is $109 per night for a 2 queen bed suite including a fully equipped kitchen with a full-size refridgerator, coffee-maker and microwave and a pull-out sofa bed in the living area. A complimentary hot breakfast is served each morning in the lobby. Laundry facilities are on site on the hotel.
I currently have 9 rooms reserved... one for each family. Please let me know of any changes... if you don't need a room or if you need a second room for the weekend.
Thanks,
Linda
High Hoops Basketball
Click on the headline above to link to the High Hoops website.
Jupiter Jam Website
The offical website for the Jupiter Courier Jupiter Jam tournament is: www.JupiterJam.com
Parent Volunteer Requirements
The Jupiter JAM will be held from Friday, May 14 through 16, 2005.
EACH FAMILY MUST CONTRIBUTE TOWARDS WORKING 12 BLOCKS/HOURS OF TIME DURING THIS WEEKEND.
Our team will be responsible for working at Independence Middle School the entire weekend.
If you cannot work, you need to find someone to cover your blocks of time (a high school student needing community service, etc.). Remember, if you don't work your hours, someone else from YOUR team will have to take up the slack.
JAM responsibilities:
• Site Director: be at the site at all times during our team's shift. Make sure all other volunteers have shown up – especially time clock and score book.
• Time Clock: run the time clock for the games during our team's shift (must be in high school or older with experience to run time clock). Please do not sign up for time clock if you are uncomfortable running it.
• Score Book: man the score book for the games during our team's shift (must be in high school or older with experience to do score book). Please do not sign up for the scorebook if you are uncomfortable doing this.
• Concessions: run the concession stand for the games during our team's shift.
• Admissions: Sell and check admission tickets and sell T-shirts during our team's shift.
As it is likely that our players will be playing in up to 6 games themselves this weekend, we need parents/siblings to volunteer for JAM, not the players themselves. We will welcome the players to help out whenever possible, but parents need to step up. It is also possible that we may end up playing in a gym in which we are not working – if so, we will try our hardest to get someone to take over our gym during this time.
Tampa Accommodations
For the USSSA State Tournament on June 10-12th in Tampa, we have rooms reserved at The Suites at Mainsail Village. Several of the other Jaguar teams are planning to stay here, and this is the same place our team stayed last year in Tampa. It's great accomodations, especially for the $$$.
The reserved accommodations for each family are:
1: $89/night - 2BR/2BA suite with 2 Queen beds:
Cameron, Rosenthal, Ostapchuk, Street
2: $105/night - 2BR/2BA suite with 4 double beds
Bostic, Broedell, Cunningham, Schattie, Scott
Each apartment-like suite has its own fully equipped kitchen, living and dining room. Each bedroom has its own bathroom, closet, cable tv, and phone. There's a Fitness Center; a Pub & Grill serves breakfast, lunch, and dinner, and late night snacks; an Outdoor pool with pool volleyball, 2 sand volleyball courts, tennis and basketball areas.
Cancellation policy is 6pm day of arrival.
Visit their website: www.mainsailhotels.com/tampa