Jupiter Jaguars Travel Basketball: Past 2003 Season
HOTEL RESERVATIONS - JUNE 6 - 8, STATE CHAMPIONSHIPS
Where: Fort Myers Homewood Suites (239-275-6000 or www.homewood-suites.com) 5255 Big Pine Way, Fort Myers, FL 33907
Directions to hotel:
FROM I-75,WEST ON DANIALS PKWY,RIGHT ONTO BELL TOWER DRIVE. AT 5TH STOP SIGN,TURN RIGHT AT BIG PINE WAY, HOTEL ON LEFT.
OR SOUTH ON US-41(CLEVELAND AVE)TO BIG PINE WAY, TURN LEFT ON BIG PINE WAY, HOTEL ON LEFT.
What: Two room suite hotel; however, only rooms with king size beds are presently available. (This is the situation for both Homewood Suites & Holiday Inn Select – the sister hotel across the street.) Room availability may change over time, and with calling back. The hotel sales department says the rooms with double beds are under contract to teams that have already signed contracts to reserve the rooms.
When: State Championship Tournament June 6 - 8
How: Reserve a room by calling: 239-275-6000. Room reservations are based on availability, so call asap!!
How Much: The group rate is $99.00 per night, including breakfast. You must reference the fact you are with YBOA to receive the $99.00 rate. If we are able to get a copy of the JTAA tax-exempt form to each member of the team, then each family can present the form upon check-in to receive tax-exempt status. Keddy is checking on the possibility of the team's funds covering one full or part night for each family.
Cancellation: 6:00 p.m. on the day of arrival.
***These rooms are being reserved quickly, so I would not wait to call!!!
Different Jupiter Jaguars teams have stayed in this hotel in past tournaments. The hotel gets great reviews for proximity to movies, malls, restaurants, gyms, & for being a nice hotel with suites and a good breakfast!
If you have questions, please call Beth Ross at 575-2959 or 682-6257.
State Championships Schedule
For more information on the State Championships game schedule and directions, go to: www.flahoops.org (or click on the headline above).
10 & Under
Pool A
ClearwaterHeatwave, Boca Hoops, NAABP Dream Team, Davie Broncos
Pool B
Jupiter Jaguars, Broward Cobras, Sarasota Explosion, St.Pauls UMC Cobras
Pool C
Wellington Wolves, Fast Force, Naples Thunder
Game Day Time Site Home Score Away Score
1 Fri 5:00 PM ECS #2 Clearwater Heatwave Davie Broncos
5 Fri 5:30 PM Lehigh Fast Force Naples Thunder
2 Fri 6:15 PM ECS #2 Jupiter Jaguars St. Pauls UMC Cobras
3 Fri 7:30 PM ECS #1 Boca Hoops NAABP Dream Team
4 Fri 8:30 PM Lehigh Broward Cobras Sarasota Explosion
6 Sat 9:00 AM ECS #1 NAABP Dream Team Clearwater Heatwave
8 Sat 9:00 AM ECS #2 Davie Broncos Boca Hoops
9 Sat 10:30 AM Charlotte St. Pauls UMC Cobras Broward Cobras
10 Sat 10:30 AM ECS #1 Naples Thunder Wellington Wolves
7 Sat 12:00 PM B-Church Sarasota Explosion Jupiter Jaguars
11 Sat 12:00 PM NFMH Clearwater Heatwave Boca Hoops
13 Sat 12:00 PM St. Michaels NAABP Dream Team Davie Broncos
15 Sat 1:30 PM Charlotte Wellington Wolves Fast Force
14 Sat 3:00 PM ECS #1 Sarasota Explosion St. Pauls UMC Cobras
12 Sat 3:00 PM ECS #2 Jupiter Jaguars Broward Cobras
16 Sat 7:30 PM ECS #1 Pool C 2nd Pool B 3rd
17 Sat 7:30 PM ECS #2 Pool A 2nd Pool C 3rd
18 Sat 7:30 PM Three Oaks Pool B 2nd Pool A 3rd
19 Sun 9:00 AM Caloosa Pool A 1st Winner Game 16 Quarters
20 Sun 9:00 AM Charlotte Pool B 1st Winner Game 17 Quarters
21 Sun 9:00 AM Diplomat Pool C Best Winner Game 18 Quarters
22 Sun 12:00 PM Caloosa Winner Game 20 Winner Game 21 Semi
23 Sun 3:00 PM Charlotte Winner Game 19 Winner Game 22 Finals
DIRECTIONS TO GAME SITE LOCATIONS
EVANGELICAL CHRISTIAN SCHOOL – 8237 Beacon Blvd., S.E., Fort Myers
From U.S. 41, turn East on Beacon Manor Drive to "T" intersection. Turn left on Beacon Blvd., loops around and ends at school.
FIRST BAPTIST CHURCH – 1735 Jackson Street, Fort Myers
From U.S. 41, take State Road 82 (Dr. Martin Luther King Jr. Blvd.) east – go north on Jackson Street – church is on right (corner of Jackson and Second Street).
CHARLOTTE HIGH SCHOOL – 1250 Cooper Street, Punta Gorda
Take I-75 North to Rt. 768 (Jones Loop Rd.) – exit to proceed west to Taylor Rd. – nothwest on Taylor Rd. to Cooper Street – turn North - school on east side
CALOOSA MIDDLE SCHOOL – 610 Del Prado Boulevard S., Cape Coral
West side of Del Prado Boulevard, between Pine Island Road and Veterens Parkway.
Team Check-In
REGISTRATION MUST BE COMPLETED PRIOR TO YOUR FIRST GAME!!
Coaches must register your teams at:
Quality Hotel Ft. Myers Historic District
2431 Cleveland Ave.(hwy 41)
Fort Myers, Fl. 33901
239-332-3232
Registration times are 2:00pm-9:00pm Fri. June 6th. Or 8:30am-10:30am Sat.June 7th.
Tournament T-shirts will be available for only $10.00 each at registration. Please try and plan to purchase your team shirts there as there will be a limited amount available on a first come first serve basis! Team names will be on backs of shirts!
TEAM DISCOUNT $8.00/SHIRT..... IF YOU BUY A MINIMUM OF 10 SHIRTS TOGETHER!!
Jaguars finish the season 2nd in the State !!!
The Jupiter Jaguars 10U boys had a fantastic season placing 2nd at the USSSA State Championships held in Ft.Myers, FL, June 6-8th, 2003 ... and finishing as the #2 team in the USSSA team state rankings.
USSSA Current Boys Rankings
State of Florida Final Rankings as of June 11, 2003
10/U Division
Rank Team Name
1 Clearwater Heatwave
2 Jupiter Jaguars
3 Wellington Wolves
4 Fast Force
5 NAABP Dream Team
6 Broward Cobras
7 Boca Hoops
8 Sarasota Xplosion
Jupiter Jam this weekend !!!
Here's our Jupiter Jam schedule:
5/30 (Fri) - 6:00 pm vs Wellington (Jupiter Community Center)
5/31 (Sat) - 9:15 am vs Broward Cobras (Jupiter Community Center)
5/31 (Sat) - 1:00 pm vs Parkland Predators (Jupiter Community Center)
6/1 (Sun) - 2:00 pm Championship Game
The Jupiter Jam Tournament website is:
http://users.adelphia.net/~mcgator/jupitersports_001.htm
Go Jaguars!!!
Sunday, June 1
Jaguars finish 2nd at Jupiter Jam
Jupiter had a great tournament, beating Parkland and Broward Cobras(ranked #5 in the state)to then lose to Wellington in the Chamionship game.
Thanks to everyone for pitching in and doing our part to make the Jupiter Jam a success this year! Our parents proved to be dependable both in showing up and also being able to handle any task asked of us. I know this sounds like small stuff, but from what I saw, not many teams can claim the same.
I also want to thank everyone for the support for our team. The kids had another strong tournament. Possibly overlooked in our trials and tribulations with Wellington is the fact that we showed against Broward Cobras that there is a significant gap between us, ranked as 4th in the state, and them, ranked as 5th in the state!
After this weekend's tournament, I'd like to plan for a team party. The players don't know it, but I've got trophies for them as a celebration of what has been 4 months of dedication and hard work. So, we'll identify a time and place for that to happen.
This weekend's State Championships in Fort Myers is the last tournament of the season and Tuesday night will be our last practice. After practice, we'll have some small type of celebration (15 minutes) for the kids for all of their hard work at practice. Practice this Tuesday will be at Jupiter Community Park from 6:00 pm - 7:15 pm - not Independence Middle School.
I should have the State Championship tournament schedule by practice tomorrow and will bring it to hand out. We'll likely have a Friday evening game. Registration for the team will be between 2:00 pm and 9:00 pm on Friday evening, so we've got some coordination of arrivals to do.
The season ending rankings look as shown below. These are the teams that have qualified for the tournament. It's our last tournament....I think we'll show up very competitive and I'm looking forward to finishing with a nice bang.
~ Coach Keddy
USSSA Current Boys Standings
State of Florida Rankings as of May 28, 2003
10/U Boys Division
Rank
1 Clearwater Heatwave
2 Gainesville Gators
3 Wellington Wolves
4 Jupiter Jaguars
5 Broward Cobras
6 Boca Hoops
7 Fast Force
8 Naples Thunder
9 Sarasota Xplosion
10 NAABP Dream Team
11 St. Paul's UMC Cobras
12 Davie Broncos
13 Jacksonville Knicks
14 Port Charlotte Hoopstars
These are not the seedings for the State tournament, but the rankings and the teams that have qualified. Remember that the seedings for State go as follows:
No more than sixteen in any age division will participate. If someone in the top sixteen does not participate, then the next one in line will move up and become eligible. The tournament winners are seeded first, based on the total points divided by the amount of tournaments they attended. Of course if a team has won more than one tournament then they will be seeded first. Then the rest of the teams are seeded according to total points divided by the amount of tournaments they participated in.
Treasure Coast Memorial Day Tournament Information
May 23rd - 25th, 2003:
The game schedule is posted officially at www.flahoops.org.
10U Teams entered:
Pool A:
Naples Thunder
Jupiter Jaguars
Davie Bronco's
Pool B:
Wellington Wolves
Boca Hoops
Coral Springs
If anyone is interested in making it a fun, relaxing Memorial Day weekend for the family ... and wishes to stay in a hotel ...The Hotel information is posted on the same website above. If the link is not on the flahoops home page then click onto the Treasure Coast Tournament that will place you at the Treasure Coast Sports Commission home page. Then click onto events, then the USSSA Treasure Coast Tournament and then onto more information.
Go Jaguars!
Sunday, May 25
Jaguars finish 2nd at Treasure Coast Holiday Tournament
Treasure Coast Tournament 2nd Place 10U Boys
The Jaguars 10U Boys won their first 3 games of the tournament to advance to the Championship Game against Wellington.
Disney AAU Boys Basketball Spring Classic 10U cancelled.
Unfortunately due to lack of participation by 10U Boys teams, the AAU tournament planned at Disney's Wide World of Sports Complex in Orlando, FL, over the Easter weekend April 18-20th, has been cancelled in the 10U Boys Division. Several of our families (Schattie, Ross, & Lombardo) will be attending the tournament for their older boys competition.
HOTEL (Schattie, Ross, & Lombardo, ONLY):
Hotel accommodations will be at the Buena Vista Suites, 8203 World Center Dr., Orlando, FL, 32821, 800-537-7737. Hotel rooms have been reserved and paid for these 3 families. The other Jupiter Jaguar teams are planning to stay at this hotel and we have a special $99 rate per night.
www.buenavistasuites.com
Winning Ways Easter Classic Tournament in Altamonte Springs
The 2nd tournament of the season will be the Winning Ways Easter Classic basketball tournament held in Altamonte Springs, FL, on April 17-19th. Six 10U Boys teams, including the Jaguars, from around the state are entered in this USSSA tournament.
Pool A:
Jupiter Jaguars
Diamonds
Oviedo Hoopstrz
Pool B:
Brevard Bulls
Orlando Force
Silver Hawks
HOTEL:
Hotel accomodations have been reserved for each of the families (except Schattie, Ross, & Lombardo)for 2 nights beginning Thursday, April 17th departing Saturday, April 19th at the:
EMBASSY SUITES - ORLANDO NORTH , 225 E. ALtamonte Dr., Altamonte Springs, 32701
407-834-2400 www.embassysuites.com
Each suite has a private bedroom with 2 double beds and spacious living room with a pull-out couch. All suites are fully equipped with two televisions, a refrigerator, microwave oven, & coffee. Also included is a complimentary cooked-to-order breakfast, and a complimentary evening happy-hour reception. The hotel does have coin-laundry facilities.
DIRECTIONS TO HOTEL:
Take Florida's Turnpike North to I-4 East. Take I-4 East to Exit #92, which is S.R. 436, (Altamonte Springs). Turn right on to S.R. 436, get on far left hand lane to first light (Cranes Roost Lake Blvd) next to Denny's restaurant.. Turn left onto Cranes Roost Lake Blvd, After turning hotel will be on your left.
DIRECTIONS TO 1st GAME:
Take I-4 East to Altamonte Exit, S.R. 436. Take 436 aproximately 3 miles to S.R. 434. Make a right onto 434. 2nd light (Sand Lake Rd.) make a left. Lake Brantley H.S. will be on your right, go to 2nd entrance. Make a right into the school. Follow road down past football field and school gym. The Field House is big blue bldg behind the swimming pool.
See game schedule below in Upcoming Games listing.
Saturday, April 19
Jaguars finish 2nd in Winning Ways Easter Classic
The Jupiter Jaguars were Runner-Up Champions in the 10U division of the USSSA Winning Ways Easter Clasic tournament held in Altamonte Springs on April 17-19th. In exciting tournament play, which included a game winning basket in the final seconds of a game and an overtime game win, the Jags went 3-1 to finish 2nd in the tournament. The coach of the winning team, Brevard Bulls, (who have been together over 3 years) stated that the Jaguars were the toughest team his team has ever played.
10U Tournament Results:
Champions: Brevard Bulls
Runner-Up: Jupiter Jaguars
Semi-Finalist: Orlando Force
Semi-Finalist: Oviedo Hoopstrz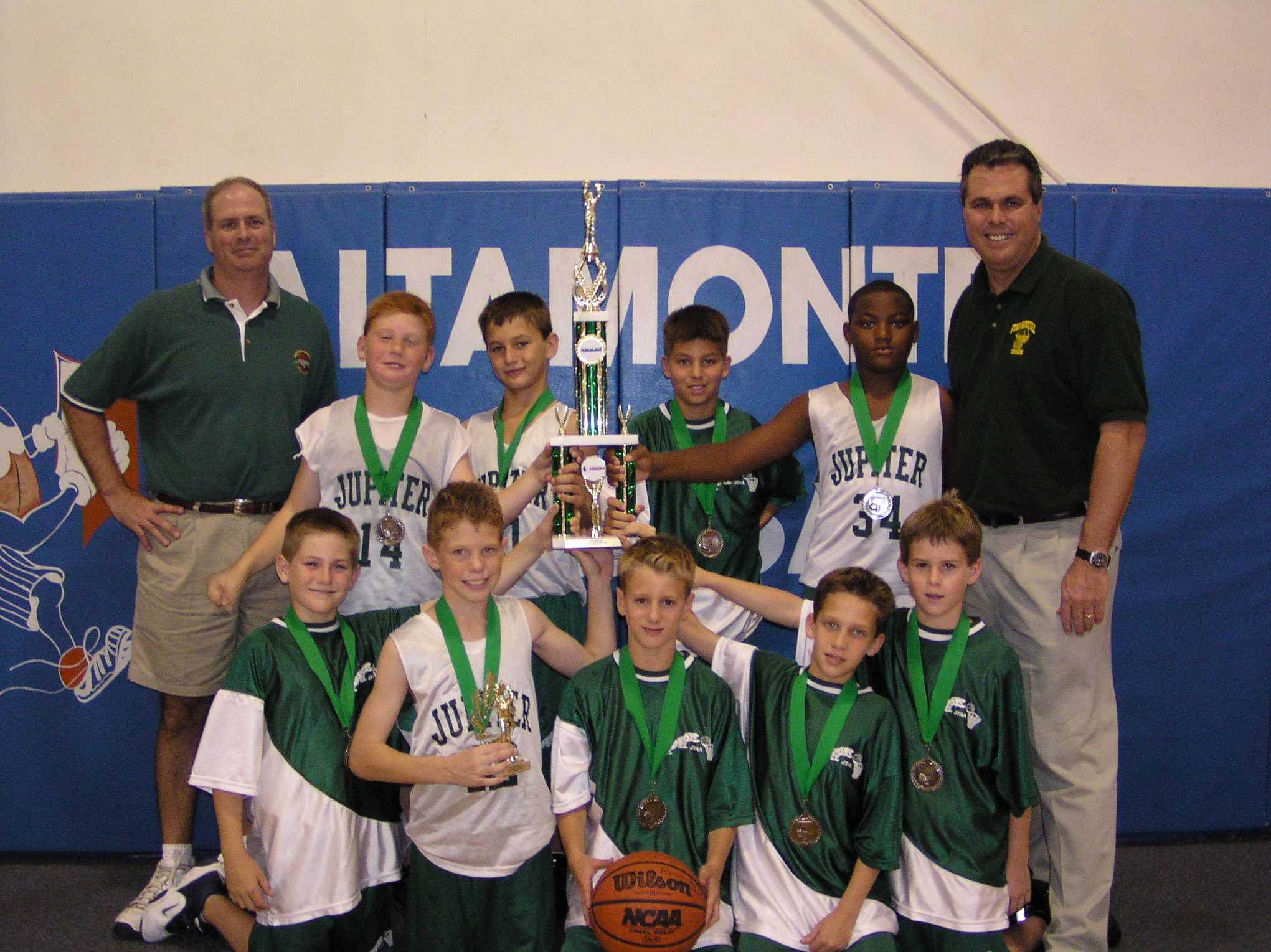 Winning Ways Easter Classic Runner-Up 10U Boys
Charlotte County Shootout
The Jupiter Jaguars 10U Boys first tournament of the season will be on the west coast of Florda in Punta Gorda. The Charlotte County Shootout is a Florda USSSA State Qualifier Tournament held on April 4-6th, 2003.
HOTEL:
The team plans to stay with the other Jaguar teams at the Best Western Waterfront, 300 Retta Esplanade, Punta Gorda, FL, 33950, 941-639-1165. Sherry Schattie is coordinating hotel accomodations for the team. Rooms have already been reserved for each family.
TEAMS:
In our Boys 10U division, there will be four total teams:
Naples Thunder
Port Charlotte Hoopsters
Wellington Wolverines
Jupiter Jaguars
SCHEDULE:
The schedule will be done by this coming Monday, but we can expect the following:
First game on Friday evening - no earlier than 5:30 pm and likely against the Wellington Wolverines
Two games (against Naples and Port Charlotte) on Saturday.
On Sunday, there may just be a championship game between the 2 top seeded teams instead of semifinals and championship.
The scheduling should be completed here shortly and we'll make sure everyone knows as soon as we hear.
Sunday, April 6
Jaguars WIN their 1st Tournament
The Jupiter Jaguars 10U Boys Travel Basketball team won the Outback Steakhouse Charlotte County Shootout USSSA Tournament held April 4-6th in Pt.Charlotte & Punta Gorda, FL. The team went 2-1 in pool play, before dominating the 2nd half of the championship game on Sunday against the Wellington Wolverines. To view photos from the tournament, click on Photo Albums. Congratulations and Go Jaguars !!!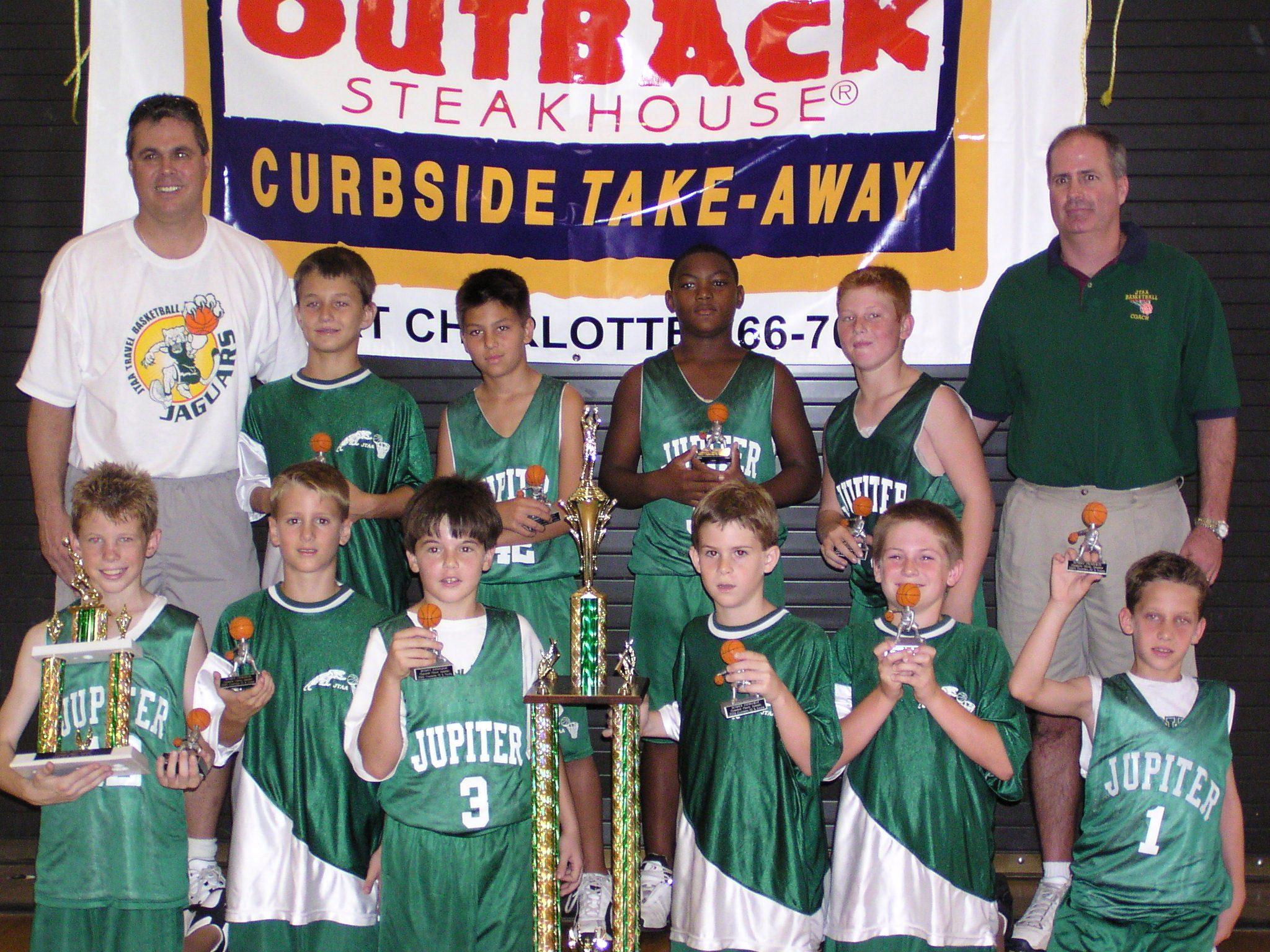 Outback Steakhouse Charlotte County Shootout 2003 10U Champions
Thursday, January 9
Announcing the new Jupiter Jaguars 10U players for 2003
JTAA's 10U travel basketball team held tryouts for the 2003 season at Jupiter Christian School on Sunday, Jan 5th from 2-4pm. 22 boys showed up. Coaches Keddy Bostic and Dan Schattie are pleased to announce the following 10 selected to represent JTAA:
Kedric Bostic
Matthew Brunjes
Tyler Cameron
Ryan Harris
Gerald Lombardo
Luke Ostapchuk
Eric Ross
Josh Schattie
Willis Scott
Jeff Wattles
Thanks to all the boys who came out for tryouts. We had an awesome showing. And congratulations to the above selected players.
Go Jaguars!
Tuesday, February 4
Teams enter Palm Beach Youth Travel Basketball League
Team entries in the PBYTBL for Spring 2003 10U division are:
Boca Hoops
Coral Springs Comets
Davie Broncos
Jupiter Jaguars
Wellington Wolverines
The Palm Beach Youth Travel Basketball League is the largest travel basketball program in Florida and probably in the entire East Coast. The league spans 5 counties (Port St. Lucie to Dade) and has incorporated 14 communities and organizations. For more information, visit www.pbhoops.com .
T-Shirts
Practice T-Shirts:
Thanks to the recent efforts of our concession fundraising and sponsorships, the players will soon be getting sleeveless, practice T-Shirts.
Team T-Shirts:
Country T's has designed a JTAA Jaguars Travel Basketball shirt for this season. We will be getting a T-Shirt for each player and parent. The T-Shirts will have the Jaguar logo on the front and the players' names and sponsors' names on the back. If you would like any additional shirts for family or friends, they will end up costing approximately $8 each. Please let me know what size t-shirts you need and if you would like any additional shirts.
Tuesday, February 11
Sponsors
Sponsor our team!
For a minimum $300 sponsorship, receive a team picture in an appreciation plaque and advertisement on the back of our t-shirts. We need to have our sponsors soon to ensure their names get on the back of our T-shirts. Sponsors will help with our team and travel expenses.
Thanks to the Brunjes, Wattles, and Camerons for bringing in our 4sponsors!
The Jupiter Courier, North County Flooring, Southern Building & Design, and The Cutting Edge.
Wednesday, April 23
Jaguars currently ranked 2nd in the State of Florida !!!
The current 2003 USSSA State Rankings for Boys 10U basketball are as follows:
1 Clearwater Heatwave 280 (Tournament of Champions) **
2 Jupiter Jaguars 250 (Charlotte County) **
3 Gainesville Gators 200 (Jacksonville)
4 Wellington Wolves 200
5 Fast Force 190 (Lakeland) **
5 Brevard Bulls 150 (Winning Ways)
7 Broward Cobras 140
7 Sarasota Xplosion 140
9 LBA Lakers 130
10 NAABP Dream Team 120
10 Naples Thunder 120
10 St. Pauls UMC Cobras 120
13 Jacksonville Knicks 60
13 Orlando Force 60
13 Oviedo Hoopstrz 60
16 Charlotte Hoopstars 40
16 Davie Broncos 40
18 Diamonds 20
18 Gotinjury Gunners 20
The teams who have won a USSSA tournament have the name of the tournament won in parenthesis. The double asterisk means those teams who have secured an automatic bid to the state tournament - which requires minimum of 2 USSSA qualifying tournaments & winning a tournament. All other teams will have to qualify by point totals.
Over the next couple of weeks, we'll probably move down the rankings list because we don't play another USSSA qualifier until 5/23 in Treasure Coast. Between now and then, there will be 4 tournaments for other teams to accrue points.
Not a big deal, but it is kind of fun to watch the rankings!
Go Jaguars!!!
Sunday, April 27
Jaguar Barbecue at the Brunjes
Looking forward to our upcoming weekend, we have one game scheduled against
Wellington at Jupiter Middle School this Sunday at 1:30pm. Following the game,
the Brunjes have graciously offered to host a team party at their house.
What: Jupiter Jaguars Team Party
When: 3 p.m. Sunday, immediately following the game
Where: Brunjes house (directions below)
What to Bring: See below for appetizer or dessert list
Kids: Bathing suit and towels
Parents: Bathing suit and towels if u want ( we have a hot tub, too!)
Bob and Amy will supply all the meats, meat fixin's and drinks.
We need side dishes, appetizers and desserts. I broke it down this way but
am very flexible if someone wants to switch.
Appetizers or Side salads, etc:
Lombardo
Ross
Ostapchuk
Wattles
Desserts:
Schattie
Cameron
Bostic
Harris
We also will supply Rums from around the World (at least from Florida) and
blender if Wattles/Bostics want to bring fixin's for pina coladas, daquiris,
etc.
RSVP: Please let us know by Friday if you are not going to be able to attend so
we can make sure we have the foods covered. 741-4655 (leave a message)
Directions: Take Indiantown Road exactly 4 miles west of I-95 to
Winterhawk Trail on left. (Look for sign in median.) Turn left on
Winterhawk Trail to 4th house on left (two model houses and then two
other houses), 17774 Winterhawk Trail. Fenced house with gate.
Friday, May 9
Jupiter Jaguar Picture Night
The Jupiter Jaguars Travel Program
Present
Our First
Jupiter Jaguar Picture Night
What is it? An evening that all teams can get together and have their team and individual pictures taken. Beside pictures there will be refreshments and basketball skills contests. Included will be:
 DRINKS
 PIZZA
 BASKETBALL SKILLS CONTESTS
 Cookies
Specifics:
Date: Friday May 9, 2003
Place: New Jupiter Community Center (Behind Police Station)
Who: JTAA Travel Basketball Players and their families
Time: 6 PM – 9 PM
Fee: FREE
**Be sure to wear your uniforms**
Team Party Planned
An end of the season team party will be planned for this summer. As soon as we have selected a date for the event, we will let everyone know. Thanks for a great season!!!
Saturday, February 1
The team enjoyed a fun night out together at the Miami Heat vs. San Antonio Spurs game.