Jacksonville Table Tennis Club

List of places to play table tennis around Jacksonville. Check this site often for any schedule changes.
Scroll down to see the list of upcoming tournaments and updated Jax. USATT ratings

NEXYUSA.COM-Table Tennis Equipment Company run by our local player Sutanit(Joe)-Check it out.
Tournament -The IshakaTTC is running a USATT Sanctioned Tournament on August 5th,2017. Only 44 spots available.
For more information contact Coach Jean Marie 904-885-4203 or goto the IshakaTTC website for entry form or check the current entries- Click Here


When: - Mondays, Wednesdays, and Fridays 6:00P.M.til 10:00 P.M. and Sundays 3P.M. to 8P.M. -
Cost: $7 per night Club has 8 ITTF Professional Tables. Everyone is welcome including seniors, kids and handicap players.
Ishaka means "You can do it!!!"
Feel free to contact me if you have any questions or if you are interested in getting some coaching.
Jean-Marie Kanani(Certified International Level Coach) - (904)885-4203

New Club: Jean-Marie's new club is located at the Pine Castle Gymnasium building at 4911 Spring Park Road in Jacksonville. Pine Castle will be open for Table Tennis Mon., Wed., and Fridays from 6 to 10 pm and Sundays 3P.M. til 8P.M.
Cost is $7.00 per night. This is a very nice and roomier facility. It is in a gymnasium with very high ceilings. There is very good Building Security and safe parking. Pine Castle is an agency that works with people challenged with disabilities.


2. Neptune Beach Senior Center TTC - Map - Club has 3 Tables - Video - Photos
Where: 2004 Forest Avenue Neptune Beach, FL 32266
When: Sundays from 3p.m. to 7p.m. for anyone Cost $5 Try to be there close to 3P.M.
Contacts: Allan Hooker or Joan Ruggiero 904-476-2631 Text only please.

3. Power Stroke Bozard Table Tennis Club - Map
Where: 101 Liberty Center Place St. Augustine, FL 32092 Photo of Outside of Building
Hours:

Monday

thru

Friday

from 1

:30 pm to 9:30 pm

. 6 Tables


Saturday

from

1:30 pm to 5:30 pm

.
The club has excellent lighting and new high quality Joola tables.
Cost: The fee for one days play is $7.00 and memberships will be available for anyone playing multiple times per week.

4. University of North Florida-Gameroom- Open 7 Days a week. Hours - UNF TTC's Facebook Page
1 University of North Fl Dr Jacksonville, FL 32224 - Map
Where: Located across the street from the UNF arena in Bldg. 58 East/Room 1200 P)620-1141. The gameroom has two tables.
Cost is Free- Open to everyone. If you drive there on weekdays(Before fridays 7P.M.) UNF requires you to buy a $3 parking pass to park on campus. No parking pass required on weekends. There are usually student players there on weekday afternoons and evenings but there is no set schedule when the good players are there.
THE GAMEROOM SCHEDULE CHANGES SOMETIMES AND IS USUALLY CLOSED ON HOLIDAYS AND IN BETWEEN SEMESTERS. Check the UNF hours link above!!!
UNF now has 4 Outdoor concrete tables w/ outdoor lighting which are outside next to the gameroom. Outdoor table tennis tournament at UNF- Pictures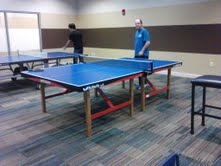 UNF Gameroom UNF Outdoor Ping Pong UNF Table Tennis Team

Other Colleges w/ Tables
FCCJ South Campus(Now called Florida State College of Jax.) has a gameroom over their cafeteria. 3 Tables Hours M-Th til 6P.M. Fridays til 3P.M. Link
FCCJ Kent Campus-Located next to their cafeteria 2 Tables. M-Thurs til 4P.M. Fridays-closes earlier not sure.
FCCJ North Campus- 2 tables
FCCJ Downtown Campus- 1 table
All FCCJ campuses might check for student ID's. and are closed on weekends, and student breaks. Make friends with the staff or try to blend in. ;)

St. Johns State College - in Orange Park off College St. One table in the cafeteria.
M-thur til 9P.M. Friday not sure when they close the cafteria. Park in parking space marked Visitor or the nearby Thrasher Center for the arts because the school requires parking decals, and you don't want a parking ticket.
Jacksonville University - Inside the Williams Hall Lobby-
Bars w/ ping pong tables
Green Room Brewing, Jax Beach- Third St. N., Jacksonville Beach - One Table- Free to Use - Map
Ping Pong Tournament Every Tuesday - For more info. on tournament contact Rick Vach rvach@comcast.net
7 p.m. warm-up, 7:30 p.m. start, $10 to enter , One game to 21 double elimination. 16 players limit and played on one table. Come and enjoy good competition and great beer!! :) Green Room Brewery- Phone: (904) 201-9283. http://www.greenroombrewing.com
Other bars in town that have tables:
Dahlia's Pour House - Bar located by riverside. http://www.dahliaspourhouse.com/
2695 Post Street Jacksonville, FL 32204 One ping pong table- Free to use. Facebook
Dahlia's hosts a weekly Ping Pong Tournament on Sundays at 7P.M. for all levels. The tournament is free to join and is double elimination. Small house cash prizes are awarded to the winner. The tournament starts at 7pm and is run by Will, who is a ping pong enthusiast and bar regular!- INFO
Pete's Bar- 117 1st St. Neptune Beach, FL 32266
Perect Rack Billards - 1186 Edgewood Ave S, Jacksonville, FL 32205 - One Table - Not Free- They Charge per hour

Other Places to Play:
Gainesville Table Tennis Group Website - Contact Jen-Sung (352) 328-1629 Facebook Page
We are a group that plays Table Tennis at the Reitz Union on Tuesdays and Baptist Collegiate Ministries on Sundays.
------------------------------------------------------------------------------------------------------------


Monthly Tournaments-
The Ishaka Table Tennis Club at Pine Castle Gym runs a tournament each month. Medals are awarded for First, Second and Third place in Class A, B and C!!! This has always been a popular and fun event!!! The tournament is a Round robin format so all skill levels can compete! The cost to enter is $20.00 which will help support the new club. Jean-Marie will sets up 8 tables for the event which normally starts at 6:30P.M. You can pay the $20.00 fee in advance at the club anytime before the day of the tournament or can pay the day of the tournament. We will open registration at 5 pm the day of the tournament so come early if you like to warm-up. Everyone is welcome so bring a friend even just to watch FREE OF CHARGE

Past Tournament Results:
Results - Jax. (Satoko's Farewell)Tournament at Pine Castle- 5/29/15-

Class A- 1st Ping Lu, 2nd Shaun Sapp, 3rd Simplice Sorou
Class B- 1st Mark Masters, 2nd Ernest Georgewill, 3rd Satoko Wada
Class C- 1st Bill Wallace, 2nd Candido, 3rd Justin Smith

Satoko is leaving for Australia for at least 2 years. We will miss you!!!

Pine Castle Table Tennis Tournament 4/24/15-

Class A- 1st Shaun Sapp def. 2nd Simplice Sorou
Class B- 1st Barry Scott def. 2nd Ernest Georgewill
Class C- 1st Bill Wallace def. 2nd Raymond Soto

Jax. Tournament Results at Pine Castle- 3/20/15- Photos
Class A- 1st Panrong Xiao def. 2nd Jean-Marie Kanani
Class B- 1st Mark Masters def. 2nd Paul Che
Class C- 1st Brent Emmett def. 2nd Larry Whitacre


Jaguar's Ping Pong Challenge 12/22/14-Total-we had 36 players with 3 Jag. players. #93 Tyson Alualu Picture, #45 Will Ta'ulo'ou and Video-#53 John Lotulelei VS Osmanagic, Edis(rated 1786)
Class A- Winston Dowridge def. Satoko Wada 3-1
Class B- P.V. Ramakrishnan(Ram) def. Sean Hernandez 3-0
Class C. Hasan Mohajir def. Aqeel Momin 3-0

We no longer play at these clubs:
The Arlington YMCA closed 2/27/15, The Equestrian(Aquatic Center) TTC closed in Jan. 2013, the Holly Oaks Club TTC in Oct. 2012, the Lakewood United Methodist Church TTC in Mar. 2009 and the Burnett Park TTC in May 2008. Have an idea of a new location email or contact me with details and I'll look into it.
Thanks, Richard Johns (904)291-9963 email me to be added to the JaxTTC email list.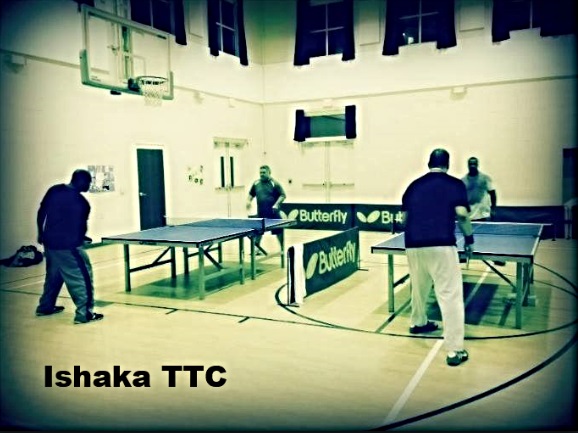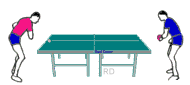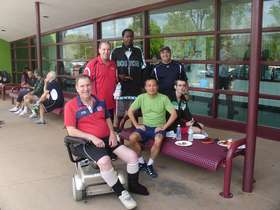 Stu, Glenn, Jean-Marie, Ping Lu, Stan and Edis at Lakeland 2/23/13
Sunday, July 23
Jacksonville Club Ratings
Jacksonville area table tennis players on the USATT Ratings List
Updated 7/23/2017 New Ratings updated here every week.
Florida Players Click on name to see rating history.
Rating(Highest) Name Last USATT Tournament - 2017 US Nationals-7/03-7/08/17
-------------------------------------------------------
2307(2425) Fleisher Dickie 11/30/14 Video Photo
2286(2373) Tangyingyong, Sutanit (Joe-Bogeyhunter) 1/28/17 Videos
2251(2251) Lu Ping 2/23/13 Photo
2126(2205) Xiao Panrong 7/16/16 Photo
2076(2076) Klebener Samuel 1992
2064(2064) Sapp. Shaun 4/15/17 UNF Video Photo
2039(2039) Osmanagic, Edis 5/06/17 Video Photo
2037(2095) Dowridge Winston 6/18/16 Video Photo
2007(2034) Arnette, Dewey 6/18/17 Photo
2004(2004) Bowery, Brandon 4/09/11 Photo
2002(2002) Chen Jerry 9/30/06 Photo
1992(2005) Estacion Peter 7/13/13 Photo
1970(1970) Kanani, Jean Marie 7/08/17 Video Photo
1937(2148) Johns Richard 6/05/10 Video Photo Photo2 Richie's Gameroom
1932(1970) Sourou, Simplice 12/20/14 St. Augustine Photo
1891(1927) Kessler, Daniel 5/14/16 Photo
1867(1867) Johnston, Zachary 2/18/17 Video
1845(1903) Jackson Arnold 5/10/03 Photo
1842(2100) Beckford Jim 7/04/16 Video Photo
1833(1833) Krupka, Martin 6/01/13
1820(1820) Condez Larry 11/18/06
1798(1801) Wada Satoko 1/11/14 Photo
1738(1753) Shaker, Ausama 7/04/16 Photo
1735(1735) Rivera, Edwin 5/03/14 UNF Photo
1724(1749) Master, Mark 2/18/17 Photo
1712(1712) Fleming Roland 7/04/09 St. Augustine Photo
1701(1701) Ghandi, Gagan 1/28/17 Photo
1682(1685) Villorente, Kirkfred 2/18/17 UNF
1679(1679) Pham, Thi 6/06/09 Photo
1641(1687) Szamiel, Stanley 6/01/13 Photo
1633(1686) Ogunsan Isaac 5/18/97 Photo
1630(1630) Almeida, Regis 12/20/08 Photo Video
1624(1679) Hernandez. Sean 6/18/17 UNF Video
1618(1640) Boateng, Juliana 5/06/17 Photo
1600(1600) Huang, Brian 1/28/17 UNF
1585(1585) DeJesus. Adrian 11/01/15 UNF Video
1574(1574) Wallace, Bill 1/28/17 Photo
1571(1571) Che, Paul 4/19/14 Photo
1560(1886) Scott Barry H. 2/18/17 Photo
1543(1876) Brantley Barry 9/20/14 Photo
1542((1768) Ruggiero, Joan 8/10/13 Photo
1527(1527) Gragg, Zachary 9/21/13
1524(1661) Muller, Harry 6/18/17 Photo
1524(1699) Caplin Glenn 12/20/14 Photo
1511(1511) Ramia, Joe 5/06/17 Photo
1426(1839) Caplin Stuart(Stu) 7/8/17 Photo
1412(1412) McMahan, William 1/28/17 Photo
1390(1390) Tran, Annie 2/20/16
1340(1340) Balfour, Cainan 8/10/13
1331(1331) Permenter, Zalan 2/18/17 St. Augustine
1314(1355) Dang, Jonathon 11/01/15 UNF
1261(1352) Hooker, Allan 1/28/17 Photo
1258(1258) Manning, Ethan 1/28/17 UNF
1257(1300) Wolfe, Zack 11/15/14
1238(1241) Soto Ramon 7/13/13 Photo
1225(1225) Zeinali, Shawn 1/28/17
1181(1271) Konizeski, Andrew 5/06/17 St. Augustine Photo
1117(1138) Rivero, Candido 2/18/17 Photo
1068(1068) Gordon, Blair 1/28/17
800(912) Jones, Allister 4/01/17
UNF NCTTA Ratings-Non USATT UNF team tournament at University of Central Florida 1/28/17- Results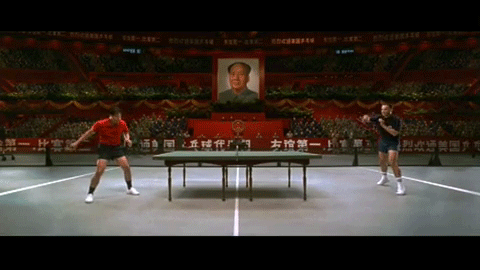 USA No. 1 Forrest Gump :)
Top 100 US Men Top 100 US Women



Want to learn real skills than come join the JaxTTC.

Table Tennis Equipment and Coaching Links
Sunday, August 10
Jacksonville Table Tennis Club Images