Buckeye Youth Football Association: News
Monday, January 7
BYFA Board meeting January 21, 2019

Please mark your calendar for our next BYFA board meeting.


Date:  Monday, January 21, 2019
Time:  6:00pm
Location:  Litchfield Town Hall - annex building (where registration is held)



We will discuss plans for the upcoming season and you will have the opportunity to vote for Board officers.


Board meetings are held monthly prior to the start of the season and we encourage parents to attend.

2018 LEYFL Playoffs and Flag Bowl Games
The 2018 tackle playoff schedule is now posted on LEYFL.com. First round will be Saturday, October 13th, Semi-Finals October 20th and Championship games October 27th.
The 2018 Flag Bowl game schedule is now on the league website. Bowl games will be played Saturday, October 6th at Buckeye.
LETS GO BUCKS!!
2018 Buckeye Youth Football Important Dates
PRACTICES: Starting September 4th practice will be Tuesday, Wednesday & Thursday 6:00pm-7:30pm, through the end of the season.
GAMES: Complete Tackle schedules can now be found on www.LEYFL.com. Flag schedules are posted on the Lorain/Medina Flag Football League website.
YOUTH NIGHT: Mark your calendars for Friday night 10/5. This will be our youth night at the high school game where the teams have an opportunity to be on the field and cheer on the Varsity as they take the field. Please have your player/cheerleader meet their coach on the track, next to the scoreboard on the North end of the field at 6:30. Entrance is free, if you wear your coach's shirt-coach, game jersey-football player, cheerleaders wear Buckeye Spirit wear shirt or Cheer with the bucks t-shirt & Cheer Jacket). (siblings and parents must pay to get in)
CHEER WITH THE BUCKS: This will also happen this year on 10/5. Full details with registration sheet is below.
2018 BYFL Casino Night Fundraiser!!!
Thank you to the Buckeye community for making our annual fundraiser a success! We count on and appreciate the support of all of our league families!
Handout:
2018 Casino Night
2018 Cheer with the Bucks!!
It is that time of year for again for Cheer With The Bucks!! We hope to see you all again this year!! The date is October 5th with the clinics on October 2nd 3rd and 4th from 6:30-8. Attached is a registration form handout for you to print and send in. Cost will be $30 dollars and will include the clinics and a t-shirt.
Please support your High School Cheerleaders and Cheer on the Bucks at the October 4th football game!! All the girls have a blast so I hope you will all join us again this year. Please share the registration form if you know of someone that didn't participate last year that would like to join us!!
Please print off the form and send back in to your school office, we will take any child from preschool thru 6th grade. Send in your form by September 20th so I can get the order in for t-shirts. Any questions please let me know and we look forward to seeing you all again this year!!
GO BUCKS!!!
Sheila Schnepp
3302-461-3845
Handout:
2018 Cheer with the Bucks
2018 Season Information - IMPORTANT!!
Welcome to the 2018 Buckeye Youth Football Season!
There are several important dates and requirements that need to be met.
Physical Required by Monday, July 30th - Every tackle football player needs to have a completed medical physical prior to starting practice on Monday, July 30th. Your child will not be able to start practice without a current physical form on file. No exceptions. I have attached the form to this email and it can also be found on http://ohsaa.org/Portals/0/Sports-Medicine/PPE_2018-19.pdf . (If you can't get into your primary care physician, there are several options for sports physicals at walk-in clinics around Medina/Brunswick. Google: "Sports Physicals in Medina, Ohio" and you will find multiple choices.)
Equipment Hand-out (7/15 & 7/22) - Must Attend There are two dates for equipment handout. You need to attend one of the dates. Dates are Sunday, July 15th or Sunday, July 22nd from 6:00PM-7:30PM at the Liverpool Community Center(6801 School St. Valley City, OH 44280). Please bring a bag or laundry basket to collect your equipment. If you played tackle last year please bring your girdle with you so we can fit your pants.
Girdle - Every tackle football player needs a Football Girdle for the season. You can purchase one at any sporting goods store or online (Amazon). If you have one that fits from a previous year, feel free to use it. Practice The first day of practice is Monday, July 30th from 6:30pm-8:00pm. Please have your child wear shorts,cleats, t-shirt, and helmet with formed mouthpiece.
Practice - Practices will be on the youth fields behind Buckeye Primary School. Practice will be Monday through Thursday 6:30pm-8:00pm July 30th through August 31st. Starting September 4th practice will be Tuesday, Wednesday & Thursday 6:00pm-7:30pm, through the end of the season.
Games - Games will be Saturdays ranging in starting times from 12:00pm-8:00pm. We will receive a schedule sometime in August from Lake Erie Youth Football League. There will be no Jamboree this season, but we will have a "scrimmage day" on 8/18 that we intend to host and/or participate in. Our first tackle games will be Saturday 8/25 and the Championship games are scheduled for 10/20. More info to come as the season gets closer.
Please call, text, or email with any questions. We are looking forward to another great season.
Go Bucks!!!
Roy Salazar
BYFL President
216-287-7465
Salazar@Zoominternet.net
2018 Early Voluntary Practices
There will be VOLUNTARY practices this coming Monday 7/23/18, Wednesday 7/25/18 and Friday 7/27/18 from 6:30-8:00 at the Buckeye youth practice fields for 3rd, 4th, 5th, and 6th graders.
If you're son is interested just show up with cleats and water (no equipment allowed) and we'll work on stretching, running, cutting, passing, catching, and other fundamental as we get ready for the season. This is a good opportunity to meet the coaches, ask any questions you may have, knock off some offseason rust and have some fun with the boys. You can also drop off their physical evaluation forms to the coaches as well during this time as these must be turned in at or before the first official practice on Monday 7/30.
Buckeye High School Touchdown Club Fundraiser August 11, 2018
Handout:
Buckeye Football 2018 Fundraisers
Tuesday, June 5
2018 Buckeye Youth Football Camp
Summer is here and although fall seems far away, football season is right around the corner. The Buckeye Varsity team is hosting a football camp June 11-12 for those that would like to get a head start on the season. There is still time to register and if you have any questions please contact Terry Shrader at jas2376@hotmail.com
Handout:
2018 Buckeye Youth Football Camp
Saturday, April 28
2018 Buckeye Youth Football Registration
Information on 2018 season registration can be found on the BYFL facebook page. Walk in registration dates are April 28th 10am-12PM and May 5th 10AM-12PM at Litchfield Town Hall Annex (9254 Norwalk Rd, Litchfield, OH 44253). You MUST bring a copy of your child's birth certificate, a report card from this year, and a current wallet sized picture. We CANNOT accept registration without all of these items, and we do not have a copier for your use when you arrive.
Lets have another great year!
Bucks Brown JV 2017 Championship
Congratulations to Bucks Brown JV on their 2017 Undefeated Championship Season!!
The JV Kerstetter Division championship game vs Avon Lake Gold JV was won 14-0 on October, 28 2017 at Midview High School.
Great 9-0 season Bucks!!
*Must be 21 years old to attend
When: Saturday, September 16th, 2017
Where: St. Martin's Church - 1800 Station Road Valley City, Ohio 44280
Thank you Buckeye Community for making our 2017 fundraiser night a great success! Your continued support keeps our organization running strong each year!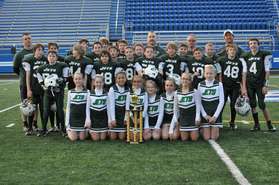 2012 BFA Varsity Division Champions
Buckeye Pride!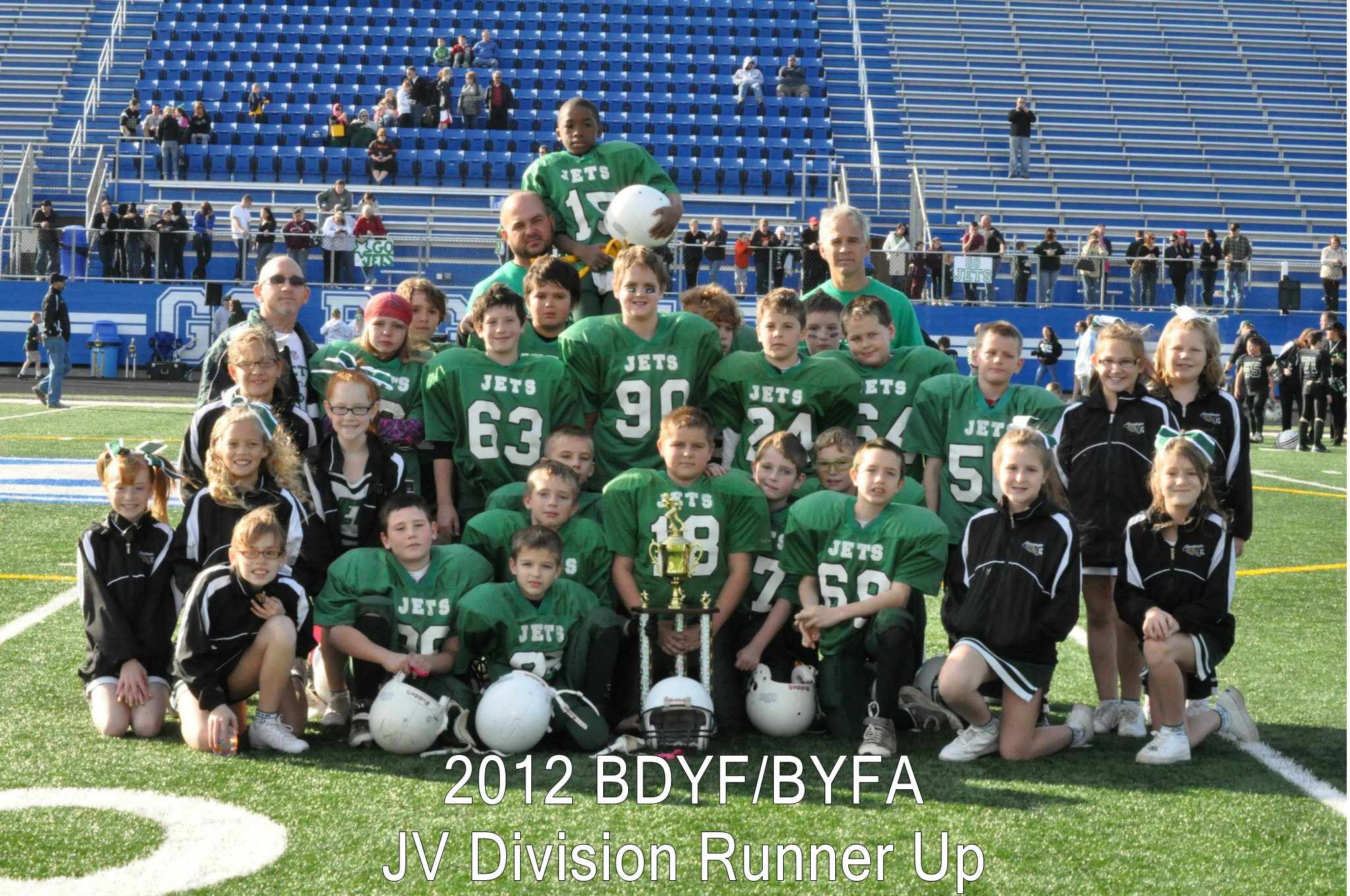 2012 BDYF/BYFA JV Division Runner Up
2012 Bucks Seniors Who Were BYFA Players
2012 Senior Bucks Playing Last Game At Wellington
Buckeye Youth Football wants to recognize the senior Buckeye Bucks who were honored on Senior night last week against Keystone and will play their final high school game this Friday night at Wellington. These four players had an impact on our program and have had an impact on the high school program, we are proud of all of them. Beginning from the left:
Former Jaguar Anthony Kisiday (54) played with the Jaguars JV in 2005 and the Jags Varsity in 2006-07. He won the Coach's Award in 2005 as a first year player. After two years on Varsity he also received the Golden Jag Award in 2007. As a young player he was a team leader and exhibited Pride, Heart, and Discipline. He carried that over to his junior high and high school playing days and is a captain and leader with the Bucks in 2012.
Rick Monroe (42) was able to play with 2 teams in his 5 years in BYFA. He was a Jets JV player from 2003-05, was a Buccaneer Varsity Player in 2006 when there was no Jets Varsity squad and finished up with the Jets Varsity in 2007. Rick was the 2005 Coach's Award winner for the Jets and picked up the Golden Jet award in 2007 as a Varsity player, which was the same year Kisiday won the Golden Jet award. Monroe's 110 points ties him at 18th on the All Time Scoring list, he is closing in on 1,500 yards for his career as he has 1,447 through the Week 9.
Kyle was a (14) was a six year Jet, playing with the Flag in 2002-03, the JV from 2004-06 and finishing with the Jets Varsity in 2007. Kyle won the Jets JV Coach's Award in 2006. He had played wide receiver this season with the Bucks and was injured.
Alex Stanley (80) played 3 years with the Jags Varsity from 2006-08. In 2007 as a second year player he picked up the Iron Jag award which emphasizes Heart, Intensity, Toughness and Desire. Alex had and still has all that, if you aren't sure watch him catch a pass on Friday night. His last season in 2008 he followed that up with the Golden Jag award which is based on Heart, Pride and Discipline. He never let go of the numer 80 either as he wore it all three years with the Jags and is still wearing it.
We are proud of all of them for sticking with football and glad that we could play a small part in getting you introduced to the sport at a young age. If you can come out to Wellington and watch them finish off their senior season along with the other 20 underclassmen who are on that squad please do. Game time on October 26th is 7:00 at Dukes Stadium. GO BUCKS!!!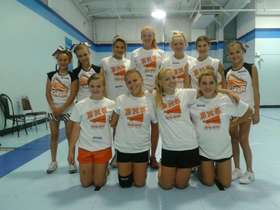 Former BYFA Cheerleaders At Cheer Camp
Former BYFA Cheerleaders At 2012 Cheer Camp
Pictured above at Cheer Camp this July are the former BYFA cheerleaders who now cheer at different levels at Buckeye Jr. High and High School. They all got their start cheering at a younger age with Buckeye Youth Football and we are proud of them. In the front row left to right are Reagan Sweeney (Buccaneers), Ariel Bryant (Jaguars), Erica Mattern (Jaguars) and MacKenzie Chegan (Jaguars). In the back row are Tayla Thome (Jaguars), Saige Johnson (Jaguars), Taylor Sikora (Jaguars), Alyssa Goth (Jaguars), Kylie Heberlein (Jets), Emily Forster (Jaguars) and Olivia Johnson (Jaguars). Congratulations on making your respective squads girls and Good Luck to all of you this season!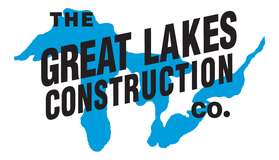 Thanks To VP Jim Fox & Great Lakes With The Help On Our Field Construction
Construction Moving Along On Our Football Fields
After a couple years of planning the fields for Buckeye Youth Football are about to become a reality. At the April 10th, 2011 meeting of the Board of Education they passed a resolution to allow Superintendent Brian Williams to enter into a zoning agreement with BYFA for the purpose of constructing youth football fields. The preliminary plan was drawn up and presented for approval by the BOE and has been revised twice to get it in it's present form. The York Township trustees have reviewed the plan and given the project their approval at their meeting as of the Spring of 2013. We had a new deed prepared on behalf of the school so the parcel we are building on, as per the request of York Township and that area with the elementary school, football fields and the soccer stadium back to Lester Road is now one parcel owned by the Buckeye Board of Education.
To view the pictures of the field construction click on 'Pictures' in the menu and then click on the 'Field Construction' album which is the first one listed in the group. The album is updated regularly.
The Construction began June 1, 2012 in the afternoon. The driveway from the school and the parking lot was one of the first things to be worked on. We are going to receive a donation of grindings from Karvo Paving who is working on the Columbia Road paving project that will resume in a week or so form now. At this time we want to thank Fechko Excavating for working on the preliminary plan at no cost to BYFA and for Nils Johnson of Cunningham & Associates for the work he did revising the plan and getting it to the final status.
We also wish to give a big thank you to Jim Fox & Great Lakes Construction Company for the use of a dozer to do the grading on this project with no cost to BYFA. Great Lakes & Nations Rental also helped out with the renting of an excavator to get the drainage pipe and catch basins in.
Thanks to Jamie Madigan and some of his friends from work, along with Jon Stahl, Andy Conrad, Eric Keller and other coaches who have dontated their time after work and on weekends to run the equipment, getting people lined up to help with the project and seeing that everything is being done on site and providing the pictures to chronicle the construction as it moves forward.
We also want to thank Dave Archer of Archer Trucking for working with us on a price for the stone for the driveway & back fill and to Tony Fariacci of Tri County Concrete for getting us a good price on the stone for the back filling of the drainage pipe.
Discount Drainage in Akron gave us a discount on their already low prices for the culverts and drain pipe we purchased. Those items were the biggest portion of the money spent so far in the project costing in the neighborhood of $10,000.00.
Thanks to Brian Gunkleman for the use of his brush hog, backhoe and skid steer. To Josh at Sunbelt Rentals for discounting the rental of the two track hoes we used. We will have all these companies and and anyone else that is involved on signage that will be put up on the fields as the construction is completed. We are blessed with some very generous individuals in the community that are willing to help with their time and material.
This project will be done entirely with money we raise from our 'Night at the Races' and other fundraising and donations from the community. There will be NO COST to the Buckeye Schools in the construction of this project. If you wish to download and look at the field plan we have it posted at the bottom of this article a PDF format.
Handout:
BYFA Football Field Construction Plans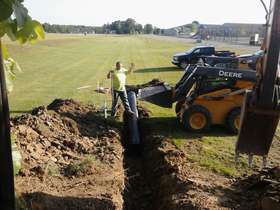 First Of The Drainage Pipe Going In
Shawn (L) With His Teammates & Coach
Former Jets Player Now College All American
Former Jet (2002-2004) and Buckeye 2010 graduate Shawn Cordes has earned All American honors as a member of the 4x100 relay team at Baldwin Wallace College in Berea. Shawn currently a sophomore and his 3 teammates turned in a time of 41.46 which was good for eighth place at the NCAA Division III Tournament at Claremont (CA) Mudd-Scripps College on May 27th, 2011. The top eight competitors in each event earn All American accolades. Congratulations go out to Shawn on his honor we are proud of you! Shawn is pictured above left with his teammates Mike Smith, his coach, Mike Smith and Michael Johnson.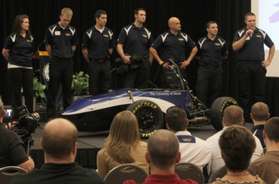 Dan Lough (far right) and Ben DiMarco (3rd from right)
Former Jags At Akron University
Former Jaguars Danny Lough (1998-2000) and Ben DiMarco (1998 -2000) are both engineering students at the University of Akron and have been involved in the Zips racing team there. This article was from the Beacon Journal. Ben is going to be working at Honda in Marysville after graduation this spring and Danny is Co-Oping at MTD.
UA Students Show Off Zippy 'ZR12' They Built For Racing
By John Higgins
Beacon Journal staff writer
The University of Akron Zips Racing Team unveiled the race car it built for international competitions later this year in a ballroom ceremony Monday at the UA Student Center.
"On behalf of the 25 students that it took to make this car possible, with 20,000 man hours invested over the past nine months, I'd like to present to you the ZR12," team captain Dan Lough said as team leaders removed the black covering to reveal a sleek open-wheel race car about a fourth of the size of an Indy 500 car.
The ZR12 (Zips Racing 2012) is painted blue on top with a white stripe and black below the stripe.
"It will do zero to 60 in about three-and-a-half seconds and reach a top speed of 120 ... theoretically," Lough said.
Theoretically, indeed.
When the team begins the race season next month in Michigan, student drivers won't be allowed to drive faster than about 55 mph, said faculty adviser Richard Gross.
"They do not want students – some who are very good drivers, some who are not – doing anything foolish, so they try and keep the speeds under control," Gross said.
Since 1990, the University of Akron has competed annually in the Society of Automotive Engineering's Formula SAE design competition. Students design and build a race car, which they enter in competitions that test acceleration, cornering ability and, finally, the ability to run 22 kilometers (just over 10 miles) without needing any adjustment. About halfway through the endurance race, the teams switch drivers and the cars are inspected for safety.
"If they find a bolt starting to come loose, you are done for the day," Gross said. "If they find a little drop of oil on the ground or something, you're done. It's extremely strict."
After the competition in Michigan, the team will race the car in Germany and Austria in August and in Canada in October. Local fans can watch the team race in Akron at the Goodyear Testing Grounds on Sept. 22.
The students make 90 percent of the car's parts, improving on the previous year's car.
Team leaders were Ryan Kruse, suspension; Maddy Mann, composites; John Buchanan, drivetrain; Michan Limbacher, chassis; Ben DiMarco, brakes and Dominick DeMasi Jr., engine.
The car runs on a 4-cylinder, 600cc Yamaha R6 motorcycle engine with sequential fuel injection. DeMasi, a fifth-year senior majoring in mechanical engineering, needed a better way to get data and use to it make a powerful car.
DeMasi took advantage of a paid internship with MoTeC, an Australian-based firm that creates computer systems to control and collect data about engine performance, to improve the Zips Racing Team's testing and data analysis procedures.
DeMasi worked last summer at MoTeC's facility in North Carolina, or as he puts it, "NASCAR country."
"I learned so much more from being there that I figured out new ways to implement their products in ways that would help us," DeMasi said. "Down there, I was working with a lot of professional racing teams, helping them solve their problems, and I started realizing ways to solve my own."
Meanwhile, DiMarco worked on making the brakes lighter and the cockpit more comfortable for the driver. Last year's car weighed 446 pounds and the team wanted to shave that down to 430. He helped them get it down to 425 pounds.
DiMarco and DeMasi already have jobs lined up after they graduate this year with Honda R & D Americas near Marysville.
"We're going to live together," DiMarco said. "He's doing engines and I'm doing brakes. That's what we did here. It really carries over."
Buckeye Bucks Award Winners
Congratulations to former Jets' player Tyler Carrow for being named the 2011 Golden Buck award winner on Thursday night. He is the 34th recepient of the award first handed out in 1978. BYFA players have won 6 of the last 9 awards handed out beginning with Dan Cereshko (Jags) in 2003. Rob Crumpler (Jags) got it in 2004, Josh Varney (Jets) in 2006, Kelton Keller (Jags) in 2009 and last year it went to Zach Maxworthy (Buccaneers). The Iron Antler award went to Mike Winans former Buccaneer. The Most Improved player went to Anthony Kisiday, former Jaguar, and the Most Valuable Player Award went to Billy Doerge. We are proud of all of you on your football careers and your awards!
Former Players Now With The 2011 Bucks
The 2011 Buckeye Bucks have 43 players on the roster this season, 28 of which got their start with Buckeye Youth Football. QB and former Jag, Billy Doerge is the third Jag to QB the Bucks in the last 4 seasons. Austin Friel did it in 2010 and Mike Kelly in 2008 & 2009.
Here are the rest of the former BYFA players on the roster this season:
Jaguars: Dan Inman, Billy Doerge, Ian Dalton, Sean Spence, Brandon Klaehn, Christian Petek, Kyle Fowler, Anthony Kisiday, Shane Cook, John Maslanka, Austin Schnepp, Zach Diaz and Ernie Bolton.
Jets: Kyle Haines, RIcky Monroe (1 Season as a Buc), Shawn Akim, Tyler Carrow, Colton Theus, Logan Luna and Alex Wilk.
Buccaneers: Mike Rain, Tom Metheney, Jeff Miller, Brandon Nagy, Dan Gerenday, Matt Duplaga, Mike Winans, Joshua Camper and Rory Flynn.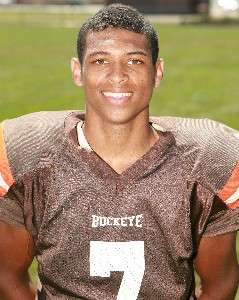 Carlton Watkins
Former BYFA Player To Play College Football At Tiffin
A former BYFA Player is headed off to play Division II Football this fall for the Tiffin Dragons. Buckeye WR Carlton Watkins will play at Tiffin in the fall of 2010. He played 4 seasons with the Buccaneers from 2001 through 2004. He is a 2010 Buckeye graduate of Buckeye. Congratulations to Carlton and we wish him Good Luck in his college career.
Buckeye's Carlton Watkins Heads To Tiffin
From the GAZETTE, by Dan Brown.
YORK TWP. — It's not unusual for Carlton Watkins to miss a call on his cell phone. This call, however, was his future. Inching closer and closer to committing to Division III John Carroll University, the Buckeye High standout got a call that changed everything. "The night before my overnight to John Carroll, I got a call back from Tiffin," Watkins said. "It was one of their coaches and they had just got done with a spring practice and he said they needed a receiver."
The chance to play at the Division II level and join former teammate Austin Friel and Gazette boys track MVP — and cousin — Malik Tuck of Medina was too good to pass up, so Watkins made his commitment to play football and compete in track for Tiffin. "It caught me off guard," Watkins said of the phone call. "I was actually golfing when I saw the missed call and got a message to give them a call. I couldn't believe it. I thought someone was messing with me. They told me that going D-III, I was limiting myself. You can go a higher level and earn a scholarship."
Those words were enough to sell the 5-foot-10, 170 pound wide receiver on the Great Lakes Intercollegiate Athletic Conference program, which is looking for a fresh start after a 1-10, 0-10 campaign. While Watkins didn't know he was going to find himself on the western side of the state with his former quarterback, Friel seemed to know something else. "After I got the call, I called Austin and I told him, 'You will never believe who called,'" Watkins said. "The crazy thing is, I never said anything and Austin already knew I was going and put my name down for housing. He just knew." Selling Watkins the most was the fact he will be paying about $4,000 less at the D-II school, with the possibility of earning scholarship money his second year. Add in that Tiffin has one of the best criminal justice programs around and the former Buck is happy to be a Dragon.
"I had it settled with John Carroll and it was going to cost $7,000 to go there, so I thought, 'Why not try some other schools,'" Watkins said. "Tiffin is great for two-sport athletes, and their criminal justice program is top five in the country, so it's really a go academic-wise, and that's why I want to go to college. To play football, too, that's just a plus." Tiffin runs a spread offense with four wide receivers, a system Watkins is familiar with, as Buckeye ran a hybrid of that offense last fall. "The opportunity is great to get in there this year," said Watkins, who also was looking at Westminster (Pa.), Thiel (Pa.) and Notre Dame of Ohio. "All I have to do is show them what I can do. It's in my hands.
"You're going to get a chance with four wide, because they will be using their receivers every play. That's where my chance comes in." Watkins had spoken to the school's track program just weeks after breaking the Buckeye school record in the high jump with a leap of 6 feet, 6 inches at the Ernie Moore Invitational in Doylestown. He knows that doing both sports at the collegiate level is a challenge, but with friends Friel and Tuck by his side and the confidence that helped him earn accolades in both sports at the prep level, Watkins is ready for the next test.
"It worked out good," he said. "I'm going down there with two guys that I'm really close to, and after meeting the (football) team, I got real comfortable with them and they welcomed me with open arms. "Every school I talked to, I talked about doing both sports. The way I see it, why not? You only live once." -- Contact Dan Brown at sports@medina-gazette.com.
In Memorium: Tiffany Ann (Fozio) Yohman
Buckeye Youth Football lost a member of their family prior to the beginning of the 2011 Season with the passing of Tiffany Yohman. Tiffany and her family have been involved with the Jets since her son Zach started playing over 10 years ago. We send our condolences out to her husband Jeff and children Zach, Anna, Samantha, Rose and Jaret. Jaret was a member of the 2010 Jets Varsity with his sister Rose who was a cheerleader. She is sadly missed by us and the Buckeye Community.
From Waite & Son Funeral Home:
Tiffany Yohman, 43, of Valley City, passed away on July 18, 2011. She was born on April 18, 1968 to Robert and Dorothy Fozio. She is survived by her beloved husband of 22 years Jeff; loving children Zachary, Anna, Samantha, Jaret, and Rose Yohman; devoted mother Dorothy and parents-in-law Maxine and Bob Yohman; adoring sister Theresa Rose (Brian) Berthold, sister-in-law Karen (Patrick) Kirchner, and brother Mark (Kathy) Yohman; as well as many treasured nieces and nephews. She is preceded in death by her cherished father Robert. Tiffany's greatest passion in life was her family. She worked in the Robert A. Fozio Training Center as an office manager. Family and friends may call on Thursday, July 21 from 5-9pm at Waite and Son Funeral Home (3300 Center Road, Brunswick 44212). Services will be held on Friday at 10am at St. Martin's Church.

Kolton William Keller 11/22/2010
A New Jaguar Has Arrived
The Jaguars grew by one this week as JV Head Coach Eric Keller and his wife Renee welcomed Kolton William Keller into their family. He was born November 22, 2010 weighing in at 7 pounds 13 ounces and 19 inches long. (This is football you have to get the stats in there). By our calculations he will be eligible for the Jaguars Flag Squad in the 2016 Season. No word yet on whether or not Renee will receive a trophy at the Jags Banquet. Congratulations to the Keller family on their newest addition!

Coach Watkins & His Squad After His 50th Win
Jets Head Coach Steve Watkins Gets His 50th Win
Saturday night October 23, 2010 at Buckeye the Jets Varsity picked up their 8th win of the season and in the process Head Coach Steve Watkins got his 50th win. Congratulations to Coach Watkins and the Jets! Good Luck in the Varsity Championship game on November 6th!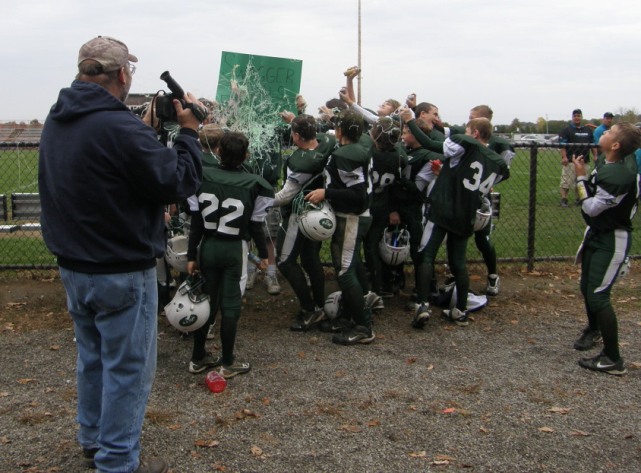 Attack Of The Silly String

The Flag Teams & Cheerleaders
Homecoming 2010 Pictures

Jags Varsity Lining Up
Homecoming 2010 - Part 2

Josh #60 Working On Blocking
Anyone Recognize That Tattoo?
Some of the Jags should recognize it since it belongs to former Jaguar and Jets player Josh Varney who was out at practice the first week. This picture was taken at football camp last week for the West Liberty Hilltoppers. Josh and his teammates are getting ready for the upcoming 2010 Season. They list him as a 6 foot 1 inch tall, 300 pound Offensive Lineman which makes him a pretty tall order for Defensive Linemen. Good Luck to Josh this season at West Liberty.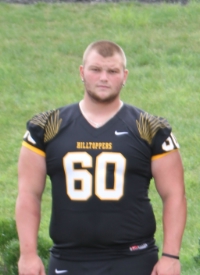 Josh Varney
Congratulations To The 2010 Seniors!
We would like to wish Congratulations to our former players and Bucks' Seniors of the Class of 2010 who graduated yesterday at Baldwin Wallace College.
Andy Young (Jets), Mike Kelly (Jags), Ian Hunt (Buccaneers), Jake Boettner (Jags), Kyle Miller (Jets), Ryan McCormick (Jags), Shawn Cordes (Jets), John Sekerak (Buccaneers), Zac Callihan (Jets), Kelton Keller (Jaguars), Cody Carrow (Jets), Tyler Erb (Jaguars) and Sebastian Ricco (Jets).

Kelton With His Parents Tom & Cathy Keller
2010 Grad And Former Jag To Play At Mount Union
Former Jaguar Kelton Keller has decided to attend Mount Union College in the fall after his graduation from Buckeye this month. Kelton played 5 years with the Jags from 1999 through 2003. He also started all 4 years of his high school career with the Bucks. He was a second team All Ohio selection this past season as a senior. He also played in the Ohio North-South Classic on April 22 at the Horseshoe in Columbus. His north squad was coached by Highland Head Coach Tom Lombardo.
Below is the article that Brad Bournival wrote in the Gazette.

ALLIANCE — It wasn't the 10 national championships that necessarily pulled at Kelton Keller. Nor was it the 18 undefeated seasons or 20 OhioAthleticCon­ference titles that caught the Buckeye senior's fancy.

When it came down to it, Keller wanted to be a farm boy, just like he's been all his life. That's why the 6-foot-4, 260-pounder chose Mount Union over Eastern Michigan to continue his academic and ath­letic career.

"(Eastern Michigan) is in a city and I'm a farm guy," Keller said. "Alliance is just like here. There's a grocery store down­town and the rest is just farm­land. It has a nice homey feeling. "I'm very family-oriented. Distance was a big factor. I want to be able to come home and help on the farm if they needed me."

So, with the help of coaches Billy Burke and Bob Jenne as well as the support of his family, Keller weeded out interest from schools like Akron, Bowling Green, Ashland and Toledo.

That the two-way lineman is going to a school that has six championships this decade and has established itself as a winner isn't a bad secondary prize.

The Purple Raiders have won national titles in 1993, 1996, 1997, 1998, 2000, 2001, 2002, 2005, 2006 and 2008, finishing second to Wisconsin-Whitewa­ter a year ago.

"It's got a very good winning tradition," Keller said. "I'm extremely excited. I like playing football, but it's not fun if you're always losing. MountUnion has a great campus and great aca­demics. Football is just icing on the cake."

The Purple Raiders are getting a pretty good football player as well. As an offensive tackle, he helped the Bucks average 223.5 yards on the ground and 287.8 total offense per game.

The four-year starter was namedsecond-team All-Ohio in 2009 and logged 54 tackles — eight for loss — with six sacks from his defensive end position. During his stint with Buckeye, the team went 27-14, reaching the playoffs for the first time since 2005 last year.

Keller, who will major in busi­ness with a minor in criminal justice, is going to a school that has gone 139-5 over the last decade.

"I'm just going to work my butt off to get that starting posi­tion," said Keller, who is being eyed as a defensive lineman by Mount Union. "I'd love to be able to play varsity right away. I've never played jayvee and I really don't want to. But I'll go wherever they need me."

Medina Indoor Flag Champions
BYFA Players Win Winter Indoor Flag Football Championship
A group of players from Buckeye Youth Football coached by Bill Graham and Greg Thomas captured the Medina Indoor Flag Football U9 Division for the Winter Session. They went 5-2 on the seaon and won the Championship game over a Medina Squad by a score of 19-7. Nice job to all of you!
Pictured above L-R in the Back: Coach Bill Graham, Evan Tesar, Collin Graham, Ryan Orrick, Josh Meyer, Coach Greg Thomas.
Front Row L-R: Anthony Musarra, Connor Thomas, Ethan Vozar, Brandon Vozar.
Two Guys With Trophies
On Saturday, November 14th former Jaguar and now Defiance Yellow Jacket played the final game of his college career. He played two years with the Jaguars in 1999 & 2000 winning championships both seasons. There to watch him play his final game was Hayden Roskey who won a championship this season with the Jaguars. Dustin rushed for over 1,500 yards with the Bucks and his 8.1 yards per carry remains Number 1 for the Bucks rushers all time. He is also number 6 All Time scoring.
Dustin was a defensive back for Defiance and also did Kick and Punt Returns. He finished his career there with 133 Tackles, 7 INTs, 3 Fumble Recovers, 1 Kick Blocked, 35 Kick Returns for 622 yards and 38 Punt Returns for 322 yards. Congratulations Dustin on your career with Defiance and hopefully you are looking forward to graduation in the spring!

2009 Buckeye Bucks
Bucks Finish 2009 with an 8-3 Record
The Bucks finished their season on Friday night in Hubbard, Ohio as they lost to the Hubbard Eagles 30-14. The game was much closer than the score showed. The Bucks gave a good accounting of themselves and were in the game all night, a combination of turnovers did them in. We are still proud of these kids who played their hearts out all year, game in game out. Congratulations on your 2009 Season!
There were many former players in the ranks of the high school football team this season. Of the 37 players on the roster 32 played at our level when they were younger.
The Bucs, even though they are now gone, have made their presence felt with 8 former players #7 Carlton Watkins, #11 Ian Hunt, #28 Colton Theus, #44 John Sekerak, #45 Jake Thayer, #54 Joe Ross, #65 Mike Winnans, #25 Kyle Haines and #69 Zach Maxworthy.
The Jets are represented by 14 former players including #1 Andy Young, #21 Chad Gatt, #22 Kyle Gatt, #25, #26 Kyle Miller, #33 Shawn Corders, #42 Rick Monroe, #50 Tyler Carrow, #53 Zac Callihan, #68 Mark Persic, #70 Cody Carrow, #71 Logan Luna, #82 Chris Boutton and #88 Sebastian Ricco.
The Jaguars have #8 Mike Kelly, #10 Austin Friel, #24 Jake Boettner, #27 Ryan McCormick, #32 Anthony Kisiday, #46 Shane Cook, #51 T.J. Hugney, #59 Kelton Keller, #77 Luke Cuthrell and #79 Tyler Erb for a total of 10.

Darren Cereshko
Former Jag Coaching College Football In 2009
Darren Cereshko begins new football season at Notre Dame College. The Buckeye and Baldwin Wallace is a Graduate Assistant getting his Masters of Education with a Technology Endorsement. This season he is helping coach the defensive line with Keystone High School graduate and Baldwin-Wallace All-American Gus Patouhas.
Darren related "I love coaching and I love football, I am excited to be where I am. I am anxious to see how the team shapes up. It is an new experience coaching at a school that hasn't had a football program before, but I will take a lot out of it."
Info on the program:
Notre Dame College is pleased to announce that the development of a football program is underway, with plans to begin intercollegiate competition in 2010. Falcon football becomes the 19th athletic program at Notre Dame, which first admitted men to the College in 2001.

"We're thrilled at the prospect of initiating a football program at Notre Dame," said director of athletics Susan Hlavacek. "We have challenges ahead, but this is the right time for the College to take this step. NDC football will bring a certain unity to our campus, and in turn keep us connected to the Greater Cleveland area."

According to Hlavacek, Notre Dame will begin recruiting now, with a 2009 leadership class forming the backbone of the startup program. The College will look to hire a head coach over the winter of 2008-09. Based on further study and the success of initial recruitment, the Falcons could play a club schedule in 2009. Play in an intercollegiate schedule would begin in the fall of 2010.

Hlavacek indicated the announcement was made after months of due diligence in investigating the matter with various elements of the College.

Notre Dame President Dr. Andrew P. Roth indicated that football would be leveraged as part of the long-term success of the College: "The time is right for football at Notre Dame College. It helps foster a full college experience and further develops the campus atmosphere we've striving to create. Falcon football will also be a vehicle to build even closer relationships with our alumni and with the Greater Cleveland community.

With their development of a team, Notre Dame becomes the first scholarship football team in the metropolitan Cleveland area. Further details will be announced by the Notre Dame Department of Athletics at a later date. For more information, contact sports information director Skip Snow at 216.373.5319 or ssnow@ndc.ed.
Notre Dame College is a co-educational liberal arts institution in South Euclid, Ohio. The Notre Dame Department of Athletics sponsors the Falcons' participation in 18 men's and women's intercollegiate sports. The College is affiliated with the National Association of Intercollegiate Athletics (NAIA) and the American Mideast Conference (AMC). In 2007-08, Notre Dame athletic programs ranked in the nation's Top-50, based on the NAIA Director's Cup all-sports ranking as published by the National Association of Collegiate Directors of Athletics (NACDA). Their website is www.notredamefalcons.com

Dustin Supan Last Season At Defiance
Former Jaguar Named To Division III Preseason All-Ohio Team
Dustin Supan has been named to the
OhioCollegeFootball.com
2009 Division III Preseason All-Ohio Team. Dustin is a senior at Defiance College and will return to the defensive backfield for the Yellow Jackets this season. You can read the article and visit the Defiance football site by clicking
here
. Dustin played with the Jags during the 1999 and 2000 seasons, he graduated from Buckeye in 2006. Congratulations Dustin and Good Luck to you and the Yellow Jackets this season.

Photos Courtesy of Caroline Bryant
2009 Jaguars Win It All At Medina
The Jaguars Varsity defeated the Warrensville Cowboys to become the 2009 Kick Off Classic Champions! There were 9 teams in the Varsity 12 & Under pool. The Jags won their first two games and went into the playoffs ranked #2, with the Cowboys ranked #1. They defeated the CCYF Falcons 19-6 to advance to the Championship Game where they defeated the Cowboys 7-6 to win the Championship.
This marks the 2nd year that Buckeye has participated in the tournament, last season the Jags and Jets Varsity went, this season their respective JV Squads also went giving us 4 teams representing Buckeye. The Jaguars won all 3 of the games they played last season but didn't get to the playoff rounds due to the criteria used to rank the teams. They made up for it this year, they now have a 7-0 record in the tournament, scoring 89 points while giving up only 25 and posting 3 shutouts.
Congratulations to Head Coach Paul Fowler, Assistant Coaches Mike Arena, Chris Calta and Bryan Willis and all the Jaguars Varsity players. You played hard, had a great experience and showed Buckeye Pride!
Buckeye Jaguars
2009 Medina Kick Off Classic
Varsity Champions!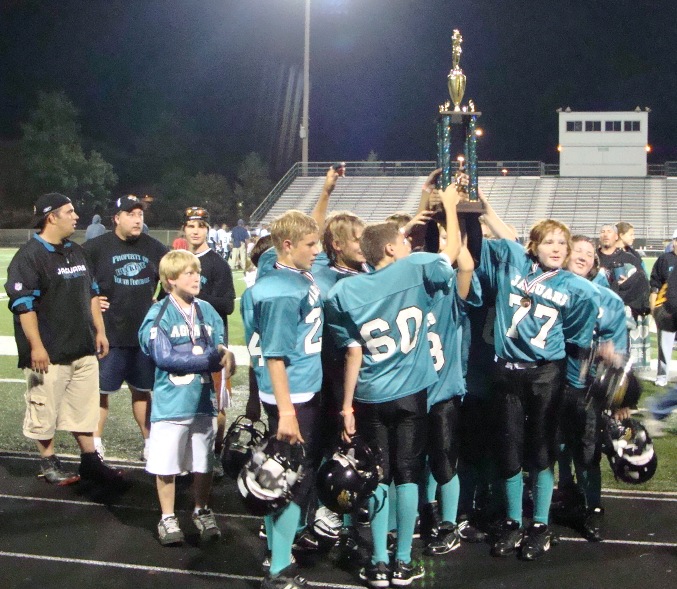 Hoisting It High

Coach Keller And His Team
Medina Spring Flag Tournament
This year the 9-10 year old Buckeye Jaguars participated in the Medina Bee's 5 on 5 Spring Flag-Tournament. There were 4 teams participating in our division. We won our first game by foreit over the Medina Sharks and won our second game 27-22 over the Medina Monsters. It took us a last minute drive to win the game leaving only 30 seconds on the clock.
In the championship game we faced the Medina Predators and we fell 22-6 and brought home second place. Our players played very well for only having two practices prior to the tournament. Overall it was great to see how well these kids pulled together and played as a team and never gave up or backed down!
I would like to thank the following players and their parents for their participation:
Adam Fauver, Zakary Fowler, Eric Keller, Jaret Lowry, Justin Lowry, Jonathan Neel, Garret Rivett and Zachary Schnepp.
Thanks,
Eric Keller

Senior Lineman Cody Muhek
More 2008 Honors For Former BYFA Players
The Medina GAZETTE announced their 2008 All-GAZETTE Football Team and 3 of our former players made that squad.
Name to the first team as an Offensive Lineman was former Jet player Cody Muhek.
Muhek Highlights:
Key component on squad that led Medina County in rushing, averaging 312.0 yards per game. … Spearheaded squad that led area in rushing touchdowns (37). … Bucks led seven-school region in total offense (367.5). … Second-team All-Northeast Inland District selection in Division III. … First-team All-Patriot Athletic Conference selection.
Buckeye coach Billy Burke on Muhek: "Cody Muhek is a kid that loves to play football and loves the physical nature of the game. He's really worked hard to make himself the player that he is."
Making the 2008 Team with Honorable Mentior were former Jags Kelton Keller as a Defensive End and Mike Kelley as a Punter. Congratulations to these Bucks on their honors and also for a successful 2008 Season and their 3rd PAC Division Crown.
2008 Northeast All-Inland Awards Handed Out
Three former players from BYFA now playing for the Bucks were recognized as the Northeast District All-Inland Awards were handed out on Saturday, November 15th. The Northeast District covers all of Northeastern Ohio. These players were awarded in Division III which is the division in which Buckeye plays football.
Named to the First Team as an Offensive Lineman is Senior, and former Jet, Cody Muhek. Given Honorable Mention were Juniors Kelton Keller, as a lineman, and Mike Kelly at Quarterback, both of whom are former Jaguars. Congratulations Guys!

The 2008 Jaguars Varsity (12-1)
Brunswick Jets & Strongsville Blitz Take 2008 Championships
The Brunswick Jets and the Jaguars hooked up Saturday Night at Steingass Field at Buckeye High School for the 2008 Championship game. The Jets won it, shutting out the Jaguars 21-0. It was the Jags only loss of the season as they finished with a 9-1 League record and a 12-1 overall record. The Jets kept their record unblemished at 10-0.
The Jags kept the ball most of the 1st half and finally surrendered a touchdown to the Jets with less than 2 minutes to go and the teams went to intermission with the Jags trailing 7-0. In the second half the Jags could not get the offense untracked and the Jets added two more scores to make it 21-0.
Despite that loss the Varsity Squad had a very successful season, becoming the first BYFA team to win 12 games in one season, and they, along with our Jets, made the first ever tournament appearances by participating in the Medina Kickoff Classic where they won all 3 of the games they played. We congratulate the Jets on their Championship, and we also congratulate the Jaguars on their 2008 Season.
| | | | | |
| --- | --- | --- | --- | --- |
| 10/18/2008 | 10/25/2008 | 11/1/2008 | 10/25/2008 | 10/18/2008 |
| Round 1 | Semi Finals | Varsity | Semi Finals | Round 1 |
| #1 Jets - 42 | | Championship | | #2 Jaguars - 19 |
| #8 Redskins - 0 | | | | #7 Impact - 0 |
| | #1 Jets - 14 | | #2 Jaguars - 19 | |
| | #4 Dynasty - 8 | | #3 Titans - 14 | |
| #4 Dynasty - 28 | | #1 Jets - 21 | | #3 Titans - 21 |
| #6 Colts - 14 | | #2 Jaguars - 0 | | #5 Pride - 6 |
The JV Division Championship game was played at Taliak Field in Strongsville on Saturday, November 1 and the Strongsville Blitz defeated the Brunswick Jets JV 18-0 to capture the JV Crown.

Dustin Supan
Former Players In College Football
A couple of our former players are playing college football this season. Dustin Supan is a Defensive Back at Defiance College. He is a Junior this year and had a pretty good season last year for the Yellow Jackets with 34 tackles and 2 interceptions. They finished 5-5 last season and will open this year on September 6 against Muskingum College. Dustin played on the Jaguars Varsity squads of 1999 and 2000 and was one of the reasons they won back to back championships those years.
Down at West Liberty State College in West Virginia Josh Varney begins his Freshman year of College as a member of the Hilltoppers Football team. Josh played with the Jaguars JV in 1998 & 1999, he then moved to the Jets Varsity and played with them in 2000 & 2001. He was the 1st receipient of the 'Golden Jet' award in 2000, and coincidently he picked up the 'Golden Buck' Award last season with as a senior with the Bucks.
Justin is pictured above wearing #19 the same number he wore with the Jaguars, although he wore #20 with the Bucks. Josh is wearing #60 as he did with the Jaguars JV in 1998 (His younger brother Keegan is wearing it on the Jags Pee Wee squad). We wish both of these young men good luck during their upcoming season and also in the classroom.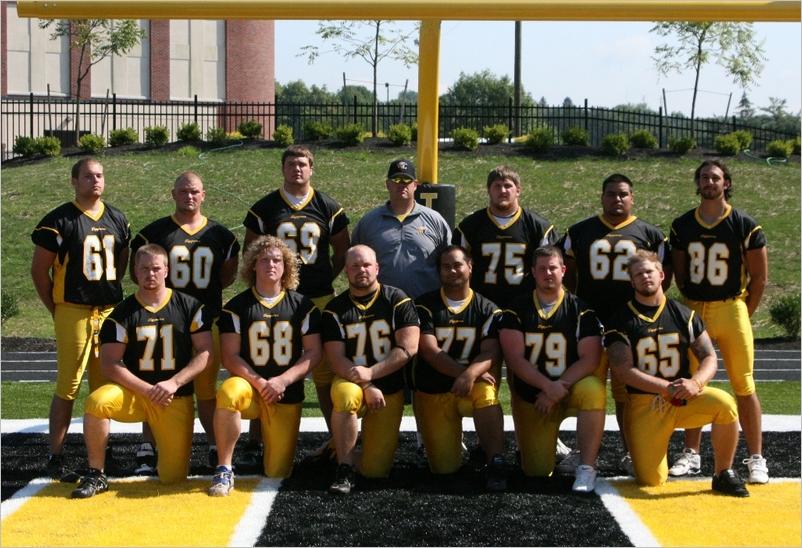 The 2008 WL Offensive Line
Former Cheerleader At Wilmington College
Former Jaguars Cheerleader Dana Roskey is a member of the 2008 Quakers Cheerleaders at Wilmington College. She is Freshmen this year and is cheering during both Football and Basketball season. Dana's goal is to be a veterinarian and she took her horse to school with her, hope the horse does well in school too, we guess that is where 'horse sense' comes in. She is pictured below in the back row, 3rd from the right.
Dana cheered with the Jags JV squad from 1998-2000, the Varsity in 2001 & 2002, and has helped pick music, and teach dance routines and cheers since the 2003 season. That's 11 seasons of contribution to our program along with cheering for Buckeye from 8th grade through her senior year.. Thanks for your dedication Dana and we wish you well with Cheerleading at the college level, and also in your education!
Former Players Now With The 2008 Bucks
There are alot of former youth players now playing with the Buckeye Bucks at the high school level. We want to recognize those players who got started at this level and are continuing their play at the high school level. We are proud to have a part in getting them started in football and their coaches take pride in seeing them out there in games on Friday night and Saturday morning doing well.
The senior players include former Jets Darren Boulton WR/CB, Zach Yohman TE/DL and Cody Muhek OL/DL, former Jaguar Tucker Gregor TE/LB (injured), and Former Buccaneer Matt Shaw LB/TE.
The Juniors include former Jets Andy Young, Kyle Miller, Zach Calihan, Shawn Cordes and Cody Carrow. Former Jaguars Mike Kelly, Jake Boettner, Ryan McCormick, Joe Arena, Kelton Keller, and Tyler Erb.
Sophomore Players are former Jags Austin Friel (injured) and T.J. Hugney. Former Jets Kyle and Chad Gatt, Mark Persic and Chris Boutton. They are joined by Joe Ross and Zach Maxworty from the Buccaneers.
The Freshman class has Jags Billy Doerge, Brandon Klaehn, Shane Cook, Ernie Boulton and Luke Cuthrell. Jets alumni Tyler Carrow and Logan Luna. Rounding out the Freshmen are Buccaneers Michael Rain, Colton Theus, Jacob Thayer, Matt Duplaga and Mike Winans.
Jags/Jets Get The 2008 Season Rolling
The Jaguars and Jets got the 2008 Season underway at Buckeye last night. The opener went to the Jags 26-0, breaking the Jets 2 game win streak over them. Want more numbers? This was the 9th meeting of the two teams with the Jags now holding a 5-4 edge in the series. They won the first 3 before the Jets prevailed twice during 2003 enroute to their Championship. Last season the Jets won the opener 27-0.
This was the 60th Varsity game for the Jets and they now have a 36-24-0 record. The Jags have a 46-52-0 record and will play their 100th Varsity contest Saturday night against the Hamilton Wentworth Panthers from Canada. That's alot of Varsity games by these two teams over the last 13 Seasons of Buckeye Youth Football.
We are proud of Varsity Teams and all our other players and cheerleaders not only from this season but from all the seasons past. This weekend the JV Squads will get started and then on the 30th all the Pee Wee and Flag begin their seasons, so come out to the fields and watch some football!
2008 Medina Kick Off Classic
The Jaguars and Jets made their tournament debut in Medina today and did themselves proud. The Jets won their two games, Saturday they beat the Medina Broncos 6-0. In perusing the
Broncos website
we discovered in an article at the bottom of the page that the Broncos had won 28 consecutive games dating back to the first game of the 2006 season. So that is a bit of a feather in the hat of the young Jets who have 18 playes, 6 of whom never played football before this season and 3 who just moved up from JV last year. Way to go Jets! Then today they played the Medina Predators and won that game 12-0.
The Jaguars played back to back games on Saturday night winning the first game against the Lorain Steelers 7-0, and taking the second game 6-0 over the Hamilton Wentworth Panthers. Those games were numbers 99 and 100 in Jaguar Varsity history. Both the wins came on interception returns as they played a very stingy defense.
That set up another Buckeye Showdown with the #5 Seeded Jets and #6 Seeded Jags met last night at 6:00PM. The Jags came out on top 12-0, but both teams have the right to be proud of their first tournament appearances, they each won two games against teams they knew nothing about and found out they could play win if they played the entire game and never let down.
There were four more undefeated teams who scored more points than that Jets and Jags did so they are ranked higher and have a chance to finish either as #1 or as #2. You can visit our hosts by clicking Medina Bees Youth Football.

2007 Jets Varsity Squad
Jets Drop A Close One In 2007 Championship Game
The Jets Varsity didn't have their season come to the outcome that they wanted it to as they dropped a close game to the Brunswick Jets 15-12 on Saturday night at Steingass Field. The Jets trailed by one at the half 7-6 and even though the teams exchanged TDs in the second half, the difference was that Brunswick was able to convert a 1 point PAT and a 2 point PAT.
Congratulations to Head Coach Steve Watkins, Coaches Mike Vogt and Rick Monroe and the entire Jets Varsity Squad on an excellent season as they finished 10-1. You showed pride and determination all season and Buckeye Football is proud of you!
Former Players Finish Their 2007 Seasons At The College Level

Darren Cereshko
Darren Cereshko - Baldwin Wallace Yellow Jackets
Darren is a Senior cornerback at for
Baldwin Wallace
this season. He has earned a Varsity letter as a Sophomore and Junior and is a Co-Captain with the Yellow Jackets this season. They finished 6-4 overall and 5-4 in the Ohio Athletic Conference. Darren was a member of the 1996 Jaguars Varsity. He is pictured below picking off a pass against Augustana College.
On, January 13, Baldwin Wallace held their 2007 Football Recognition Ceremony. Congratulations goes out to Darren Cereshko for receiving the Most Outstanding Defensive Back Award for 2007. The senior captain has finished his career as a Yellow Jacket. Finishing the season with a 6-4 overall record, Darren had 9 punt returns for 99 yards, 1 interception, 31 tackles, 18 assisted tackles and 5 pass break-ups. Darren was also named to the second team All-Ohio Athletic conference. Congratulations, Darren!
Darren holds all the reception and reception yardage records at Buckeye, where he played Wide Receiver and his twin brother Dan was the Quarterback. From his Cornerback position in high school he was third all time in Career INTs, two of which he returned for TDs in the same game against Warren JFK High School. He also had 3 INTs in a game three times during the 2002 Season at Buckeye. We are proud of Darren on his overall football career and academic pursuits and wish him continued sucess after his graduation from BW in the Spring.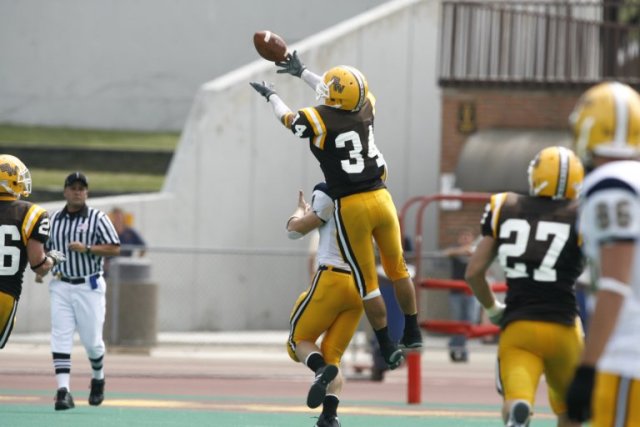 Darren #34 In Action Against Augustana

Dustin Supan
Dustin Supan - Defiance Yellow Jackets
Dustin Supan is presently playing football at
Defiance College
for the Yellow Jackets. He appeared in 9 games at Cornerback as a Sophomore this season, with 44 tackles, 2 INT, 1 fumble recovery and 7 passes broken up. Defiance finished the season 5-5, and 4-3 in their conference. Dustin played with the Jaguars JV in 1998 and the Varsity in 1999 and 2000.
As a running back at Buckeye he put up some big numbers in the record books, He put up over 1,300 yards rushing in his Senior season of 2005, he holds the all time yards per carry mark for a career with 8.1 yards per rush. He also is the only Buck to ever rush for over 300 yards in a game as he rolled over the Brookside Cardinals in 2005 with 306 yards on 21 carries. He co-holds the season TD mark at 22 in a season and is 5th on the All Time Scoring list. Dustin has done very well with his football career and academically, and we wish him more good luck on the rest of the season at Defiance.

Adam (#75) Pass Blocking For The Dragons
Adam Franz - Tiffin Dragons
Adam Franz just finished his fourth year of football at Tiffin. He was a red-shirted junior this year and played offensive guard in 6 of their elevengames. The Tiffin Dragons won the Great Lakes Football Conference (GLFC)championship going 5-0 and were 9-2 overall. They finished ranked 27th in the country for Division 2 schools. Unfotunately they missed the playoffs.
Adam made the GLFC All Conference Academic team (Honorable Mention) with a 3.33 GPA in Forensic Psychology. He is in a position to graduate this December in 3-1/2 years, and has chosen to not play his senior season to pursue law school. This past summer he interned in Washington, DC for the U.S. Marshalls. He will be receiving his second letter (and jacket) with a conference championship ring in January at their banquet.
Adam played with the Jaguars JV squad in 1996 and with the Varsity in 1997. Congratulations to Adam on his season, making the academic team and most of all in his upcoming college graduation!
Buckeye Youth Football At The Browns Game
On Saturday, August 11th, 2007 Buckeye Youth Football players, cheerleaders, coaches and their families were guests of the Cleveland Browns and Dick's Sporting Goods as they traveled to Cleveland Browns Stadium to watch the Browns and the Chiefs hook up in a preseason game.
Everyone had a great time and BYFA wishes to thank the Browns, Dick's Sporting Goods and Jon Stahl from Dick's for providing the tickets.
Jags Former Cheer Coach
Former Jags Cheer Coach Heather Jamison was at the Browns/Chiefs game with BYFA. She is posing above right with the Browns mascot which made us remember she was seen one other time posing with a mascot. She was the Jags Varsity Cheer coach back in 1999 and 2000 when they won Back-2-Back BYF Championships. I guess when you win championships you get to go to Disneyworld. (We just think she has a thing for people in hot furry costumes).

The 2004 Jaguars Varsity
Jags Come Up A Bit Short
The CCYF Jets handed the Jaguars their only loss of the season in the 2004 Championship Game. The Jets won the game 12-8 in a that went down to the final 3 minutes. The Jags were leading 8-6 deep in Jets territory when the Jets recovered a fumble and took the ball out to their own 31 yard line. On the next play they lost 5 yards back to the 25. On a 2 and 15 they threw a pass into the right flat and went 75 yards for the score to end it. It was a well played game by both teams and the game capped off the first season of play with the three organizations being involved. There were 12 Varsity teams, they played a total of 99 games, and got down to 1 Champion.
Buckeye Youth Football and the Jaguars congratulate the CCYF Jets on their 2004 BBCC Championship.

Baldwin Wallace Yellow Jackets
Former Jags Headed To College
Two more former Jags have made a choice to play football in college. Dan and Darren Cereshko have both opted to attend Baldwin Wallace College, and will play Division III football for the Yellow Jackets next season. Both Cereshkos, played in 1996 with the very first squads. Dan, a 5'11" 170 QB/DB, and Darren, a 5'11" 170 WR/DB, together broke most of the passing and receiving records at Buckeye during the 2002 & 2003 Sesaons. Dan was the Golden Buck Award Winner in 2003 and Darren was Ohio Division III Defensive Player of the Year in 2002. Congratulations and Good Luck with the Yellow Jackets Dan & Darren!

Earlier in the year former Jaguar player Adam Franz has signed a national letter of intent to play football at the Division II level for the Tiffin Dragons next season after graduation from Buckeye. Adam, 6'3" and 240 pounds, played for the Jaguars in 1997.

During high school he was in the band as a freshmen and sophomore and returned to football as a Junior. His excellent line play helped the Bucks to their first appearances in the state playoffs in 2002 and 2003. He was an All Mohican Area Conference selection this season, along with being named to the All MAC Academic Team and Co-Most Improved Player. Congratulations and Good Luck Adam!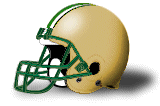 Tiffin Dragons

Returning Varsity Jets Players & Coaches
Jets Sign Added To The Fence
The Jets 2003 BYF Championship sign has been placed on the fence outside Edwin Steingass Field at Buckeye. It joins the sign for the Jags 2 Championships. Our goal? More Buckeye wins, more signs, we have plenty of fence space.

Pictured above are Head Coach Steve Watkins and Coach Mark Carrow along with the returning Varsity Jets players from last year who want to defend that title. Below are the returning Varsity Cheerleaders from last year's squad. They now become the team to beat as the season opens next weekend. Up first for the Jets will be the CCYF Vikings.

Way to go Jets, Buckeye Youth Football is proud of you!
Go Jets! Buckeye Pride!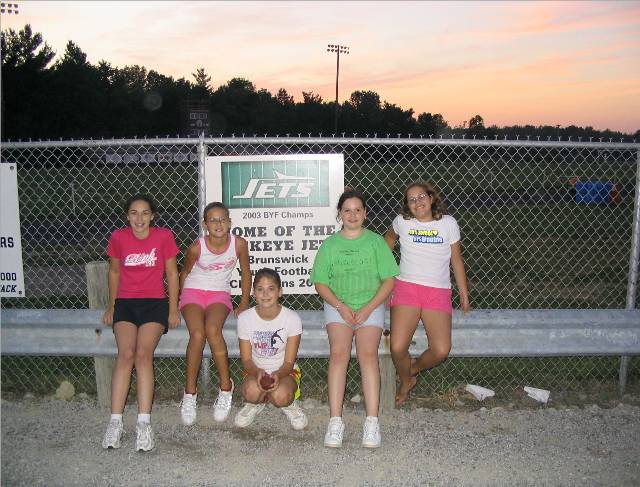 Retuning Varsity Cheerleaders

Adam Franz
Former Jags Playing College Ball
Every year we talk to the youth players about doing their best on the field and in the classrooom. We want them to show pride, heart, and discipline and aspire to be a Buckeye Buck and then go on to college. We have 3 former Jags at that level during the 2004 Season. Buckeye Youth Football is proud of them and wants to recognize their efforts!
In the spring of 2004 Adam Franz (Jags '96 & '97)signed a national letter of intent to play football at the NCCA Division II level for the
Tiffin Dragons
this fall after graduating from Buckeye last June. Tiffin improved from a dismal 2-8 season in 2002, to finish 6-5 last season. Adam, a 6'3" and 240 pound lineman, helped the Bucks to their first 2 appearances in the state playoffs in 2002 and 2003. He was an All Mohican Area Conference selection during the 2003 season, along with being named to the All MAC Academic Team and Co-Most Improved Player for the Bucks. He is a Forensic Psychology major and wants to go to the FBI after graduation. Congratulations and Good Luck in your college career Adam!
Dan and Darren Cereshko (Both Jags in 1996) pictured below, opted to attend
Baldwin Wallace
and are playing Division III football for the Yellow Jackets. BW finished 10-2 and made it to the 2nd round of the NCAA Division III playoffs in 2003. Dan, a 5'11" 170 QB, and Darren, a 5'11" 210 WR/DB, together hold most of the all time passing and receiving records at Buckeye that they set during the 2001 & 2002 Sesaons. Dan was the 2003 Iron Antler Award winner for the Bucks. Darren was a Division III All Ohio Player and Defensive Player of the Year in 2002. Congratulations and Good Luck in your careers Dan & Darren! Their Uncle Ron Brant who is pictured with them below is the All Time leading scorer and rusher at Buckeye, as well as holding several other rushing records.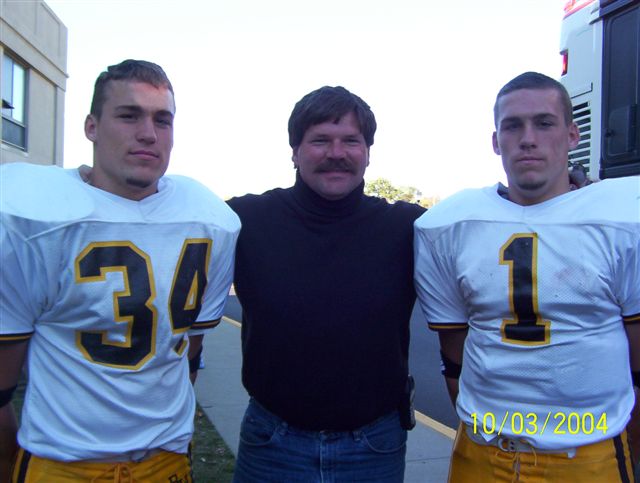 Darren & Dan With Their Uncle Ron Brant

Kayla Posing With Her Winner's Hardware
Frog Jump Champion
For over 40 years in Valley City the Valley City Chamber of Commerce has held the annual Frog Jump. Patterned after the Mark Twain story "The Jumping Frog of Calevaras County". This year's Grand Champion, with a jump of 17 feet, was a frog named "Fat" who's "jockey" was Kayla Mason. Kayla is in her 3rd year with the Jags, and is playing JV this season.
Congratulations Kayla! Great Job!

The 2002 Buckeye Youth Football Coaches
There Is No Substitute For Experience
In our opinion, one of the reasons that Buckeye Youth Football has been so successful is due to the experience and continuity of the coaching staff. We have a group of people that enjoy working together, teach the players and cheerleaders, and like what they are doing, while continuing to return year after year. Pictured above is the 2002 Buckeye Youth Football Staff. The Jets JV Staff and a couple others are missing, but this was taken during Picture night for the players and cheerleaders.
When you couple all that returning coaching experience together with the Coaches coming into their second seasons, there is 67 years of youth football coaching experience here! We are proud of that and we thank all our coaches for their continuing service and dedication to this football program.

Jadon Claire Asvestas 8/22/2002
Buckeye Youth Football Welcomes The Newest Buccaneer!
Pictured above is our newest Buccaneer, and the newest addition to the Asvestas family, Jadon Claire. Bucs' Coach Scot Asvestas, wife Stacey, along with Corey & Cayla welcomed her on August 22, 2002 at 3:50AM. She is the tiniest Buc too, weighing in at 5 pounds, 2 ounces.
Congratulations and welcome to Buckeye Youth Football Jadon! We are now two for two, as last season Jets' Coach Varney and his wife Cheryl had a new son Keegan. We wish him a Happy belated birthday! He was born on the first day of practice in 2001.

We Told You Buckeye Football Was A Family
The Newest Jet Makes A Visit To Practice
Coach Varney brought Cheryl and Keegan to practice to visit. He was born August 13, 2001 and is up to a whooping 9 pounds 3 ounces already. Mom is looking and feeling great too. We are not sure if Keegan was impressed as he watched the Varsity Jets, since he spent most of the time sleeping on Coach Rea's stomach (We think he thought it was a waterbed). He had plenty of visitor's and we are sure he will make many appearances this season.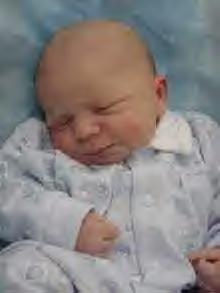 Keegan Mitchel Varney 8/13/2001

Buckeye Jaguars 2000 BYF Champs
Mission Accomplished!!!!!!!
The Jaguars successfully defended their 1999 BYF Championship by defeating the Colts 26-6 on Saturday night. Pictured below this are the 1999 & 2000 trophies.
When we began this season we listed two objectives for Buckeye Youth Football. To keep the Jags in the hunt for the 2000 BYF Championship and to get the Jets started and on the same path that the Jaguars began in 1996. We have all accomplished those two things TOGETHER! Congratulations to the Jaguar Varsity players and cheerleaders on their Championship Season, and also to all the coaches, players, and cheerleaders of the Jets for the way they have begun and laid a foundation to use in the upcoming seasons.
Congratulations To The 2000 Jaguar Varsity Players & Cheerleaders!
Mission Impossible 2
The theme from "Mission Impossible" is back as the music this year on the web page. As most of you know that music was chosen when the web page was started in August last year, as I thought it was appropriate for our team goal of winning the 1999 Brunswick Youth Football Championship.
Cheer Coach Wren Roskey used the music for the Jag Varsity Cheerleaders halftime routine all year. Best of all was when it was played during the Championship trophy presentation at Edwards Field in November. This is a new season and with it comes 2 new missions.
Mission #1:
For the Jaguars to rebuild by meshing the returning players with the upcoming JV players and stay in the hunt for the BYF 2000 Season Championship.
Mission #2:
Get the new team, the Buckeye Jets,to hit the ground running and bring to them the same principles of "TEAM" and "TOGETHER" that we have instilled in the Jaguars the last 4 years. That will be another reason to be proud of this Buckeye Youth Football program!

Tony Rizzo & Tim Roskey
Fox Sports Comes to the Brunswick
At Saturday night's 2000 Championship game we had a special guest announcer in the booth to call the play by play. Tony Rizzo from Fox8 Sports came out to do the game at the request of Tim Roskey, husband of Cheer Coach Wren Roskey. Tim is a cameraman at Fox8 and he and Rizzo do the Friday high school highlights as they visit area games aboard the SKYFOX helicopter.
Tony did a great job and the Jaguars would like to thank him for taking time out of his busy schedule to do this for the kids.
We would also like to thank Tim for filming the entire game and agreeing to edit our game films down to a highlight tape for us.
Thanks again Tony and Tim.
Inaugural Meeting of the Buckeye Teams
On Saturday night, September 29, 2000 the two Buckeye teams in the Brunswick Youth Football League met for the first time ever at Edwards field in Brunswick. The Jags, in their 5th Season, defeated the Jets, in their 1st Season, 22-0 but the game was a hard fought battle on both sides of the ball. The Jets showed that they were competive in just their 3rd game of existance and gave the Jags a fight the entire game. It won't be too far into the future that the Jets come out ahead on the scoreboard in one of these Jags/Jets contests. For the game summary and pictures check both the Jaguars and Jets home pages.

No Rock You Can't Call The Jets' Offense
BYF 2000 Raffle
On Friday night, November 17th,2000 Brunswick Youth Football held their annual reverse raffle at Sally's Party Center. The Jags and Jets had about 30 people there and everyone had a great time.
This is the biggest fund raiser the league does and it helps to buy uniforms and equipment for the next season. Click on the picture above to see more pictures from the raffle.

Squads Gathered In The Buckeye Gym
Cheer Explosion 2000 'The Year to Cheer'
Cheer Explosion was held at Buckeye High School this year. All the Cheerleading Squads of the Brunswick Youth Football League come and do their cheers and half-time routines from the season. The JV and Varsity All-Stars also show off their routines for the All-Star games.
BYF Cheer Co-ordinator, and Jag Cheer Coach, Wren Roskey was in charge of the whole thing and did an excellent job.
Youth Football Cheer Clinic
On August 9th, 2001 at Buckeye High School the some of the Buckeye High School Cheerleaders held a clinic for our Youth Cheerleaders. The Bucks' Cheerleaders helped them learn moves, cheers, and dance steps in preperation for the upcoming season. The turnout was very good and all the girls had fun. Our thanks to the Buckeye Cheeleaders for their efforts.

Coach Mercer with the Varsity All-Stars
2000 All Star Squad Selections
The All Star games were held at Edwards Field on Sunday, November 19,2000. The JV at 2PM and the Varsity at 4PM. The JV CCYF All-Stars were able to score 7 times on the BYF All-Stars to run up a 42-0 count.
The BYF Varsity All-Stars won the second contest by a score of 22-14, to give BYF the bragging rites till next year. Joe Hon got BYF on the board first with a long run for a TD in the 2nd after a scoreless 1st quarter. Later in the second quarter Michael Grywalski of the Chargers added the second score on a nice run, with Drew Megrey tacking on the extra point on a QB keeper.
In the 3rd quarter after fumbling the ball inside the 5, BYF got a safety on the next play to make it 16-0. CCYF got a TD late in the quarter on a nice pass play, but on the next play Joe Hon got off about a 45 yard run to set up a Danny Lough TD that capped the BYF scoring and they picked up the victory.
Click on the picture above to see pictures from the game.
The Jets JV All Stars: Logan Weiland, Derrick Porter, Billy Relitz, and Cody Muhek.
The Jets JV All Star Cheerleaders: Miranda Watkins, Kally Grey, Kaitlyn Hritz, and Brianna Hritz.
The Jets Varsity All Stars: David Meininger #86, John Meininger #48, Nathan Jones (did not play), Aaron Gatt #66, and Tim Mowery #20.
The Jets Varsity All Star Cheerleaders: Kelsey Beno, Sami Meketa, Anne Kenniston, and Jenna Farone.
Jaguar JV All Stars: Nick Lough, Tucker Gregor, Jacob Wuensch, and Matt Ward.
Jaguar JV All Star Cheerleaders: Dana Roskey, Jessica Arena, Amber Valley, and Kelsey Inman.
Jaguar Varsity All Stars: Drew Megrey #15,
Joe Hon #69, Danny Lough #80, Drew Soltesz #33, and Ben DiMarco #53.
Congratulations to all these players and cheerleaders on their selection and should be honored to represent their respective teams in these games. GO JETS! GO JAGS! BUCKEYE PRIDE!

Tim Editing the Highlight Video
Thanks Tim!
We would like to take this time to thank Tim Roskey for the time and effort he has expended in the filming and making of the Buckeye Youth Football highlight video for the 2000 season. Thanks Tim you did a great job filming and your editing was perfect.
We would also like to thank Tony Rizzo from Fox8 and Tracy Mattern for their narration of the Video.
Coach Rea and Tim spent over 15 hours looking at tape, editing, adding music, etc., as they put the video together. As you can see below after 12 straight hours in an editing room sometimes you want to choke someone.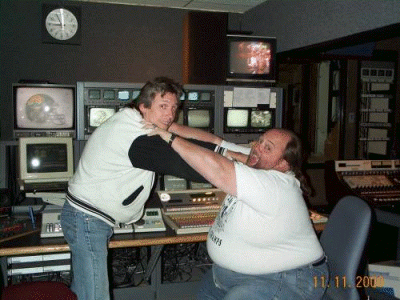 Tim & Coach Rea Work Out Their Creative Differences