Buckeye Youth Football Association: Welcome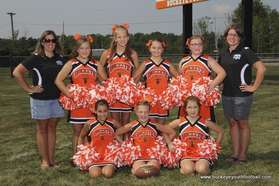 The 2014 Jaguars Varsity Cheer Squad
Home Of The Jaguars Varsity Cheerleaders
The Jaguars Varsity Cheerleaders will embark on their 16th Season supporting Jaguar Football during the 2014 Season. After not fielding a squad in 2008 they returned in 2009 and were part of the Varsity Division Champs. In 2010 & 2011 they appeared in the Championship Game but came up short both seasons and were the Varsity Division Runner Up. Last season they were in the Playoffs but did not advance to the Championship game. Congratulations girls on another fine season of cheering and supporting the Varsity Jaguars Football Team!!
Go Jags!! Buckeye Pride!!

Go Jags!!!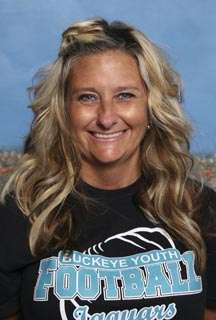 Head Coach Amy Nutter
Varsity Coaches For 2014
Coach Amy Nutter has returned to coach the Jaguars Varsity Cheerleaders. She will replace Cheer Coordinator Sheila Schnepp who had stepped up to coach the girls when we were having trouble getting a coach. Sheila is freed up to check on all the cheer squads at practice and make sure everyone is progressing and help where needed. Coach Nutter had coached three years before sitting out the 2012 Season. Her daughter Amaya is on the Varsity Squad and daughter Ava is on the Pee Wee Squad. Tracy Taylor will remain as the Varsity Assistant Coach. Welcome back Coach Nutter!