Buckeye Youth Football Association: Welcome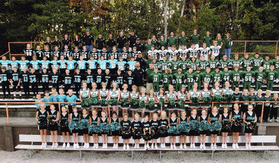 2013 BYFA Nation
Respect All!.....Fear None!!.....Buckeye Pride!!!
This site is the internet home of the Jaguars and Jets who represent the Buckeye Youth Football Association, Inc.(BYFA). Our players and cheerleaders are drawn from the Buckeye Local School District which is located in Medina County, Ohio. At the conclusion of 2013 we wrapped up our 18th Season of play. We will embark on the 19th edition of Buckeye Youth Football when conditioning opens up on July 29th, 2014 at Buckeye High School.
We started with one team, the Jaguars, who began play in 1996. The Jets were added in 2000, and the Buccaneers joined us in the 2001 season. The 2008 Season saw the creation of the Pee Wee Division for 7 and 8 year olds, and the downsizing of the JV Division to contain only 9 and 10 year olds and the Varsity becoming a 11, 12 and 13 year old division. The Buccanneers were dissolved at the end of that season in order to strengthen the rosters in all divisions.
Since the 1999 Season Buckeye Varsity teams have made 12 appearances in the Championship Game, 7 by the Jaguars and 5 by the Jets. The Jags claimed Championships in 1999, 2000 & 2009, and the Jets were Champs in 2003, 2010 & 2012. The Buckeye JV teams have made 5 appearances in the Championship game, 1 by the Jaguars and 4 by the Jets. The Jags JV claimed the Championship in 2009, while the Jets have yet to raise that trophy.
We have been committed to building a successful program that helps Buckeye Bucks high school program build a winning tradition. The Bucks have made 5 State Playoff appearances in the last 10 years. Over the first 18 years there were over 525 different players, 250 cheerleaders and 100 coaches involved with Buckeye Youth Football. We feel the program has gotten better every year. We grew from 38 kids our first season in 1996, to 201 in the 2013 season. This season we also saw a third Flag Squad and we brought back the Panthers name from 1999 to make them fit right in with the other squads.
Our web site has a page for each of the football and cheer squads. Feel free to click on any of the menu items above and explore the team sites, rosters, pictures, schedules, history, etc. Updates are done to the pages as we get new information. Please click on the picture below and sign our Guestbook at the bottom of the page we would like to have your comments! Thanks for dropping by!
Tuesday, April 1
The Clock Is Ticking!
Mail In registration for returning players and cheerleaders and any siblings that will be first time players is now open and the registration forms have been emailed out to them. We will have a walk-in registration on on April 24th at the Buckeye Primary cafeteria for all returning players, cheerleaders and any siblings that wish to sign up. New siblings must produce a birth certificate. Our second walk-in registation will be an open registration for all players and cheerleaders, returning or new sign ups. That will be held on May 13th also at the Buckeye Primary cafeteria. Both registations will be from 6:30 PM until 8:30 PM. You can download the flyers and a registration information sheet below. All the info is there including contact numbers,
This season we are looking to expand again as we did last year. We are looking for 7 & 8 year old players to fill out a Panthers Pee Wee Squad and we are looking for 5 & 6 year olds to fill out our three Flag squads. We are in need of cheerleaders from 5 through 12 and 11 and 12 year old players for our Varsity Division. A player or cheerleaders age is determined by their age as of July 31st.
Handout:
2014 Registration Flyers
Honey Baked Ham Easter Sale
It's time for our Easter Ham sale in conjunction with Honey Baked Ham. This year we have made it simpler. All you have to do is download the flyer and go to the website link on there and place your order and pay. Then the orders will be ready for pickup at the Liverpool Community Center on April 18th from 4:30 PM until 6:30 PM. Orders must be placed by April 13th. We get 15% of all the orders sold! Tell your friends and relatives they can order too! Download a flyer go to the website and order your ham, turkey, sauces or dessert. If you have any questions Eric Keller and Jon Stahl's contact information is on the flyer. Thanks for supporting Buckeye Youth Football!
Handout:
Honey Baked Ham Fundraiser
Buckeye Bucks Youth Football Camp
Buckeye Head Coach Mark Pinzone, his coaches and Bucks players will be holding a youth football camp for players from 3rd grade through 8th grade this June. The camp will have a T-Shirt, prizes, flag football competitions, guest speakers, game film and more. The camp will be held on June 17th through June 19th from 9:00 AM to 12:00 PM each day. The cost is $50.00 per participant. In the event of bad weather the camp will be held inside. The athletic trainer will be on site at all times. Please download the registration form below that has all the details and you can email Coach Pinzone at
mpinzone@buckeyeschools.org
with any questions you may have.
Handout:
Buckeye Bucks Summer Football Camp
Tuesday, April 1
Heads Up Football
Buckeye Youth Football Association will continue their partnership with USA Football and the NFL in their 'Heads Up' Program. The Heads Up program is four pronged in its delivery of these major items Education & Certification, Concussion Awareness, Equipment Fitting and Heads Up Tackling. You will be hearing more and more about this as we get closer to the season. Parents will get information and a clinic on these items just as our coaches and players will get. Eric Keller is the Player Safety Coach for our organization and will be conducting clinics for our coaches and parents after they have finished their training with USA. Eric will be going to the Browns Training Facility for his training with the USA instructors.
All of our Coaches are required to have Concussion Awarness training as mandated by the State of Ohio and USA Football. They must also become members of USA Football and complete the basic training course for Flag or Tackle Football. They must all be background checked which we have been doing for several years. We will also make sure that the coaches are aware of how to properly fit helmets and shoulder pads.
All parents will be getting a clinic on the Heads Up program at the beginning of the season we will let you know when the date is settled on. That clinics will be given by Eric Keller. In the mean time you can go on the USA Football site and get familiar with the 'Heads Up' program by clicking on the link.
The Buckeye Youth Football Association, Inc. is officially licensed by NFL Properties LLC, but none of the National Football League (NFL), its member clubs, NFL Ventures, L.P. or any of their respective affiliates or subsidiaries are sponsoring or operating the Flag League or will have any liability or responsibility for any claim arising in connection with participation in the Flag League. All NFL-related logos and marks, including, without limitation, the NFL Flag logo, are trademarks of the NFL or the respective member club.