Buckeye Youth Football Association: Welcome
BYFA Nation 2014
Respect All!.....Fear None!!.....Buckeye Pride!!!
This site is the home of the Buckeye Bucks who represent the Buckeye Youth Football Association, Inc.(BYFA). Since 1996 we have steadily been building a base of players, cheerleaders, coaches, parents and fans known as "BYFA Nation". Our players and cheerleaders are drawn from the Buckeye Local School District which is located in Medina County, Ohio. We begin the 20th Season by joining a new league. We were accepted into the Lake Erie Youth Football League in January of 2015 and will begin play there this fall. Our two teams will now be known as Bucks Brown and the Bucks Orange respectively. We will begin conditioning the last week of July at Buckeye High School as we start this new chapter in Buckeye Youth Football.
BYFA started with one team, the Jaguars, who began play in 1996. The Jets were added in 2000, and the Buccaneers joined us in the 2001 season. The 2008 Season saw the creation of the Pee Wee Division for 7 and 8 year olds, and the downsizing of the JV Division to contain only 9 and 10 year olds and the Varsity becoming a 11, 12 and 13 year old division. The Buccanneers were dissolved at the end of that season in order to strengthen the rosters in all divisions.
Since the 1999 Season Buckeye Varsity teams have made 12 appearances in the Championship Game, 7 by the Jaguars and 5 by the Jets. The Jags claimed Championships in 1999, 2000 & 2009, and the Jets were Champs in 2003, 2010 & 2012. The Buckeye JV teams have made 5 appearances in the Championship game, 1 by the Jaguars and 4 by the Jets. The Jags JV claimed the Championship in 2009, while the Jets JV claimed a Championship last year as they wrapped up their 15th Season.
We have been committed to building a successful program that helps the Buckeye Bucks high school program continue their winning tradition. The Bucks have made 6 State Playoff appearances in the last 11 years. Over the first 19 years there were over 600 different players, over 250 cheerleaders and more than 100 coaches involved with Buckeye Youth Football. Those figures don't represent all the parents who have put in their hours volunteering and bringing their kids to and from practice and games which we are greateful for. We feel the program has gotten better every year, even with bumps along the way and growing pains in certain seasons. We grew from 38 kids our first season in 1996, to 208 in the 2014 season.
Our website has a page for each of the football and cheer squads. As the winter goes on the name changes will be reflected as we replace the names and graphics but preserve the history of the former teams. Feel free to click on any of the menu items above and explore the team sites, rosters, pictures, schedules, history, etc. Updates are done to the pages as we have new information, click on the "Like' Button at upper left of the menu and you can subscribe to this page and click on the "Facebook" tab in the menu to check out our FB page too! Thanks for dropping by! Let's GO BUCKS!!
Thursday, April 23
Next Walk In Registration Is May 7th
We will have our next Walk In Registration on Thursday, May 7th from 6:30 until 8:00 PM at the Buckeye Elementary School. This registration is for RETURNING players & cheerleaders and any siblings they have that want to sign up for the first time. Please note the changes we have for the 2015 registration - all players and cheerleaders must submit a picture and copy of their most recent grade card to us. The picture can be school or sports and a wallet size is fine. You can do mail in registration but please make sure you read the Mail In info that can be downloaded below along with a registration form and physical form. Returning players and cheerleaders don't have to submit birth certificates since we have them, but any new siblings must submit them for our file.
Handout:
May 7th Walk In Registration Pack
Sunday, April 19
High School Bucks Fundraiser
You can download a copy of this flyer by click on the link below this picture. Print it and take it with you to Johnny Malloy's on Saturday, May 2nd to enjoy their food and drink and help the Bucks raise money for the 2015 Season. Let's Go Bucks!
Handout:
2015 High School Bucks Fundraiser
Mission Statement
The Buckeye Youth Football Association, Inc. is committed to providing a quality program for the children of the Buckeye School District in which they can learn the fundamentals of football and cheerleading, along with sportsmanship and having fun, in an effort to further the development of the overall Buckeye Football program. We are a non-profit 501c3 organization as designated by the IRS and the State of Ohio.
BYFA Joins The Lake Erie Youth Football League
When the 2014 Season ended the Directors of Buckeye Youth Football discussed looking for a different league to join due to the fact that our Varsity age group had been losing players due to the fact that the kids in our 12 and 13 year old age groups were moving to junior high with the success of that program in conjunction with the new head coach at the high school Mark Pinzone. We looked at 3 leagues close to us and saw that the Lake Erie Youth Football League seemed to be the best fit with their oldest age group being 10 and 11 year olds and not containing any junior high kids.
After some preliminary discussions with their league president, the Board decided that we would attend their January meeting and see if they would entertain us joining. As it turned out they made us the offer and after putting out information on the league and having a parent meeting the Directors voted to accept the offer and become members. We ended our 19 year association with Blue Devils Youth Football and will begin play in LEYFL this fall. We feel that after we have some growing pains this season and possibly in 2016 it will be the best thing for our kids.
There are now 14 teams in the league, which was formed in 2009, and of those teams 9 of them are members of the Patriot Athletic Conference with Buckeye at the high school level. That should give us a chance to develop some rivalries at this level that the kids will carry to junior high and high school.
BYFA On Twitter & Facebook
Buckeye Youth Football has a twitter account in addition to this website and their Facebook page. You can follow us on twitter @BYFAinc or find us at
www.twitter.com/BYFAinc
. The tweets are posted to the Facebook page when they are tweeted. Our FB page is
www.facebook.com/buckeyeyouthfootball
. That page is also up dated with selected posts from our website that appear there when they are posted here. You can visit the page by clicking on "Facebook" in the menu above. Stay in touch with all the information pertaining to BYFA by following us at home or on your mobile device! Go Bucks!!
Heads Up Football
Buckeye Youth Football Association renewed their partnership with USA Football and the NFL in their 'Heads Up' Program for the 2015 Season. The Heads Up program is four pronged in its delivery of these major items Education & Certification, Concussion Awareness, Equipment Fitting and Heads Up Tackling. Parents will get information and a clinic on these items just as our coaches and players will get. Coach Roy Salazar is the Player Safety Coach for our organization for the 2015 Season. He will be conducting clinics for our coaches and parents during practice times in the first couple weeks of August. We will pass that information along when he sets the schedule. Coach Salazar will be going to the Browns Training Facility in Berea for his training with the USA instructors. In the mean time you can go on the USA Football site and get familiar with the
'Heads Up'
program by clicking on the link.
We require that all of our Coaches have Concussion Awarness training as mandated by the State of Ohio and USA Football. That certificate is good for 3 years and we also must provide proof of certification to Lake Erie Youth Football prior to the season. They must also become members of USA Football and complete the basic training course for Flag or Tackle Football and renew that membership and update the Flag or Tackle certificate as required by USA Football. All Coaches must be background checked a practice weh have been doing since the 2010 season. This year we also made it mandatory for our Team Moms. We make sure that the coaches are aware of how to properly fit helmets and shoulder pads. You can click on the link for a video of helmet fitting, shoulder pad fitting and how helmets are reconditioned at Riddell here.
Bucks Youth Football Camp
Coach Mark Pinzone has scheduled his annual Youth Player Camp for Tueday through Friday June 16th - June 18th at Buckeye High School. This camp is open to all players in grades 3 through grade 8. The camp will run from 9:00 AM until 12:00 PM all three days. Cost for the camp is $50.00 per camper which includes a T-Shirt. The link to the registration form is below forms are due in by May 15th. Coach Pinzone can be reached at
mpinzone@buckeyeschools.org
if you have any questions.
Handout:
2015 Bucks Football Camp Registration
YPD Youth Football Camp
The Cleveland Touchdown Charities will sponsor a Youth Development Player Football Camp for all players grade 5 through 9. The camp will be held from July 13th through July 15th in Berea at Lou Groza Field. Cost of the camp is $175.00 with a $50.00 discount if you register before April 1st. The first day of camp runs from 4:30 until 8:30 PM, while the other two days go from 5:30 to 8:30.
The Camp Coordinator this year is former Buckeye Head Coach Chris Medaglia. Coach Medaglia was with the Bucks from 2002-2006, he was then Head Coach at Valley Forge in Parma from 2007-2008 leaving that job for his present position as Athletic Director at Valley Forge. In addition to Chris Bucks Head Coach Mark Pinzone and Assistant Coach Rich Nowak will be coaching at the camp. They will have two former NFL players on hand in the persons of former Browns Kevin Mack and Greg Pruitt. Mack was with the Browns from 1985-1993 and was a 5 time Pro Bowl player. Pruit played with the Browns from 1973-1981 and the L.A. Raiders from 1982-1984. He was a 2 time Pro Bowler and earned a Super Bowl ring in 1983 with the Raiders.
More information and online registration is available at www.ypdcamps.com. You can also contact Coach Medaglia at medagliac@parmacityschools.org.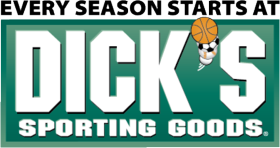 Supporting BYFA Again This Season
We want to Thank Dick's Sporting Goods for helping support Buckeye Youth Football again for the 2014 Season. Their sponsorship includes a cash donation, coupons for us to use to purchase equipment, Coach's packets, Youth Sports Kits and the Shopping Day at Dick's which will be July 19th this year at either the Fairlawn Store or the Strongsville store.