Jackson Parish Little League: Welcome
Monday, July 14
State All Star Tournaments (UPDATED)
Friday July 11: Girls 7-8 Girls Softball State Tournament (Evangeline Little League, 607 Sucrose Rd, New Iberia, LA)
UPDATE: Won 1st game on Saturday night and play Monday at 8:00 PM vs Shreveport.
Beat Bossier 7-5 on Monday in their 2nd game and will play for championship Wed at 6:00 PM
Friday July 11: Girls 9-10 Softball State Tournament (LC LL, College Oaks Center, 3518 Ernest St, Lake Charles, LA)
UPDATE: Went 2-1 before losing in the Semi-Finals
Friday July 11: Girls 11-12 Softball State Tournament (Evangeline Little League, 607 Sucrose Rd, New Iberia, LA)
UPDATE: Beat Lake Charles and Evangeline. Lost to Shreveport. Play Monday at 5:00 vs Vidalia. Winner plays in Championship game vs Shreveport.
Lost to Vidalia and placed 3rd at state.
Monday July 7: Intermediate 50/70 11-13 Boys State Tournament (Shreveport Little League, 3280 Knight St, Shreveport, LA)
UPDATE: Monday, July 7 JPLL beat Shreveport LL 12- 2 in 5 innings
Tuesday, July 8 JPLL beat Evangeline LL 16-1 in 5 innings
Thursday, July 10 Championship Game - JPLL beat Evangeline LL 13-2 in 5 innings. JP State Champions!
Will play Colorado in Game 1 of Southwest Regionals in Grand Junction, CO this Friday, July 18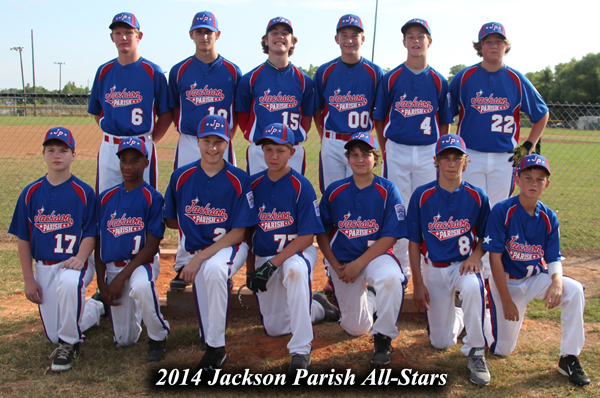 Friday July 18: 7-8 Boys Pitching Machine State Tournament (Lafayette Little League, 601 Broadmoor Blvd, Lafayette, LA)
Friday July 18: 11-12 Boys State Tournament (Jackson Parish Little League, 5254 Highway 4, Jonesboro, LA)
Friday July 18: Senior League Baseball Tournament (Mid City Little League, 2401 4th Ave, Lake Charles, LA)
Friday July 18: Intermediate Southwest Regional Tournament (Grand Junction, CO)
Friday, July 11
Jackson Parish 13 Yr Old Boys Capture State Title
In the championship game on Thursday it was Mason Miller providing an impressive two-way performance to lead Jackson Parish to a 13-2 win over Evangeline. Miller came up huge at the dish and on the hill.
Miller had two extra-base hits for Jackson Parish. He doubled in the second inning, singled in the first and third innings, and homered in the fifth inning.
Miller shut down Evangeline while he was on the bump. Miller gave up just two hits, allowed one earned run, walked none and struck out seven during his four innings of work.
Twelve runs in the opening three innings allowed Jackson Parish to easily put away Evangeline. An RBI triple by Noah Collinsworth and an RBI single by Cody Lester during the first inning and a three-run home run by Chandler Hay, a solo home run by Cason Womack, an RBI single by Lester, and an RBI double by Miller in the second inning helped Jackson Parish put some runs on the board early.
Jackson Parish will be representing Louisiana next week in the Little League Southwest Regionals in Grand Juction, Colorado. (http://www.llbws.org/llbbws/intermediate5070/southwest.htm)