Richmond Islanders 95b: Welcome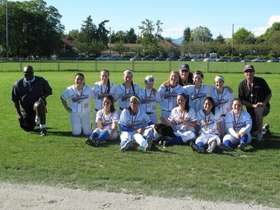 Silver Medals
Upcoming events
Monday July 8- Pitching/Infield/Outfield 6-7:30 at London
Wednesday July 10 - Practice to be announced.
Sunday July 14 - Double header vs Invaders starting at 11:00 at London
Monday July 15 Pitching at London 6-7:00
Wednesday July 17 6-7:30. Light practice at London.
Thursday July 18 Travel to Cordova Bay- Time to be announced.
Injuries hurting Islanders
Injuries have the team thin in the pitching ranks. Amanda Mattice has been sidelined since preseason with a knee injury and now Marta Gorgopa has undergone an emergency appendectomy. There is no eta on eithers return to the line up leaving Syd Stanley to carry the load. The team will be shopping around for pitching help for provincials.
Islanders off to Cordova Bay
The girls will be packing their bags and heading for Cordova Bay for the Provincial Championships on July 19-21.
Western Canadian Championships
Mark your calendars for this one. The Islanders will host teams from Alberta, Saskatchewan and Manitoba as they battle for western Canadian softball supremacy.
The Tournament will be held August 8-11 at London Park in Richmond. Come out and cheer the Islanders on.
Sponsors
The team would like to extend a big thank you to all of our sponsors including RBC, Dormel Containers , Maeda Developments and Dr. Robin Jackson. We would also like to say thanks to The Pita Pit (Garden City and Blundell) for sponsoring our POG awards.
The photo section has returned. Click on the Albums link on the left side of this page.
Please note!!!:
Check the Islanders news page for breaking news on team events such as the Team photos, Poll questions, and other breaking news.
Check the news page often for updates.
Please note the following tournament dates on your calendar:
Districts June 8, 2013 to be held in Burnaby
Provincials July 19-21, 2013 to be held in Cordova Bay
Westerns August 8-11, 2013 to be held in Richmond