Irvine Sting 18 Gold Fastpitch Travel Team: Welcome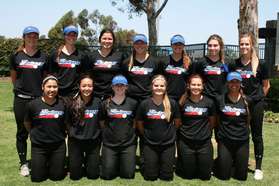 '14 STING SUMMER TEAM
Welcome to Irvine Sting 18U!
Irvine Sting 18U is the oldest team in the Irvine Travel Softball Team program. The goal of our team is the development of softball and life skills in an environment that stresses individual responsibility. We believe that our team's opportunities and successes are directly related to each player's acceptance of that responsibility.

Irvine Sting 18U is also active in helping players reach their college goals. The team attends numerous exposure events and tournaments throughout the year. These include Surf City, So Cal's Finest, the Louisville Slugger Independence Day Tournament in Boulder, and ASA and PGF championships.
Check out our "College Commitment" page to see where our players signed or are attending.
Current College Commitments
Providence College, RI - Megan McCune 2015 (Committed)
Providence College RI - Emma Lee 2015 (Committed)
Williams College - Jessica Kim 2015 (Committed) Concordia University, CA - Heather Nonora 2015 (Committed) Utah State, UT - Mia Maher 2015 (Committed) Manhattenville, NY - Chissy Woodling 2015 (Committed) Pennsylvania University, PA - Sarah Cwiertnia 2015 (Committed) Marymount California University, CA - Morgan Moczygemba 2015 (Committed)
University of Connecticut, CT - Ryne Nakama 2014
Towson University, MD - Brook Miko 2014
Towson University, MD - Olivia Baltazar 2014
Miami University, OH - Kat Lee 2014
Gulf Coast State College, FLA- Keala Cordeiro 2014 Concordia University, CA - McKenna Kilgore 2014 Rancho Santiago College, CA - Kaitlyn Lanksbury 2014 Long Beach State University, CA - Mattie Scheele 2013 Willamette University, OR - Alex Shields 2013
San Francisco State University, CA - Aryn Guzman 2013 Utah Valley University, UT - Brittney Vansway 2013 Humboldt State University, CA - Maddie Williams 2013
Abilene Christian University, TX - Tori Valdivia 2013 Claremont McKenna College, CA - Kaylilani Minami 2013 College of Southern Nevada, NV - Jill Rock 2013 Santa Ana College, CA - Annie Dowling 2013 Saddleback College, CA - Kylee Lologo 2013
Please call the Irvine muddline at 949-724-6833 for field closure updates.