Players/International : My Site News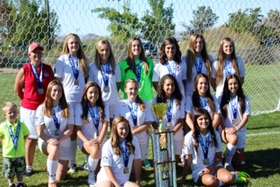 ISC U17g State Champions
ISC U15b National Presidents Cup Runner up
International Soccer Club and Players Soccer Club in Las Vegas merge clubs.
Press Release
International Soccer Club of Northern Nevada is pleased to announce a merger with Players Soccer Club of Las Vegas. ISC is a member of Great Basin Youth Soccer League of Northern Nevada.
ISC President, Randy Ritter, stated this merger will give opportunities to Northern Nevada youths players that have been previously unattainable due to our geographic location.
Players President, Saeed Bonabian is a nationally ranked youth coach and had taken a number of youth team to the national finals.
With this merger Players can provide youth athletes and coaches the opportunity to be trained and evaluated by professional coaches and college coaches. Players SC is affiliated with the LA Galaxy Academy.
Players Soccer Clubs host one of the largest college showcase tournaments in Las Vegas and on the West Coast with 500 plus teams and 400 college coaches in attendance.
Both Randy and Saeed Boanbian have stated "The merger will enhance our ability to provide additional training and playing opportunities for players in both clubs and brings a whole new level of youth soccer in Northern Nevada not seen before". NYSA President, Pam Calhoun, stated this level of cooperation between Northern and Southern Nevada only helps youth soccer.
ISC Rattlers CUFA Champions 2014
ISC U17 Girls win State Championship
U10 ISC Breakers takes Championship at 2014 Sagebrush Start up Tournament
ISC U10 Chelsea wins indoor Championship
ISC U13 Storm wins indoor Championship
ISC St. Tomas wins Presidents Cup regionals and is National Runner-up. 2013