Indian River City Little League: Welcome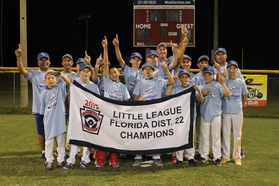 Junior League and 11/12 All Star District Champions!
Fall Ball registration: Wednesday, Aug. 5, 5-7 pm, Saturday, Aug. 8, 9 am-noon. IRC board room
Registration fee is $50.00. The Fee includes uniform (hat and jersey), games and award.
This is an instructional league and will assist with the transition to a next level of play for some players.
Participants must complete a Little League registration and medical release form to submit with your registration fee.
Boundaries are not a concern for instructional fall ball. Please make checks payable to Merritt Island Little League (MILL), cash is also accepted.
Managers, coaches and parent volunteers MUST complete/submit a 2015 Little League Volunteer Form. A Photo ID, driver's license, must accompany your volunteer form.
Practices will begin the first week of August and the season will begin the first week of September, concluding in November.
We will tentatively have a ten game/week schedule. Practice schedules are set up twice a week at IRC fields and games will be played Saturdays in Merritt Island.
If you would like to manage/coach a fall baseball team, or for additional information please contact Gio Giannini at 321-360-9468 or gio_giannini@outlook.com
=================================================================================================
Monday, July 6
Indian River City Little League