Impact Girls Soccer: Team News
Monday, May 30
Impact 97 Girls goes to Northern Arizona and finishes in the finals
Over Memorial Day weekend the Impact 97 Girls team competed in the Northern Arizona Invitational tournament and Placed 2nd. The team competed against some top ranked teams and managed to shut out three teams in competitive play. The team then went on to compete against a top ranked New Mexico team battling it out all the way into sudden death penalty kicks placing second after all the dust settled. The team improved a great deal over the season and is to be congratulated on their efforts.
Monday, March 28
Impact 97 girls
Impact 97 girls at the Premier tournament
Monday, March 7
Impact 98 RG takes first place
After a hard wet weekend in Saint George Utah playing against some strong competition, Impact 98RG brought home the first place prize. The team played in harsh conditions and on top of that the last day of competition they had to play 3 games in oder to come home with the first place trophy. Good job and congratulations girls, job well done.
Friday, February 4
Impact 98 RG takes First Place in the SilverState Invitational
Impact 97 competes in the 2010 Labor Day Classic
Impact 97 competed in the Las Vegas Labor Day Classic placing in the Simi finals gold division. They had strong competition competing against teams like the 11th ranked California Chula Vista Rangers, winning 1 - 0. Congratulations!!!!
Sunday, August 29
Impact teams compete in Toyota of Orange County Classic
Newly formed Impact 98RG and Impact 97 competed in the annual Orange County Claissic tournament. It was a tough tournament competing against California state ranked teams, The girls competed well and had a great time.
Sunday, December 6
Impact 97 takes first place in the annual Rug Rats tournament
Impact 97 takes first place after playing against division and silver state teams in the annual Rug Rat tournament. Out of four games played only one goal was scored against the team. Congratulations Girls for another job well done.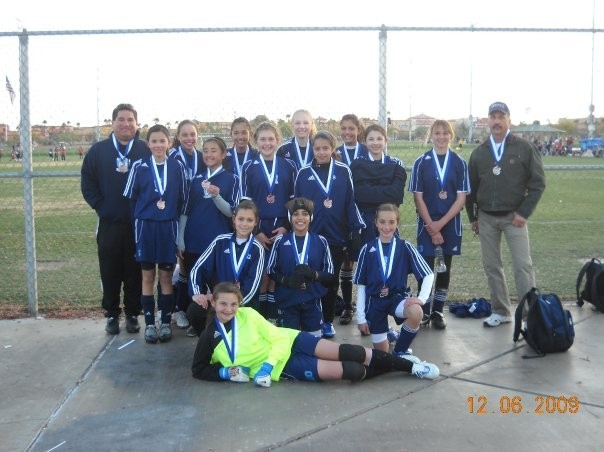 Great Job
Thursday, August 27
Impact 97 and 98 place 1st in indoor soccer
Sunday, May 24
Congratulations to Impact 98 and Impact 97 for placing 2nd in the Jammers Memorial Tournament
Congratulations Impact 98
Impact 97 and Impact 98 teams took second placed during the Jammers Memorial tournament. Impact 98 missed taking first place by one point due to a tie against Neusport in the final game. Both teams played exceptional soccer and would like to thank the guest players from DSC that helped to make the weekend a success.

Congratulations
Saturday, December 27
Impact 97 Competes in 3V3 Live, Places 2nd and 3rd, Advances to Western Finals
Impact had three teams compete in the regional 3V3 live tournament. Two teams from Impact 97, the blue and the white team placed 2nd and 3rd having to compete against each other in the semi finals before moving on to the finals. Impact 98 placed 5th and all three were asked to play in the Western Finals here in Las Vegas.
Saturday, January 3
Impact places 5th in the 3V3 Western finals
Impact competed in the 3V3 western finals and placed fifth, the team competed against teams from California, Arizona, New Mexico and Nevada to place fifth overall in the competition.
Sunday, January 25
Impact 97 takes first place in the Silver State Invitational
Impact 97 played against teams from Arizona, California and Nevada in the annual Silver State Invitational to win first place in the U12 Girls Silver division. Through all games played only 1 goal was scord against the team. Congratulations Girls!