.
.
.
Consistent offense behind the dominant pitching of Gardner, Verdun, Bunzell &
Connolly .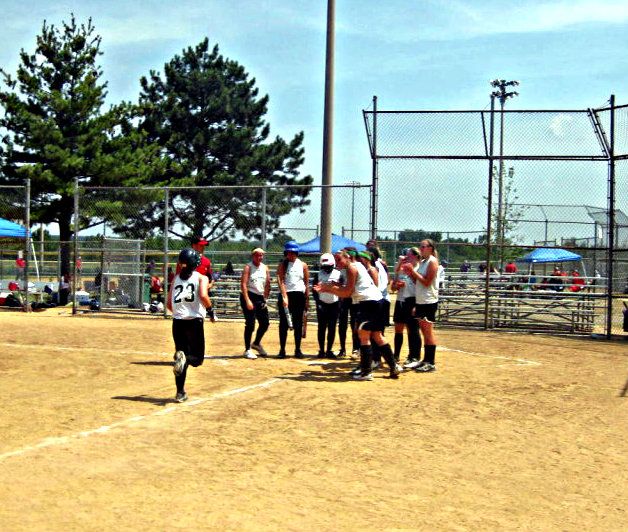 Kelsi Jones
Mizzou's Kelsi Jones greeted by happy Slammers after blasting one
of her tournament best 3 home runs. Kelsi also led the
tournament with a .619 average and 10 rbi's. Over the first
three tournaments Kelsi maintains an astounding .609 batting average while
leading the Slammers in practically every offensive category including 4
home runs, 22 runs scored and 19 rbis.
.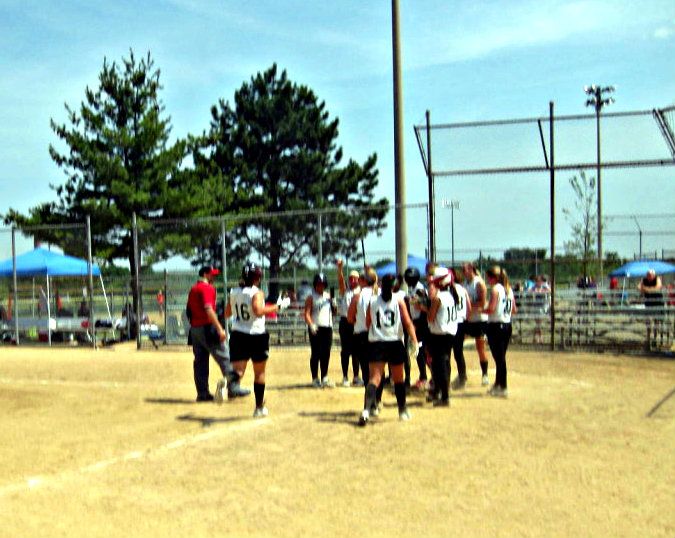 Liz Watkins
Liz will be missed these last two tournaments. Her leadership,
explosive bat and ability to handle the Slammer pitching staff
is second to none..... but we know she will be back
next season. Here she is greeted after crushing a HR in
our 9-1 pool play win over Adrenaline.
.
Kirsten Verdun
Kirsten didn't miss a beat after leading DePaul into the NCAA Regionals
and being honored as an AFCA All-American. In this tournament
she won 2 games and led the pitching staff by not allowing
an earned run. As an exclamation point Kirsten also posted
a .400 batting average for the tournament.
.
.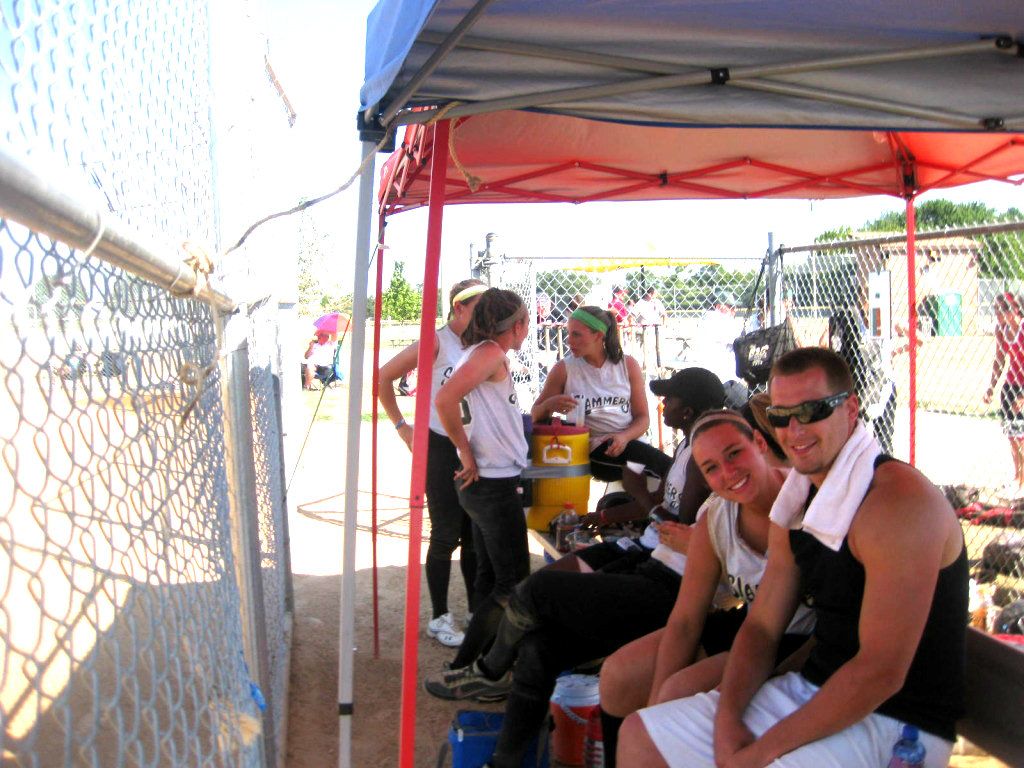 Serious Heat
Liz & Zach catch some shade between games.
.
Ill Wind
Lack of shade and high wind gusts did not dampen the enthusiasm
of the Verduns and other Slammer parents.....but that umbrella just doesn't look right.
.
Meaghan Sullivan
One of the Slammer's most prolific hitters and a great defensive
infielder Meaghan was named first team All-Horizon League from
Butler and chosen to the All-Tournament Team at the Horizon
League Softball Championship.Through our first 3 tournaments Sully
carries a .462 batting average.
.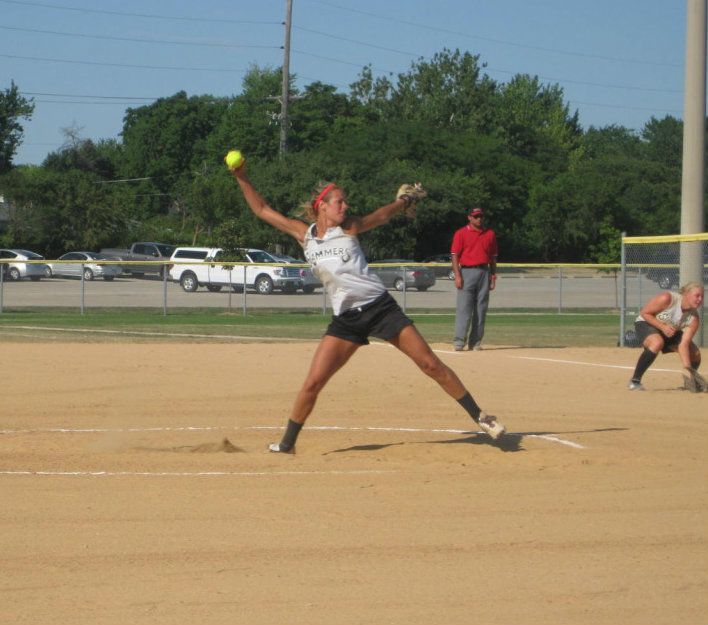 Torie Bunzell
DII all-time strikeout leader Torie Bunzell, along with Brit Gardner,
Kirsten Verdun and Mary Connolly did not lose a game and
collectively posted a phenomenal .075 tournament ERA.
.
Brittany Gardner
Horizon League Pitcher of the Year Brit Gardner picked up 3 tournament
wins and posted a 0.48 era. For the year Brittany is 5-0 with
a 1.1 era, struck out 46 batters in 35 innings and has been invaluable
coming into tough situations and closing out the opposition.
.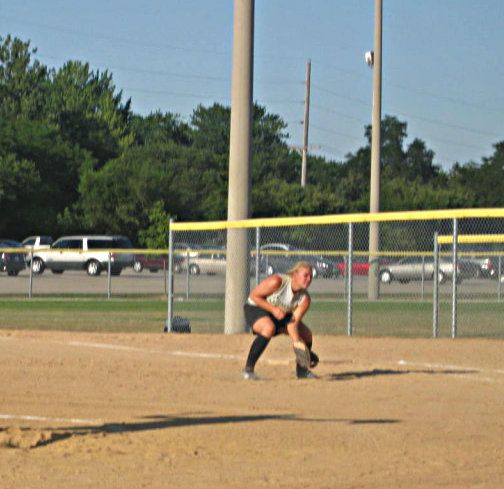 Coryn Schmit
UIC's Coryn Schmit followed up her IL State All Tournament performance
with another great tournament. Hitting .600, driving in big runs and
proving invaluable on defense by rotating at first base and
relieving Watkins behind the plate in the 100 degree heat.
.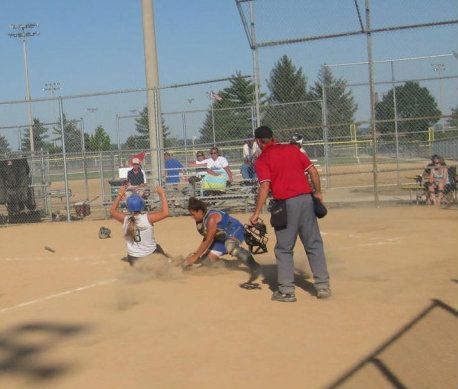 Mary Connolly
Mary Connolly scoring on Watkin's base hit in Championship game vs
Wisconsin Elite. Connolly was also on the front end of a perfectly
executed double steal of home by Verdun in the previous win over
the Silver Hawks. Mary along with being an offensive force was also
part of the 4 headed monster Slammer pitching staff.
.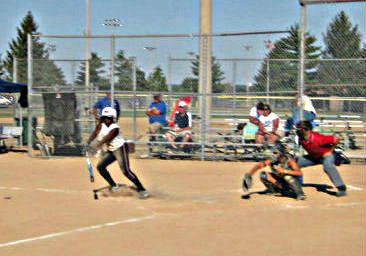 Shawna Sadler
The speed and bat control of Shawna and Jhavon Hamilton
at the top of the Slammer line-up constantly jump started the
offense. Hitting .500 for the tournament Shawna was one of five
Slammers who hit .500 or better. ( Sadie Conner .500, Coryn Schmit .600,
Jhavon Hamilton .611 and Kelsi Jones .619)
.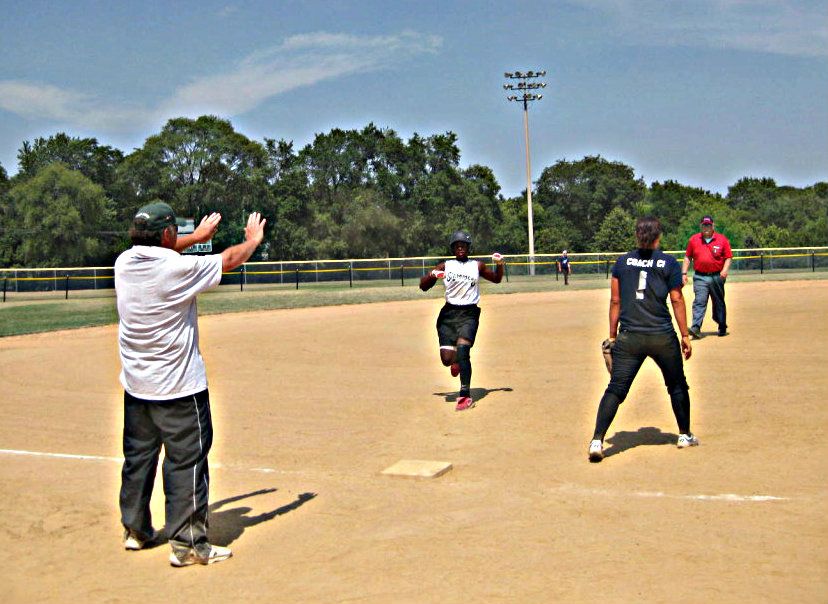 Jhavon Hamilton
Bob puts the brakes on Jhavon after she slashed a triple down
the RF line. While not getting her usual one or two over the fence, Jhavon
repeatedly hit rockets down the line and into the gaps ending up
with a .611 BA and a team best .632 OBP.
.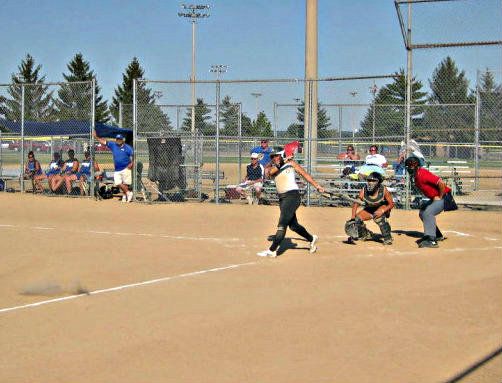 Sadie Conner
Sadie played all infield positions and, as usual, turned on her Sunday
power while hitting .500 for the tournament. Sadie is not shy about attacking a softball.
.
Melissa Preish
Watching UIC's Melissa Preish execute a slap one can appreciate
the skills that earned her a first team All Horizon League berth this year.
For the college season she hit .399.
.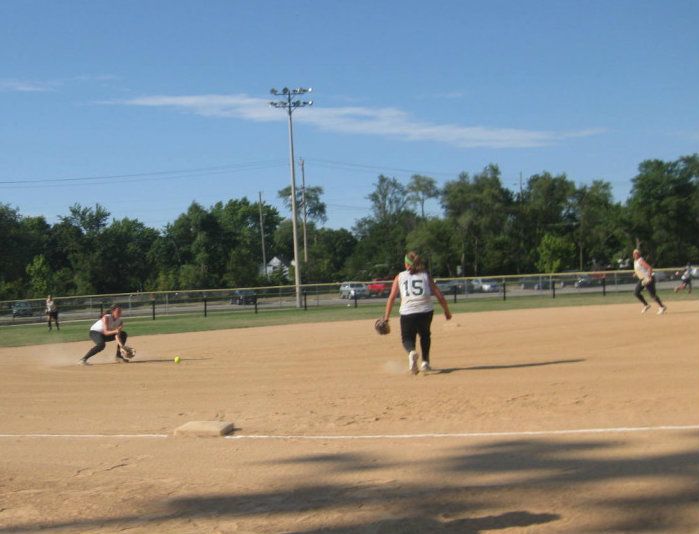 Ashley Sullivan
Xavier shortstop proved why she is so highly regarded by
playing very steady defense for the Slammers. She made the most memorable
defensive play of the tournament leaving her feet and stabbing
a line drive headed for left field securing the final out of the championship game.
..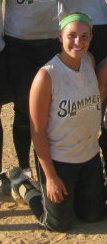 . . Jenna Marsalli
Jenna played an errorless tournament repeatedly converting tough stops at third.
The UIC third baseman hit .455 for the tournament
with a .539 OBP. Great job Jenna!
.
Elgin Final Finish
.
Champions -- Indiana Slammers
Runner-Up -- Wisconsin Elite
Third place -- Northern Illinois Lightning and Bartlett Silver Hawks
Consolation champs -- Bloomington Lady Hearts.
.
. .