Champions Cup
2004
Bill Barber Stadium
Irvine, CA
Slammers Take Two Games Playing World's Best At Champions Cup
Bill Barber Stadium Irvine, CA
July 16,2004
Head Coach & team Founder ---- Bob Zivic ---- Hobart, IN
Coach ---- Dave Wilson ---- Homewood, IL
Coach ---- Kirk Piehl
CHAMPIONS CUP FIELD

1. All American Softball
2. Team Canada
3. Australia
4. USA Elite
5. Chinese Taipei
6. Venezuela
7. Japan 2
8. Hurricanes
9. Scorpions
10. IN Slammers
11. Storm USA
12. Teamsmith
Top: Jess Wilson, Danielle Zagorski, Blair Branson, Jessica Conant, Angela Toures, Devan Craig
Bottom:Kate Witham, Sonny Oelling, Maggie Bruening, Casey Clutch, Erin Kardash, Becky Wilson
July 14 - 18, 2004

After a solid 2004 performance against the 12 team field at Champions Cup featuring 4 OLYMPIC teams and 7 of America's premier women's teams , the Indiana Slammers accepted Tournament Director Gary Wardein's invitation to return to this prestigious tournament in 2005.
Next year the field will expand from 12 to 16 teams evenly divided between foreign national teams and American squads.
Slammer highlights this past week included a narrow 2-0 pool play loss to the Chinese Taipei national team ranked 3rd in the world. The game was highlighted by a stellar four hit pitching performance by Devan Craig who suffered the narrow defeat. Devan, who pitches for IUPUI, went on to maintain a brilliant 1.50 ERA for her 3 game stint at this world class tournament.
Slammer victories came over defending class C National Champions All American Softball (WP-Craig) as well as a victory over Schutt Hurricanes (WP- Jessica Wilson), another tough California club team.
This year's Champions Cup was taken home by Team Australia who beat Canada 7-1 in Sunday's championship game. Both teams will soon head to Athens to play in the 2004 Olympic games.
2004 Tournament Schedule
June 12-13 Bloomington, IL
June 19-20 Pontiac, IL
July 10-11 N. Illinois Lightning Invitational, Elgin, IL
July 14-18 Champions Cup, Irvine CA

Thursday, July 8
Slammers head to Elgin then Champions Cup in Irvine, CA
After a 2 week midseason layoff following the Pontiac Invitational, the Slammers resume play at Elgin on Saturday and Sunday and immediately fly to Irvine, CA on monday July 12 to begin play at the pestigious Champions Cup Tournament.The 12 team field includes foreign olympic teams that are competing this week at Canada Cup.

Sunday, June 13
Slammers finish 3-2 at Bloomington Lady Hearts Tourney
.
In the season's first tournament at Bloomington/Normal the Slammers took 2 out of 3 pool play games beating Celina Suns twice 2-0,5-1 then lost to Bloomington Lady Hearts 6-0.

On Sunday in single elim Bracket play the Slammers won the opening game 5-1 over the Illinois Lightning, but were then eliminated by the Peoria Outlaws 7-0.

Game stats & details will be posted later.

1- St.Louis Saints
2- East Peoria Lady Rage
3- (tie) Decatur Misfits & Peoria Outlaws
Shorthanded Slammers take 4th at Pontiac
June 18,2004

Playing with 10 players on Saturday and 9 on Sunday, the Slammers acquited themselves well by taking home a fourth place trophy. Hands down, shortstop Maggie Bruening was our weekend MVP making repeated spectacular defensive plays while adding timely hits.

Pontiac Finish:
The Rage prevailed 1-0 over the Outlaws in the Championship game.
1. Rage
2. Peoria Outlaws
3. Misfits
4. Indiana Slammers

Con Bracket:
1. IL Eagles over Lisle Powerhouse

With the exception of Blair Branson who will rejoin the team for Champion's Cup in CA, we will have a full compliment of players at Elgin on July 11-12.

2004 Tournament Schedule
June 12-13 Bloomington, IL
June 19-20 Pontiac, IL
July 10-11 N. Illinois Lightning Invitational, Elgin, IL
July 14-18 Champions Cup, Irvine CA

Jessica Wilson, Angela Grabzack, Casey Clutch, Erin Kardash
These 2004 players returned for 2005 season and their pictures and profiles can be found in 2005 Full Time Player section.
Thursday, June 3
Blair Branson, Infielder, IUPUI
The 2004 Slammer roster is now complete with the addition of Junior infielder Blair Branson from IUPUI. She is a multi position infielder who can actually play all infield positions and play them well.

Welcome Blair!!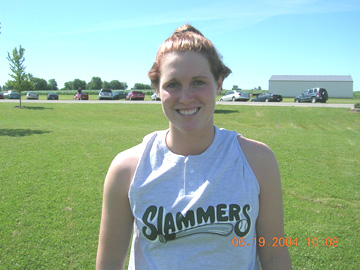 Blair Branson, Inf
Rock'n Baby
A last minute walk-on....has all the moves. College major Pediatrics
Tuesday, June 1
Jessica Conant , Univ of Indianapolis
The 2004 Slammer squad has been strengthened with the addition of catcher-outfielder Jessica Conant. Formerly a Bradley Brave, Jessica now plays for the Greyhounds at the University of Indianaplois. Second on the team with a fine .284 average, Jess also led her team in doubles, at-bats, 2nd in rbi's, and struck out only 9 times in 116 at-bats.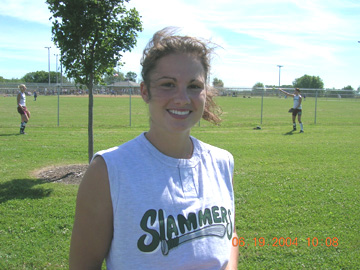 Jessica Conant, C, OF
Thursday, April 15
Devan Craig from IUPUI added to pitching staff
Slammers finalize 2004 pitching staff by signing Devan Craig (Lafayette, IN.) Devan pitches and plays infield for the IUPUI Jaguars in Indianapolis. She currently has a 1.75era, 91.1 IP, only 13 BB while facing 355 batters with 45 SO.
Welcome Devan !!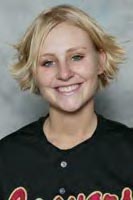 Devan Craig, IUPUI
Sunday, April 18
Sunny Oelling Joins Slammers
SLAMMERS WELCOME USI LEADOFF HITTER SUNNY OELLING

Valpo native Sunny Oelling was added to the Slammer roster as the outfield replacement for Angie Grabczak who recently tore her MCL and will be out for the summer season. Sunny's impressive offensive stats at USI speak for themself and we definately look forward to some pop from her bat when the bell rings for that first tournament in June. Welcome Sunny!!

2003: Earned first-team All-GLVC and All-Region honors after exploding onto the scene with a team-high .401 batting average...ranked third in the conference in batting average and was second in the GLVC in hits (63) and triples (4)...also was fourth in the GLVC with 34 runs scored...played and started all 45 games for USI in 2003...recorded a team-high 14-game hitting streak...hit .435 with two doubles, two triples, and six RBIs in GLVC play...named 2003 Kiwanis Mental Attitude Award winner...earned Academic All-GLVC honors for the second straight season.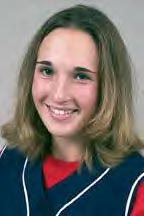 Sunny Oelling, USI
Sunday, March 14
IPFW LEADING HITTER BRUENING JOINS SLAMMERS
Head coach Bob Zivic announced today that middle infielder Maggie Bruening from IPFW will join the Slammers this summer. Maggie was one of 3 IPFW players to make First Team All-Independent League 2003.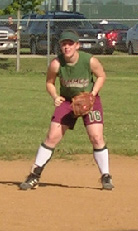 Maggie Bruening, Inf
Wednesday, February 25
OLIVET CATCHER ZAGORSKI BRINGS POWER
Hard hitting Tiger catcher Danielle Zagorski ( Munster, IN/ Munster HS) is a returning Slammer who is recovering from rotator cup surgery. Slammer head coach Bob Zivic refers to Zagorski as "one of the best at her position" and fully expects Danielle to be 100% healthy this summer.

Danielle Zagorski, Olivet
Wednesday, March 24
SLAMMERS WELCOME BRADLEY BRAVE'S ANGELA TOURES
Yet another new face will be on the 2004 Slammers. Junior Angela Toures will add additional firepower to an already potent lineup as well as a steady infield glove. Welcome Angie!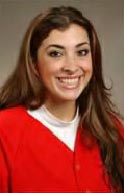 Angela Toures, infield
Mandy Wilhelmi - Infield - Albion College
IF Joined the Slammers in 1999. Batted .345 in the 2003 season. Mandy plays a fearless and extremely intelligent third base.....one of the best in the business on bunt coverage.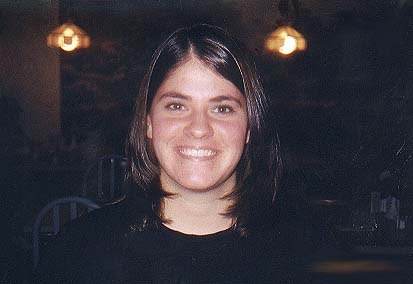 Mandy Wilhelmi
Abby Wilhelmi - Outfield - Albion College
Joined the Slammers in 1999. Abby's 2003 season was cut short to complete a semester of college in Australia. Ended the season batting .400. Abby is a pure power hitter and with her speed, is a real threat on the base paths.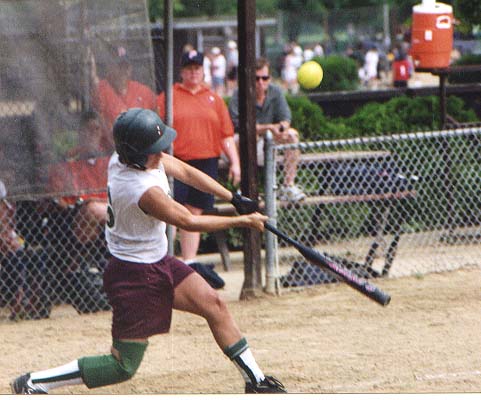 Abby Wilhelmi
Becky Wilson - Catcher - UIC
After recovering from an injury playing for the Orland A's, Becky joined the Slammers at the Fall BlueberryFest Tournament in Hobart, IN 2001 and then played a full season for the Slammers in 2002. In 2003, Becky hit .278 tying for second on the team in doubles and rbi's. She is extremely quick and agile behind the plate, great at calling pitches, and her rocket arm totally controlled the running game of Slammer opponents.

After her freshman year playing for the UIC Flames on an athletic scholarship Becky decided to focus on a para legal degree transferring to South Suburban College in 2004. No longer playing college ball Becky did not lose her skills or love of the game and was a full time player for the Slammers in 2004.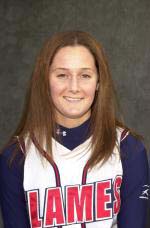 Becky Wilson, UIC Flames
Katie Witham, IU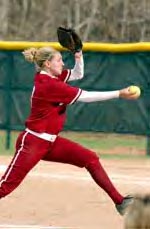 Katie Witham


Now and Forever