Peoria, IL
August 5, 2006
.
Monday, July 10
ELGIN CLASSIC July 8-9, 2006
Elgin Photo:

Smith, Karos, Jacobs,Steele,Diller
Werner,Liden, Clutch, Andjelich




SLAMMERS WELCOME 2 SIU STANDOUTS:

Besides Tiffanie Dismore, two Salukies will join the team at Pekin this weekend for the ASA Women's State Tournament. Soph outfielder Krystal Stein, and soph infielder Lauren Haas. Check 2006 PLAYERS for player photos and school profiles.



Here is a list of the teams that will be in Pekin for the ASA Women's State Tournament July 22-23,2006.

Slammers
Rage
Misfits
Offspeed
Cougars
Explosion
Pekinlettes
Hearts
Elite Force
Saturday, July 1
Slammers Head To Elgin July 8-9 For 2006 John Radtke Memorial Fastpitch Classic
Monday, June 19
Slammers Open Season At Pontiac with Impressive Team Performance......take Second Place.
TOP ROW L-R: Abby Liden (IPFW),Ali Arnold (Iowa), Shanna Diller (Univ of IL), Casey Clutch (Univ. of Evansville), Denise Ireton (GVSU), Elizabeth Smith (GVSU)

BOTTOM ROW: Erin Glasco (Notre Dame), Ashley Werner (Univ. of Evansville), Jenny Jacobs (Butler), Lori Andjelich (GVSU)
Ashley Werner Steals 2nd vs Misfits
Teams that were at Pontiac:

Misfits
Dolls Rebels
Chicago Attitude
Zion Falcons
Romeoville
Aurora Raiders
Mid-Suburban Panthers
Lady Blues
Oak Lawn Ice
Illinois Inferno
Sauder Sports Explosion
Glenside Raiders
Slammers


Slammer Game Recaps:


Sat June 17,2006
POOL GAME 1: Slammers 2 Illinois Inferno 1


After retiring the 1st eleven Inferno batters, Ali Arnold had a 2 out grounder deflect off her glove for the Inferno's first hit in the 4th inning. This was followed by a run scoring double producing the only run Ali gave up as the Slammers eventually won in a tiebreaker 2-1.

The Slammers tied the game in the 7th when Smith singled, advanced to 3rd on two passed balls, and scored on a base hit by Casey Clutch. Clutch was out stealing at 3rd to send the game into an 8th inning tiebreaker.

After Arnold blanked the Inferno in the eighth Clutch was the tiebreaker on second base to start the Slammer 8th inning. Arnold bunted Casey to third, then Andjelich dropped another perfect bunt allowing Clutch to cross the plate with the winning run.

Arnold went the distance giving up 3 hits, striking out 12 while walking noone. Liz Smith had a double and single, while Clutch also had 2 hits.

WP: Arnold IP-8 R-1 ER-1 H-3 BB-0 SO-12




POOL GAME 2: Slammers 11, Sauder Explosion 0


Lori Andjelich had plenty of support as the Slammers scored 6 runs in the 1st inning, and 4 in the second inning. Lori allowed only 1 hit as the game was called a slaughter after 4 innings.

Ashley Werner and Shanna Diller both doubled as the Slammers collected
a total of 13 hits.

WP: Andjelich IP-4 R-0 ER-0 H-1 BB-1 SO-4



POOL GAME 3: vs Raiders (Rained out)



SUNDAY June 18, 2006
CHAMPIONSHIP PLAY GAME 1: Slammers 6 Glenside Raiders 2


After allowing a single to the first Raider batter she faced, Ali Arnold (U of Iowa) retired 16 in a row until surrendering the Raider's only two runs in the 6th and final inning.

Denise Ireton (IPFW) drove in a total of 3 runs going 3 for 3 with a single, double and triple. She scored the Slammer's 6th and final run in the 5th inning coming home on a perfect suicide squeeze bunt by Casey Clutch ( U of Evansv).

Shanna Diller (U of IL) had a single and a double, while leftfielder Jenny Jacobs (Butler)smacked a long solo home run in the second inning. Casey Clutch and Erin Glasco (ND) each had doubles while Abby Liden (Grand Valley State) and Shanna Diller scored 2 runs apiece as well as each stealing a base.

WP Arnold IP-6 R-2 ER-2 H-5 BB-0 SO-10


CHAMPIONSHIP BRACKET GAME TWO: Slammers 6, Dolls Rebels 5


While ending up winning the game, Slammer pitcher Lori Andjelich survived a 3 run 4th inning highlighted by 6 Rebel singles, most being "seeing eye" rollers between the infielders. Denise Ireton torrid hitting streak continued with 2 singles and a home run making it 8 hits in her last 8 at bats. In that span she also drove home a run with each of her final 6 hits.

Abby Liden doubled twice scoring 2 runs while Andjelich kelped her own cause with 2 hits and a second inning rbi.

Andjelich (WP) IP-4 R-4 ER-4 H-7 BB-1 SO-3
Arnold IP-1 R-1 ER-1 H-2 BB-0 SO-1 HBP-1


CHAMPIONSHIP GAME: Misfits 2, Slammers 0

Andjelich retired 9 of the first 10 batters and didn't allow a run until the 4th inning when Lemont of the Misfits hit a one out triple, then scoring on a groundout to first. Another run (unearned) was added in the 5th inning and the Slammers lost 2-0.

The Slammers almost pulled it out in the last inning when Elizabeth Smith walked with one out, followed by a double to right field by Erin Glasco. With the tieing run on second base Arnold grounded out leaving it up to Ashley Werner. Ashley then crushed a rising line drive that almost cleared the leftfielder who reached up and made a nice catch to end the game. A few iches higher and it would have been a 3 run homer.

Andjelich (LP) IP-4 1/3 R-2 ER-1 H-3 BB-0 SO-5
Arnold IP-1 2/3 R-0 ER-0 H-0 BB-0 SO-2
Errors (1)Werner CF
Ali Arnold In Relief vs Misfits



Bon Jovi Summertime

Friday, May 26
Salukis Outfielder Tiffanie Dismore Strengthens Slammer Outfield


Tiffanie Dismore, SIU
The Salukies went 35-13 in 2006 with Tiffanie as a starter in 47 of the 48 games. With her speed and excellent batting stroke (.311) the Slammers have found a very good outfielder.

Welcome Tiffanie!
Tuesday, June 6
Slammers Welcome Hard Hitting Butler Outfielder Jenny Jacobs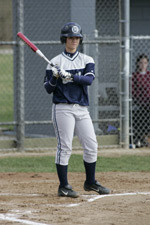 Jenny Jacobs, OF
Slammer Head Coach Bob Zivic announced that Jenny Jacobs will play for the Slammers this summer. Jenny, concluding her sophomore year, lead the Bulldogs in HR's and RBI's and had a solid .289 avg.

Welcome Jenny !!

Ashley Werner,OF

Tuesday, June 6
More speed added with Outfielder Ashley Werner from the Evansville Purple Aces

Ashley brings base stealing speed and also swings a good bat.

Welcome Ashley!



Casey Clutch
Sunday, June 11
Three Key Slammers Return For 2006 Season
Forming the core of the 2006 Slammers are three outstanding returning players. First there is Casey Clutch who carried her brilliant high school pitching performances into her 4 years at the University of Evansville where she was the mainstay of the staff for the Purple Aces. Casey broke her arm playing for the Slammers last year, but is now ready to go. Not only is Casey a dominating pitcher and a fierce competitor, but she is also a fine infielder who can swing the bat with the best.

The next returning Slammer is U of Iowa star pitcher Ali Arnold who joined the Slammers for their last two tournaments in 2005. Now graduated from Iowa, Ali showed how good she was with lights out performances when the Slammers went undefeated to capture the AFA National title in 2005. Ali Arnold's career speaks for itself. Probably has one of the most stellar HS pitching careers in the history of HS softball in Illinois. Her dad Graham was considered one of the best men's fastpitch pitchers in the world during his playing days. Ali is going to China in August to pitch for New Zealand National Team in the World Cup.

Finally, it is great to have Eastern IL star outfielder Katy Steele returning.She followed up a great freshman year with strong sophomore and junior year performances for the Panthers. Katy is a top defensive player both in the outfield and infield and has been among the Eastern's top hitters all three years of her college career.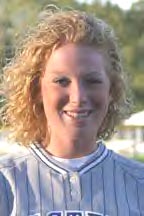 Katy Steele, OF, E. IL
Tuesday, June 13
Eastern Illinois Panthers Top Hitter Rachel Karos Joins Slammers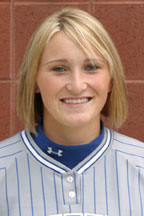 Rachel Karos,Inf
It's not everyday a team is lucky enough to pick up a player with the stats Rachel Karos put up at Eastern Illnois this year. The slick fielding 3rd baseman posted a .362 season batting avg to go along with a terrific . 438 on base percentage.
Rachel also led her team with 15 stolen bases in 19 attempts.

Welcome to the Slammers, Rachel!
Thursday, July 20
Lauren Haas, Soph Infielder (Click photo for academic honors.)

Lauren Haas Inf, SIU
Thursday, July 20
Krystal Stein, Soph OF, SIU (Click photo for academic honors)

Krystal Stein, SIU
Friday, August 4
Ashley Clement, C, N. IL Huskies

Ashley Clement, C, N. IL
Tuesday, August 8
Sarah Needy, OF, IUPUI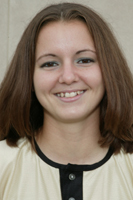 Sarah Needy, IUPUI
Tuesday, April 18
2006 Slammers Welcome 3 Grand Valley State Standouts
Lori Andjelich Denise Ireton Liz Smith

Head Coach Bob Zivic is pleased to announce GVS players Elizabeth Smith, Lori Andjelich, and Denise Ireton have joined the 2006 Slammers.

Liz Smith played outstanding defense while catching and playing infield for the Lakers committing only 1 error all year, hit .284 and smacked 5 HRs.

Lori Andjelich, only a freshman, led her team in innings pitched, strikeouts, and maintained a knockout 1.51 ERA, also best on the team.

Denise Ireton, a history major, was named to the All-GLIAC Second Team. She tallied a .292 batting average in her last season with the Lakers, posting eight doubles, three triples and a team-high seven home runs.

Welcome ladies! You will enjoy your summer and we all look forward to meeting each other when we open the 2006 tournament season in Pontiac, IL June 17-18.

Click on photos for more on these players.
Tuesday, April 18
Slammers Land IU Infielder Kari Bettenbrock For 2006 Season
Welcome to Kari and parents Von and Kim Bettenbrock.

Described by head coach Bob Zivic as a player who can "flat out hit", the
Slammers extend a warm welcome to sophomore IU infielder Kari Bettenbrock. Kari was hurt most of her freshmen year having surgery on her hand before the start of the spring season, but now that she's healed we know that Kari will be looking forward to blasting a few base hits and helping the Slammers as they come off a most successful 2005 season.
Friday, May 5
Wecome IPFW Sophomore Shortstop Abby Liden
This hard hitting infielder out of Zionsville,IN will certainly be a welcome addition to the 2006 Slammers.
Sunday, May 28
Fighting Illini Star Infielder Shanna Diller Joins Slammers

Shanna Diller, U of I
With 2 years experience playing 3B and SS and carrying some of the best hitting stats in the Big Ten, Shanna Diller is a very welcome addition to the Slammers. She is also an outstanding student being named to the ESPN the Magazine Second Team Academic All-District 5. The team is voted on by district members of the College Sports Information Director's of America (CoSIDA).
Sunday, May 28
Injury Puts Abby Gross on the Sidelines Until Spring of 07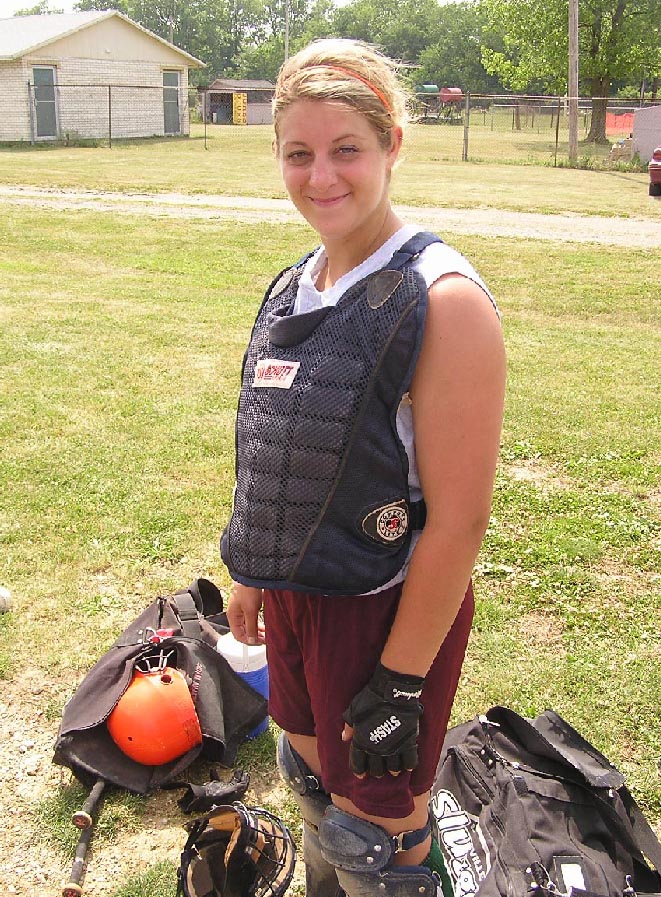 Abby Gross at Decatur 05
On May 6th Abby was batting against Kent State and in the 6th inning was struck by a pitch, but uninjured. The next day on Sunday May 7th, in the 2nd inning of the last game of the season vs Kent state, she was again struck by a pitch, this one breaking a finger on her right hand. Right now she has a cast on her right hand, and it appears it will stay there for around 5 weeks.

If the finger heals as it should Abby will be back in the Ball State lineup next spring. Not only will she miss being able to play for the Slammers this summer, but the Slammers will definately miss her winning spirit, her over-all leadership behind the plate and her her offensive prowess in the line-up.

Abby led both the Slammers and Ball State in almost every offensive category. (click photo for stats)

On the bright side Abby accepted an offer to coach a 10 and under travel team this summer. They are a lucky group. Best of luck Abby, and we'll see ya next year behind the plate for the Slammers.
Friday, June 2
A Big Welcome to Fighting Irish Catcher Erin Glasco

Erin Glasco, ND
With the loss of Abby Gross Erin will provide stability, leadership and experience. She is another piece added to this team made up of players who not only excell on the diamond, but who have reached and attained the highest academic goals.

Erin will be catching Ali Arnold, Lori Andjelich, and Casey Clutch.

Erin's father, Southern Force (Johnson City, Ill.) head coach Gerry Glasco, along with assistant coaches Scott Wagner and Tara Glasco were named the 2004 Speedline/NFCA Travel Ball National Coaching Staff of the Year.

Glasco led the Force to the 2004 ASA 18U Gold National Championship, finishing the Marietta, Ga., tournament with a perfect 7-0 record. The win marked just the second time that a non-California team had captured the title at Gold Nationals.

Welcome Erin & family!