NSA NATIONAL TOURNAMENT WRAP-UP
Aug 2-4,2002 St Louis,MO:

The Slammers concluded their 2002 travel schedule by playing in sweltering heat in St Louis, overcoming 3 key injuries, and finishing as national runner-up in the Women's Division, NSA World Series.

Reduced to only 10 players after injuries to catcher Amy Atteberry and second baseman Erin Kardash the Slammers still prevailed in Sunday's Semi-final 3-2 victory over the Heartland Heat. Erin Moreland, tournament replacement player for injured Slammer catcher Becky Wilson, blasted a clutch 2 out 3 run homer making a winner of starting pitcher Jessica Wilson who retired 12 of the last 13 Heat batters to nail down the victory.

In the final elimination game the Slammer's injury depleted defense wilted and the offense sputtered as starter Jeanette Piehl took a tough 3-0 loss in the final game vs tournament champion Enigma.

All 3 pitchers, Jessica Wilson, Jeanette Piehl, and Brittany Atteberry gave inspiring performances in the sweltering 105 degree temps. Special thanks to former Loras & Olivet Nazarrene College All American Erin Moreland who joined the team after an injury to catcher Becky Wilson. Erin went 8 for 17 ( HR,3B,2B and 5 RBIs ) and was the Slammer's leading hitter for the tournament at .471

Another key hit in the Tournament was a bases clearing double by Mandy Wilhelmi in the game one 5-0 win over Heartland Travelers (WP-J. Piehl, Sv-B. Atteberry) . Mandy went 3 for 3 in that game including 2 doubles.

In game 2 ( 5-0 win over MadDogs, WP-Piehl, Sv-Atteberry)Mandy's sister Abby Wilhelmi had the big hit,a 2 run homer. Abby had even more fun later on when she discovered she was the favorite target of Enigma pitchers who hit her twice with pitched balls.Abby had no printable comment after being praised for " taking two for the team ".

Tournament Players:
Katherine Caruso, Mandy Wilhelmi, Abby Wilhelmi, Mollie Batton, Cassie Dixon, Erin Moreland, Jessica Wilson, Kate Szumlanski, Erin Kardash, Amy Atteberry,Britanny Atteberry,Jeanette Piehl. Becky Wilson was injured and could not play.


..
August 2-4, 2002 Chesterfield Sports Complex, St Louis, MO.


NSA WORLD SERIES

The Indiana Slammers completed their first year in women's division competition by finishing as National Runner-Up at the NSA Women's Division World Series. Click on above link for photos and game re-caps.
No Go at Elgin
Everything that could go wrong did go wrong. Good pitching but untimely errors summarizes the Slammers 2nd women's tournament of 2002.The Slammers just did not play their best softball at the Northern Illinois Lightning Classic in Elgin, IL. They lost the first two games in double elimination play on Sunday after going 2-1 in Saturday pool play. Next weekend the Slammers hope for better results in Kokomo, Indiana
Cass gets the call in Elgin, June 15-16
Slammers Meet The Big Dogs ( see action video below)
June 10,2002

The new 23 and Under Indiana Slammers met some tough competition this past weekend at the Normal Illinois Country Co Women's Fastpitch Tournament in Normal, IL. Playing a total of five games vs older experienced women's teams, the Slammers were a little shaky on defense and lost all 3 pool games and the first game of Sunday's championship play.
The pool play losses were 4-3 (Joliet J's),
3-2 (CICS Sting),and 8-1 (Davis Bros Rage).
On Sunday the Slammer's played top seeded "Avanti's" and lost 4-1.

However, the weekend ended on a high note with an 8 inning tiebreaker 1-0 victory over Eureka College in the consolation game.

Team Note:
We all wish Ashley Safstrom a speedy recovery. After getting off to a great start in game one with 2 key hits, in game 2 she was spiked in the knee while applying a pick-off tag at first base. Several stiches were required to close the wound and she will be out at least 2 weeks or until further notification.

Next weekend the Slammers travel to Elgin,Il.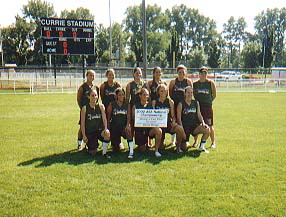 ASA Nationals, Midland,MI July 2002
ASA Nationals, Midland, MI July 2002
The Slammers were two and out at the double elim Midland, Michigan ASA Women's Nationals. Losing 3-2 to the eventual 3rd place finishers California Crush...then being eliminated in a very tough 7-6 loss to the Amherst, NY Lightning.

The Slammers would like to thank talented players Michelle Pickering and Erin Kardash for helping the Slammers make a fine showing against some of the toughest women's teams in America.

Next weekend the Slammers travel to St Louis for the NSA Women's Nationals and are pleased to announce that Erin Moreland will be filling in for injured Slammer catcher Becky Wilson. Erin, 4 yr starting varsity catcher out of Homewood-Flossmoor Highschool,played 5 years with the Orland Park Sparks and later gained All American honors as a prodigious home run hitter and .500 plus hitter at Loras College as well as Olivet Nazarrene University .
Slammers Take First Place Con Br at Elgin
July 13-14 Elgin,IL (See Game Video folder)
In a tough 32 team field The Slammers went 2-1 in pool play and 3-1 in Bracket play to capture the First Place Consolation Bracket Trophy.

Highlites included great outfield defense by Abby Wilhelmi and Katherine Caruso, tough pitching from Jeanette Piehl & Jessica Wilson and timely team hitting with runners in scoring position.Further info will be posted later.

The Slammers extend their sympathies to the Celina Suns who had to withdraw from the tournament due to the sudden death of their founder and long time head coach Bill Feth who's coaching career spanned over 40 years.
Elgin Photos & Videos July13-14,2002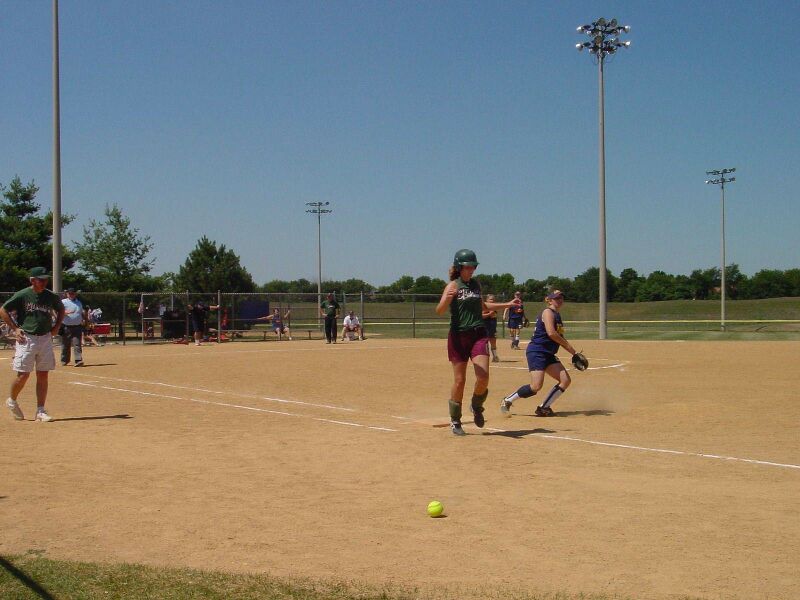 Jess Trots Home vs Alleycats
Caruso Scores vs. Alleycats 13Jul02 by Andy
Second Place Kokomo Womens Tourney
Banged Up Slammers Take Second at Kokomo
June 22-23, Kokomo, IN
On a a very hot weekend in Kokomo, IN the shorthanded and banged up Slammers managed a second place finish. Special kudos to part-time Slammer Kelly Kapelinski for a gritty performance in Sunday's semi-final and championship game after injuring her quad in Saturday pool games. Congratulations to the Celina Suns from Celina, Ohio who shut out the Slammers 4-0 in the championship game.

Monday, November 7
2001 Christmas Party Team Photo
FRONT: Kate Szumlanski,Cassie Dixon,Tracie Korbar,Kathrine Caruso
MIDDLE: Kelli Zivic(red),Sarah Ward,Amy Atteberry (rear),Mandy Wilhelmi,Jeanette Piehl, Abby Wilhelmi, Ashley Spurgeon.
Not Shown: Ashley Safstrom, Becky Wilson, Jessica Wilson
.
2002 Roster

Amy Atteberry
Catcher,Inf....throws R,bats R
Graduate Whiting HS 2002
GPA 3.3
** 4 year varsity starter softball, basketball, volleyball
** Been playing travel ball for 6 years
** Been with the Slammers since 1999
** Starting catcher on Slammers 1999 ASA "A" State Championship Team as well as 5th place finish at NSA "A" Nationals.
** 1st team all-conference (Lake Athletic) 2001 in softball
** Scholastic All-Star in science & business
college major: education
** Will attend University of Southern Indiana
Katherine Caruso,Outfield, Infield
** Bats R, Throws R
** Graduated Munster High School 2001
** Academic Honors Diploma
** Softball 2 Time First Team All Conference
** Has played travel ball 8 years, first year with Slammers.
** Entering Sophomore year St. Joseph's College, Division 2
** Earned President's scholarship
** Maintaining 3.64 GPA
** Double Major: Accounting & Finance
** Played centerfield and finished Freshman varsity year with .286 BA, 8 doubles. Led team with 10 stolen bases.
Awesome Cassie Sue Dixon, Infield, Outfield
AWESOME CASSIE SUE DIXON: Pos: IF, B-R,T-R

** Graduated Portage HS 2001-3.2gpa
** Graduated with honors diploma
** Played softball since she was 8
** Started travel ball at 11 and has been a
Slammer since 1997
** Freshman at Columbia - majoring in film
editing
** Made the Dean's List at columbia last
semester with a 3.75 gpa
** Goals: States she is looking forward to
acting like a complete jackass this
summer.
** Parents: Jim & Lori Dixon,Portage, IN
Jeanette Piehl
.
.Pitcher: Nickname "J", throws R, bats R
Will graduate from Portage High School 2002.
** 3.4 gpa maintained thruout entire HS career.
** Nominated by her teachers and now listed in this year's WHO'S WHO For High School students. This is a high honor reserved for an elite group of students who excell in academic and leadership skills.This automatically qualifies "J" for several different type scholarships in addition to
her college athletic scholarship.
** Has been playing softball since 5 yrs old.
** Travel ball since she was 12.
** Varsity pitcher when Portage won the class 4A State Championship in 2000.
** 2000 & 2001 All Conference (Duneland)
** Played with Slammers since 1999.
** Pitcher on Slammers 1999 ASA "A" State Championship Team as well as 5th
place finish at NSA "A" Nationals.
** College Major: Business Management & Accounting
** College commitment:Butler

Ashley Lynn Safstrom, First Base
.
** 1998 State Runner up Class 3 Softball
** 1999 ASA State Champions (Indiana Slammers 16 + Under)
** 2000 Winter All-Academic Team (Basketball)
** 1999-2000 "Best Mental Attitude" Award (Basketball)
** 2000 Spring All Academic Team (Softball)
** 2000 Hoosier Diamonds Pre-Season All State Team (Softball)
** 2000 Indiana High School Athletic AssociationAcademic All-State
** 2000 All-Area Softball Team @ 1st Base(Sports Writers)
** 2000 Highest Batting Average .423 (Softball, TeamAward)
** 2000 Most RBI's Award 31 (Softball, Team Award)
** 2000 State Softball Champions, IHSAA, Class 3A
** 2000 Fall Hoosier Diamonds ALL-SHOWCASE Team
** 2000 Fall Excellence in Academics Letter Award(Portage High School)
** 2001 Academic All-State Honorable Mention(Basketball IHSAA)
** 2001 "STOPPER" Award "Best DefensivePlayer" (Basketball)
** 2001 National Exchange Club Winter Athlete Award
** 2001 Hoosier Diamonds Pre-Season All State Team(Softball)
** 2001 All Conference Softball Player – DunelandAthletic Conference
** 2001 Most Valuable Player (Portage High School Softball)
** 2001 CO-MVP of the Duneland Conference (Softball)
** 2001 Academic All-State (Softball, IHSAA)
** 2001 First Team All-State (Softball, IHSAA)
** 1998-2001 Academic Hall ofFame (Portage High School)
** 2001 All State, IHSAA + ICGA, Display @ Portage High School
** 2001 First Team North – South All Star Team Selection (North Team)
(Indiana Coaches of Girls Athletics)
** 2001 National Letter of Intent To Attend Saint Joseph's College
** Athletic Scholarship and Academic Scholarship, NCAA, Div. 2
** 2001-2002 Starting 1stBase Person for Saint Joseph's College, NCAA, Div. 2
** 2002-2003 National Federation of State High School Associations: Case Book, Rules Book, Umpires Manual Cover Page Runner
** Parents: Dave & Rhonda Safstrom


Sarah Ward, Outfield
.
** Honors Diploma Hobart High School, class of 2001
** Marian College academic Scholarship,major
Business and Marketing
** Marian College Athletic Scholarship, position 3rd base.
** Played softball 11 years, travel ball 7 years.
** Parents: Becky and Scott Ward

Abby Wilhelmi, Outfield
.
** graduated 2001 Valparaiso HS.
** 3.65 cum gpa.
** played softball since 6 yrs old.
** 3 years of travel ball with Slammers since 1999.
** HS honors: All-confrerence softball senior year, All area junior year, all district freshman year.
** State swim team member.
** MVP Laporte Invite for swimming.
** Attending Albion College with twin sister Mandy.
** 3.4 gpa
** Majoring in Psychology with a concentration in neuroscience.
** Parents: Gary & Leni Wilhelmi, Valparaiso, IN

Mandy Wilhelmi
.
Third Base. Throws R, bats R
Graduated from Valparaiso High School 2001
3.8gpa in HS
** Played varsity softball at Bridgeman High School in Bridgeman, MI her freshman year.
** 3 yr varsity starter at Valparaiso
** Has played travel ball for 7 years
** Played with the Slammers since 1999
** Attending Albion University in Albion, Michigan
** Currently on the Deans list in college with a 3.75 gpa
** Majoring in Communications/Education
** Parents: Gary & Leni Wilhelmi, Valparaiso, IN

Becky Wilson, Catcher, Infield -Bats R, Throws R
.
** Graduated Homewood-Flossmoor HS,
Homewood, IL June,2002
** National Honor Society 3.65 GPA
** Scored 31 on college ACT
** Illinois State Scholar 2002
** Symphoney Orchestra, Symphonic Strings,
Chamber Orchestra, and Pit Orchestra 4 yrs
** IL Times All Area team 1st string
shortstop 2001 and SICA East All Conf 2001
**.422 B.A.and led Vikings with 36 RBIS in
2001.
** In 2002 was starting catcher, batted .395
and hit 3 run homer that helped defeat
Breman HS 6-4 for Regional Title.
** Academic and Player SICA-EAST All-
Conference catcher 2002
** Honored as one of top 60 Illinois Players
2002, ATT Broadband TV
** ILLINOIS TIMES All Area first string
catcher,2002
** Begins Division One play as a UIC Flame
in fall of 2002.
** Parents: Kathy & Dave Wilson, Homewood,
IL.



Jessica Wilson
.
Pitcher. Bats R, Throws R
2002 Munster High School Graduate
4.1 gpa
** Principles Award for excellance
Social Studies Dept. Award
** Honor Roll every year in HS
** National Honor Society
** Spanish Club
** Wendy's National Heisman Scholarship Nominee
Project X
** 4 years HS softball
** 4 years HS Volleyball
** 1 year HS Basketball
** travel softball 9 years
** been with the Slammers since 1997
** College commitment: St. Xaviers
** Parents: Dick & Sue Wilson, Munster, IN


Kate Szumlanski,Outfield
.
KATE SZUMLANSKI ("Zoom"): Pos-OF, B-R, T-R

** Munster High School class of 2000, GPA 2.9
** Played fastpitch 10 yrs, travel 9 yrs
** 4 years Highschool Softball
** Finishing sophomore year at Indiana
University in Bloomington, IN
** elementary education major.
** current GPA is 3.0
** Parents: Chris & Karen Szumlanski, Munster, IN



Kelli Zivic, Outfield, Bats R, Throws R
.
** Graduated 2001, Hobart HS with 3.8 gpa
** Member National Honor Society
** 2001 Treasurer, NHS
** 2001 Leadership Award, NHS
** Graduated in top 10% from Hobart HS. (20th out of 287)
** Duneland Conf Academic All Conf 2001
** Honor Roll 4 yrs highschool
** Recipient President's Education Award
** Foreign Language Honorary
** HS Softball teams 4 yrs
** HS Vollyball 4 yrs
** Member of Slammers since 1994
** Majors in Psychology at St. Joseph's College
** Parents: Barb and Slammer Head Coach Bob Zivic, Hobart, IN



Elk Grove First Place 2001