Saturday, August 24
2003 Roster and Season Review
43 Bob Zivic Head Coach
72 Kirk Piehl Coach
28 Dave Wilson stats, website, coach
53 Dick Wilson Coach

# Player: Position:
32 Casey Clutch P, IF
12 Cassie Dixon IF
10 Angie Grabczak IF/OF
57 Erin Kardash IF
99 Becky Wilson C
8 Jessica Wilson P
2 Katie Witham P

STRONG SHOWING IN FIRST WOMEN'S MAJOR ( 3 game re-cap )
PEKIN, IL AUGUST 12 - 16, 2003

Congratulations to the 2003 Indiana Slammer players who competed at the Slammer's first venture into an ASA Women's Major. Held in Pekin, IL this tournament included some of America's top women's division teams. Stratford Brakettes, Team Smith, and Storm USA were among the more impressive entrees.

By finishing 9th of 20 in this very strong field, the young Indiana Slammers showed they have what it takes to compete at the highest level of women's fastpitch competition.

PEKIN WOMEN'S MAJOR ORDER OF FINISH:

1st Stratford Brakettes Stratford, CT 5-0
2nd Team Smith Inc Placentia, CA 4-2
3rd Calif Schutt Hurricanes Rvrsd, CA 4-2
4th St. Louis Saints St. Louis, MO 4-2
5th Storm USA Lake Forest, CA 4-2
5th Bloomington Lady Hearts Blm,IL 4-2
7th East Peoria Avantis E. Peoria, IL 3-2
7th St. Louis Heat St. Louis, MO 3-2
9th Allentown Patriots Allentown, PA 2-2
9th Indiana Slammers Hobart, IN 1-2
9th Amherst Lightning Amherst, NY 1-2
9th E.P. Lady Rage E. Peoria, IL 1-2
13th (Decatur) CIGS Sting Decatur, IL 1-2
13th Elite Force Palos Hills, IL 1-2
13th Celina Suns Celina, OH 1-2
13th Carbondale Cougars Carbondale, IL 0-2
17th Springfield Rockettes Sprfld,IL 0-2
17th Lisle Powerhouse Lisle, IL 0-2
17th Peoria Outlaws Peoria, IL 0-2
17th Pekin Lettes Pekin, IL 0-2
2003 Slammer Schedule
U.G.S.I. WOMEN'S LEAGUE SCHEDULE
All Sunday games listed below will be doubleheaders. All Slammer home games will be played at Hillman Park in Hobart, IN.

Sunday, June 1: Slammers at Dyer 5:30pm & 7:30pm
Sunday, June 8: Indiana Bulldogs at Slammers 2pm & 4pm
Sunday, June 22: Slammers at Region Rockers 4pm & 6pm
Sunday, June 29: Blue Island at Slammers 2pm & 4pm
Sunday, July 6: Chicago Attitude at Slammers 12pm & 2pm
Sunday, July 20: Slammers at Indiana Storm 2pm & 4pm

TRAVEL TOURNAMENTS
July 12-13 Illinois Lightning Invitational - Elgin, IL
July 24-27 ASA 23U Nationals - Amherst, NY
Aug 2-3 UGSI League Championship - Blue Island, IL
Aug 12-16 ASA Womens Major - Pekin, IL

Bob Zivic, Head Coach
Sunday, June 1
WILSON AND PIEHL STOP DYER 4-0 and 3-2
Dyer Game 1: Slammers 4, Dyer 0

T.Korbas-RF 1-3, 6-3, 4-3
A.Ellis-DH 1-3, 5-3, E-5
A.Wilhelmi-CF K, 3b-R, 1b-SB-R
A. Grabczak-SS E5-R, Sac Fly(rbi), FC-SB
M. Wilhelmi-3b E2-SB, F-6, 2b(2 rbi)
B. Wilson-C K, K, L-7
C. Dixon-2b K, K, 1b
K. Kapelinski-1b K, 5-3, FC
K. Caruso-LF 6-3 ,K, F-8

J. Wilson-P IP-7, R-0, H-3, SO-11, BB-2
(record 1-0)
Offensive Players of the game: Abby Wilhelmi 3b,1b,SB,2R
Mandy Wilhelmi 2b,SB (2rbi)
Defensive Players of The Game: catcher Becky Wilson picked off Dyer runner who walked to lead off 7th inning.
Pitcher Jessica Wilson who was in total control in her first summer outing.


Game two: Slammers 3, Dyer 2

T.Korbas-RF 1b-SB, F-7, FC
A Ellis-SS 1-3(Sac), 2b-SB-R, 4-3
A.Wilhelmi-CF K, K, E-4
A.Grabczak-1B F-5, 1b(rbi), FC
M.Wilhelmi-3B 1b, F-6, 1b
A.Atteberry-C FC-R, 1b-R, FC
E.Kardash-2B 1-3(sac), 1b, F-8
B.Wilson-DH 1b(rbi), L-5, 4-3
K.Caruso-LF K, E-6

J.Piehl-P IP-7, R-2, ER-2, H-5, K-4, BB-2
(record 1-0)

Offensive Players of the Game: Abbie Ellis, 2b-R-SB
Mandy Wilhelmi,2 for 3
Defensive players of the game: Ellis, M.Wilhelmi, J. Piehl


Sunday, June 8
SLAMMERS DOWN BULLDOGS 4-2 in RAIN SHORTENED DH.
Jessica Wilson had her second straight strong outing and gave up no earned runs in the Slammers 4-2, 5 inning rain-shortend win over the hard hitting Bulldog squad.

Abby Wilhelmi drove a line single to left field scoring Caruso with the first run of the game.

New Slammer Casey Clutch was perfect in her debut performance
with a double, a walk and run scored, and a perfect sac bunt. The sac set up another run when Angela Grabczak doubled home Amy Atteberry who had singled to open the fifth inning.

The game was called by the umps when a cold driving rain stopped action as the Bulldogs were batting in the sixth inning.

Note: Leftfielder Katherine Caruso sustained a leg injury during pregame warmups and was forced to leave the game after 3 innings.
We do not yet know the extent of the injury.

Atteberry - C K, K, 1b-R
Clutch - 3B 2b, BB-R, Sac bunt
A. Wlhelmi - CF F4, 1b-R-rbi, 6-3
Grabczak - DH L8, L6, 2b-SB-rbi
Ellis - SS F9, E9, BB
Kardash - RF BB-SB, K, K
Dixon - 2B K, K
Kapelinski - 1B 4-3, K
Caruso - LF BB, injured 4th inning
Korbas - LF K

J.Wilson - P IP-5, R-2, ER-0, H-5, K-6, BB-0, BF-24, 1PS-13
( Record 2-0 )
Off. players of the game: Clutch, A.Wilhelmi, Ellis
Def. players of the game: Clutch - 3B, Ellis - SS
Team Errors:3
Injury: Katherine Caruso, leg
Sunday, June 22
Region Rockers Take Two at Griffith
In the third week of UGSI Sunday league play the Slammer's record slipped to 3-2 after losing twice to a hot hitting Region Rocker team.

GAME 1: Rockers 7, Slammers 2

Atteberry,A - C K _ K _ K
Wilhelmi,M - 3B E3(R)_F4 _ K
Wilhelmi,A - CF 3b ( RBI,R )_ F6 _ K
Grabczak,A - SS 1-3 (Sac,RBI)_ K _ K
Wilson,B - DH 5-3 _ G3 _ K
Caruso,K - LF K _ 1b(OS) _ F4
Dixon,C - 2B BB _ K/
Jenner, K - PH K
Kapelinski,K - 1B K _ G4 _ 5-3
Kardash,E - RF FC _ 1b(SB)

Wilson,J - Pitcher IP-6, R-7, ER-6, H-10, K-6, BB-2, BF-32, WP-1
( Record 2-1 )
Off. player of the game: A.Wilhelmi
Def. player of the game: none Team Errors:3
Players absent: Korbas, Clutch, Ellis (inj), Piehl


GAME 2: Rockers 8, Slammers 5

Atteberry - DH K _ E4(R) _ 4-3 _ K
Wilhelmi,M - 3B K _ E6(R) _ 1b _ F8
Wilhelmi,A - CF 1-3 _ 1b(R,rbi) _ 1-3 (sac) _ 4-3
Grabczak,A - SS 1-4 _ FC _ F1 _ E5
Wilson,B - C 1b _ 2b(rbi) _ G3 _ 4-3
Caruso,K - LF 5-3 _ K _ K
Dixon,C - 2B 5-3 _ K _ K
Kapelinski,K - 1B 1b(R) _ 6-3 _ 1-3
Kardash,E - RF E5(R) _ 1-3 _ 1b(SB)

Jenner,K - Pitcher IP-5 1/3, R-6, ER-5, H-6, K-9, BB-5, BF-28, WP-4 ( Record 0-1 )
Wilson,J - Relief P IP-1 2/3, R-2, ER-1, H-1, K-2, BB-2, BF-8, WP-0
Off. player of the game: Becky Wilson (1b,2b)
Def player of the game: Kapelinski Team errors: 2

Players absent: Korbas, Clutch, Ellis (inj), Piehl




Sunday, June 29
Slammers Are 5-2 After Blue Island Forfeits Doubleheader
The Slammers UGSI record jumps to 5-2 after a last minute cancellation by the Blue Island coach. Since we have no agreeable make-up date it stands as a 2 game forfeit.

No show on game day? Out of here Blue Island....!! "
Three Game Recap ASA Women's Major, Pekin.IL.
Game One: St Louis Heat 9, Slammers 7

Angie Grabczak (SS) 3-4 _ 1b(rbi,OS)_ K
Erin Kardash (LF) BB(R)_ 1b(R) _ K _ BB
Mandy Wilhelmi (3B) 1b(R) _ K _ 4-3 _ K
Casey Clutch (1B) 2b(rbi) _ 1b(R) _ F8 _ F9
Becky Wilson (C) K _ 2b(R,rbi) _ F8 _ 1-3
Amy Atteberry (DP) 5-3 _ 1b(rbi) _ 4-3
Trista Korbas (CF) 1b(R) _ BB(R) _ L5
Cassie Dixon (2B) K _ FC _ K
Kelly Silvey (RF) 5-4(sac) _ 1b(rbi) _ K
Katie Witham (P-Defo)

LP Witham (IP-5, H-9, K-1, BB-0, R-7, ER-4)
Brit Atteberry (IP-1, H-2, K-1, R-2, ER-2)
Casey Clutch (IP-1, H-1, K-1, BB-1, HP-1, R-0)

Team errors: 4
......................................................................

Game Two: Slammers 1, Celina Ohio Suns 0

Angie (SS) F8 _ FC _ 2b
Erin K (LF) 1-3 _ 5-3 _ F4
Mandy (3B) K _ 4-3 _ 1b(R)
Casey (P) 1b _ 1b _ FC
Becky (RF-C) 2-3(sac) _ 1b _ FC
Amy (C-RF) F5 _ L7 _ E5
Trista (CF) K _ 2-3(bunt) _ F7
Kelly S (DP) F7 _ F9
Cassie (2B) E5 _ 1-2

Winning Pitcher: Clutch (IP-7, H-3, BB-0, K-8 R-0)
Team errors: 2

......................................................................
Game Three: Storm USA 5, Slammers 1

Angie (SS) K _ F4 _ 2B
Erin (LF) BB _ K _ F8
Mandy (3B) DP _ K _ K
Casey (1B) 5-3 _ L7 _ F3
Becky (C ) 1b(R) _ 1b _ 4-3
Amy (RF) 1b _ FC _ F4
Kelly S (2B) F4 _ K _ K
Trista (CF) 1b(rbi) _ K
Cassie (DP) K _ K
Brit A (P ) DEFO

LP: Atteberry ( IP-1 2/3, H-4, K-1, BB-2, R-5, ER-2 )
Witham ( IP-4 1/3, H-3, K-6, BB-0, R-0 )

Caught runner stealing:2 (Wilson to Grabczak twice)
Team errors: 3
Sunday, July 6
Piehl Stops Attitude 2-1 in Game Two
Jeanette Piehl from Portage walked none and scattered 5 hits as the slammers beat Chicago Attitude 2-1 completing a double-header sweep.

Ashley Griffiths (IU) led off the game with a sharp single to CF and went all the way to 3rd on a sac bunt by Katherine Caruso (St Jo). Angela Grabczak (Evansville)walked and stole second putting runners on second and third for Abby Wilhelmi (Albion)who scored Griffiths from third with a deep sac fly to CF. Mandy Wilhelmi (Albion) followed with a hit over shortstop to score Grabczak with the winning run.

Slammers 2, Attitude 1

Griffiths -2B 1b(R) _1b (bunt) _F6 _F6
Caruso -LF 1-3(sac) _1-3 _1b
Grabczak -SS BB(SB,R) _1b(OS) _1-2-3(DP)
A. Wilhelmi -CF F8 (sac fly,rbi) _1b(SB) _1b
M.Wilhelmi -3B 1b(rbi)_K _F5
Kardash -DH 4-3 _K _ F6(DP)
K. Kapelinski -1B F6 _6-3 _K
Dixon -RF 6-3 _1b _E4
Atteberry -C 4-3 _E1 _F3

J. Piehl -P IP-7, R-1, ER-1, H-5, BB-0, BF-26, WP-0
(record 2-0)
Team Errors-0


Sunday, July 6
Withim and Piehl Shut Down Chicago Attitude Twice
Game One: Slammers 2, Chicago Attitude 1

With Becky Wilson as her battery mate, IU's Sophomore pitcher Katie Withim pitched her first game for the Slammers. After The Attitude scored once in the first Inning, Withim shut the door allowing only 2 hits and no walks the final 6 innings.

The Slammers tied the score on a leadoff bunt single by Abby Wilhelmi (cf) who was then sacrificed to second by her sister Mandy (3b). This was followed by an Erin Kardash (lf) single pushing Wilhelmi to 3rd base where she scored the tieing run on a perfectly executed suicide squeeze bunt by Kelly Kapelinski (1b).

The winning run was scored by Amy Atteberry (rf) after she opened the 5th inning with a solid hit to left, a sac bunt by Ashley Griffiths (2b), and a 2 out RBI single by Angela Grabczak (ss).

Game 1: Slammers 2, Attitude 1

Griffiths, A - 2b HBP _ 6-3 _ Sac 1-3
Wilson, B - C BB _ F8 _ 4-3
Grabczak, A - SS F4 _ E7 _ 1b (rbi,SB)
Wilhelmi, A - CF K _ 1b(R) _ 1-3
Wilhelmi, M - 3B BB _ Sac 5-3 _ BB
Kardash, E - LF F4 _ 1b _ FC
Kapelinski, K - 1B K _ sac 5-3(rbi) _ F7
Dixon, C - DH F5 _ K _ BB
Atteberry, A - RF L1 _ 1b(R) _ 6-3

Withim, K - P IP-7, R-1, ER-1, H-3, BB-1, BF-25, WP-1
(Record 1-0)


Off. players of The Game: A. Grabczak, A. Wilhelmi, K. Kapelinski
Def. player of the game: A. Grabczak (SS)
Team Errors-0
Players absent: Korbas, Clutch, J. Wilson, K. Caruso (1st gm only)
Tuesday, July 22
Slammers (8-3) Split With Ind Storm
The Slammers are 11-5 overall and 8-3 UGSI as they travel to Amherst
ASA 23u Nationals.

USGI Sunday results.

Game 1: Storm 12, Slammers 8
Game 2: Slammers 5, Storm 2
Saturday, July 12
Elgin Tournament Cut Short after 3 - 2 Start
2003 NORTHERN ILLINOIS LIGHTNING CLASSIC: Saturday-Sunday July 12-13,2003. Location: ELGIN SPORTS COMPLEX

ORDER OF FINISH:
1 -- KAM-Hooters
2 -- Avanti's
3 -- Northern Illinois Lightning and Midland Lady Explorers
4 -- Pekin Lettes
Consolation -- Lisle Powerhouse


POOL A: Aur Raiders, CIGs Rebels, N. IL Lightning, Naperville Storm
POOL B: Dolls Demons, Midland Lady Explorers, Sharks, Misson
POOL C: N. IL Thunder, IN Slammers, Avanti's, Lisle Powerhouse
POOL D: Chicago Attitude, IN Bulldogs, Kam-Hooters, McHenry Tikis
POOL E: Ill Alleycats, Pekin Lettes, Celina Suns, Sparks 18s
POOL F: Elmhurst Excel, Lady Rage, Sparks 23's, Glenside Raiders


POOL GAME 1: Avanti's 12, Slammers 0 (3rd Inning Slaughter)

The score says it all.( Moral victory:Avanti's star Rathburn was held
hitless after being intentionally walked twice and popping up to second base.)

Lineup: Ashley 2B, Mandy 3B, Casey EP, Angie CF, Abby E, SS Becky C, Amy DH, Kelly 1B, Erin RF, Trista LF, Katie W. P

Team Hits (2): Ellis 1-1 , Korbas 1-1
Team errors: E5, E6
LP: Witham

POOL GAME 2: Slammers 4, Lisle Powerhouse 3

The Powerhouse carried a 3-0 lead into the 6th inning when, after one out, Clutch tripled and scored on Grabczak's triple. Ellis then singled driving in Grabczak and Becky Wilson singled to RF driving in Ellis with the tying run. Wilson then scored the game winner on Amy Atteberry's line single to right center field. Jess Wilson gave up 8 hits but walked noone in a fine complete game effort.

Lineup:Ashley LF, Mandy 3B, Casey 1B, Angie CF, Abby E. SS, Becky EP, Amy C, Kelly DH, Cassie 2B, Erin RF, Jess P

Team Hits (8): Ashley 1-3, Casey 1-3(3b,R), Angie 2-3 (3b,R,rbi),Abby E. 1-3(R,rbi), Becky 1-3 (R,rbi), Amy 2-3 (GWH, rbi)

Team Errors (1)
Winning Pitcher: Jessica Wilson

POOL GAME 3: Slammers-10, No IL Thunder-0

Lineup: Ashley (LF), Trista (RF), Casey (1B), Angie (CF), Abby E. (SS), Amy (DP), Erin (EP), Becky (C),Mandy (3B), Cassie (2B), Katie W.(P)

Team Hits (8): Ashley G. 1-3(3b,R), Trista K. 0-2(BB,R,SB), Casey C. 3-3(2b,3R,2rbi), Angie G.1-2 (BB,2R,rbi,2SB),Abby E.1-3 (R,rbi,SB),Amy A.1-3(R,2rbi),Erin K. 0-2(BB,R), Becky W.1-2(SB),Mandy W.0-1(BB),Cassie D.0-1(BB,rbi)

Team Errors(1)
Threw Out Runner Stealing: (Becky to Abby E)
Winning Pitcher: Katie Witham

CHAMPIONSHIOP BRACKET Game 1: Slammers-8, Naperville Storm-0

Lineup: Ashley (2B), Trista (LF), Casey (3B), Angie (EP), Abby E (SS),Amy (C), Erin CF, Mandy (DH), Kelly K (1B), Cassie (RF)

Team Hits(11): AshleyG 1-3 (BB,3R,4SB), TristaK 1-4 (R,rbi),CaseyC 1-2 (2R,2rbi,SB), AngieG 1-3(rbi), AbbyE 3-3 (2rbi), AmyA 0-3, ErinK 2-3 (R), MandyW 1-3 , KellyK 0-3 (R), CassieD 1-3 (2B,2rbi)

Team Errors:1
Winning Pitcher: Katie Witham

CHAMPIONSHIP BRACKET Game 2: Avanti's 7, Slammers 0

Lineup: AshleyG (LF), TristaK (DP), CaseyC (1B), AngieG (CF), AbbyE (SS), AmyA (EP), ErinK (RF), BeckyW (C), MandyW (3B), CassieD (2B),
JessW (P)






Sunday, October 27
Slammers Land Angie Grabczak from IPFW
* Hobart High School, class of 2001
* HS gpa 3.0
* HS academic and athletic awards: Softball> MVP, top Hitter, Post All Area team, most athletic freshmen, and most athletic senior.
* Sports played in HS basketball, cross- country, softball, golf
* 13 years playing softball, 9 years travel ball
* Attends Ind-Purdue Univ at Ft. Wayne (IPFW)
* Majors in Comunications and Mass Media
* College gpa 3.0
* College athletic/academic awards: Coaches honor roll and made the All Division One Independent second team in 2002


Saturday, December 28
2002 Slammers Team Christmas Party
Attending this year's Slammer Party at Mr. T's Pizzaria in Hobart were Jeanette Piehl, Mandy and Abby Wilhelmi, Erin Kardash (& friend), Sarah Ward, Cassie (Slammer for Life) Dixon, Becky Wilson, and newcomer Angela Grabczak.Unable to attend and very much missed were 3 full time players Amy Atteberry,newcomers Natalie Krilich and Jen Willig and all former and parttime Slammers.

Parents in attendence included head coach Bob Zivic and wife Barb,Dave Grabczak,Rob & Rita Kardash,Gary & Leni Wilhelmi,Coach Kirk Piehl with wife Pat, daughter-in-law Hollie and grandaughter Savannah, Dave & Kathryn Wilson.

Activities included a team website photo session and the filling out of player profile forms. Cassie Dixon caused a stir with several surprising revelations about her career goals and Mandy Wilhelmi had her hair done by other players who thought the photo session
was for the Micky Mouse Club.


Mandy Mouse
view full size
Saturday, August 17
2003 Slammers Welcome St Jo's Erin Kardash
* Graduate Chesterton High School, 2001
* HS GPA: 3.2
* Sports played in HS: Softball
* HS awards (academic & athletic): Mental Attitude, single season assist record.
* 5 years travel ball
* Currently St Joseph's College, Rensselaer,IN
* Field of Study:Physical Education with a Mathamatics minor
* college GPA: 3.54
* college awards (academic & athletic):
* Academic and Athletic scholarship and member of Lady Puma softball team.



* NOTE:As a last minute Slammer recruit for NSA Women's World Series, Erin was off to a great start when she twisted her ankle on the first day of competition stepping awkwardly on first base while taking a throw. She jammed her foot on the bag beating the runner at first base by a whisker. We hope Erin's badly sprained ankle is now mended so we can count on her for 2003.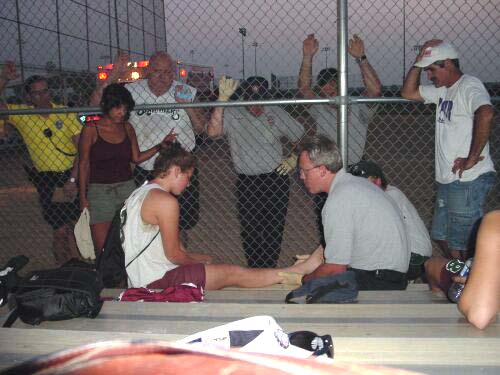 File Photo: NSA Women's Division World Series, St. Louis, Mo
Saturday, March 22
Jessica Wilson Picks up first college win at Xavier
Saint Xavier defeated Tiffin University (Ohio) and Ferris State University (Mich.). Kilduff was 3 for 4 with a double against Tiffin while Hollar went 4 for 4 with an RBI. Freshman Jessica Wilson (Munster, Ind./Munster) picked up her first collegiate win by allowing only one run on five hits and striking out five in 6 2/3 innings of work. Freshman pitcher Kim Garner (Oak Lawn/Mother McAuley) got the final out for the save.
Wednesday, April 2
Home Field Secured For Summer Women's League
We have secured Hillman Park in Hobart for all of our UGSI Women league home games. The schedule will be posted sometime in the beginning of May.

Bob

Abby Ellis, IU
view full size
Thursday, May 8
New Players add Speed, Punch and Defense to 2003 Slammers...
Trista Korbas, OF, UIC

view full size
May 7,2003

The 2003 Slammers welcome IU freshman infielder and former Lowell, Indiana high school star Abby Ellis. Abby was regarded as one of the best all around shortstops in the area during her high school career. Her defensive skills and big stick will greatly enhance the Slammers already potent line up.

Asked for his 2003 thoughts, Head Coach Bob Zivic made this statement:

" We have greatly increased our offensive threat and our traditionaly solid defense should now be untouchable with the addition of our new ballplayers. I have no doubt that we will have one of the quickest outfields around and a very, very solid infield. This team is without a doubt the most talented Slammers team that I have had the pleasure to coach. It should be fun."

Abby Ellis, Indiana University:
Prep Four-year letterwinner • All-State two years while earning All-Conference and All-Area three years each • participant in the Indiana Senior North/South All-Star game • earned team MVP honors junior and senior years • holds numerous school records both offensively and defensively • also lettered in volleyball.

Abby is anxious to get back on the field after recovering from an injury that forced her out of action at IU this season.

Personal Note:

Born Abby Leigh Ellis on November 5, 1983 in Crown Point, Ind. • majoring in physical education teacher education • parents Brett and Ann Ellis • two sisters, Amy (21) and Allison (17)


April 25,2003

The Slammers welcome fleet footed UIC outfielder Trista Korbas to the 2003 Slammers. (Click photo for UIC bio.) She is the fastest outfielder on UIC's squad and a very adept left side hitter and slapper.

Trista starred at Mother McCauley HS on Chicago's south side and was a big reason why the " Mighty Macs " reached the State Super Sectionals in her senior year.

March 20,2003

University of Evansville star sophomore pitcher Casey Clutch has accepted Head coach Bob Zivic's invitation to join the Slammers for the 2003 summer season. Casey not only brings her Indiana roots and well known pitching talents, but rumor has it she can also play the corners and swing a potent bat. Welcome Casey Robin Clutch. (See photo and profile in Slammer News)

Along with other newcomers Erin Kardash (IF-St Jo), Natalie Krilich (P/OF-CMU), Angie Grabzcak (IF-IPFW), plus the return of talented infielder Kelly Kapelinski, the Slammers will definately be heard from as they raise their sights in their second season as a women's division team.





Casey Clutch, EU (click photo)
view full size
Slammer Face Dyer in UGSI DH Season Opener
Playing in their second season as a Women's division team, the Indiana Slammers open the 2003 UGSI Women's League season with a double header vs Dyer at 5:30 and 7:30 pm in Dyer, Indiana on Sunday, June 1st.

UGSI is a league formed by 7 top women's division teams from Illinois and Northwest, Indiana. League play concludes Aug 2-3 with a tournament in Blue Island, IL.

The 2003 summer schedule not only includes Sunday UGSI double-headers, but also 3 major Women's division tournaments in Elgin Ill, Amherst, NY, and Pekin, IL.

The Indiana Slammers are a unique blend of D-1,D-2 and D-3 college players who represent a wide variety of Midwest universities.
Sunday, June 8
Slammers Off To 3-0 Start in UGSI Competition.
SLAMMER NEWS UPDATES:

* Slammer outfielder Katherine Caruso (St Jo U) has been on the mend since injuring her leg vs Indiana Bulldogs. It looked bad early but reports have it that Katherine will be ready to play vs. Region Rockers this coming Sunday.

* Slammer head coach Bob Zivic has invited pitcher Kristin Jenner from Homewood, IL to fill in for Jeanette Piehl this weekend. She will team with pitcher Jessica Wilson in a Double-Header vs the Region Rockers in Griffith. Jenner, a former H-F highschool record breaker, now pitches for Grand Valley State University in Michigan and was 17-2 in her freshman year. She is a fierce competitor who also swings a mean bat.

http://gvsulakers.ocsn.com/sports/w-softbl/mtt/jenner_kristin00.html
Sunday, August 3
Slammers Finish Second in Rain Shortened UGSI Tournament
The UGSI year end Tournament was washed away
when a deluge hit the Dyer fields on Sunday. However, the Slammers were awarded 2nd place after splitting their only two games.

The Slammers finished in first place in regular season UGSI league play with an 8-3 record and now have the daunting task of playing some of America's top teams in next week's ASA National Women's Major in Pekin,IL.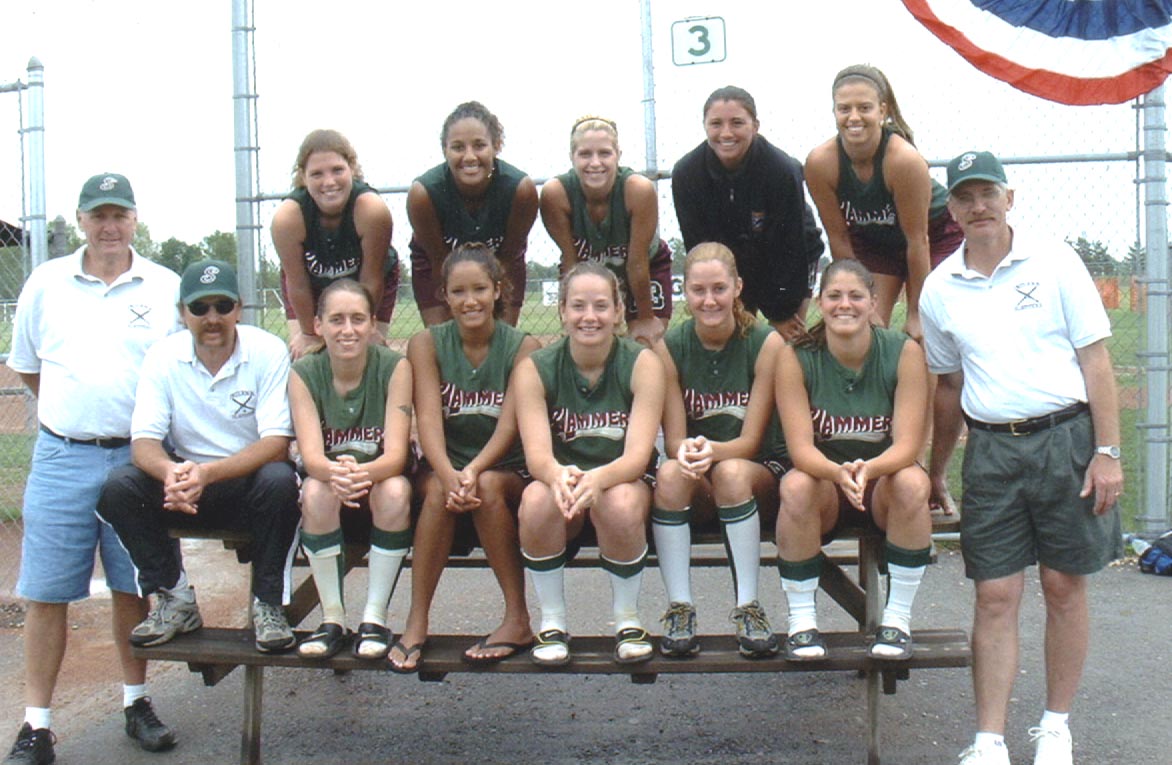 2003 23u ASA National Amherst, NY
SLAMMERS OVER A BARREL AT NIAGRA FALLS
July 27,2003

In a double elimination format, The Slammers were eliminated from the 23u ASA Women's Nationals in Amherst,NY after dropping games to Amherst Lightning (4-1) and Tiki(4-3).

A hex was accidentally imposed on the team when head Coach Bob Zivic invoked the ever dreadful and devilish numbers 6-6-6 in a pregame speech. Obviously intending to inspire the team with his "6 this and 6 that" scenario he must have invoked the wrath of Satan who placed a hex on Slammer bats.

The pitching was solid thanks to Jeanette Piehl, Brit Atteberry, Mia Pangere, and Casey Clutch who put in a fine effort

In spite of the disappointing finish, everyone enjoyed the sights, including side trips to Niagra Falls.

We now look forward to the UGSI Tournament to decide the League Championship August 2-3 at fields TBA. The season concludes with the ASA Women's Major in Pekin, IL August 12-16.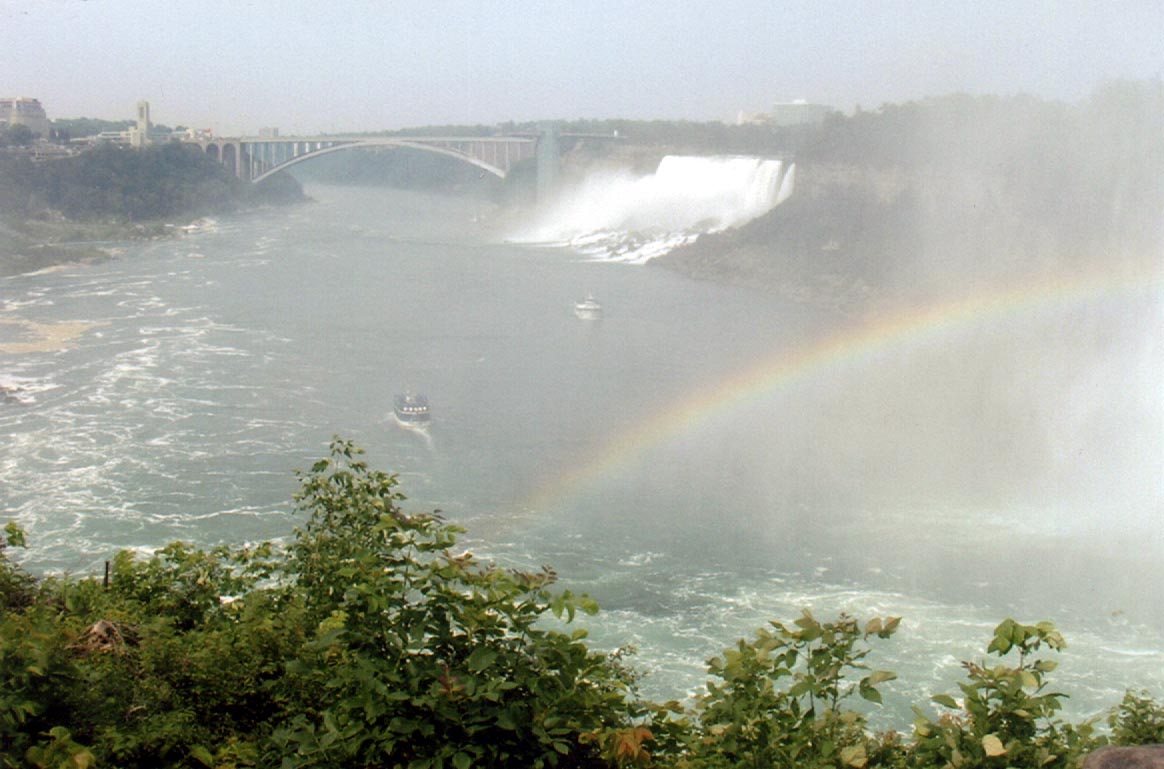 Niagra Falls photo by Kathy Wilson
Sunday, July 20
Mia Pangere Joins Slammers for Nationals
We would like to welcome Mia Pangere who will bolster the slammer pitching staff for the ASA Nationals. Mia is a former Andrean HS standout who now pitches for the Loyola Ramblers.
Saturday, July 5
Slammers Take Two From Chicago Attitude in UGSI League Play

ABBY WILHELMI: Offensive Player of The week
view full size
The Slammmers jump to 7-2 in UGSI play after sweeping a Sunday doubleheader from the Chicago Attitude.

In game one, Kathie Witham from IU was in good control as the Slammers eeked a 2-1 victory on a beautifully executed squeeze bunt by Slammer firstbaseman Kelly Kapelinski.

In game 2 Jeanette Piehl from Butler threw a 5 hitter, walked 0, and the Slammers won by the score of 2-1. A sac fly by Abby Wilhelmi and a clutch rbi single by Mandy Wilhelmi
were the margin of victory.

The Slammers now look forward to the Women's Division Tournament next weekend in Elgin,IL. Results will be posted on this website at the conclusion of the tournament.

All Slammers wish "Bon Voyage" to our irreplaceable centerfielder and leading hitter Abby Wilhelmi who leaves USA tommorro for 6 months of studies in Australia before returning to finish her Sophomore year at Albion College.
Friday, June 27
Slammers ink 2 IU Players for ASA Nat'ls and Women's Major
The Indiana Slammers & parents extend a warm welcome to IU players Katie Whitham and Ashley Griffiths who will join the team at the ASA Nationals. Katie resides in Scottsdale Arizona. She will take to the mound at the Women's Major in Pekin, Ill and Ashley who is from Dove Canyon, California will be with us at the 23U Nationals in Amherst NY.

Ashley Griffith is known as a superb defensive Infielder/outfielder and Sophomore Katie Whitham made her mark last season as a freshman by compiling the second most innings pitched on the Indiana Staff.

The Slammers are now 5-2 in UGSI competition and square off in a DH (noon & 2 pm) vs the Chicago Attitude this Sunday, July 6, at Hillman Park in Hobart. Our team picnic will follow the 2 pm game.


Sunday, July 13
Elgin Tournament Cut Short After 3-2 Start

ABBY ELLIS: Player of The Week
view full size
Sunday, July 13 was unlucky for The Slammers as they competed in the 2003 Northern Illinois Lightning Classic Women's Division Tournament in Elgin, IL.

After going 2-1 and finishing second in Saturday pool play the Slammers began Championship Bracket play on Sunday by easily handling Naperville Storm 8-0 on a 4 hit gem by IU pitcher Katie Whitham. However, in game two the Slammer defense slipped a bit and the Slammers were stopped cold 7-0 by a tough Avanti's team, one of the early favorites in the 24 team field.

To add injury to insult, in the 6th inning of the Avanti's game, Slammer SS Abby Ellis (IU)decided to take an ambulance ride to a nearby hospital. Abby was having a great tournament batting .500 (6 for 12, 4rbi).

Now the good news. We are very happy to report that after undergoing tests at the hospital Abby Ellis was given a clean bill of health.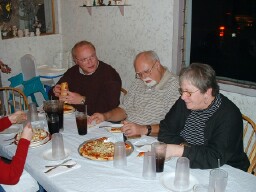 Bret & Anne Ellis with Gary & Leni Wilhelmi (Click For More Photos)
Saturday, December 27
Slammer's Christmas Party at Mr. T's Pizza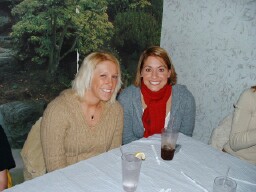 Abby Ellis and Abby Wilhelmi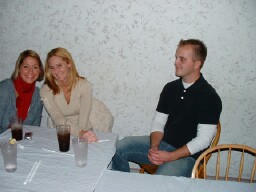 Abby Wilhelmi, Becky Wilson & friend Tom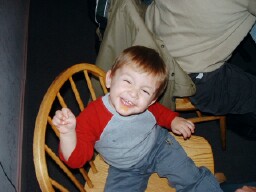 2 yr old Nathan gives a new year smile to Grandpa Zivic
Saturday, December 27
Slammer's Christmas Party at Mr.T's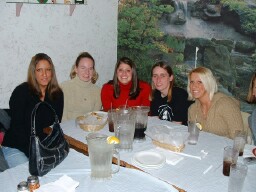 J, Amy, Mandy, Cassie & Abby Ellis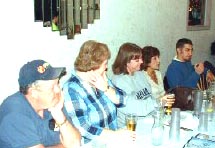 Rob & Rita Kardash, Barb Zivic, Pat Piehl & son Mat.

Now and Forever

2002 SCHEDULE: PLEASE NOTE THE CHANGE OF LOCATION FOR JULY 13-14

*June 8-9 Country Co. Trny - hosted by The Lady Hearts - Normal, IL

*June 15-16 Northern Illinois Lightning Classic - Elgin, IL

*June 22-23 Haynes Apperson Trny - hosted by the Kokomo Kubs - Kokomo, IN

*June 29-30 no tournaments scheduled

*July 6-7 no tournaments scheduled

*July 13-14 IND STATE TOURNEY CANCELLED. Instead we play in ELGIN,IL with 5 game guarantee, 15 team format vs. top teams. It was learned participation in STATE TOURNEY not nec to qualify for Nationals. We automatically have at large bid to ASA Nationals July 26-28.

July 20-21 no tournaments scheduled

July 26-28 ASA 23U Nationals - Midland, MI

Aug. 1-4 NSA Womens World Series - St. Louis, Mo