.

.

.

.

.

'

.

The Slammers give a warm welcome to Allie Bauch who will be a key addition to the 2014 Slammer roster. Allie is from Schaumburg Illinois and is currently in her sophomore season at the University of Illinois where she is off to a great start for the Fighting Illini with a .356 batting average. In 73 at bats Allie has scored 17 runs on 19 hits, 14 RBI,s and 3 home runs. Allie completed her freshman season with hitting .250 and she captured the Big Ten Freshman of the Week award in April and was awarded the All-American Scholar Athlete award. We have no doubt that Allie will make huge contributions on both sides of the field this summer and we can't wait to get her on the field. Welcome Allie!
.
.
The Slammers are thrilled with the addition of Illinois State Redbird, Jordan de los Reyes to our 2014 team. Jordan is from Moline Illinois and is currently in her freshman year at Illinois State University. Jordan had a stellar high school career at Moline High School
She was a three time all-conference and all-state selection...left Moline tied for 11th in state history with 30 career homers...batted .535 with 11 doubles, 15 homers and 63 RBI in 2013...8 homers and 49 RBI as a junior in 2012...led Maroons to a 31-11 record and a third-place finish in the state...won state championship as a sophomore in 2011, as the Maroons went 30-8-1...hit .380 with six homeruns...played 19 games as a freshman in 2010, batting .346 with one homerun and 18 RBI's.
We expect Jordan to make an immediate impact for the Slammers with her big bat and steady defense behind the plate....Welcome Jordan!
.

The Slammers are excited to add Jackie Kisman to our 2014 roster. Jackie is from Lakewood, Illinois and is currently in her junior year at Oakland University. The upcoming season will mark the arrival of Oakland University to the Horizon League. During Jackie's freshman and sophomore seasons in the Summit League, she has maintained a .303 batting average to go along with a .970 fld%. Jackie is a left handed slapper with great speed. She also has the ability to play both middle infield and outfield positions which will be a huge asset for the Slammers in the upcoming season. Our entire staff welcomes Jackie to the Slammers and we look forward to seeing some great softball from her in our upcoming season.
.
.

The Slammers are proud to add Taylor Weissenhofer to our pitching staff for the 2014 season. Taylor completed her freshman season at Valparaiso University, by leading the Crusaders to the NCAA Regional's in Ann Arbor, Michigan. Valpo captured the Horizon League Championship behind the arm of Taylor who finished the season at 21-12 with a 2.43 era. In 195.2 innings pitched, Taylor faced 718 batters. She amassed 234 strikeouts with 76 BB and .212 b/avg for opposing teams.
Taylor resides in Homer Glen, Illinois where she graduated from Lockport Township in 2012. As a senior, Taylor set a school record of 272 strikeouts in a single season. She was named Herald News Player of the Year in 2012, two time Pitcher of the Year selection by the Old Timers Baseball Association of Will County. Taylor will make an immediate impact for us on the mound next year. With the Slammers phenomenal defense and our potent offense who closed out the season with a team batting average of .390, Taylor will be will be a real force to be reckoned with by Slammer opponents this coming summer.
.

2013 Schedule & Results
.
*June 1st 7:35 pm ----Two Time NPF Champions Chicago Bandits----Rosemont, IL Bandits 5 Slammers 2
(Exhibition played inside Rosemont Dome due to storm)
.
June 8-9----ASA Bloomington Lady Hearts Invitational----Normal, IL
*First Place: Slammers
Second Place: Bloomington Hearts
.
June 22-23----USSSA Illinois State Tournament----Rockford, IL
First Place: Diamonds Forever
Second Place: I-Club
*Third Place: Slammers
(No pool play...rain shortened tournament)
.
July 6-7----USSSA John Radtke Memorial Tournament----Elgin, IL
First Place: Hooters
*Second Place: Slammers
.
July 26-28----USSSA World Series----Rockford, IL
First Place: Brakettes
Second Place: Hooters
*Third Place: Slammers
.
August 3-4----NSA World Series----East Peoria, IL
*First Place: Indiana Slammers
Second Place: St Louis Saints
Third Place: Bloomington Hearts
.
Champions
Bloomington-Normal Lady Hearts Tournament
W 6 L-0 June 8-9, 2013
Top: Devin Miller - Brittny Drish - Liz Watkins - Casey Clutch - Natalie Hernandez - Courtney Heeley Bottom: Teresa Aguilar - Kelsi Jones - Coryn Schmit- Jenna Marsalli - Shawna Sadler - Jhavon Hamilton
Leading Hitters: Hernandez .647 - Jones .529 - Schmit .500 - Marsalli .438 - Sadler .417 - Drish .357 HR: Hernandez (3) - Jones - Marsalli - Hamilton - Watkins 2B: Hernandez (4) 3B: Drish RBIs: Hernandez (14) - Jones (10) - Marsalli (6) Team BA: .408
Pitching: Casey Clutch W-3 L-0, 2 shutouts, 2.05 era Devin Miller W-3 L-0, 2.33 era
Championship Game: Slammers 9 Hearts 1
.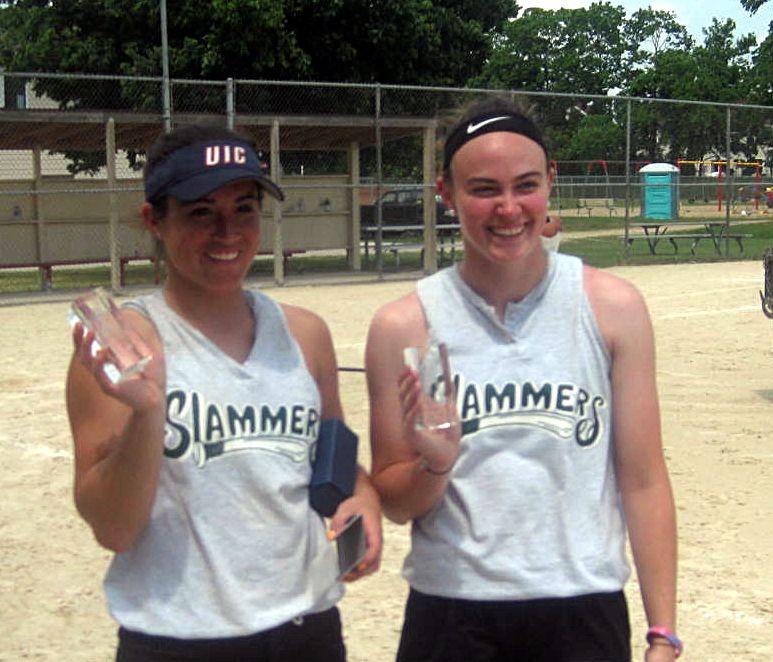 All Tournament
Natalie Hernandez and Kelsi Jones
USSSA IL State
USSSA IL State Championship
Third Place
Rockford, IL June 22-23, 2013
.

All Tournament USSSA IL State . . Nat and Kelsi hitting one-two in the Slammer line-up are posting incredible hitting stats through the first 10 games of the 2013 season. Natalie has an OBP of .633, is carrying an astonishing .655 batting avg leading the team in hits (19), Doubles (6), HR (tied with Jones with 4), runs scored (12) and rbi's (21). Kelsi Jones is hitting .500 with 4 home runs, 16 rbi's and a lofty OBP of .567
.
USSSA IL State Stats:
Slammer Leading Hitters: Hernandez .667 - Ranieri .600 - Jones .444 - Dotson .429 - Mener .375 - Heeley .375 - Drish .333 HR: Jones (3) - Hernandez - Connolly - Dotson 2B: Heeley (3) - Hernandez (2) - Jones - Drish RBIs: Hernandez (7)- Jones (6) - Dotson, Mener, Heeley (3 ea) . Top Pitcher: Clutch IP: 9 2/3 ERA 0.72
.

All of us in Women's Fastpitch are very familiar with Karl who never misses the big tournaments. Thanks for your support Karl!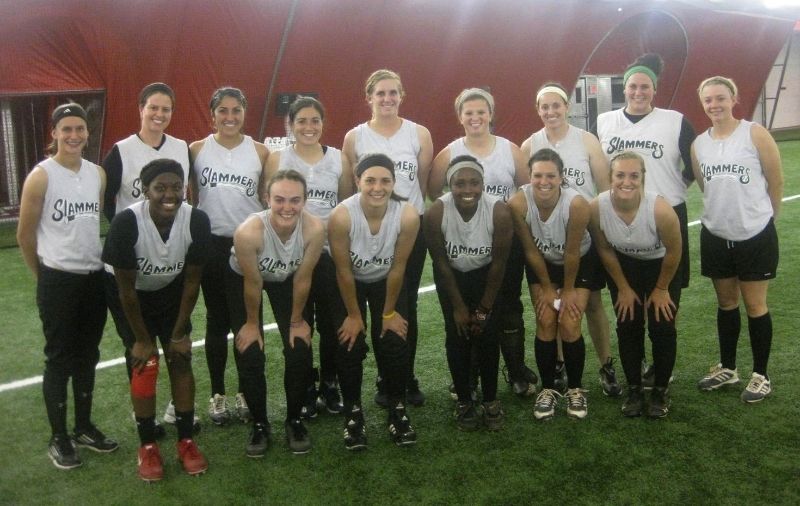 Slammers vs Chicago Bandits
Teams Pair Off in Exhibition Game as Both Teams Begin 2013 Season
Bandits Stadium 27 Jennie Finch Way
Rosemont, IL 60018
Bandits 5 - Slammers 2
June 1st, 2013
.

Top: Sammy Marshall- Casey Clutch/ Creakbaum - Courtney Heeley - Natalie Hernandez - Brit Gardner - Kelsey Dotson - Sadie Conner - Casey Crozier - Coryn Schmit
Bottom: Jhavon Hamilton - Kelsi Jones - Jenna Marsalli - Shawna Sadler - Melissa Preish - Kaitlyn Ranieri
Game Highlights: 1st Inning: Slammers jumped out in front when, after two outs, Natalie Hernandez (UIC) and Mellisa Priesh (UIC) cracked back to back line drive doubles to the fence giving Brit Gardner a 1-0 lead. In the bottom of the first Bandits' leadoff hitter Vicky Galindo beat out an infield hit then scored on a base hit by Bandit SS Tammy Williams.
Backed by great defensive plays by both teams the game then turned into a pitching duel between Slammer starting pitcher Brittany Gardner (Loyola) and Bandit's starting pitcher Andrea Williamson who was relieved by newly drafted Texas A & M star Mel Dumezich in the 4th inning.
.

Gardner held the Bandits hitless in the 3 and 4th inning but a leadoff home run and 2 hits in the 5th put 4 runs on the board for the Bandits. . .In the 5th inning the Slammers turned to new Slammer Casey Crozier (Youngstown St) who allowed only 1 hit in her 2 inning stint. A brilliant bases loaded running catch in left centerfield by Shawna Sadler (WKU) ended the 5th inning with no further damage and the Bandits holding a 5-1 lead. .
.

The Slammers final run was scored when Coryn Schmit (UIC) drew a one out walk in the 7th, Kelsi Jones (MO) singled and Schmit then tallied on an error making the final score Bandits 5 Slammers 2.
.

* Special thanks to Sammy Marshall ( Western IL) who joined us for this exhibition game and provided immediate impact with her blinding speed at leadoff hitter. She was so fast to first base she will ever be known as "Jimmy John" by those of us who watched her play. She now plans to resume her coaching career. Thanks Sammy!
Slammers: 2 runs - 5 hits - no errors. LP Gardner
Bandits: 5 runs - 9 hits - 1 error. WP Dumezich
* Many thanks to the Chicago Bandit organization for hosting this exhibition game then adjusting to the storm conditions and allowing the Slammers to use their impressive indoor practice facility to warm up then play the game on that beautiful indoor playing surface.
Coaching Staff
Head Coach & Team Founder - Bob Zivic - Ph 219-688-2223
Co- Head Coach - Casey Clutch Creakbaum - Athletic Performance Center
Asst Coaches - Kirk Piehl - Dave Wilson - John Clutch - Eddie Creakbaum
Web site Editor - Dave Wilson - dhwilson99@gmail.com
.