.Bloomington Hearts Tny '13, '14
USSSA Women's World Series: '08, '09', '11
USSSA Women's Illinois State: '08, '09, '10, '11, '12, '14
John Radtke Memorial: '09, '10, '12
NSA Womens World Series: '13, '14
.

Standout Players 2014 Season
.
Louisville outfielder and 3 year Slammer veteran Kelsi Jones dominated in practically every offensive category. Kelsi was the only player to play in all 32 games hitting .435 leading the team in doubles (7), triples (2), home runs (7) and RBI's (34).
.

.
On the mound DePaul's Mary Connolly made 15 appearence going 11-2, leading the staff in IP (72), SO (49) while maintaining a 1.72 ERA. She also carried a huge bat hitting .466 with 3 HR and 17 RBI.
.

Collectively the 2014 Slammers had a phenomenal team batting avg. of .398 while the pitching staff ERA was a remarkable 1.91.

..Six Year Record
.
2008 thru 2014: W-178 L-37

USSSA Tournament Record: 119 - 18
2013 Season: W-24 L-5
2014 Season: W-25 L-7
.

.

Slammers Welcome New Players For 2015 Season
.
.

12/15/14 The Slammers extend a warm welcome to Marissa Gagliano who has now been added to our 2015 roster. Marissa is currently a freshman at Radford University. She is from Elgin Illinois and graduated with honors from Wheaton Academy where she had a stellar softball career. Marissa was the 2013 & 2014 Suburban Christian Conference (SCC) Player of the Year....Selected to 2013 Max Preps Small School All-American team...Two-time All-American selection by the National Christian School Association (NCSA), including first team in 2013...ICA Class 3A All-state honoree the past four seasons, including first-team as a senior (first in program history)...Four-time first-team all conference, along with all-area and all-Dupage county selections...2013-2014 Wheaton Female Athlete of the Year...Played summer ball for the Beverly Bandits...the Bandits are the 2013 PGF 16U National Champions and finished 3rd in the PGF 18U Nationals in 2014. Marissa is as good as they get on the field and with her bat. She will play a key role in our success and we are very fortunate to have her as a member of the Slammers. Welcome Marissa!
.

.
.
12/12/15 The Slammers are elated to have Carolyn Wilmes join us for our 2015 season. Carolyn is currently a freshman softball player at Ball State University. She is from Evansville Indiana and is a 2014 graduate at Mater Dei High School. Carolyn put up some huge numbers during her high school playing days. She received All-State honors her sophomore, junior and senior season...led the state of Indiana with 365 strikeouts her junior season....completed her junior season with a record of 26-2, 0.48 ERA with 365 strikeouts in 190 innings pitched....completed her sophomore season with a record of 18-6, 1.17 ERA and 240 strikeouts.
.

Carolyn was also named All-Conference in her sophomore, junior and senior seasons as well as All-Metro Player of the Year in her sophomore and junior seasons. She also received Academic All-City honors all four years. During Carolyn's four years at Mater Dei, they won city and conference all four years and were semi state finalists her junior season. We have no doubt that Carolyn will play a huge role in the success of the Slammers next summer and we are thrilled to have her as part of the Slammer organization. Welcome Carolyn!
.

.

.
12/11/15 The Slammers are thrilled to announce the addition of Amber Logemann to our 2015 roster. Amber is currently a Junior pitcher at the Miami University-Ohio. Amber is from Earlham Iowa and graduated from Earlham High School where she had a stellar prep career. She was a 4 year letter winner at Earlham and was named the 1A Pitcher of the Year in 2011 and 2012.
During her senior season Amber led the State of Iowa with a record of 29-2 along with a 0.26 era. Upon graduation from Earlham, Amber started her softball collegiate career at Kirkwood Community College. Amber completed her 2013 season at Kirkwood with a record of 25-3 and a .58 ERA, which led all of National Junior College athletic Association (NCJAA) Division II. She was named First-Team All-American by both NJCAA and the National Fastpitch Coaches Association (NFCA) ....finished with 356 strikeouts in 180 innings.
Amber appeared in 28 games in 2014 for the Miami Redhawks making 24 starts. She finished the season with a record of 8-12 and a 3.30 ERA. Amber also lead the team with 126 strikeouts in 123 innings. Amber is a strikeout machine and we look forward to some big innings from her next summer. Welcome Amber!
.

Tournaments 2015
.

We are currently seeking Women's Fastpitch teams who would be available to play in the Grand Park Summer Showdown July 11-12 at Grand Park in Westfield,IN. Grand Park offers visiting teams 26 fields across 400 acres; numerous restaurants, professional sports teams, and shopping centers a short drive away in Indianapolis Indiana. The Grand Park Summer Showdown will be open to Women's Fastpitch teams. It will be the first time the state of Indiana will host Women's Fastpitch. We are currently seeking women's fastpitch teams as well as 18u gold/elite teams. If interested please contact Bob Zivic.
BJZ@aol.com or PH:219-688-2223

.

'

NSA Womens World Series
Back to Back Championships 2013-'14
East Side Centre, E. Peoria, IL
August 2-3, 2014
.
Standing: Dave Wilson (Coach) - Nicole Pihl - Brooke Riemenschneider - Jordan de los Reyes - Shawna Sadler - Gena Lenti - Mary Connolly -Jenna Nolan - Kelsi Jones - Jenna Marsalli - Taylor Carter - Kaitlyn Ranieri - Jhavon Hamilton - Russ Jones (Coach) - Bob Zivic (Head Coach) Kneeling: Jackie Kisman - Jorgi Calombaris
.
NSA Womens World Series Championship Trophy
.

Mary Connolly (DePaul) checks out the impressive NSA Championship Trophy after pitching the tournament championship game. The Slammers overcame a determined Lady Hearts team 6-5 as the clock ran out at the end of six innings. Mary, Taylor Carter ( Eastern TN State ) and Jenna Nolan (IL Wesleyan) all pitched outstanding games as the Slammers won their second consecutive NSA World Series. The five tournament 2014 season concludes with the Slammers winning three tournaments, one runner-up and one 4th place finish. Final 2014 record was 25 wins and only 7 losses. Great job and best of luck to all of you who wore a Slammer uniform this summer!
.
Solid Defense

.
.

Only Kelsi Jones appeared in more games this summer than Nicole Pihl who was flawless on defense at first base, hit with power and had a season avg of .390. Mary Connolly was the backbone of the Slammers pitching staff while hitting .466 with 3 HRs and 17 rbis. On the mound she racked up 71 2/3 innings with an 11-2 record and 1.17 ERA. Heading into her final year at DePaul Mary's career honors at are many with 2014 as her finest year with the bat and on the mound: 2014 BIG EAST Player of the Year - 2014 All-BIG EAST First Team - 2014 BIG EAST All-Tournament Team - 2014 Great Lakes Region First Team. We will not be surprised to see Mary wearing a professional uniform next summer.
.
.

Over her three years with the Slammers Kelsi has not missed a game while establishing herself as one of the most prolific and consistent run producers in Slammer history. Just as she did in the two previous seasons Kelsi led the 2014 Slammers in most offensive categories including games played (32), runs (23), HR (7), and RBIs (34) all while maintaining a .435 BA. Not to be overlooked is her outfield play where her great throwing arm cut down several runners. We wish Kelsi all the best as she enters her senior year as a member of the Louisville Cardinals.
.

.

.
Gena was a part-time player in 2014, but had a big impact leading the Slammers in the final two tournaments with a batting average of .476. A skilled slapper and fine outfielder Gena now enters her Junior year at DePaul
.
NSA World Series Slideshow
.

.

.
.
Defying the odds on coin flips, Jhavon works her Magic giving the Slammers
home field advantage the last 7 games!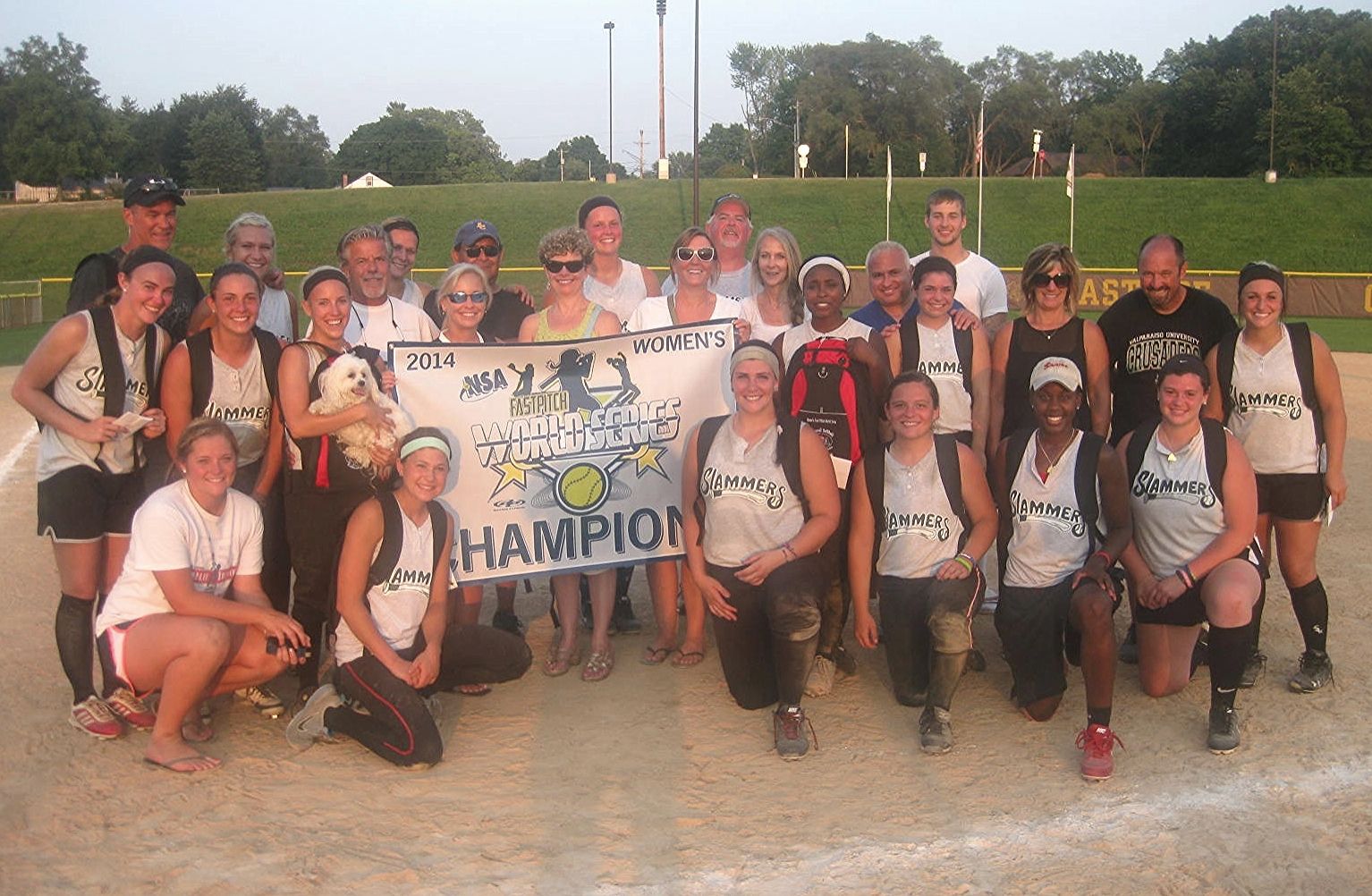 2014 NSA Womens World Series Champions
Family and Friends
The Entire Slammer Organization appreciates your support!

USSSA Women's World Series
2nd Place
W-7 L-2
Rockford, IL
July 25-27, 2014
.

Back: Nicole Pihl - Alice Fitzpatrick - Ellie Forkin - Gena Lenti - Marisa Bast - Mary Connolly
Middle: Nicole Steinbach - Kelsi Jones - Andrea Filler - Kelsey Dotson - Kasey Gibson
Bottom: Jackie Kisman - Shawna Sadler
.

.
All Tournament
USSSA Women's World Series
Nicole Pihl - Marisa Bast - Mary Connolly
Kelsey Dotson (All Defensive Team)
Tournament Stat Leaders
Hitting: Nicole Pihl .688 (8 gms) - Mary Connolly .524 (8 gms) - Kelsi Jones .455 (9 gms) - Kasey Gibson .444 (9gms) - Marisa Bast .444 (7 gms) - Gena Lenti .429 (7 gms) - Jackie Kisman .400 (9 gms). Team BA .408
HR: Bast (3), Filler (3), Jones (2), Pihl (2), Connolly 2B: Jones (3), Pihl (2), Houch (2), Connolly, Bast RBI: Jones (11), Pihl (9), Connolly (7), Filler (7), Connolly (6), Houch (6), Bast (5)
R: Kisman (10), Bast (9), Jones (8) SB: Kisman (6), Sadler (4) Sac: Sadler (3)
.

Pitching
Connolly (2-1, 0.66 IP 16) - Steinbach (3-0, 1.16 IP 12) - Fitzpatrick (2-0, 1.31 IP 11) - Boetjer (0-1, 1.00 IP 7)
Staff ERA: 0.78
.
Slammers vs Team Netherlands
Bandit Stadium in Rosemont, IL July 17,2014
.
Sammy's one out triple down the left field line in the final inning gave the Slammers a chance to get on the board, but was stranded as the Slammers lost 4-0 to a fine Netherlands team. Sammy Marshall's '14 season batting average of .478 was 5th highest nationally in NCAA D-1 softball.
.
Pregame Introductions
.
After playing a great defensive game the Slammers couldn't get the offense in gear and took another
tough loss at the hands of a fine Dutch National team. Final score was Netherlands 4 Slammers 0.
Mary Connolly held the Dutch scoreless for 4 innings until the Netherlands scored 2 runs on 2 hits in the 5th. Gatorade Indiana Softball Player of The Year Miranda Elish finished the 9 inning game surrendering the final 2 runs but again showed tremendous poise facing World class women's competition.
Bandit's Stadium, Rosemont, IL 7/16/14
.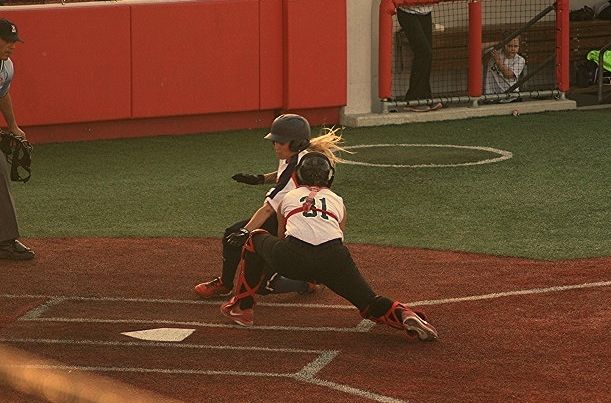 Defensive Gem
In the first inning Slammer SS Whitney Arion picked up a grounder and immediately fired a strike to catcher Jordan de los Reyes to nail a speedy Netherlands runner attempting to score from third. The game remained scoreless until the 5th inning when the Dutch scored 2 runs. (Photo Copyright@http://www.dutchsoftballteam.com)
.

2014 Tournament Schedule
Exhibition: May 25 --- Chicago Bandits --- Bandit Stadium, Rosemont, IL---5:05pm
Bandits 11 Slammers 0
.

June 7-8-------- Lady Hearts Invitational, Normal, IL
First Place
W-5 L-0
Repeat Champions 2013, 2014
.
June 28-29-------USSSA Illinois State Trny, Joliet, IL
First Place
W-5 L-1
2nd Place - Lady Angels
3rd Place - N IL Lightning
.
July 5-6--------John Radtke Memorial Trny, Elgin, IL
4th Place

W -3 L-2
First place: Hooters
Runner-up: Lady Hearts
.
Exhibition: July 7th and 16th --- Dutch National Team --- Bandit Stadium, Rosemont, IL --- 7pm
July 16th---Netherlands 4 Slammers 0
.
July 25-27----------USSSA World Series, Rockford, IL
2nd Place
W-7 L-2

1st Place: Hooters

August 2-3-------NSA World Series, East Peoria, IL
1st Place
W-7 L-2
2nd Place: Lady Hearts

.
.
Slammers vs Team Netherlands
Bandit Stadium at Rosemont
July 7, 2014
.
Slammers Top Row: Jordan de los Reyes - Nicole Pihl - Miranda Elish Middle: Coryn Schmit - Gena Lenti - Mary Connolly
Kneeling: Kasey Gibson - Jenna Marsalli - Jackie Kisman - Whitney Arion - Kelsi Jones - Jhavon Hamilton
.
By agreement the Slammers and Netherlands agreed to play a 9 inning game. The Slammers had an explosive first inning scoring 5 runs as Jackie Kisman and Whitney Arion opened the game with back to back bunt singles followed by doubles from Mary Connolly, Jordan de los Reyes and Jenna Marsalli. The 5th run of the inning was driven in with a single by Nicole Pihl.
.
With DePaul's Big East Player of the Year Mary Connolly on the mound the Slammers carried a 5 - 3 lead into the 5th inning where the ball was handed to Indiana Gatorade Player of the Year Miranda Elish. The Netherlands then tied the game in the top of the 5th scoring 2 runs on no hits, 2 walks and 2 throwing errors. Elish showing great poise for a young pitcher gathered herself and struck out the side in the 6th inning. In the 7th inning the Netherlands took a 6-5 lead with 1 run on 2 hits but Elish was then perfect retiring all 6 batters she faced in the 8th and 9th innings.