Hudson Valley Little League: Welcome
Tuesday, May 14
RCS Community Vote
On Tuesday, May 21st is the RCS Community vote where residents of the district will vote on the school budget, choose three BOE candidates and choose candidates for the RCS Community library.
If you are eligible to vote next week, please go to the HS Gym and cast your vote. It is important to have a say in your child's future and education.
Also, if you have any questions, we do have three RCS BOE members who are a part of our league: James Latter of the Minor Yankees, Bray Engel and Teddy Reville of the International Yankees. I am sure they will be happy to talk with you if anything comes to mind.
Thanks!
Tuesday, April 23
2013 MLB Pitch Hit and Run Competition
Folks,
Please join us on Sunday, April 28th from 12pm to 2pm for the 2013 MLB Pitch Hit and Run competition. Players ages 7 to 14 years old are eligible and there is no cost to participate.
Click the link for the flyer and more information. Contact Geoff Shackelton for more information.
Tuesday, April 23
Schwan's Day at HVLL
HVLL Families!
Don't miss the opportunity to order yummy items from Schwan's Delivery! This Saturday, April 27th is Schwan's Day at HVLL from 9am to 3pm. Pre-order items by April 25th to ensure Saturday delivery. Click the link to place your orders now!
Monday, April 15
Parade and Opening Day
Less than one week away is our Opening Day. We are starting this Saturday and asking all parents bring their players to the Ravena Fire House on Main Street around 10am. We will start marching at about 10:30am and games start at 12pm. There will a ceremony prior to the games and there are also raffle prizes for everyone to participate in.
Don't forget to bring your banner to show off your team spirit! Looking forward to another great season of HVLL baseball!
Monday, April 15
Team Pictures
Everyone,
Please don't forget, team pictures are on Thursday starting at 6:00pm. Arrive early and make sure your photo form envelopes are filled out in advance. Schedules are on the main page of the website and in the Calendar of Events link. Thanks!
Eric
Tuesday, April 16
Photos from 4 in 24 program are posted
Please check out the field work that was completed on Sunday in our photos section! Great work everyone!
Monday, April 8
Moving along
Well, the teams are drafted, practices are on their way, and the park is getting ready! As you can see, we are getting the new concrete pads ready for the new bleachers that will be installed all over the park.
There is lots more to do, including the work on the International Field coming up on Friday, April 14th, putting signs up in the Major and International fields and general cleanup around the park.
Let's make our park shine!!!
Friday, March 15
Hudson Valley Little League selected for the '4 in 24' program!
The Winning Leagues with the Valley Cats staff
We are super excited to have the Tri-City Valley Cats and BlueShield of Northeastern NY invade our International Field this year and give it a makeover! On April 12th, 2013, we will be working with these great organizations to make things a little better.
Please contact us at email@hudsonvalleylittleleague.org if you wish to volunteer and help out at this event!
Click the article title for the official press release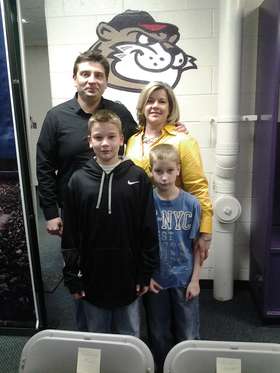 The Pistrittos made their way!
Tuesday, February 26
Tryout Times
Times have been posted for tryouts on both March 2nd and March 9th. Please check the calendar on this site for information.
Please note that we have broken up tryouts by last name. So, please check to see where your name falls on which date. If you have a conflict, please email us.
Thanks!
Friday, February 22
Tryouts Info
A reminder that the first of two tryout dates will happen on Saturday, March 2nd. The second will be on Saturday, March 9th. Both dates are set for the RCS high school gym, starting at 9am. We will be emailing all families who have signed up when the times are set for each of the age brackets.
For all players ages 5 through 12, we ask that you come to just one of the two sessions to tryout. No need to come to both.
We will have a table setup for anyone who has not signed up to play for the Spring 2013 season. You can signup in person at these two dates or as always, signups can be completed online through our website. Just click on the Registration link to the left and you are on your way.
As far as what should be brought to tryouts, please have your players wear sneakers and bring their glove. Also a suggestion for a drink.
We will be asking players to go through drills such as throwing, catching, fielding and hitting. Coaches who have been approved to manage this season will be evaluating each player and determining division assignments. Your players will be drafted shortly thereafter. Only volunteers who have filled out their 2013 volunteer form and has passed their background check will be allowed in the gym with the players. Parents will be allowed to wait for players in the hallways and lobby. This is done for safety of the players.
If you have any questions, as always, give me a shout! email@hudsonvalleylittleleague.org
Thanks!
Friday, February 22
Clinic 2 is Postponed
Just a reminder that there is no clinic scheduled for Saturday, February 23rd. It has been postponed. We will let everyone know if and when the reschedule happens!
Sunday, February 10
Session 1 of Clinics
We are getting closer to our first session of clinics. Now, we have had to postpone the second clinic as we will not have access to school property on 2/23. We are currently working on getting a session/sessions setup prior to tryouts to make up for this time. We are also looking to makeup some of the coaching clinic that was snowed out this past weekend.
In any case, Phil Halwick (HVLL Coaching Coordinator) is working hard to get the first clinic all setup to be a success. We have broken out the clinics to take place at the RCS High School into two groups for Saturday:
Group 1 is for 4 year old to 8 year old players - 9:30am to 11:30am
Group 2 is for 9 year old to 12 year old players - 12:00pm to 2:00pm
I do not have any specific information at this time to provide, but I do know that all players should wear sneakers (no cleats), have their glove and it would be good to have a drink.
For any player to participate, they need to be registered and have their medical release completed. There is no obligation to participate if your player does not wish to. To register, go to the website (
www.hudsonvalleylittleleague.org
) and click on the registration link at the left side. For Medical releases, click on the Links on the left side of the main page.
We hope to see many players at our first session!
Sunday, February 10
Registration Closes on March 9th
We would like to let everyone know that registration will close on March 9th after the second set of tryouts. We need to do this in order for us to create the teams for the season and let the managers get started.
After this date, anyone who registers will be charged a $25.00 late fee. The only divisions we will really be allowed to add to are Pony and Minors. The upper divisions are set once teams are drafted.
Make sure to get your players registered before this date in order to ensure that they will be included onto a team. Thanks!
Sunday, February 10
Registration Website Features
Everyone who was signed up for Spring 2012 and Spring 2013 has now been added into the registration site. If you have not checked it out yet, please do.
There are some good features that are now available that we did not have last year.
One item of note is entering in a cell phone number and signing up to receive text notifications when we need to contact the community. It's good that we can now have that immediate communications
Also, we can associate pictures to your account. This would allow administrators to know who your players are if we are not familiar with them. This would only be used by our player agents and myself. If you do not wish to post a picture of your player in the site, we certainly understand and there is no obligation to do so.
Other items can be adding additional contact emails and phone numbers
Please check it out. If you have not logged in before, go to the site, use your email address and ask to reset your password. From everyone who I know that has logged in before and registered, the claim that the process has been fairly simple and user friendly.
Sunday, February 10
Teaming up with Dick's Sporting Goods
As mentioned in a previous post, we have parents and players looking to get new equipment for the new season. We have partnered with Dick's Sporting Goods to help you in your quest for baseball gear!
As a sponsor of HVLL, Dick's Sporting Goods wants to recognize our commitment and dedication to youth sports by extending an exclusive invitation to a special one-day League Appreciation Day at the Crossgates Mall Dick's Sporting Goods store on March 16th.
Visit HVLL's table at the store on this date and you will receive 2 coupon sheets for the special discounts! One sheet will provide you with 10% off your cleats, bats, pants, gloves, training items, and more! On top of that you will receive an additional 15% OFF your entire order this day!! GREAT SAVINGS on all of your baseball needs for the upcoming season!
Here are those sheets ahead of time too in case you want to do some shopping now:
http://app.dcsg.com/couponsheet/?s=644328 - does not expire for 1 year
http://app.dcsg.com/couponsheet/?s=566856 - good only for Appreciation Day
If Dick's does not have your size or style for an item, please see an associate and they can try to find online for you and ship to your address for FREE with the 15% discount.
Please take advantage of this team shopping event, so you can enjoy the best baseball/softball products at a great savings!
Sunday, February 10
Approved Bats for use in Little League
As we are getting ramped up for the new season, there is always the desire to want to search online or got o the store to buy new equipment. One item to point out to all families is that if you want to buy a new bat for your player, not all bats are approved by Little League.
Please use the following link and check the list of Little League approved bats that can be used for 2013. Safety is our top priority and we would not want to see anyone spend lots of money on a bat that cannot be used by your player.
Thanks!
Friday, February 1
In-Person Registration 2
On Saturday, February 2nd, we will be holding In-Person registration for the 2013 Spring season. This will be held from 11am to 1pm and will now take place at the High School outside the gym.
If you are a returning player, we will only need to have your registration form and a completed medical release. Those can be found on our website.
If you are a new player for this season, please bring the registration, medical release, copy of your birth certificate and two proofs of residency.
For anyone who has already signed up online and not submitted your supporting documentation, you may bring it to this session.
We are seeking volunteers and if you wish to participate, please fill out a volunteer form and have a copy of your driver's license. We do run background checks on all volunteers.
Any questions, please email us at email@hudsonvalleylittleleague.org. Thanks!
Saturday, January 26
Board Members have been trained
Hello everyone!
The entire Hudson Valley Little League board has successfully completed a certification course for the 2013 season. We are now certified in CPR, AED and First Aid procedures. Safety is our number one concern and we are making the effort to be as safe as possible. Starting with the board is a great start.
Thank you to Brenda, Brian and Dennis Wood for their time in training the board in our course. Thanks to Jerry and Marsha Hall for allowing us the meeting space. Thank you to Charles Higgins, our Saftey Officer, for organizing the whole effort.
We also welcome anyone who knows any of these life-saving techniques to let the board know so we know who can help out.
Thank you!
Wednesday, January 23
In-Person Registration 1
Folks,
Tonight is the first of two in-person signups. We are having this one at Hootz Family Center in Ravena from 6pm to 7:30pm. Please bring copies of birth certificates and proofs of residency for only those players who are new for 2013.
Email us at email@hudsonvalleylittleleague.org if you have any questions!
Eric
Wednesday, December 5
Website Refresh
For all the changes that have been made over the past few years, we wanted to make HVLL a better place to play and learn. Over this time, I have been trying to update the website a little and hoping that everyone has enjoyed this.
I did a little refresher today and was also able to include a new logo which was approved by the HVLL executive board last year. I just had some trouble trying to fit it onto the page. You should now see it at the top of the webpage!
I have to give credit to my sister, Wendy, who is a graphic designer. I gave her some ideas on how we wanted some logos to kind of look and this is one of the ones that was outstanding. So thank you to her and I am hoping that everyone will appreciate it!
Friday, November 30
2013 Spring Registration
Registration for the 2013 Spring Season is now open! Please clich the Registration link on the left side of the screen to get started! Woo hoo! Nothing says "baseball" like the dead of winter!
Monday, October 1
2012 - 2013 HVLL Board Members
The annual meeting for managers, coaches and existing board members was held on September 26th and we are very proud to announce the new board for thr 2012 - 2013 Little League season.
Every year, this meeting helps to determine who will be serving on the board and who is elected to the various positions. Board members start their new term on October 1st:
President - Sharon Pistritto
Vice President - Bob Boomhower
Secretary - Tammy Morrow
Treasurer - Rick Rieth
Safety Officer - Charlie Higgins
Player/Agent (Majors and International) Dave Pistritto
Player/Agent (Pony and Minors) Bill McFerran
Fundraising Chair - Wendy Mattick
Concession Manager - Tina Hotaling
Information Officer - Eric Schorr (yay!)
Coaching Coordinator - Phil Halwick
Equipment Manager - Leandra Slater
Equipment Manager - Teddy Reville
Majors Commisioner - Steve Kraz
International Commissioner - Ron Hotaling
Pony Commissioner - Matt Hotaling
Minors Commissioner - Nick Abrams
Please welcome all of our new board members and those who have returned. We are hoping to make the next year even better than the last!
Thank you!
Sunday, September 9
Notice of 2012 Annual Meeting and Election of Directors
The Annual Meeting and Board Member Elections for Hudson Valley Little League will be held on WednesdaySeptember 26, 2012 at 7:00 PM in the Hootz Family Bowling Center located at 100 Main Street in Ravena. As required inArticle V, Section 6 of our Constitution, "The annual meeting of the Members of the Local League shall be held on the last Wednesday of September beginning at 7:00 p.m. each year for the purpose of electing new members, electing the Board of Directors, receiving reports, reviewing the Constitution, appointing committees, and for the transaction of such business as may properly come before the meeting. After the Board of Directors is elected, the Board shall meet to elect the officers".
Article III, Section 2b of our Constitution addresses Regular Members:
Only Regular Members in good standing are eligible to vote at General Membership Meetings. All Officers, Board Members, Committee Members, Managers, Coaches, Volunteer Umpires and other elected or appointed officials must be active Regular Members in good standing.
Note: Regular Members of the league automatically include all current Managers, Coaches, Volunteer Umpires, Board Members, Officers of the Board and any other person who is recognized by the Board as a volunteer in the Local League.
Please make every effort to attend this meeting.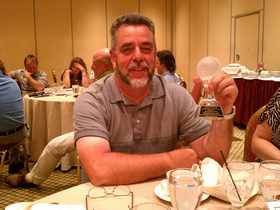 Bob and his award
Monday, June 18
2012 Hudson Valley Little League Volunteer of the Year
We here at HVLL pride ourselves on the fact that we work together as a family and try to not only bring in new people to help out, but to retain those who have helped us. We love this community and know that every year gets better and better for our players and volunteers.
One volunteer who has made HVLL over the past 20 years a better place to play is Bob Boomhower. At the beginning of the season, he was unanimously voted as this year's Volunteer of the Year. On Friday night (6/15), Bob was honored at a ceremony for District 13 leagues.
Please congratulate Bob on his accomplishments with HVLL and wish him another successful 20 years with HVLL!
Sunday, September 9
Notice of Special General Membership Meeting
A special general membership meeting of the Hudson Valley Little League will be held on
Wednesday September 19, 2012 at 7:00 PM
in the
Hootz
Family
Bowling
Center
located at
100 Main Street
in Ravena. The purpose of this meeting will be the nominations of regular members to serve on the board of directors for the upcoming
2012-2013 season. A sample ballot will be presented at the meeting and members receiving a nomination will be placed on the ballot which will be voted on at the annual meeting on September 26, 2012. Nominees should be present to accept or decline their nominations for candidacy.
Article III, Section 2b of our Constitution addresses Regular Members:
Only Regular Members in good standing are eligible to vote at General Membership Meetings. All Officers, Board Members, Committee Members, Managers, Coaches, Volunteer Umpires and other elected or appointed officials must be active Regular Members in good standing.
Note: Regular Members of the league automatically include all current Managers, Coaches, Volunteer Umpires, Board Members, Officers of the Board and any other person who is recognized by the Board as a volunteer in the Local League.
Please make every effort to attend this meeting.
Tuesday, May 7
Hudson Valley Little League