Meet our Support Staff




It takes a lot more than just our football player's and coaching staff to make our team. There are so many other people that have key roles in making our football program what it is today, some of them are new to our program some have been with us for years. We appreciate their roles and value their dedication and support. We're proud to have them a part of our football family. (more to come we have a lot of support!)





Matt Baker, Athletic Director


Matt's first official year as our athletic director. Matt grew up being part of the TVL league playing sports for his hometown Ashland Clockers. He graduated from Assumption College and went on to work with Framingham State University's athletic dept and as Associate Athletic director for Mass Bay Community College. We're excited to have him on board! Matt has lived in Holliston for 10 years with his wife and 4 children.




Nicole Siglin, Athletic Trainer



Nicole received her Bachelor's Degree in Physical Education from SUNY Cortland. She is Board Certified Athletic Trainer with the National Athletic Trainers' Association and certified strength and conditioning coach with the National Strength and Conditioning Association. She's CPR/AED Certified.
Prior to Holliston she worked at Bentley University as an Assistant Athletic Trainer from 2000-2004. Prior to moving to MA she was the Team Athletic Trainer for the Junior Crunch (currently know as the Syracuse Stars) a junior hockey team in CNY.
As the Athletic Trainer at Holliston, her duties include, but are not limited to: providing daily coverage of practices and medical coverage of all Varsity events, providing orthopedic evaluations, treatment and management of all athletic injuries. She assists in implementing and
maintaining post injury rehabilitation programs as needed.
Nicole resides in Hopkinton with her husband Dexter and children Dexter, Ava and Ronan.
This is Nicole's 6th year with us
. Nicole is a huge asset to Holliston High School and our team. We look forward to many more years with her keeping us healthy.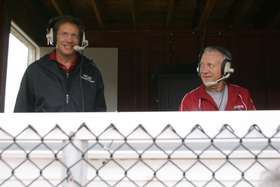 Tom Emmons, Jay Wyman
Tom Emmons, Jay Wyman and Jack Harper, Our Sports Commentators




These 3 guys have the luxury box seats at Kamitian Field. Tom and Jay broadcast the games for viewing recorded version. Play by play action is caught by them at each game both home and away and is part of creating the game films we watch every week on HCAT TV. Tom & Jay throughout the season include our players and team in special interview broadcasts as part of their SporTView shows on HCAT TV.

Jack Harper- Jack is the live voice, broadcasting to the crowds at our home games.

It doesn't hurt us that they all have a love for football and our team! Much more than just Friday nights the 3 of them are key contributors and supportors to our team and we appreciate all their dedication.






Lisa Hedrick, Dennis Bergeron, Steve Hedrick, Film Crew




Volunteering every week to capture our games on film is Lisa Hedrick, Dennis Bergeron and Steve Hedrick. Lisa does the editing to combine Dennis & Steve's sideline shots to give you those great slo-motion replays. They all enjoy football and getting the best view of the game to HCAT viewers.





Lisa Hedrick





Dennis Bergeron





Steve Hedrick






Dan Blaney, Bill Mayer, Steve Gallager, Dave Burrows, Chain Gang




Our chain gang measures where a team begins and how far they need for a first down. These 4 guys are been our chain gang crew for years, rarely ever missing a home game. They've had sons on the teams and have been Panthers themselves. Nobody has to call them up every week and ask them if they will be there. They all just show up and do their job well. We appreciate their ongoing dedication to our team.





Dan Kittredge, Filmographer


Dan is no stranger to Holliston Football, An alumni Panther and former coach, Dan just can't keep away. Dan films our games up on the roof so the coaches can pick them apart every week and review them with the boys. We appreciate all Dan does for the team.

Saturday, September 22


Andrea Murphy, President of Holliston Football, Webmaster




I started back in 2003 when my son Rob was a senior on the team and Todd began coaching for us. Todd thought it would be a good idea to have a website and so it began. Someone needed to coordinate all of our on and off season events and relay information to our parents and fans. I can't think of anywhere else I'd rather be on Friday nights! Trust me I don't do it all alone. Each year as a great group of boys and parents graduate and move on, a new year begins and without fail another awesome group arrives.

The above list is just a portion of all that support our team. We thank everyone who contributes in anyway to making Holliston Football what it is today.