Saturday, September 23
Holliston Runs Over Westwood
By Nate Weitzer Boston Globe News Correspondent
Defeating Tri-Valley League rival Westwood on its home turf is always a bit sweeter for the Holliston football program than most victories.
In the 51st meeting between the programs and the 11th over the last five seasons, Holliston leaned on its patented 'war' offensive package to build a 21-0 first-half cushion in a 41-7 win on a misty Friday night.
Westwood (1-2) managed to come back from a 20-point deficit last season to beat Holliston, 36-34, and gave the Panthers a scare by scoring with six seconds remaining in the first half of this contest.
Yet the Division 5 power had no intentions of another collapse. Holliston responded with touchdowns on its first three possessions of the second half, opening a virtually insurmountable 41-7 advantage.
Saturday, September 23
Holliston 41, Westwood 7
By Metrowest News
HOLLISTON 41, WESTWOOD 7: Senior running back Brad Seymour caught two touchdowns and ran for another to lead Holliston (2-1, 1-0 TVL) to a win over Tri-Valley League opponent Westwood. Classmate Jake Armstrong tallied two touchdowns and an interception in the victory.
The Panthers defense played solid and put in a strong, all-around team effort.
Holliston hosts Norton on Thursday at 7 p.m.
Sunday, September 17
Holliston Lineman Scott Elliott Stands Out in a Crowd
By Lenny Megliola, Metrowest Daily News Correspondent
When Scott Elliott walks the corridors of Holliston High, this sometimes crosses his mind. "I think some of the underclassmen are scared of me." He doesn't want to make anyone uncomfortable.
"So I say 'Hi, how you doin'?′ And I smile."
In fact, Elliott is also an underclassman, a junior. But his presence at the school is unlike any other student. He is 6-foot-3, 285 pounds with shoulder-length hair that glides in the wind.
So, you can't miss the manchild. Opponents on the football field can't avoid him, as much as they try. Elliott has carved a name for himself on the fields of the Tri Valley League. He is a player that Division 1 schools like Boston College have taken note of, and the Ivies have on their radar screens because Elliott's smart, National Honor Society, vice-president of his class and all that.
"Scott's extremely mature beyond his years," said Holliston head coach Todd Kiley. "He has all the qualities that are attractive to his teammates." Indeed, they voted Elliott a team captain, significant because he's the first underclassmen captain in Kiley's 15 seasons guiding the Panthers.
"It means everything to me to have the respect of the seniors," said Elliott.
The Holliston coaching staff keeps close tabs on the kids playing in the youth leagues. "We want to see what talent is coming up," said Kiley. "Scott opened our eyes [right away]."
The offensive lineman had a noticeable growth spurt between the seventh and eighth grades. "Three or four inches, 25-30 pounds," Elliott said. "I've talked to my doctors. They still think I have some growth in me." Each inch, each pound and college recruiters drool a little more when sizing up Elliott.
Size and football run in the family. Elliott's dad, also Scott, was a Boston University lineman in the early-90′s. He played guard at 6-foot-3, 293 pounds. His twin brother, Todd, was also on that team. "He was about the same size," said Scott. Their line coach was Tony Sparano, former head coach of the Miami Dolphins and Oakland Raiders and currently the line coach for the Minnesota Vikings. "I loved Tony," said Scott.
Scott the Younger has two football-playing brothers, Jack, a freshman quarterback and Brett, a sixth-grader. "He's the biggest kid in his class," said Scott. Brett's about 5-foot-5, 155 pounds said his dad. Which is to say, no one's pushing him around at recess.
Scott understood "my dad definitely wanted me to get into football, but he wanted to make sure I liked it." He did. Elliott played lacrosse and basketball in middle school and threw the discus and shot put events for the Holliston varsity last year. He may give hoops another whirl this winter. "I was a pretty good rebounder back in the day," he said. Boxing out was not a problem.
College recruiters have had Elliott plugged in since his freshman year. He was 15 years old when he played at Gillette Stadium in a Division 4 Super Bowl win over Chicopee Comp. In January, Elliott was invited to a national high school combine in San Antonio. It helped raise his profile.
Once upon a time big linemen were, well, just big, sometimes slovenly guys . . . That's not the case anymore. "Scott has quick hands and feet," said his dad. "We knew he was going to be a player. He's a focused kid."
"Scott can play any position on the line," said Kiley. "He's been mostly at left tackle. He plays defensive tackle too. He's a big kid, but what stands out is his athleticism. Scott's a worker. I don't think he took a day off in his off-season training.
"He wants to be the best he possibly can so the team can be the best it can be. He's a team guy. He's exactly what we're looking for to lead this football team."
"My dad instilled in me that you have to work hard to do anything good at all," said Elliott. Words that applied to life off the field as well.
There's a lot going on in Elliott's life now. "His college process has already begun. Teams are inviting him to games," said his dad.
"More schools reached out to me after my sophomore season," said Elliott. He's visited Harvard and UMass. Columbia, Coastal Carolina, UConn, Buffalo and Princeton are a few others in the mix. Not a bad stockpile for a player who has another high school season left.
It's about to get more hectic for Elliott. Now coaches can legally reach out to Elliott by a text or email. Dialogue is imminent. "Right now I'm getting my name out there to as many schools as possible. It's been crazy, but I think I'm a good time manager." Getting his homework done first is a priority.
He looks forward to narrowing the college choices down to a handful. He'll discuss options with his parents. Elliott said his mother, Suzanne, is "my rock, but she's not the biggest fan of football. She doesn't want me to get hurt. But she supports me in every decision I make."
As for his dad, who coached him in youth football, "I owe him everything as a player and a man."
Scott Elliott has been an offensive lineman since second grade. His love of the game, and his frame, have grown exponentially. Both factors are built into the family. It's a journey the big kid with a magnetic way about him has grown quite comfortable with. The ceiling is high.
Saturday, September 16
Lincoln-Sudbury Downs Holliston
By Metrowest Daily News
Quarterback Braden O'Connell was 5-for-10 with 141 yards and three touchdowns to lead the Lincoln-Sudbury football team (2-0) to a 42-14 win over Holliston (1-1) on Friday.
Quarterback Braden O'Connell was 5-for-10 with 141 yards and three touchdowns to lead the Lincoln-Sudbury football team (2-0) to a 42-14 win over Holliston (1-1) on Friday.
Harrison Gross caught three passes for 62 yards and two touchdowns and he blocked a punt.
The Warriors led 28-0 at halftime.
"Our defense played very well," L-S coach Tom Lopez said. "Their quarterback is a very good scrambler and we didn't give him enough room to run. Our defensive front seven played well."
Lincoln-Sudbury had 364 yards of total offense compared to Holliston's 201. The Warriors had 18 first downs and their time of possession was 29:09. Holliston's time of possession was 14:51.
L-S is at Waltham next Friday for a 7:30 p.m. kickoff.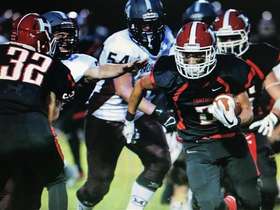 MIKEY NASH RUNS FOR A FIRST DOWN
Saturday, September 9
Holliston 24, Millis-Hopedale 7 Panthers Power to Season-Opening Victory
By Jared Keene
MILLIS — For the third consecutive year, the Holliston football team opened up its season by taking on Millis.
The Panthers were well aware that the Mohawks were coming off a Division 4A Super Bowl state title. And despite Millis having lost former two-way standout and reigning Daily News Male Athlete of the Year Brian Espanet to graduation, it was an opportunity for a relatively new Holliston team to score a confidence-building early-season win.
Thanks to a pair of touchdowns in each half and the ability to capitalize on some mistakes, the Panthers grabbed that victory, knocking off the Mohawks 24-7 in a Tri-Valley League crossover matchup on Friday night.
Following the game, Holliston coach Todd Kiley was happy to get the win, but knows there's still plenty of room for improvement.
"I'm proud of our kids," Kiley said. "We've got a lot of new faces in new spots. We've definitely got to get better, but I'm pleased to beat a solid team like that. They're a good football team. They're well-coached and they're tough. We made plays when we had to, but we've got to tighten some things down. That'll be one of the better teams we face all year. We've got to get back to square one and get down and dirty this week to get ready to face L-S."
Neither team was able to get much going offensively in the first quarter, as both defenses imposed themselves, thus not allowing either offense to find any rhythm. Holliston's defense, in particular, stepped up, holding the Mohawks to just two yards of offense on a pair of three-and-outs in the frame.
But in the second quarter, things started to pick up, as both offenses began to get going. In fact, Millis had an 11-play drive going, but on 4th-and-3 — the 12th play of the drive — Mohawks running back Kurt Hopkins dropped a pass in the flat that had big gain (potentially even a touchdown) written all over it.
The Panthers, as they've often done over the years, took advantage.
On the first play of their ensuing drive, senior Mikey Nash took a pitch, cut upfield, and eluded at least four tackles before turning on the afterburners to the endzone for a 77-yard score. The point after, however, was missed, making it 6-0 with 4:54 on the clock.
"I couldn't have done it without all my lead blockers," Nash said. "I followed my blocking, broke some tackles, and then I saw a seam and just took off. After I scored, all the guys really raised their energy and I think that helped carry us the rest of the way."
Holliston's defense forced a punt on Millis' next possession and a 20-yard return by Nash gave the Panthers the ball on the Mohawks 43.
A 22-yard completion to senior Jake Armstrong on second-and-12 halved the distance to paydirt. Six plays later, senior quarterback Ryan Benco and Armstrong connected for a 9-yard touchdown with 3 seconds left in the half. Benco's two-point rush failed, however, leaving the score 12-0 at halftime.
"Things were not going well for us in the first quarter, so to get two scores before the half like that was big," Kiley said.
Just over a minute into the third quarter, Holliston added to its lead.
A quick three-and-out by Millis forced the Mohawks to punt deep in their own territory. The snap, however, went over the head of punter Andrew Brooks.
The mistake gave the Panthers the ball on the Mohawks 2 and it only took one play to score, with Armstrong finding the endzone on the ground this time. The two-point rush failed, leaving it 18-0 with 9:49 on the clock.
"That was the difference, we capitalized on three or four possessions," Kiley said. "You absolutely need to do that against good teams like that. If you don't, you're in trouble. Our kids were able to capitalize on those few mistakes that they made."
Millis got on the board late in the third when Bryce Latosek found PJ Adams for a 5-yard score and Andrew Brooks' point-after made it 18-7.
But Holliston had the response, as on the ensuing drive, Benco connected with Kevin Quinn for a 71-yard score. Again, the two-point rush failed, leaving the score 24-7 with 2:59 left in the third.
Saturday, September 9
QB Ryan Benco Leads Holliston over Millis-Hopedale
By Dan Shulman, Boston Globe Correspondent
Holliston 24 Millis-Hopedale 7
The Holliston Panthers began their pursuit of a Super Bowl title by knocking off the defending Division 4A champion Millis-Hopedale on the road, 24-7, Friday night.
In the 63rd meeting of the Gridiron Classic rivalry, the Panthers got a big opening night performance from senior Ryan Benco. The Holliston quarterback was 8 for 17 with 132 yards passing and two touchdowns in his first start under center.
The dual-threat QB also got it done on the ground, rushing 10 times for 53 yards.
"He's an athlete, he's a winner," said Holliston coach Todd Kiley. "He made some big plays for us, some key runs on first downs. So for him to do what he did in his first start, we're very pleased."
After a scoreless first quarter, Holliston got on the board in the second when Mikey Nash broke free for a 77-yard touchdown run. The senior wideout had 121 all-purpose yards, all of which came in the first half.
Fellow senior receiver Jake Armstrong had a pair of scores, catching a touchdown pass in the final moments of the second quarter and rushing for another 70 seconds into the third frame.
Down, 18-0, the Mohawks responded with a long drive that ended in a touchdown. Senior quarterback Bryce Latosek found PJ Adams to cut the deficit to 11 midway through the third quarter.
Latosek went 11-for-27 passing with 79 yards.
Despite just the one score, Millis-Hopedale's offense looked productive, mounting several long drives. But the stingy Holliston defense came up big to limit the Mohawks in the red zone.
"We played some loose coverage on them, knowing what type of speed they had," said Kiley. "We were bend don't break today and our kids responded when they needed to."
For Holliston, it was the quick-strike offense that delivered when it mattered most. The Panthers punched it in three times on drives of three plays or fewer. Each of those possessions came following mistakes and turnovers.
"That was the difference, we capitalized on three or four possessions," said Kiley. "You absolutely need to do that against good teams like [Millis-Hopedale]."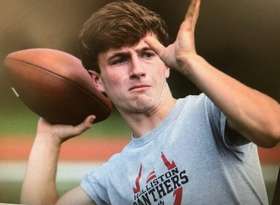 RYAN BENCO
Sunday, August 27
Perennial Power Holliston football Program Reloads for Another Postseason Run
By Jared Keen, Metrowest Daily News Staff
Make no mistake about it, the Holliston football team has certainly developed itself into one of the state's premier programs over the last eight years.
And with that development, the Panthers have been able to enjoy a tremendous amount of success on the field with four Super Bowl titles since 2009.
But with those season now in the past and the start of the 2017 regular season rapidly approaching, it's time to take a look at the upcoming campaign for head coach Todd Kiley's squad.
2016 Rewind
With Holliston Coming off back-to-back Super Bowl Championships, the expectations placed on the 2016 team were about as high as they get.
"That comes with the territory," Kiley said. "They had pressure on them."
Holliston ended up grabbing the No. 2 seed in the Division 3 South section. The Panthers dispatched seventh-seeded Middleboro and sixth-seeded Dighton-Rehoboth in the quarterfinals and semifinals, respectively, setting up a meeting with the unbeaten top seed Hanover in the sectional final.
But it was there that Holliston's Postseason run came to an end, as Hanover - the eventual Div. 3 Super Bowl champions - ousted the Panthers in a 40-7 rout.
Holliston, however, still had one more game to play: at Westwood on Thanksgiving. And the Panthers didn't waste the chance to get back at the Wolverines and go out with a bang, as they earned a decisive 46 - 12 win to finish the year 9-2.
"they had a great season,"Kiley said. "There was nothing to be ashamed about where we finished and how we finished, especially on Turkey Day against our rival."
Key Losses
Speaking of the 2016 seniors, three of them- Jack Barrett, Sam Athy, and Mark Mulvaney- were Daily News All-Stars and were among the best players both in the area and the state.
Barrett, who is playing at Trinity College, was a true dual threat at quarterback. He threw for 1,620 yards and 16 touchdowns, and added another 500 yards and 12 touchdowns on the ground on his way to earning Tri-Valley League Offensive Player of the Year. He finished with 50 career touchdowns.
Athy- now playing at Stonehill College- did a little bit of everything. Offensively, he tallied 600 yards and seven touchdowns receiving, and another 304 yards and five touchdowns rushing. O"n the defensive siad, he made 60 tackles and became the school's all time leading tackler with 230.
As for Mulvaney, who is now playing for Tufts University, he anchored the Panthers offenseive line as a right tackle. Mulvaney was one of the area's top offensive lineman last year and earned Tri-Valley League Lineman of the Year honors.
"Our goal is not to replace those guys individually," Kiley said. "It's for this team and this group of seniors and experience players to do so as a group."
Players to Watch
Mulvaney may be gone, but Holliston will again have one of the state's top offensive lineman this year in Scott Elliott.
The 6-foot-3, 285-pound Elliott is currently one of the top recruits in the area, despite only being a junior. Elliott, like Mulavney did last year, will also feature on Holliston's defensive line.
At the quarterback position, senior Ryan Benco will take the reins from Barrett. Benco, who earned high praise from Kiley for his athleticism, started at safety last year and also played slot receiver. According to Kiley, Benco hasn't played quarterback since he was a freshman, but Kiley is confident in his abilities
Then there's senior Alex Kelley.
Kelley was a backup running back, but has switched to guard this season to help out the line. Defensively, kelley started at middle linebacker last year (team-high 72 tackles) and will again so do this year.
Keys to Season
"As general and cliche as it sounds, it's about staying healthy," Kiley said. "I feel like if we stay healthy, we have a good shot at competing for a league title and making some noise in the posteason. The other key is guys filling and executing in the new roles. There's lots of new faces this year. I feel like the talent and ptoential is there, but if the confidence and belief is also there, everything should line up for us."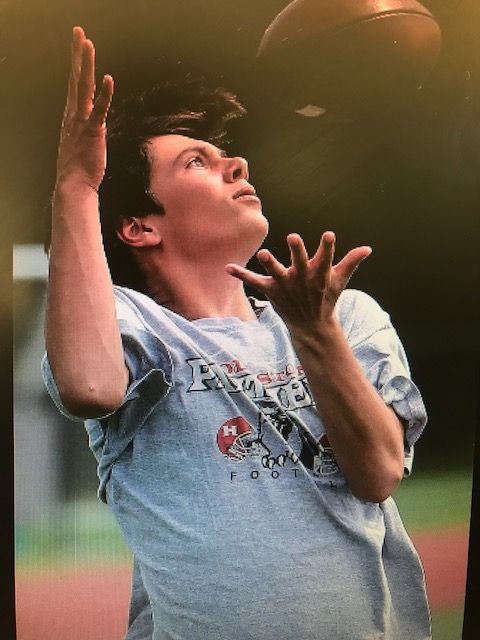 GRADY ST. JOHN
Saturday, September 9
Ryan Benco Lead Holliston Past Millis-Hopedale
By Brian Roach, Boston Herald News Correspondent
MILLIS — Capitalizing on an opponent's mistakes is key, especially in a rivalry contest.
Holliston did just that to build a big lead and never looked back in a 24-7 victory over Millis in a Tri-Valley crossover contest last night.
"Our kids were able to capitalize on those few mistakes that (Millis) made," said Holliston coach Todd Kiley. "I'm proud of our kids. They came out and battled, but we have to get better. We definitely have to get better. I'm pleased to beat a solid team like that. That's for sure."
With neither team gaining any traction in the first half, Holliston's Mikey Nash jolted the offense with 4:54 to go in the second quarter as he scampered 77 yards while eluding several tackles to put the Panthers up 6-0.
This came just one play after a critical fourth down incompletion stopped a Millis drive at the Holliston 23-yard line.
The Panthers (1-0) were not done. Senior captain Ryan Benco completed 3-of-5 passes for 38 yards, including a 7-yard fourth-down pass to Nash to keep the drive alive. Two plays
later, Benco rolled out and hit Jake Armstrong to make it 12-0 at the half.
"Things were not going well for us in the first quarter," said Kiley. "To get two scores like that on a couple of big plays, but that's what happens when you have skilled guys like that."
After forcing a bad snap on Millis' opening drive in the third quarter, Armstrong rushed it in one play later from 2 yards out to make it 18-0.
"Our defense played very well I thought tonight against a really good offensive team," Kiley said.
The Mohawks (0-1) fought back and got a touchdown on their next drive of 12 plays kept alive by two Panthers penalties, the second a pass interference at the 5-yard line. Bryce Latosek then hit PJ Adams for the touchdown to cut the deficit to 18-7 with 4:41 to go in the third.