Monday, October 15
Holliston's Billy Nash Tallies Three TDs in Football Teams Rout of Norwood
Billy Nash had two receiving scores – one from 60 yards and the other from 15 – and added a rushing score of 30 yards for the Panthers.
Senior wide receiver Billy Nash scored three times to help Holliston (5-0, 4-0 TVL) rout Tri-Valley League opponent Norwood, 41-18, in a football game on Saturday.
Nash had two receiving scores – one from 60 yards and the other from 15 – and added a rushing score of 30 yeards for the Panthers.
Sophomore running back Tristan Benson scored twice, both 1-yard TD runs, while senior wide receiver Anthony Dzindolet scored on a 5-yard TD run and junior quarterback Matt Arvanitis threw the two touchdowns to Nash.
"This group is a lunch-pail group and they go to work every day," Holliston coach Todd Kiley said. "They've done a great job this year preparing for games."
Holliston hosts Ashland on Friday at 7 p.m. with a Tri-Valley League Large title on the line.
"Our team has done a great job of taking it just one week at a time," Kiley said. "Obviously, they're high school kids and I'm sure in the back of their mind they have been looking forward to the Ashland game but they certainly weren't overlooking Norwood in doing that.
Saturday, October 6
Holliston 28, Hopkinton 7
Holliston 28, Hopkinton 7" Quarterback Matt Arvanitis passed for 199 yards and three touchdowns, and rushed for another score, to power Hollion (4=0, 3-0 TVL) to a victory over Tri-Valley League rival Hopkinton (2-3), 1-2 TVL).
Arvanitis hit Topher Ryan (167 yards, 3 TDs) in the first quarter with a 45-yard touchdown to take an early 7-0 lead and followed that with a 76-yard touchdown bomb to Ryan in the second quarter. Arvanitis added a 5-yard scoring scramble in the waning seconds of the first half to give Holliston a 21-0 halftime lead.
Running back Tristan Benson gained 185 yards in the win.
Hopkinton quarter back Ryan Kelleher (13 of 32, 147 yards, 1 TD) hit Luke D'Aloia in the third quarter to get the Hillers on the board. But ARvanitis hooked up with Ryan once more for a 33-yard score to give the Panthers a 28-7 lead, which they would hold on to.
Holliston vists Norwood on Saturday October 13th at 2:30 PM.
Saturday, September 29
Holliston running back Tristan Benson rushes for 138 yards and two touchdowns as Holliston routs Medfield 42-0 on Friday to stay undefeated.
Metrowest Daily News
Running back Tristan Benson rushed for 138 yards and two touchdowns to lead Holliston (3-0 ) (2-0 Tri-Valley) to a 42-0 blowout win over Tri-Valley league foe Medfield on Friday night.
Quarterback Matt Arvanitis completed seven of eight passes for 103 yards and one touchdown for the Panthers, Dylan Ibbitson added to rushing touchdowns in the victory.
Holliston hosts Hopkinton on Friday at 7:00 pm.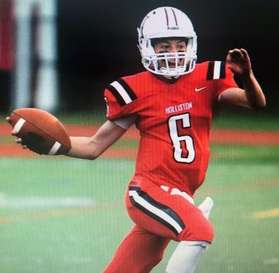 MATT ARVANITIS
Saturday, September 22
Scott Elliott comes up big in Holliston football's rout of Westwood on homecoming night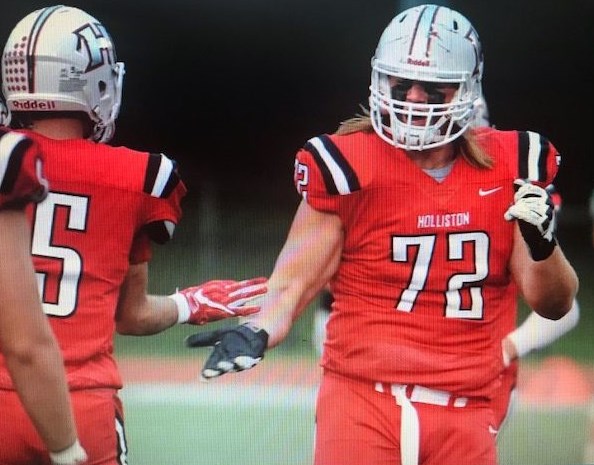 SCOTT ELLIOTT
By Jared Keene, Metrowest Daily News Correspondent
Holliston - A Week 1 win Followed by a Week 2 bye.
Not exactly what the Holliston Football team wanted, especially with the chance to gain some early season momNot exactly what the Holliston football team wanted, especially with the chance to gain some early season momentum by building off that season-opening victory over Norton. Sure, there's going to be plenty of times when a bye can come in handy, primarily if a team is a bit banged up, but the Panthers didn't want to have the week off from playing a game. Simply put, they wanted to play.
Holliston was willing to play anybody, but things didn't end up working out. So Panthers head coach Todd Kiley decided to use the extra week to improve as a team and prepare as best as possible for Friday's Tri-Valley League tilt against rival Westwood.
With Harvard-bound senior captain and two-way lineman Scott Elliott dominating the line of scrimmage on both sides of the ball, Holliston started fast and never looked back, rolling to a convincing 34-6 victory over the Wolverines on homecoming night at Kamitian Field.
"You always worry about being rusty coming off the bye week and we did not want the bye week," Kiley said after his squad moved to 2-0. "We were dead set against it. There was probably six or seven teams that had a bye that we were trying to get a game against. We were willing to play anybody, but we couldn't get anybody that wanted to play us, so we took it as time to get better. It wasn't so much about preparing for Westwood at first that initial week, just more about getting better as a team, and then we started preparing for Westwood earlier this week.
"We have a lunch-pail group that works extremely hard. We're fairly young, but we're a mature group. We took a step forward, prepared, and I thought our guys came out and executed well tonight."
Elliott, who stands 6-foot-3 and goes 278 pounds, has certainly developed into one of the top two-way lineman in the area, not to mention the state.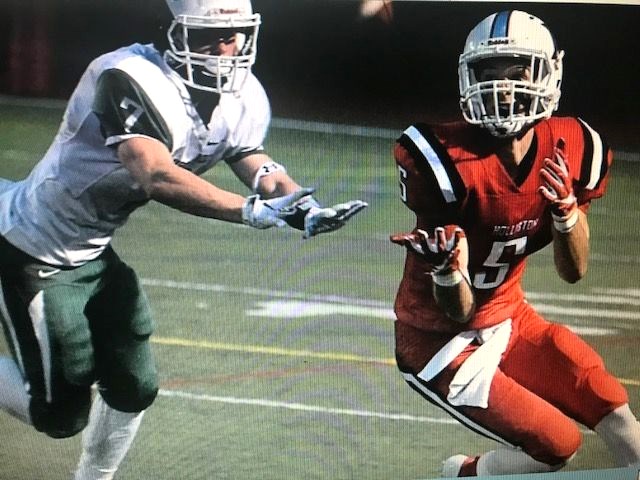 ANTHONY DZINDOLET
Monday, September 10
Boston Globe's Week 1 Players of the Week
Matt Arvanitis & Anthony Dzindolet, Holliston
— Arvanitis (8 of 17, 203 yards passing) connected three times with Dzindolet (138 yards receiving) on TD passes of of 85, 35 and 17 yards in a 33-15 victory over Norton.
Wednesday, September 5
Harvard-Bound Scott Elliott Looks to Leave Lasting Legacy at Holliston
By Matt Feld, Boston Herald News Correspondent
Todd Kiley has manned the sideline for 16 years at Holliston, but it doesn't take long for him to choose the best lineman of his time on the job.
"From a lineman standpoint, there is no one better than Scott Elliott in my years here," said Kiley. "I put him up there with the best players that have ever played in this program."
From the early going, Elliott believed he had a future in football. He will continue to play next year at Harvard.
Elliott was consistently the biggest and most physically gifted youth on his Holliston Pop Warner teams.
In his early years, Elliott's teammates were often a year or two older as he was forced to play a year up in an effort to balance the size advantage. Once he began playing with players his age, however, Elliott gained even more attention.
"I was always the biggest kid on the line," he said. "I had to stop playing Pop Warner because of the weight limit during a couple of years. I always played with kids older than me, but once I got to play with my grade I stood out that much more."
Elliott became an invaluable member of the Holliston program the moment he stepped on the field. Along with his size, he enamored coaches with his steady approach, constantly spending his summer days on the football field training for the upcoming season.
A four-year varsity starter, Elliott helped the Panthers to a Super Bowl title as a freshman starter for every game at defensive tackle.
"I tried to not let it get to my head," he said. "You win your first year, it can be pretty amazing. But I just tried to stay level-headed and get right back to work."
In his sophomore and junior campaigns, Elliott's profile began to grow. Last season he exhibited greater versatility, appearing not only at defensive tackle, but also at offensive guard and occasionally tight end.
By the time the 6-foot-3, 270-pound lineman finished his third season in high school, he was regularly receiving phone calls and visits from some of the top colleges in the region.
Ultimately, Elliott decided on Harvard, committing this summer following numerous talks with the coaching staff and a trip to the Crimson's camp.
"Harvard is Harvard," said Elliott. "They did a great job keeping in touch with me, taking care of me, and contacting my family. Over the summer I went to their camp, met the players, and knew right away that it was time to commit."
Now with his commitment behind him, Elliott is focused on putting the finishing touches on his football legacy during his senior season in high school, hoping to book-end his career with state championships.
"That's the ultimate goal, but you just try and take it week-to-week," said Elliott. "We're just going to try and keep the same pace. You tell the younger guys how if you just win week-to-week your goals will pile up, and you'll get there."
Thursday, September 6
Holliston Seeks a Return to Form After a .500 Season in 2017
By Joe Danker, Metrowest Daily News Correspondent
The goals are to start out strong and stay healthy and get the kids that are in new spots confident in their roles," said Holliston coach Todd Kiley, now in his 16th year at the helm of the Panthers. "It's all about getting everybody on the same page and clicking offensively and defensively."
After a 2017 that ended in disappointment, the Holliston football program is determined to get back to its winning ways in 2018.
And with back-to-back state titles in 2014 and 2015 under his belt, head coach Todd Kiley has a wealth of success to draw upon to help his 2018 squad.
"It starts with the off-season training program," said Kiley, who is in his 16th season as the Panthers' coach. "The goals are to start out strong and stay healthy and get the kids that are in new spots confident in their roles. It's all about getting everybody on the same page and clicking offensively and defensively."
2017 Rewind
Holliston finished the 2017 campaign at 5-5 overall and earned a playoff berth in the Division 5 South sectional as the sixth seed before losing to Scituate 28-14 in the quarterfinals.
"We were tied with Scituate 14-14 at halftime and we were driving down the field in the third quarter," said Kiley. "We got inside the 10-yard line and fumbled it away. And on the next play Scituate ran a trap play and they went the distance to go up 21-14."
The Panthers never recovered from that dramatic momentum swing.
"We had trouble finishing good teams," said Kiley. "That sort of thing happened to us often during the season."
However, the 2017 season had its moments. Holliston defeated their main rival Westwood twice, once on the road 41-7, and then again on Thanksgiving 34-0.
"To beat Westwood twice was very rewarding for our kids," said Kiley.
Key Losses
The Panthers lost leading scorer Jake Armstrong to graduation. His versatility and production will be difficult to replace.
"Jake led the team in rushing (422 yards, 5 TDs) and receiving (20 receptions, 341 yards, 6 TDs)," said Kiley. "He lined up as the wideout in our spread set or as the wing in our double wing set."
The Panthers' second-leading scorer, Brad Seymour, also won't be back. He rang up 587 all-purpose yards and seven touchdowns.
Holliston will also miss the contributions of Alex Kelley. The middle linebacker and offensive guard was their top defensive player in 2017. In addition, offensive and defensive tackle Will Celorier graduated and will no longer be the stalwart presence he was on both sides of the ball.
Players to Watch
Four-year varsity player and two-time team captain Scott Elliott will be looked upon to fill the gap at tackle on both sides of the ball. And junior running back and linebacker Dylan Ibbitson is expected to contribute.
Dylan is a very athletic, tough kid," said Kiley. "He is fast and has a lot of savvy. He started for us as a sophomore running back last year (226 yards, 5 TDs)."
Junior quarterback Matt Arvanitis has impressed in practice.
"Matt is doing great, he won the quarterback job," said Kiley. "He's a very good athlete with a great head on his shoulders. He is able to read defenses and we are going to utilize those strengths."
Senior captain Will Crowley will play on the offensive line and the defensive line.
"Crowley is a workhorse — he's strong and physical," said Kiley. "He and Scott Elliott led the team in the off-season weight room work."
Additionally, junior Dave Harding will be a presence at defensive end and junior Connor Mulvaney is expected to be a force at inside linebacker and tight end.
Keys to the Season
Kiley sees his team's strength, speed, and overall athleticism as the factors that will give the Panthers an advantage in 2018. That and a balanced offense are the keys to Holliston bouncing back to being a postseason contender.
"We have speed and athleticism and good strength on defense," said Kiley. "We like the strength test results we saw at the start of the season. They were as good as they have ever been. We feel good about our defense."
The Panthers may have the athleticism and strength to power past some opponents, but Kiley knows there is more to winning.
"We are taking this season one game at a time, that is our mentality," said Kiley. "First it's all about the Larracey Bowl and taking care of business. Then we set our eyes on a tough team in Norton. One game at a time, never look to far in the future."
Holliston opens its schedule at Norton on Friday night.