BOYS CHAMPIONS
| | |
| --- | --- |
| REGION: | 2007 |
| DISTRICT: | 2004, 2007, 2008, 2010, 2011, 2012, 2013, 2014 |
| OBC: | 2006, 2007, 2008, 2009, 2010, 2011, 2012 |
| REGION RUNNER-UP: | 2008, 2010, 2011 |
| DISTRICT RUNNER-UP: | 2009 |
GIRLS CHAMPIONS
| | |
| --- | --- |
| OBC: | 2005, 2006, 2007, 2008,2009, 2012 , 2014 |
| DISTRICT: | 2011 |
| DISTRICT RUNNER-UP | 2012 |
"CARPE LACUS"

Winning Isn't Everything....It's Just What We Do!



Wednesday, July 29


FIRST OFFICIAL PRACTICE IS AUGUST 3rd! REVISED PRACTICE SCHEDULE




The first Practice for simmers and divers will be August 3rd from 8-10pm at the St. Cloud Pool. you must have a pool release and current physical in order to participate. Blank forms will be available August 3rd. We have also revised the practice schedule. Please see below:

REVISED PRACTICE SCHEDULE

August 3-14 -- Monday-Thursdays 8-10pm ; Fridays 6-8pm

Beginning Monday August 17th we will follow the following until the end of the season

Mondays - 5:30-7:30pm

Tuesdays - 7:00-9:15pm

Wednesdays - 2:30-4:30pm

Thursdays - 7:00-9:15pm

Fridays - 4:00-6:00pm

Saturdays - 8:00-10am ---will be held if there are rain-outs during the week

Most Meets will be held on Tuesdays and Thursdays.



Thursday, July 16


SWIM CONDITIONING IS CANCELED FOR THURSDAY, JULY 16.



Saturday, June 20


2015 SUMMER CONDITIONG




Summer Conditioning is well underway! It's not to late to come out and join us every Tuesday and Thursday at the Harmony High School Gym from 1-2pm. This conditioning focuses on Weight Training in order to be stronger. It is recommended that you come to both this conditioning and join a club team for a successful swim season!



Friday, October 24


OBC AND DISTRICT CHAMPIONS!


The Girls won the 2014 OBC Championship last week. the boys came in 2nd. The Boys won their 8th District Title in 11 years yesterday while the Girls made up over 50 points become District Runner-ups! GO HORNS!

Sunday, October 12


2014 District Team




2014 District Team. Please be at Practice at 5:45 at the St. Cloud Pool. Go Horns!

Januel Alvarez

Cameron Bryant

Matthew Caballero

Nathan Clark

River Davis

Gonzalo Delosreyes

Thomas House

Austin Kennedy

Colin King

Griffen Kisamore

Chase Lord

Logan Macmillan

Mason Moore

Dillon Newsom

Jake Rambow

Brandon Ranoull

Daniel Schlumbohm

Jeremy Sagarra

Fernando Serrano

Eduardo Tamayo

Ty Toomey

Girls

Kendall Bryant

Skylar Durost

Lauren Githens

Kaitlynn Greene

Kylie Joachim

Madison Long

Ariel Moore

Madison Novak

Haili Pierson

Amber Pugh

Victoria Quezada

Ashley Reid

Jordan Ricke

Elizabeth Rodriguez

Chloe Semmen

Kara Solomon

Savannah Steele

Emily Walker

Keiaree Williams

Jordan Zella -



Tuesday, September 16


BIG WINS OVER OSCEOLA


The boys and girls both beat Osceola by 70 points! First Place finishers include: Colin Bryant, Austin Kennedy, Nathan Clark, Dillon Newsom, Daniel Schlumbohm, Chloe Semmen, Haili Pierson, Skylar Durost, Emily Walker. GO HORNS

Friday, September 12


Saturday Practices


Due to cancled practiices due to weather, we are offering Saturday practices on Sept 13th and 20th. They will be held at the St. Cloud pool from 9am to 11am. Please try to attend!

Friday, September 12


OSCEOLA MEET


The Osceola Meet has been changed to Monday, September 15th at the Osceola County YMCA. Swimmers and divers must report at 3:30. The meet will begin at 4:30.

Friday, August 29


NO PRACTICE LABOR DAY!


:)

Friday, August 29


HORNS WIN BIG OVER MCC!




The boys and girls teams won big over Melbourne Central Catholic! The Boys score was 123-40 and the Girls won 120-47. First place finishers are: Matt Callabero, Nathan Clark, Daniel Schlumbohm, Austin Kennedy, Skylar Durost, Kylie Joachim. Chloe Semmen, and Emily Walker. NEXT UP: Mighty Titusville!

Thursday, June 5


2014 SWIM SEASON INFO


There will be a Pre-Season Swim Meeting in the Media Center at Harmony High School on July 31st from 6-7pm. We will be discussing the upcoming season, turning in phyicals and pool release forms and ordering team suits. If you need a physical, please download the form located on this website. Pool Release forms are also available for download as well as the team registration form and 2014 practice schedule. Joining a club such as SCAT (407-301-0070) or KSA (407-529-6082) are encoraged for summer workouts. If you have any questions concerning the upcoming season, please call the school at 407-933-9900 and leave a message for Coach Brown. GO HORNS!
Handout: SWIN INFO

Wednesday, May 21


SWIM AND DIVE MEETING


There will be a swim and dive meeting on Tuesday, May 27th after school in room 6-118. Please plan to attend. If you cannot make it, please see Coach Brown or Coach Marlega for Information. Thanks and Go Horns!!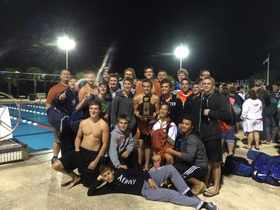 2013 DISTRICT CHAMPS
Monday, November 4
DISTRICT CHAMPS!
The Boys won their 7th district title in 10 years! The Girls finished 3rd while breaking school records in the 200 Medley Relay and Katy Davis in the back stroke. Individual District Champions are Luke Roberts, Dillon Newsom, Aaron Gokee, Josh Saute, Daniel Schlumbohm and Katy Davis.
Regional Qualifiers are: Luke Roberts, Aaron Gokee, Daniel Schlumbohm, Sam Steele, Austin Kennedy, Ty Toomey, Nathan Clark, Bailey Sklarek, Josh Saute, Dillon Newsom, Jeremy Kirk, Hunter Watson, Katy Davis, Stephanie Lea, Chloe Semmen, Kylie Joachim, Emily Walker, Lauren Githens, Ashley Reid, Taylor Soltys, and Kendall Bryant.
Practice for Regionals is Monaday - Thursday from 3-4:30pm
The Dive meet will be held on Thursday at 9 AM at Rowdy Gaines Pool in Winter Haven.
The Swim meet will be held on Friday at 9 AM at Rowdy Gaines Pool in Winter Haven.
More detailed information will be given out soon.
GO HORNS!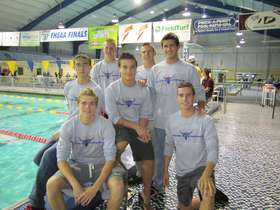 2012 STATE TEAM
Sunday, November 4


2012 STATE TEAM


Congrats to the following team members who have qualified for State: Sam Steele, John Roberts, Luke Roberts, Peter Swafford, Michael Driscoll, Josh Saute, and Bailey Sklarek. State is Thursday Nov 8 @ Central Flarida YMCA. Go Horns!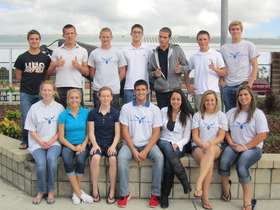 2012 INDIVIDUAL OBC DISTIRCT CHAMPS
Tuesday, December 4
2012 INDIVIDUAL OBC AND DISTRICT CHAMPIONS
Monday, October 29
DISTRICT CHAMPS!!
The Boys team won their 6th District Championship. Luke Roberst Won the 50 Free and 100 Free. The 200 Free Relay (John Roberts, Luke Roberts, Peter Swafford, Michael Driscoll) and the 400 Free Relay (Luke Roberts, John Roberts, Peter Swafford, Sam Steele) also placed First!
The Girls were Dirstrict Runner-ups. Katy Davis won the 200 and 500 Free. Emily Walker won the 100 Breast Stroke.
Congrats and GO HORNS!
Wednesday, October 17
OBC CHAMPS - BOYS BREAK RECORD WITH 7 CONSECUTIVE OBC CHAMPIONSHIPS!
It was a great day for the Longhorns at the OBC Championship Swim Meet yesterday. The girls got back on track winning 6 of the 9 individual events and all 3 relays. First place finishers for the Longhorns include: Rachel Walker, Lindsey Saute(2), Katy Davis(2), Emily Walker, Jasie Howard, Kylie Joachim. This is the girls 6th OBC Championship in 9 years.
Harmony 183
Osceola 158
St Cloud 80
Gateway 57
Celebration 39
The boys grabbed their 7th consecutive OBC Championship, winning all 3 relays and 4 of the 8 individual events. First place finishers for the Longhorns include: John Roberts, Josh Saute, Lucas Roberts (2), Bailey Sklarek, Aaron Gokee, Sam Steele, Michael Driscoll and Peter Swafford.
Harmony 199
Gateway 109
Osceola 103
St. Cloud 54
Celebration 52
Thursday, August 23
2012 Swimming and Diving Longhorns!

2011 District Champs
Sunday, October 30
2011 DISTRICT CHAMPS

2011 District Champs

2011 District Champs


Saturday, October 29


BOYS AND GIRLS DISTRICT CHAMPS!


Both the boys and girls teams won the district championship at Winter Haven. No other team in Osceola County has won a district championship in swimming and diving. Congratualtions to the following who won Individual District Championships: Katy Davis, Lindsey Saute, Kendall Knight, Jasie Howard, Juliya Watson, Olivia Missigman, Larry McVicker, Mitchell Mungall, Luke Roberts, John Roberts, Sam Steele! Regional Qualifiers will be announced on Sunday. GO HORNS

Thursday, October 28


OBC AND DISTRICT CHAMPIONS!!!!!




It was a great day to be a Longhorn! The Longhorns earned their 4th District Title in 7 seasons with a win over Titusville! Congrats to the following relay District Champions: 200 Medley (Tyler Cunningham, Brandon Graber, Justin kennedy, Jesse Tetreault) 200 Free (Jesse Tetreault, John Roberts, Sam Steele, Luke Roberts) and 400 Free who had their best time of the year (Tyler Cunningham, Mitchell Mungall, John Roberts, Luke Roberts) On to regions! GO HORNS!!!!!





DISTRICT CHAMPS 2010

2010 Regional Team
Sunday, November 7
CLASS 2A-2 REGION RUNNER-UP

DIOKO
Wednesday, September 1


2010 LONGHORNS "DIOKO"



Sunday, September 5


SUPPORT HHS SWIM AND DIVE THROUGH ONLINE SHOPPING!


HHS Swim and dive team will receive 30% of profits when you online shop at www.shopwithharmony.com. Over 550 of your favorite stores which include: Borders, Best Buy, Staples, Home Depot, Bass Pro Shops, Target, Kohl's and many more.



THE GUANTLET
Wednesday, September 1


THE GAUNTLET



Wednesday, August 14
<p><a href="http://www.swimoutlet.com/default.asp?Click=3326320"><img border=0 src="http://www.swimoutlet.com/templates/1/images/banners/300x250_banner4.png"></a></p>