: Welcome
Hampton High School Ice Hockey Club
has been a tradition for over 30 years. In addition to providing a healthy, safe and encouraging environment, where our players develop teamwork, school pride, friendships and a work ethic, Hampton Hockey recognizes Honor Roll athletes, provides a college scholarship to a graduating senior and participates in community service with the "Adopt a Hampton Roadway" program.
_______________________________________________________________________________________________________________________________________
Tuesday, April 16
HAMPTON ICE HOCKEY TRYOUT DATES!!!
To all,
Try-out dates are listed below. Please forward these on to those who you think may be interested.
A couple of notes--For varsity, JV, and middle school, please bring 1 light and 1 dark jersey. Numbers will be assigned to each player to wear during both try-out dates.
Please bring a copy of your 2013-14 USA Hockey number along with your registration form.
Players will not be allowed on the ice without proper registration and payment. Please note that everybody involved in collecting these forms and payment is a volunteer and we try to minimize time taken in collecting this information. Thank you for
your understanding.
If you would like to pre-register, please complete the form and send it (or drop it off at the house) to:
Chris Cirlingione
2849 Tremonte Lane
Allison Park, PA 15101
If you do mail or drop it off, please let me know so that I can look for it.
Thank you and please let me know if you have any comments or questions.
Regards,
Chris Cirlingione
Developmental open skate and registration: Thursday, April 18 from 5:30 to 6:20 ($10 cash or check--open skate is to get an idea of interest in our developmental program and the number of kids we expect for 2013-14 season. Official registration will
happen during the summer.)
Middle School (formerly known as freshman): Thursday, April 18 and Thursday, April 25 from 6:30 to 7:40
JV: Thursday, April 18 and Thursday, April 25 from 7:50 to 9:00
Varsity: Thursday, April 18 and Thursday, April 25 from 9:10 to 10:20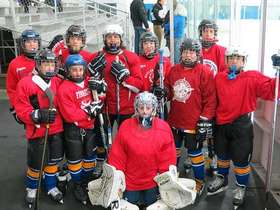 Freshman wear Red for Ryan!
Friday, March 8
Ryan Heitzenrater Fundraiser
Hampton Ice Hockey is asking for your support for this very worthy cause. The local hockey community lost a very special young man. Many boys on our own team played with Ryan on other travel teams. We are asking for your support in helping his family cope with the unfortunate burden of the medical expense they incurred. Please click on "Ryan Heitzenrater Fundraiser" above and it will take you to the website. Thank you for your support.
Friday, January 25
PLAYERS & COACH elected to PIHL ALL-STAR Game