Baseball: Welcome
Welcome to HHYA's Baseball Site
Stay updated on baseball news and the boys majors schedule and standings.
Practice Schedule
Practice Schedule

Friday, February 24
2011 President's League Fall Ball Champions - Minors Division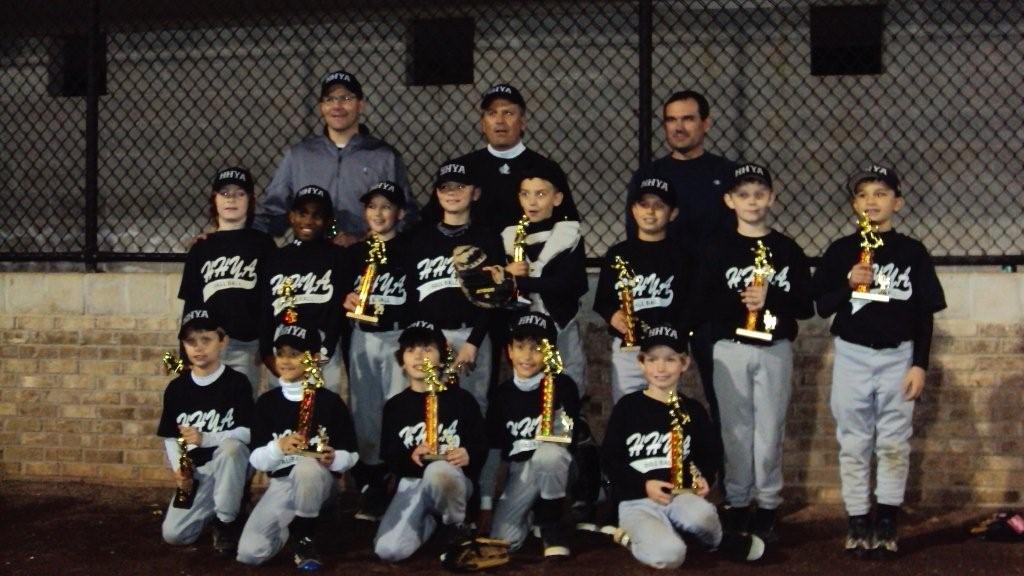 2011 HHYA Black Sox had a remarkable season ending with an undefeated record of 15-0. The Black Sox went 10-0 during the regular season and won 5 straight games in becoming the 2011 President's League Fall Ball Champions of the Minors Division. 24 teams were in the playoffs. The semi-final round ended up with the 3 HHYA teams still playing. The Black Sox defeated the Haddon Heights Maroon team in the semi-finals in a real tough game with a score of 7-4. The faced the HHYA White team in the thrilling championship game which ended in a 5-3 score.
Photo names are as follows: Front Row (Kneeling L-R) Nicholas Prete,Luc Elarmi,Brent Ebner,Christian Colciaghi,and John Borchers. Middle Row ( Standing L-R) Jack Corcoran,Kyle Pernell,Robert Colleluori,Patrick Campbell,Joe Monteleone,Joseph Priore,Alex Wagner,and Billy Hamill. Back Row (Standing L-R) Coach Matt Campbell,Manager Joe Monteleone,and Coach Keith Borchers
Minors Division 2010 Group II Champions
Ten boys participating in the Haddon Heights Fall Baseball Program were recently honored for winning the Minors Division 2010 Group II Championship in the Presidents Fall Baseball League consisting of 27 teams from Cherry Hill, Haddonfield, Haddon Heights, Haddon Township, Magnolia, Merchantville and Runnemede.
The Haddon Heights Black Sox team posted a 10-5 overall record (4-0 playoff record) including thrilling come from behind wins in more than half of the team's wins. Haddon Heights Black Sox defeated two Cherry Hill Teams, Merchantville and Haddonfield to win the championship.
Photo Identification: (All players/coaches are residents of Haddon Heights unless specified otherwise) Back row: Manager Jim Bruno, Coaches Matt Campbell and Joe Monteleone Third Row: Spencer Annable, Steven Kehoe, Mac Tambussi and Patrick Campbell Second Row: Aidan Donnelly, Matthew Tepfer, Joseph Monteleone, Thomas McCahill, Aidan Deeck. Front row: Joseph Bruno (Bat-Boy) and Jimmy Bruno